We use affiliate links. If you buy something through the links on this page, we may earn a commission at no cost to you. Learn more.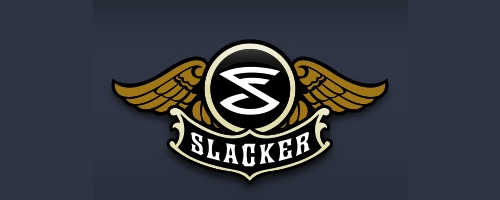 Hot on the heels of the Slacker app for BlackBerry announcement the other day, comes a Slacker Radio application for the iPhone. I love my Slacker G2 Personal Radio, so I was anxious to check out how this free application on the iPhone compared to it.
To use this app, you'll need a Slacker Radio account. Don't worry, it's free. If you happen to already have a premium account, you can use it to login to the iPhone app. Here are some of the features:
• Free music library featuring millions of songs
• High-quality stereo playback from any wireless connection
• Over 100 professionally programmed genre stations
• Create custom artist stations
• Fine tune stations to play more of the music you like
• View artist biographies and photos
• View album art and reviews
• "Peek Ahead" artist and album preview
• Pause and skip songs
• Rate songs as favorites
• Ban the songs and artists you don't like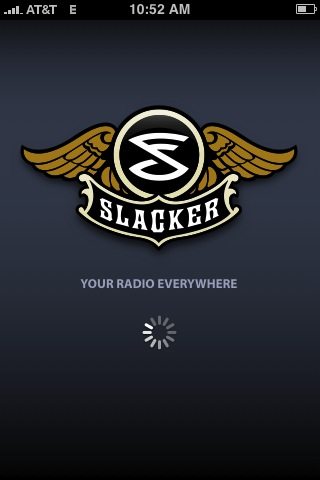 When you first launch it, there is a 30-40 second wait while the application boots up and loads the first song. The bad part is that if you exit the app to do something else and come right back in, you still have to sit through that wait again. If your the impatient type, this will probably drive you nuts.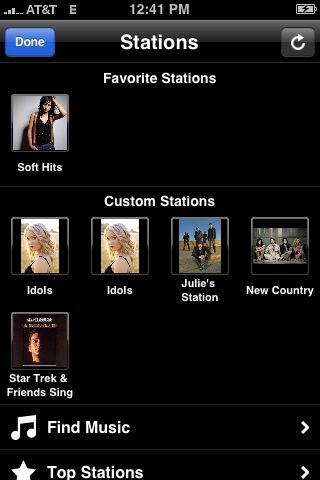 The first time you launch the Slacker player, you'll be in your station listing screen.  Your favorite and custom stations are shown at the top. Custom channels are created on the Slacker website. As far as I can tell, there isn't a way to create one through the iPhone app.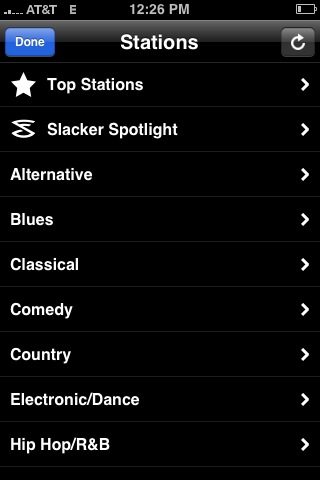 When you scroll the station screen, you will see a list of different genres of music. Tapping the genre name will take you to another screen…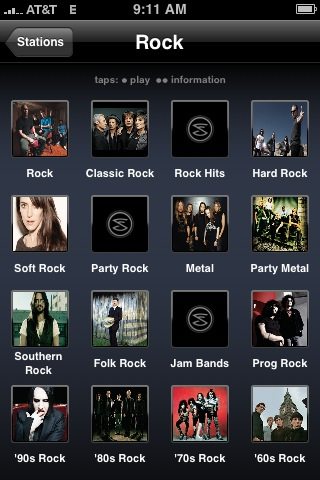 With individual stations for that genre. Tapping a station will let you listen to music in that station. To add that station to your favorites, you tap the station title bar at the top of the display.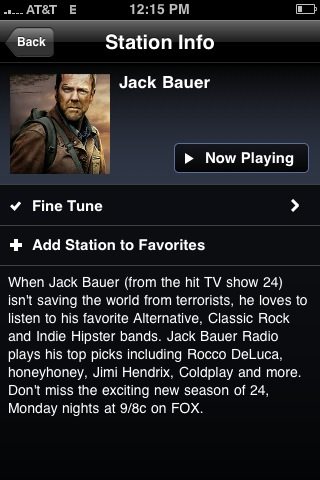 From there you can add it to your favorites. It doesn't look like there is a way to remove favorites through the app… Yes folks, there is a Jack Bauer Slacker station…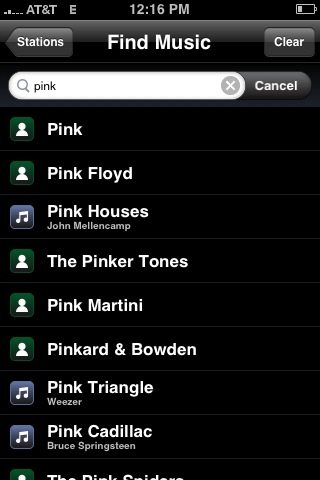 You can also search for specific songs and stations using the search feature.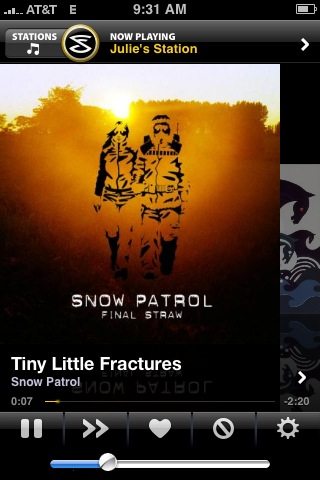 The now playing screen shows the album art for the currently playing song, along with the title and artist's name. On the Slacker G2 Personal Radio, the now playing screen shows the name of the next song to play. The iPhone app doesn't do this, but it does give you a 'peek' at the next song. Check out the image above. See the album art sliver on the right side?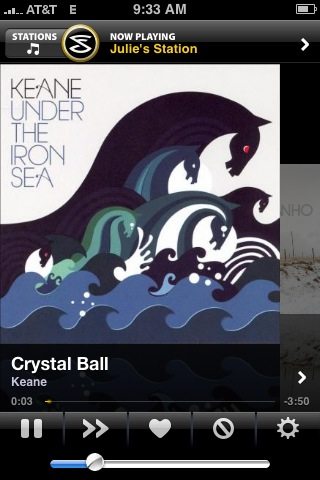 It's the album art for the next song to play. You can drag the top album to the Left to see more of the bottom album. If you drag it too far, it is like pressing the skip button and will load and play that track. Kind of cool.
Skipping to the next song with this app works the same as on the personal radio. If you don't have a premium account, you can skip 6 songs per hour, per station. Premium users can skip as many times as they like.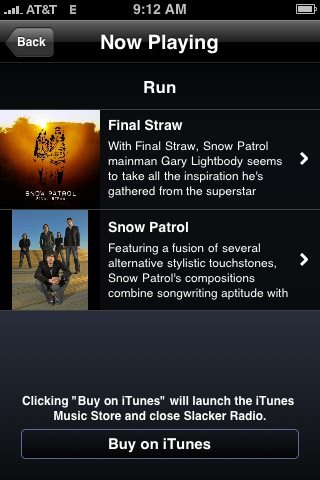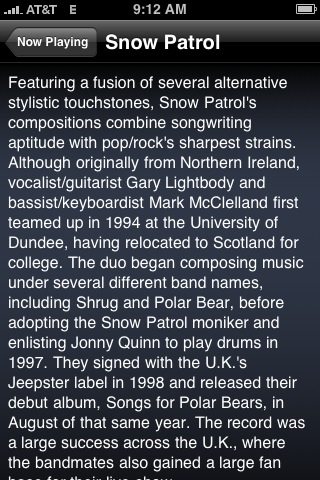 You can read more info about the artist and album. If you like what you hear, there's a link to launch iTunes to display the artist's albums and songs for purchase.
The main difference between using your iPhone to listen to Slacker Radio and having an actual Slacker G2 device, is that you can't copy a song to your library by pressing the heart button. Pressing this button or the ban button will just cause the song to either play more often, or not at all.
I still have the original (non 3G) iPhone, so I was curious as to how well this streaming application would perform on AT&T's EDGE network. So far so good… I've been listening to it for several hours today. The audio quality is really good. I can't tell an obvious difference between listening to my regular tracks through the iPod app with the streaming songs through Slacker. No clipping, hissing, or anything like that.
At one point this morning, it quit playing and was having troubles loading music. Yay EDGE! But so far this afternoon that hasn't happened again. There is a lag when you skip a song and it has to load a new one. It can take 15-20 seconds to start playing the new song after pressing skip. If you're listening regularly though, the next song will queue up normally, without a noticeable lag.
I'm not ditching my Slacker G2 radio anytime soon, but this free iPhone app is an easy way for people to check out Slacker's service if they've not yet tried it. Good stuff, I'm a big fan.
The Slacker Radio application for iPhone and Touch can be found here: http://itunes.apple.com/WebObjects/MZStore.woa/wa/viewSoftware?id=298307011&mt=8
Product Information
Price:
FREE
Manufacturer:
Slacker
Pros:

Free
Easy to use
Can save favorite stations
Good audio quality

Cons:

Lag when starting application
Lag skipping tracks
Can't copy songs to your library