We use affiliate links. If you buy something through the links on this page, we may earn a commission at no cost to you. Learn more.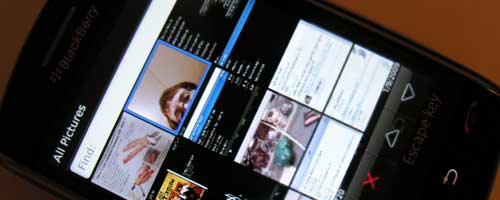 Three down and four to go… I'm actually kinda bummed that I said that I would spend 7 whole days with this phone. The more I use the BlackBerry Storm, the more I am becoming annoyed by it. But it's only been three days, so I'm not going to give up yet. I promise.
Today I focused primarily on trying the instant messaging clients again (Yahoo!, AIM, etc.), the camera and music player. Yesterday when I was trying to connect to my account on Yahoo! AIM and Windows Live, I kept receiving errors saying that I needed to check the time on my phone. I really didn't pay attention to the errors because the clock appeared to be correct. This afternoon when I tried to connect again, I noticed that the date on the phone was December something. Weird! So I went into the settings to see if I could change it. It was correct in there and when I went back to the home screen, it had corrected itself. Very odd behavior and one which I'll be sure to keep an eye out for again.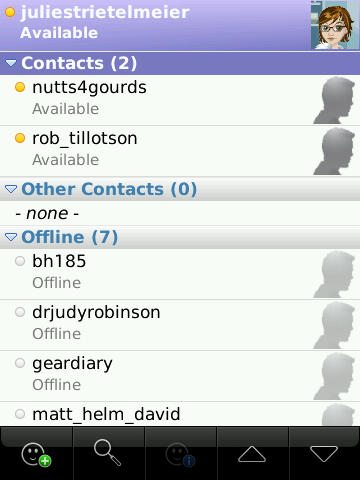 This time I was able to connect to Yahoo! to test instant messaging with this phone. It connected very quickly and presented me with a list of my contacts.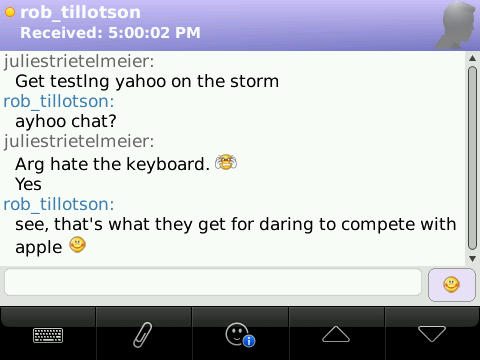 Chatting with the Yahoo! client on this phone feels very similar to chatting with Pinger on the iPhone. When you're typing a message, the keyboard takes up about 2/3rds of the screen, that makes it hard to keep up with someone that sends multiple messages in succession. The keyboard on the Storm continues to frustrate me. I end up pressing the wrong letters often and have to backspace.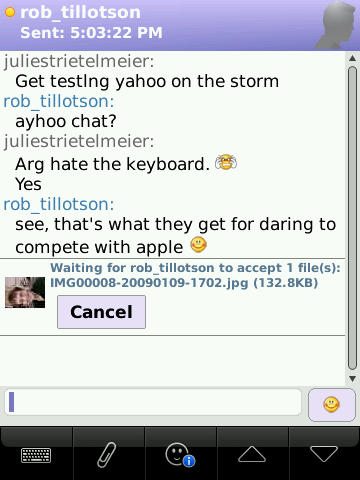 One cool feature that the Yahoo! client has, is the ability to send files to the people you are chatting with. I took a quick snap of myself to send to Rob. Unfortunately, he wasn't able to receive it after trying twice… I think it's an Adium (multiple chat client on the Mac) issue though.
Next up, I played around with the built in 3.2 megapixel camera.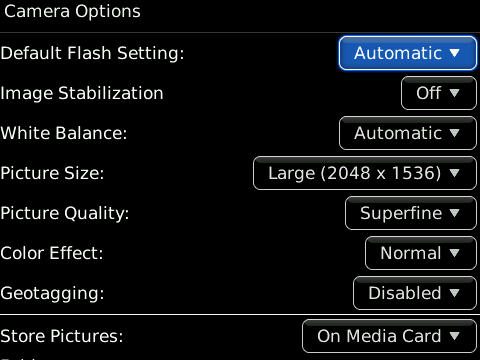 Nothing too wild and crazy here unless you count the built in geotagging feature and image stabilization.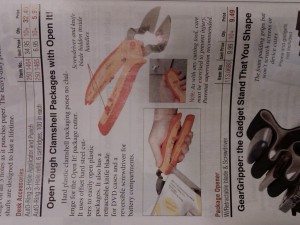 Click thumbnail to see full-size image
One of my pet peeves is a mobile camera that can not take a good macro shot. I don't want to take close ups of bees pollinating flowers or anything like that, but I do want to be able to snap a picture from a magazine or book. I'm always flipping through mags at the book store and will come across a URL or info that I want to remember, but don't want to buy the mag (jeez magazines are expensive these days huh?) or find pen and paper to jot things down. Most phones take horrible macro shots. Not the Storm. It does a great job!!! Not entirely sure why WordPress is showing the images rotated like this, but you get the idea…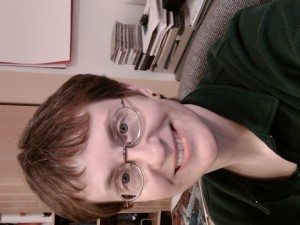 Click thumbnail to see full-size image
Using the Storm as a camera is very much like taking pictures with a regular digital camera. You press the side shutter button halfway to focus and compose your shot and then press it completely down to take the picture.
One thing that I noticed is that colors look a tiny bit more washed out in the snapshots than they are on the screen when you're viewing them through the media player.
I also noticed that even though I had the resolution set to max (2048 x 1536), it only captured images at 1024×764.
I wouldn't want to use the BlackBerry Storm as my primary camera, but for snaps here and there, it works well.
Now let's listen to some music…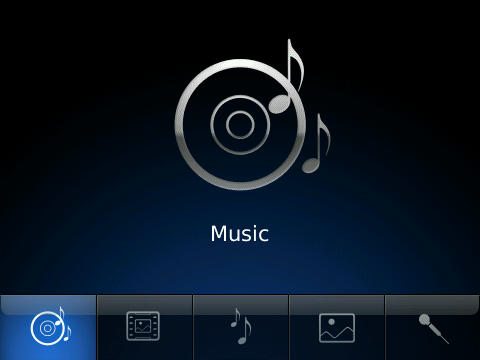 The media player can play music, video, ringtones, voice notes and show pictures. It will show media stored on the Storm itself and the installed MicroSD card.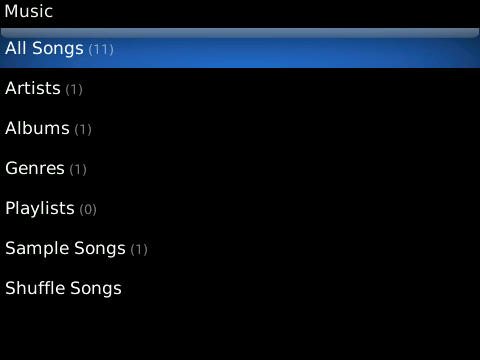 You can zero in on specific songs by artists, albums, genres and playlists.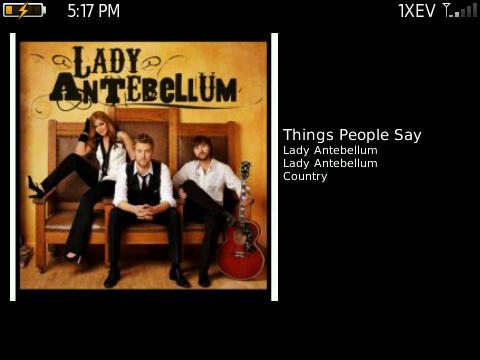 Here's the Now Playing screen (it's missing the control bar at the bottom the screen (the screen capture program I used has some issues…). Audio quality is good through the built in speaker and headphones.
Besides playing music, taking pictures and chatting via Yahoo!, made and received more calls through the phone. My side of the calls always had good audio quality. But today at two different times, the people on the other end of the calls said I sounded muffled or as Ryan said, I sounded like the teacher on the Charlie Brown cartoons. He couldn't hear a word I was saying and had to hang up and call back. I don't know if this was an issue with the Storm or Verizon. Both times I checked the phone and had at least 3 bars signal strength.
Today I was also finding myself becoming annoyed with the auto screen rotation. Quite often, when I would click the display to 'wake up' the phone, it would be rotated in the landscape mode even when I was holding the phone in portrait mode. I kept feeling like I needed to shake the phone like an Etch-a-Sketch to get it to rotate. 😉
Overall today, I felt sluggish while using the Storm. Everything felt slower than ummm… sorry… the iPhone. I know people don't want me to compare the Storm to the iPhone, but it is pretty hard given that I've been using the iPhone lately. I could also compare it to the Centro if that would make people feel better 😉 Either way, the Storm just felt more 'painful' for me to use today and I was missing my other phones.
We'll see if I start liking this phone more during this weekend. I'll be back on Monday with another installment. I'll be using the Storm to view Word, Excel and PowerPoint files. I'll also check out the email client and some of the other stock applications.