We use affiliate links. If you buy something through the links on this page, we may earn a commission at no cost to you. Learn more.
I am always looking for a better mode of transportation for my laptop and other supplies/accessories/junk. Last month I completed a review of the Alienware Odyssey Messenger Bag from Mobile Edge. Now it time to check-out another Alienware branded bag, the Mobile Edge Alienware Orion Messenger Bag.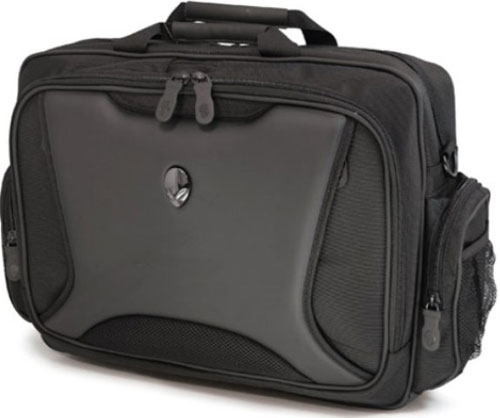 Specifications / Features
Fits laptops up to 17″
Semi-Rigid front panel provides extra support and protection
Loads of interior pockets to carry your gear
Wireless Security Shieldâ"¢ (RF-shielded pocket) protects your cell phone from hackers
Ergonomic backing and shoulder straps for maximum comfort
Superior Craftsmanship and Hardware
Heavy-Duty Rubberized Zipper Pulls
Laptop Compartment Dimensions: 17″ L x 12″ H x 2″ W
Exterior Dimensions: 20 x 13.5 x 5
Color: Black
Weight (empty): 2.85 lbs.
The Odyssey and Orion bags were definitely designed to target different sets of the population. While the Odyssey appears to target the young, non-professional crowd, the Orion has a more grown-up look to it. The branding strategy incorporated in the two bags might be partially responsible for my first impression.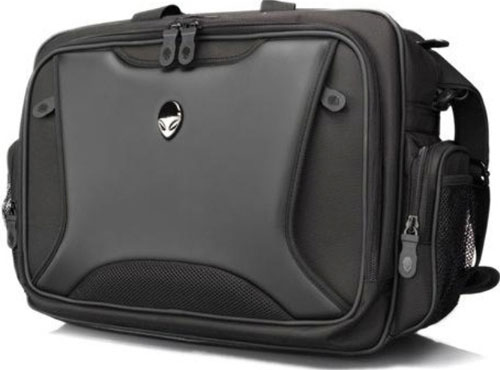 One of my biggest complaints against the Odyssey bag was the amount of Alienware branding that was prevalent throughout the case. On the outside, the inside, it was everywhere. Orion takes a different approach. The only blatantly obvious mark is the small (approximately 1.5"), black chrome alien head icon located in the front.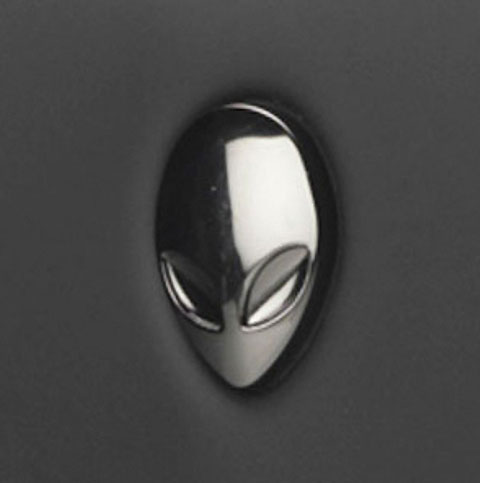 The black 840 Denier Nylon material is great. It is highly durable and extremely easy to clean. For this reason it is the material of choice when designing a case.
All the external zippers are nicely sized at approximately 1.5" in length by 0.75" in width. Their size makes it very easy to quickly utilize the fasteners. Each black rubberized zipper is accented with black alien head icons. As I stated above, I am not a big fan of the over-branding of products but the zipper graphics are nicely indiscrete.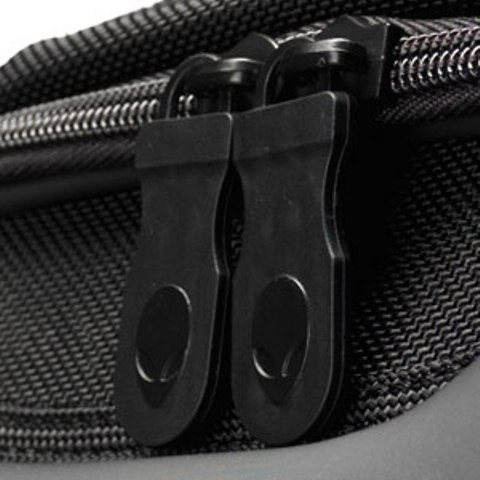 Two nylon handles wrapped in soft leather plus a good size, adjustable shoulder strap offer carrying options.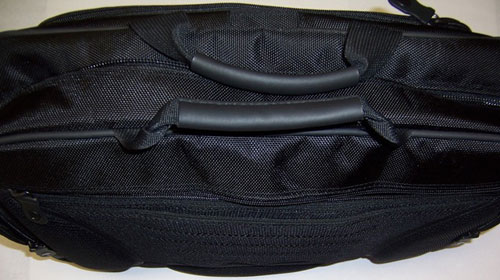 The shoulder pad is too thin for my preference but to be honest, this is routinely a point of dissatisfaction for me when reviewing bags. I like a good amount of padding, especially since I often carry a full bag. Unfortunately very few bags have the necessary padding, in my opinion.


The bag is flanked on each side by two pockets. The outer most is a mesh pocket with a width of 4" and length of 5". Cables and other peripherals are secured in the pockets by the elastic top border. I have a small umbrella that fit perfectly on one side's mesh pocket.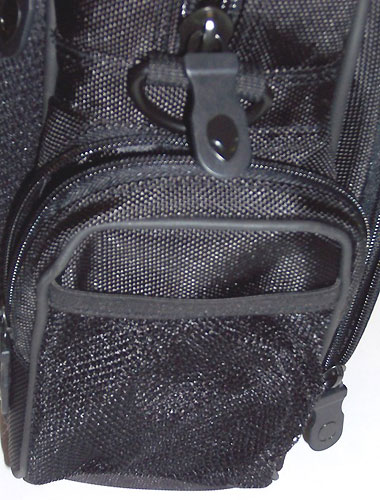 The mesh pockets are on the outside of the side zippered pockets. At 8" x 5", the side pockets are great for jump drives, cameras, power cords and other miscellaneous items you want to be able to quickly access. My Dell's Latitude power cord nicely fit on one side.
The front of the bag has a semi-rigid panel which is accessible via zippers on each side. This panel would be great for travel documents and other documents you need to access quickly. The rigidity of the front panel provides support and an impression of strength, like body armor, without adding much weight.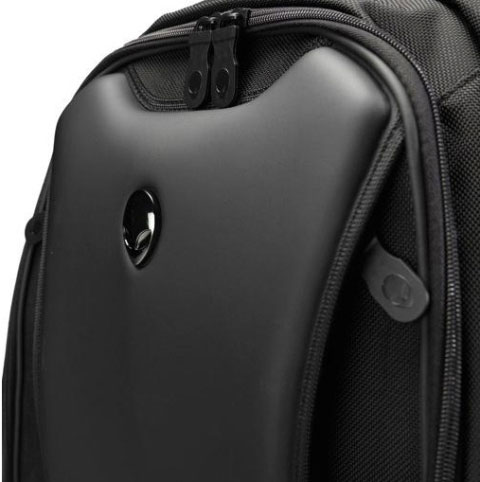 The back of the bag provides a nice combination of extra padding and ventilation. The Cool-MeshTM material provides great ventilation so that your back does not get too hot. The padding is strategically placed in ergonomic locations on each side and at the bottom to provide comfort.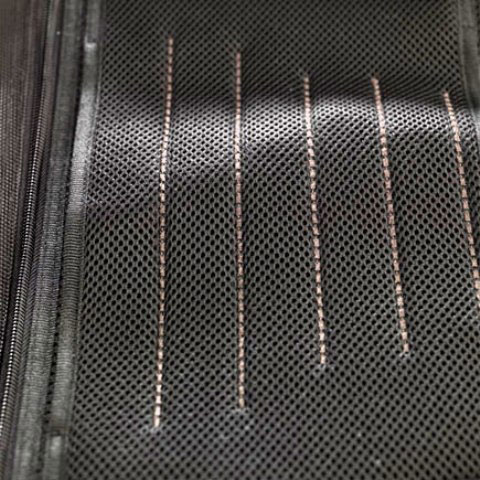 A dual-zipper pocket and a pass-through section to easily slide over wheeled luggage, complete the backside.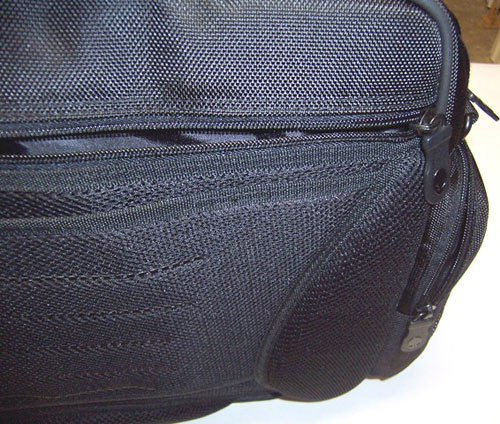 Moving in to the large, front compartment you find a ton of storage options. There are over a dozen pockets including four medium to large size pockets secured via Velcro flaps, business card holders and 5 slim pouches. There are pockets for everything from pens and keys to presentation remotes and game controllers. This section also includes a headphone pass-through at the top.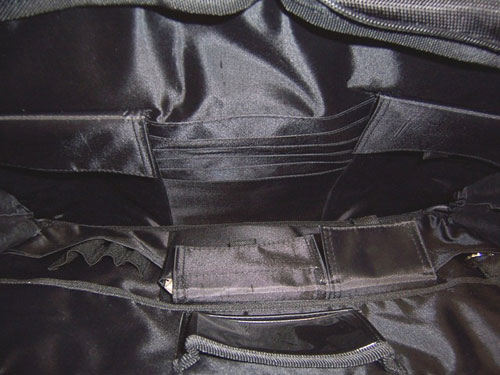 This compartment has a feature that I have never found in any other bag, a cell phone pouch lined with RF-shielding material. This protects your phone from going off at inopportune times and provides security if you are concerned about hacker accessing your wireless devices.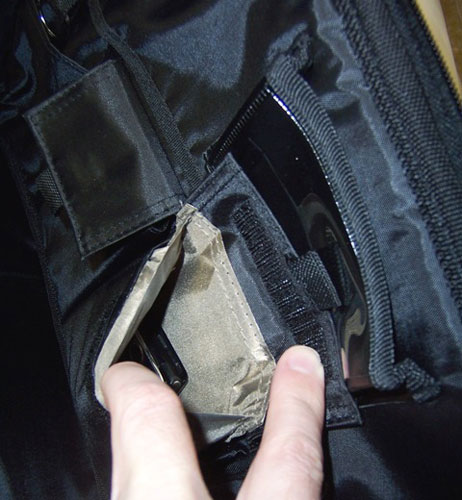 I tested this 5 times with two different cell phones and neither phone would ring. As a matter of fact, the cell phones would display "searching for signal" message for about 5 seconds after being removed from the RF-lined pouch. Pretty cool, huh? The bad guys on "Prison Break" (television show on the Fox Network on Monday nights) could definitely use this feature to protect their data on those electronic card devices.
The main compartment is subdivided into two large sections, each measuring at 17″ L x 12″ H x 2″ W. The laptop fits into the back section, which is nicely padded and includes an elastic strap secured by Velcro.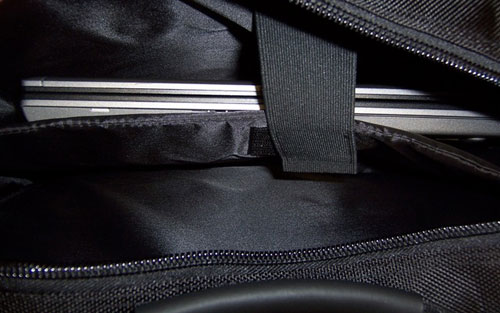 The front section is most likely intended for books, files, folders and binders. Honestly with the available size, you could use the front section to easily fit another laptop in the bag. I carried my laptop, a notebook and a 1-1/2" 3-ring binder in the two sections of the main compartment. Having the ability to comfortably fit a lot of things, including two laptops, in this compartment is a huge advantage of the Orion.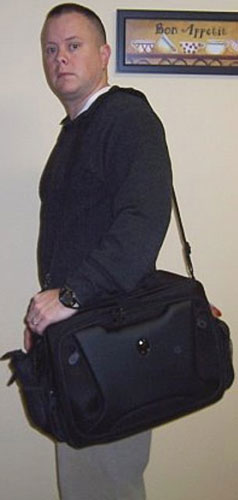 In conclusion, I would definitely recommend the Mobile Edge Orion Messenger Bag. The bag provides a great deal of storage options in vastly different sizes, including the ability to carry multiple laptops. The hardware, durable material and lifetime warranty round out the high notes of the bag.
The Orion has all the positives that I discovered when I reviewed the Odyssey Messenger Bag but only one negative, the lack of padding in the shoulder strap and I as I previously stated that is a relatively small mark against the product.
Product Information
Price:
99.99
Manufacturer:
Mobile Edge
Pros:

Many pockets for great organization options
RF-shielded lining
Large subdivided main compartment, could fit two 17" laptops
Large zippers
Lifetime warranty

Cons:

Not enough padding in the shoulder pad