We use affiliate links. If you buy something through the links on this page, we may earn a commission at no cost to you. Learn more.
I mentioned to Julie a few weeks ago that I've been looking for the perfect laptop backpack. Since I started my new job, I've been
using the Ice Red Drift messenger bag. Even though it's
not a laptop bag, it worked pretty well, seeing as my Dell XPS M1330 came with a very nice sleeve. I also really liked this bag. Its
one major problem is that it's a messenger bag. I sometimes have to make the mile and half trek home from work by foot (mostly when
I lose track of time and miss my last bus home), and a shoulder bag eventually starts to hurt my back and shoulder from the
unbalanced weight. I already have a couple laptop backpacks, but neither were exactly what I want.
I used the Targus Groove during much of my college years –
it's got a large capacity, which is pretty handy when you're carrying three classes' worth of books and papers around all day.
But at over three pounds empty, it's too big and too heavy to use on a daily basis for work. My discontinued Samsonite
laptop backpack was much smaller, but I didn't like its shape very much, or the fact that the side pockets were made of mesh.
MobileEdge is a company that designs and manufactures laptop bags, many specifically geared toward women. I wasn't too thrilled
with most of their choices, but the Express model seemed to be one to consider for my needs. We'll see if it hits the mark.
For reference, here's what I generally carry in my backpack every day: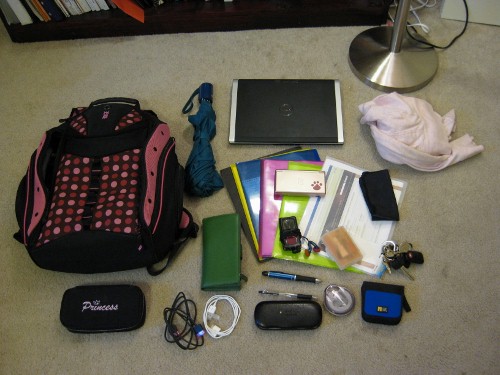 I carry a number of little things, and I have things that I need quick access to, like my wallet, keys, and cell phone. I don't
carry a purse to work, so I need my laptop bag to do double-duty as a business bag and a purse during the day.
The bag itself is pretty nice-looking. The women's version of the Express has two fabric options – pink and brown polka dots or a
pink and black ribbon design. I do have a little criticism for this – I'm all about bags that look a little out of the ordinary,
and I'm disappointed that the only color options for this backpack are pink-centric. I would have liked to see a spectrum of color
options – maybe some green or blue designs. The design itself, however, is pretty decent.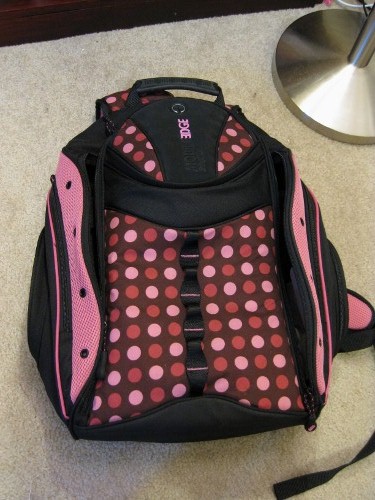 The patterned design on the front of the bag is, unfortunately, normal cotton (or cotton-blend) fabric. I don't think this is a
particularly good idea for a backpack. I carry my backpack on a dirty bus every day, and I sometimes have to expose it to rain or
snow. I want a bag that can be wiped off or cleaned up easily. A polyester or nylon blend fabric would have been a better choice,
especially considering that it covers most of the front of the bag. The grab handle at the top of the bag is pretty standard – it
has a thick rubber grip on it, and it feels quite sturdy.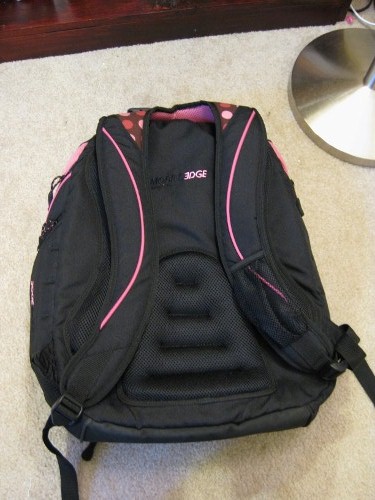 The back of the bag is pretty nice. The straps are well-placed, which can be a problem for me, since I'm pretty small at 5'5″ and
around 105 lbs. These are spaced nicely, and fit to my body well. The padded area around the bottom half of the bag was a little
rough and stiff at first, but it softened up quickly and provides a nice cushion on my lower back (excellent when the bag is
bouncing around as I'm walking downhill). The left strap has a small mesh pocket. Seems useful, except that the opening is
very small (about 2″ wide), and I don't have anything that actually fits in it. If I take my 8GB Zune out of its case, it fits, but
it's very snug. I would have liked to see a pocket big enough to hold a cell phone. Another downside is that the mesh of this
pocket is a little rough – it's scratchy on my upper arm when I'm only wearing a sleeveless shirt.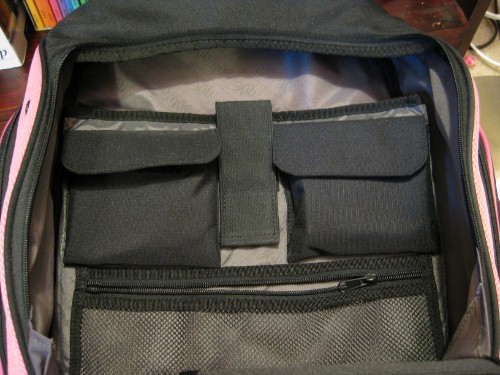 There is only one main interior compartment, with several pockets and a padded laptop section. The two pockets near the top are
big enough to hold my pillbox and the case I use to hold my thumb drives, and the mesh pocket has enough give to store small
items. The laptop sleeve is quite large (my XPS M1330 is on the small end of current laptop designs), so my notebook isn't too
tight in it. I would have preferred to see the securing strap made of a wide elastic band instead of nylon, so that it could be
stretched to more securely hold whatever size laptop is in the sleeve. As it is, the velcro patch on the strap is just big enough
to secure my laptop, because it's not very wide.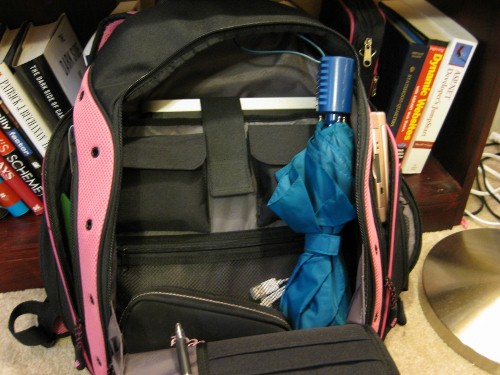 One thing I really like about this bag is how roomy it is. I'd like a stiff divider inside, so I can keep my documents separate
from the rest of the bag's contents, but overall I like the interior a lot. There's space above where the opening is, so additional
items can fit up in there. I have plenty of room for my laptop, random accessories, a jacket or sweater, an umbrella, and all my
document portfolios for my different projects. The weight stays evenly balanced across my back, making a full bag quite
comfortable to wear over somewhat long distances.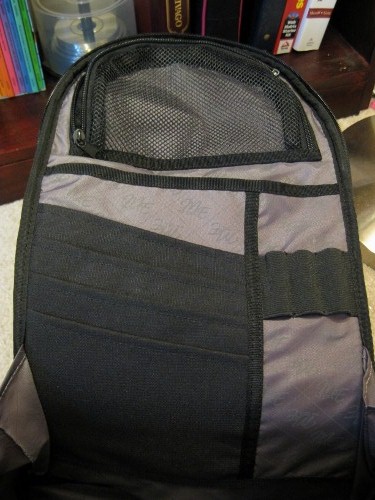 Opposite the main compartment, on the inside of the flap that zips open, are a series of pockets. The mesh pocket at the top is
roomy, but the flat angled pockets below it are too tight to be very useful for anything. They could hold documents or mail, but
that's probably it. The pen loops are fine for your run-of-the-mill pens, but my Papermate
PhD Multi pen is too thick. It's definitely something to consider if you prefer larger writing utensils.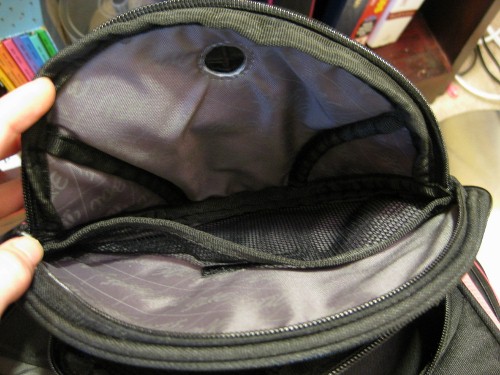 There's a fairly roomy secondary pocket near the top of the bag. Surprisingly, it doesn't make the zip-open flap too top-heavy.
It has plenty of room, along with a rubber-covered opening for a pair of earphones. I've found it handy for my rather large set
of keys and other small things I want to keep accessible.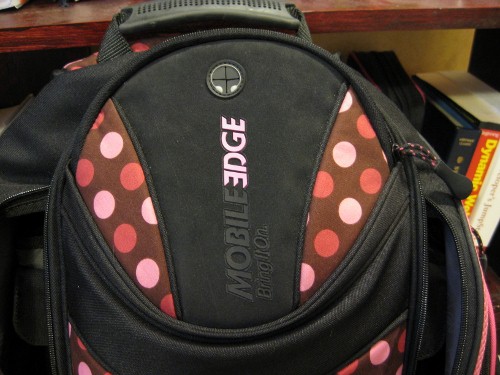 The front of this pocket has a very large MobileEdge logo below the headphone port. This is slightly annoying, especially given
that they've plastered their logo all over this bag. It's not like I'm trying to show off a designer brand (most of Chanel's
flagship purse line has a giant Chanel logo on the side, so that everyone knows you can afford a Chanel bag) or anything!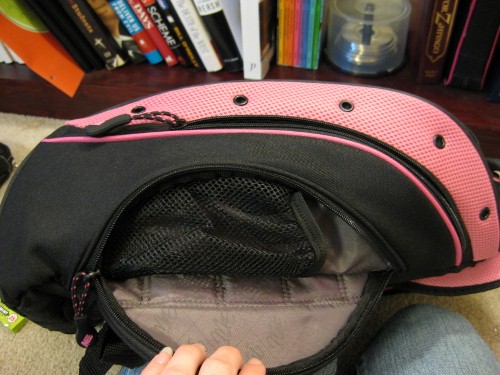 The side pockets are pretty roomy, as well. The right pocket has an additional smaller outer pocket, with a mesh pocket inside
that. It's big enough to hold my Zune and earphones, which keeps them from getting tangled up in anything else.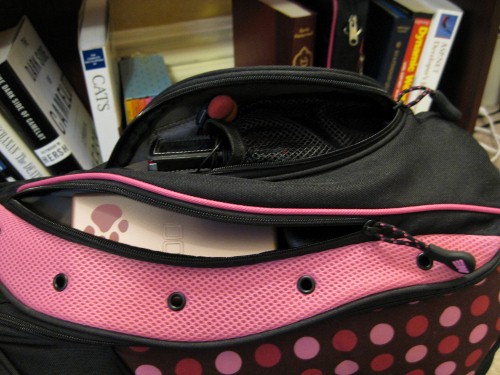 The larger side pocket is still big enough to hold my sunglasses case and my Nintendo DSLite. Like the main compartment, there is
space on both sides of the zipper, so the pocket is a little bigger than it looks. The rivets along the pink mesh are actual holes,
so you'll want to make sure you don't put anything in there that can't be exposed to any moisture at all.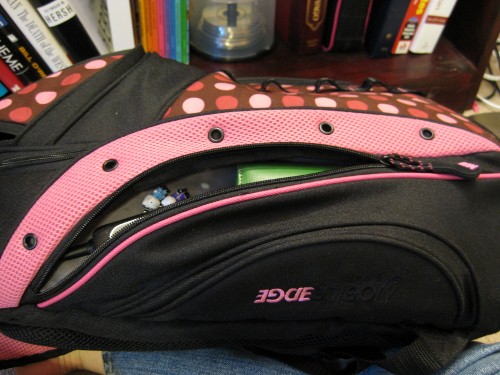 The side pocket on the left side of the bag is a little bigger – the area where where the smaller pocket would be is part of the
large pocket, so it adds some extra room. It's big enough to hold my checkbook-size wallet and my cell phone.
I really like the side pockets. They're very roomy, and the fabric is sturdy enough that they don't bulge out a lot when they're
stuffed with goodies. I'm not really a fan of the large MobileEdge logo on both pockets, though. One thing I really like about the
design is that they're easy to reach while wearing the backpack straight on your back. I can reach around and get to my phone or
my DSLite without having to take the bag off.
Overall, I'm pretty happy with this bag. It's comfortable and fits my small frame very well. It seems to be pretty high-quality
construction, and the padding on the back of the bag makes it easy to wear.
There are a few things I think could be better, but it has a lot of the features I look for in a good laptop bag. The one feature
of my Ice Red Drift bag that I miss is the tarpaulin bottom. It makes for a very durable, waterproof coating, which is excellent
when I have to put my bag on the dirty floor of the bus.
My only major complaint about this bag is the fabric used for the design panels on the front. I just don't know that it's going to
hold up to heavy, long-term use. Otherwise, I like the aesthetics of the bag. I hope MobileEdge will come out with some different
color and design options in the future, to add a little more variety to their women's collection.
I can certainly recommend this bag, if you're willing to pony up the $60 for one. I have yet to find a laptop bag that doesn't come
with a high price tag, so I'd say that the Women's Express is about in line with the competition on the market.
Product Information
Price:
59.99
Manufacturer:
Mobile Edge
Pros:

Lots of room
Easy-access side pockets
Bright colors
Padding against back

Cons:

Too much branding
A little pricey
Some pockets too small