We use affiliate links. If you buy something through the links on this page, we may earn a commission at no cost to you. Learn more.
It's been close to two years since I had a new HP iPAQ smartphone in my hands. The last one was the hw6945. Their latest device is the iPAQ 910. This QUAD band GSM phone has a nice collection of features including a QWERTY thumb keyboard, a camera, WiFi, Bluetooth, GPS, etc. But will this loaner unit be one that I will want to buy for myself? Let's find out…
Hardware Specifications
Processor: Marvell PXA270 Processor, 416 MHz
Memory: 128 MB SDRAM main memory for running applications, 256 MB flash ROM
Operating system: Windows Mobile 6.1 Professional
Integrated wireless: Integrated Quad band GSM/GPRS/EDGE and Tri Band UMTS/HSDPA at up to 3.6/7.2 Mbps; Integrated WiFi – 802.11 b/g with WPA2 security; Integrated Bluetooth v2.0 with EDR; Integrated multi-mode GPS navigation with Google Maps
Display: 2.46-inch transmissive TFT 65,000 color 320 x 240 pixel touch panel display with LED backlight
Built-in camera: 3 Megapixel, autofocus, 4X digital zoom
Battery: 1940 mAh Lithium Ion rechargeable
Expansion: Micro SD card slot
Audio: Integrated microphone, receiver, speaker and mini-USB wired stereo headset
Dimensions: 114 x 64 x 15 mm (4. 5″ x 2.5″ x 0.6″)
Weight: 154g (5.4 oz)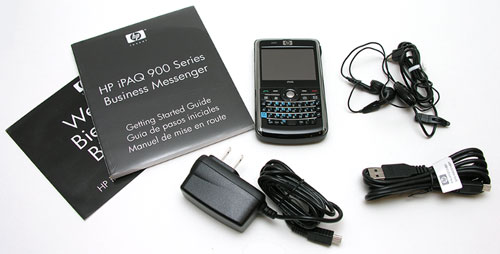 Package Contents
iPAQ 910 smartphone
Standard battery
AC Adapter
USB synchronization cable
Stylus
Wired stereo headphones
Getting Started guide
HP iPAQ Companion CD
Hardware Design
The iPAQ has a shiny Black plastic front, with a chrome colored band that forms a U around the sides and top of the device. The sides are made of a smooth non-shiny Black plastic, while the back of the phone has a thin rubber-like coating.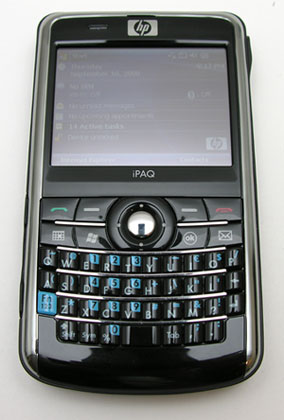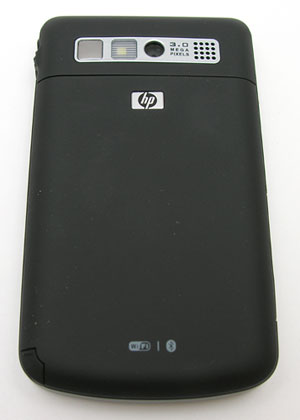 Above the display is a LED that is used for battery level / charging status and notifications. Turning the phone over, you'll notice the 3MP camera lens, flash, self-portrait mirror, speaker and stylus.

On the Left side, you will find the volume up/down button and voice commander / notes application launch button. Below those two buttons is the MicroSD slot and a mini USB connector, both of which are covered by a protective rubber flap. The buttons on both sides of the device are flat and somewhat difficult to locate just by feel.

On the opposite side, there is a scroll wheel, OK button and the camera application launch button.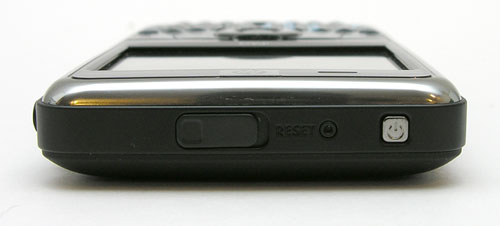 The power button is located on the top edge of the phone, along with a reset switch and a GPS external antenna port. I like that HP included the reset switch. Most devices these days require you to remove the battery to do a soft reset.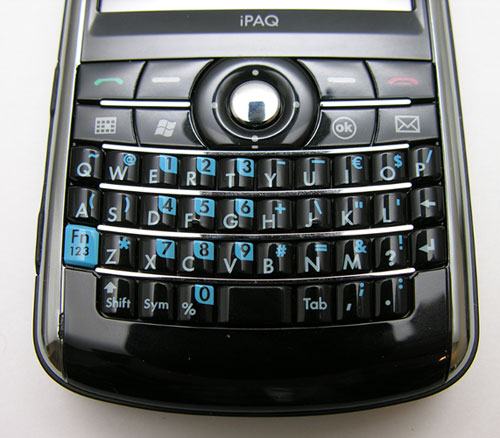 The navigation key layout and QWERTY keyboard are roomy and comfortable to use. The domed center select button is easy to locate with your thumb. Around it is a plastic ring that can be pressed up/down, Left and Right. There are the normal Green and Red call send and end buttons, along with buttons for the Left and Right menu soft keys. There is also a button to launch the calendar, start menu, email and OK. The thumb keyboard keys are dome shaped and easy to press. All of the keys have good tactile feedback and are backlit, making them easy to see in dim environments. I didn't have any issues or complaints using the keyboard for normal text input and text messaging.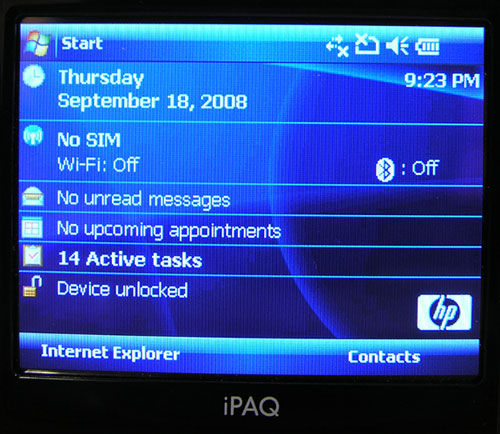 The display is one of the nicer ones I've seen in awhile. Although it is small, it is crisp, bright and easy to read – indoors. Outside in full sunlight, it's pretty much impossible to read unless you have the brightness cranked to the maximum setting and you use your hand to shield the sun from the screen. For touchscreen use, I found the screen to be responsive to stylus input and finger presses.
Size and Feel
I prefer phones that have a readily accessible keyboard. Phones like the Palm Treo and Centro are ones that I usually gravitate towards because I find it easier to press a physical button, than a touch screen to make calls and do other tasks. I've been using a Centro for several months now and before that, it was the Treo 680. Device size is important to me because I don't wear a belt case or anything like that. I usually just slip my phone in my back pocket or even just carry it around in my hand when I go from location to location during my day job.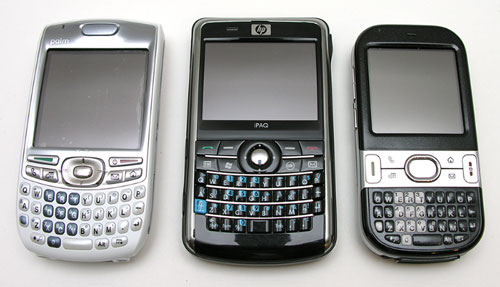 Here's how the 910 (Center) compares to the Treo 680 (on the Left) and the Centro (on the Right) width-wise.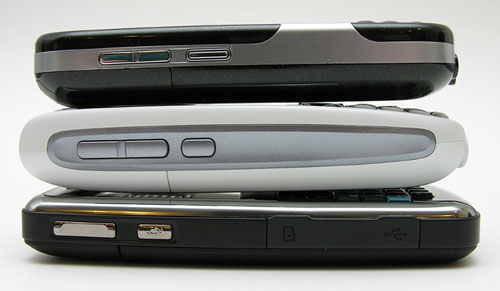 Although the iPAQ is wider than those two smartphones, it's the thinnest of the three (it's on the bottom of the stack in the image above).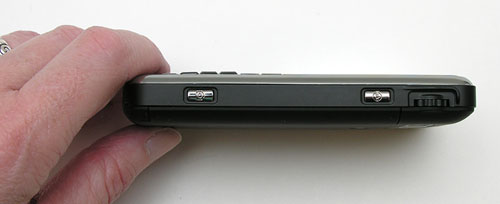 This phone feels smaller in hand than the Treo 680 due to the thinness. But the width is definitely noticeable when compared to the Centro, which easily slips into most of my pants pockets. The iPAQ isn't as portable (for me) in that regard.
As far as sturdiness, the iPAQ feels solid in hand. It doesn't creak or crack when you squeeze the sides and has only a very slight button rattle when you shake it.
Camera
The 910 has a built in 3MP camera with a flash. Here are some sample images that I snapped using the maximum resolution of 2048 x 1536: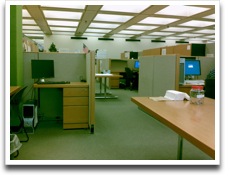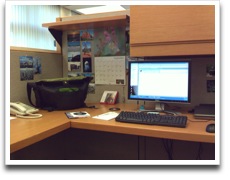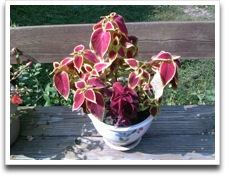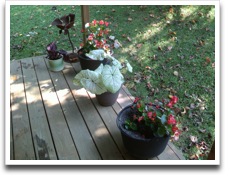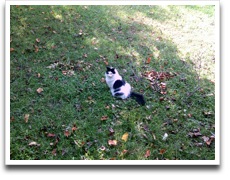 Click thumbnail to see full size image
As you can see, the images aren't the best. They are a little fuzzy and one of the indoor shots has a slight green cast to it. I wouldn't want to rely on the camera to be my only means of snapping pictures, but in a pinch, it does ok.
Performance as a PDA, WiFi web browser and a Phone
I didn't have any problems using the iPAQ as a PDA. System performance is snappy and applications launched quickly. I even watched a few movies and videos and was happy using this smartphone as a media player. Of course the screen is very small, but video was smooth and easy to view.
Using the built in WiFi to surf web pages with Pocket Internet Explorer is quick and easy. Google maps works very well via WiFi too.
As far as using the iPAQ as a phone, I didn't have any issues with dropped calls or signal strength with AT&T. The 910 is an unlocked GSM phone with 3G capability, but I couldn't test 3G as it's not yet rolled out in my area. The only issue that I noticed right away was that the volume level was too low in the earphone. Using it as a speakerphone wasn't a problem for me, but when I wanted to talk normally using the built-in earphone, I found myself straining to hear the other person – even when I had the volume set to the max.
Battery
The HP iPAQ 910 has a high capacity 1940mAh Lithium Ion battery, which sounds great as most phones do not have batteries that large. That said, I didn't find that the 910 lasted any longer per charge than other smartphones. I didn't do any special battery drain tests, but with normal use (a few calls, some PIM access, a few email checks per day, ebook reading here and there), I was only able to get about 2 days per charge.
Software
In addition to the regular Windows Mobile 6.1 Professional software bundle, you also get a few other goodies that include:
HP PrintSmart – Print via Bluetooth and WiFi to HP printers
Sun's Java VM – Run Java apps on your iPAQ
Voice Commander – Allows you to control your smartphone with your own voice commands. Doesn't require special training
Remote Desktop Mobile – VNC client
Internet Connection Sharing – Phone tethering application
HP iPAQ GPS Position Accelerator – Downloads satellite data for faster GPS access. Still need a 3rd party GPS mapping and navigation software to take advantage of the built in GPS feature
Conclusion
I've used the HP iPAQ 910 for a week or so now and have compiled the following list of likes and dislikes…
Likes:
QWERTY keyboard – I like the feel of the domed keys
5-way nav button – Doesn't feel cheesy like some nav buttons
Scroll wheel – I like the location on the Right side of device
Display – Bright and crisp
MicroSD – Easy access and SDHC compatible
Stylus – Telescoping, but sturdy and thicker than most
Dislikes:
Low call volume
No GPS included mapping / navigation software
No built in InfraRed port
Width of phone
Fuzzy camera snapshots
When it comes down to it, I like this device as a PDA, but as a phone, the low call volume is what really kills it for me. I don't usually use a Bluetooth headset, so if I have to strain to hear someone talking even in a relatively quiet area, that's going to be a real problem for me. For that reason, I won't be using purchasing an HP iPAQ 910 for myself. Let's hope that HP comes out with a successor to the 910 that is a bit smaller physically and better volume. If they do, I'll be very interested in trying it out as I've always liked HP iPAQ devices.
Product Information
Price:
499.99
Manufacturer:
Hewlett Packard
Pros:

Snappy performance
Bright, crisp display
QWERTY keyboard

Cons:

Low call volume
Mapping / navigation software not included
Fuzzy camera snapshots