We use affiliate links. If you buy something through the links on this page, we may earn a commission at no cost to you. Learn more.
I have always enjoy reviewing digital photo frames, so I was very excited when I was given the opportunity to review my first WiFi enabled frame from D-Link. The DSM-210 Internet Photo Frame has 1GB of internal memory and is 10″ diagonally. Sounds like a nice feature set, let's see how it rates…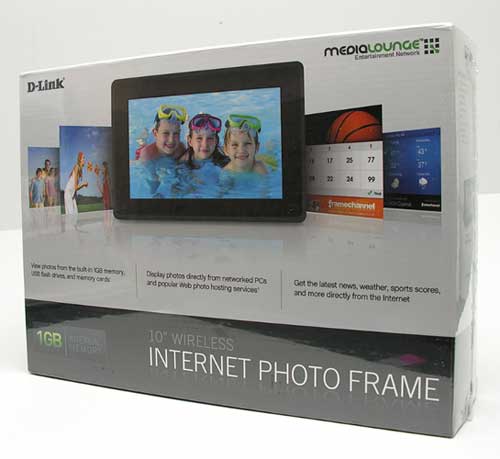 Hardware Specifications
Display: 10" TFT LCD, 16:9 Format, 800 x 480 Resolution
Internal memory: 1GB
Memory card formats: SD (Secure Digital), MMC (Multimedia Card), Memory Stick
Supported photo format: JPEG
Network: Wireless 802.11g, Wired LAN: 10/100Mbps Ethernet
Size: 8 x 12 x 1.3 inches
Weight: 1.3lbs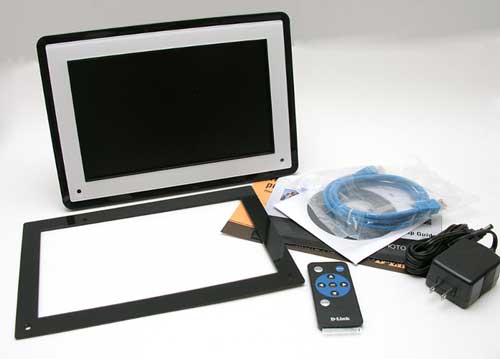 Package Contents
Internet Photo Frame
Remote Control with Battery
Power Adapter
Ethernet Cable
Quick Setup Guide
Stand
Black and White Faceplates
CD-ROM with Widget Software and Product Documentation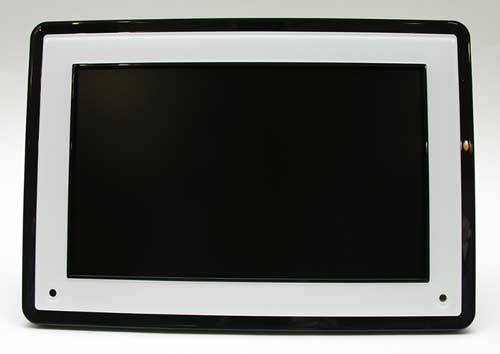 The frame is made of Black plastic and ships with two magnetic faceplates that are very easy to swap. In the image above, you see the frame with the White faceplate installed. In each bottom corner is a small circular cutout. One is for the IR remote and the other is a window for the motion sensor. Instead of implementing a timer feature to allow you to automatically turn the frame on and off depending on the time of day, the motion sensor will shut off the display after a period of time that no motion is detected, and will turn it back on when movement resumes. Personally, I would like a timer too…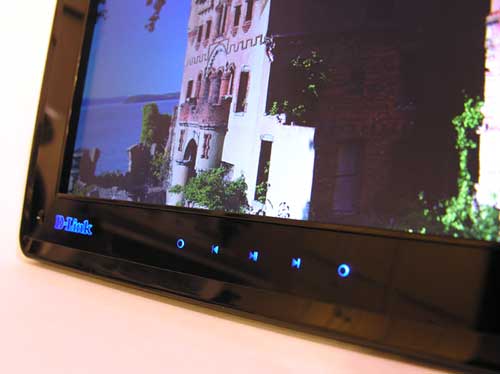 Here you see the Black faceplate installed. You'll also notice the glowing D-Link logo and image control buttons for previous and next picture, play and pause. The buttons are touch sensitive and only glow for a few seconds once you touch the frame. I don't really like using the touch controls as they don't seem to always work when I use them.
These controls are the only ones available directly through the frame itself. All other interaction is done with the IR remote – so you don't want to lose it.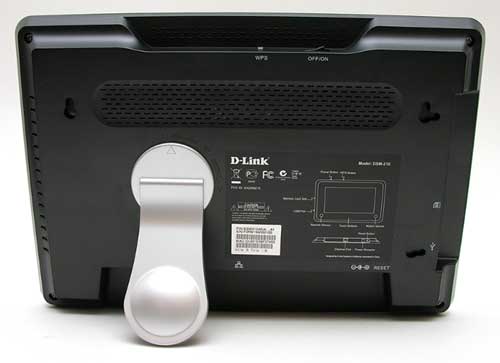 On the back of the frame, you'll find the stand, that can be oriented for landscape or portrait orientations. There are also mounting holes if you decide to hang the frame on a wall.

Although this frame is WiFi enabled, it also has an Ethernet jack if you prefer to connect it to your router with a cable.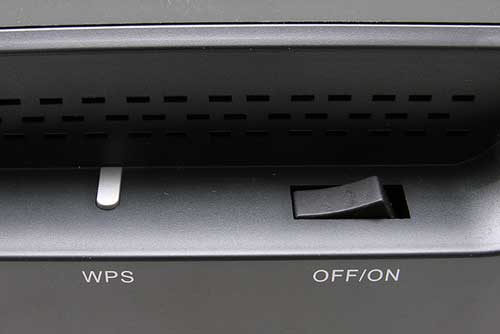 On the top edge is the power switch and a WPS switch. WPS stands for WiFi Protected Setup. This is a new method of 'pairing' a WiFi device with a wireless router or access point. It's sort of like pairing devices with Bluetooth as a PIN is required. This appears to be a new feature that not many wireless routers support. Don't worry though, the DSM-210 can also connect to your wireless router the same way you usually connect devices. By the SSID name.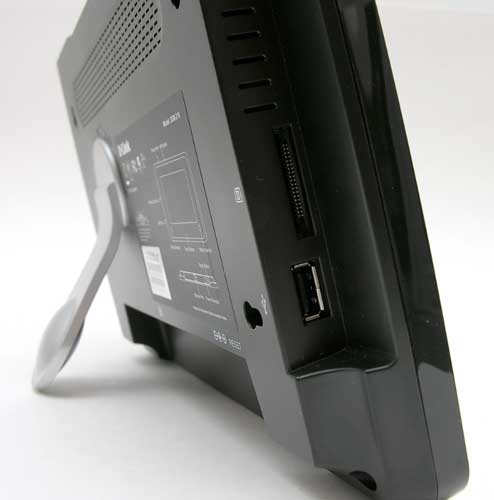 In addition to the built in 1GB of internal memory, there is also a USB port and a flash card slot that can accommodate SD, MMC and Memory Sticks.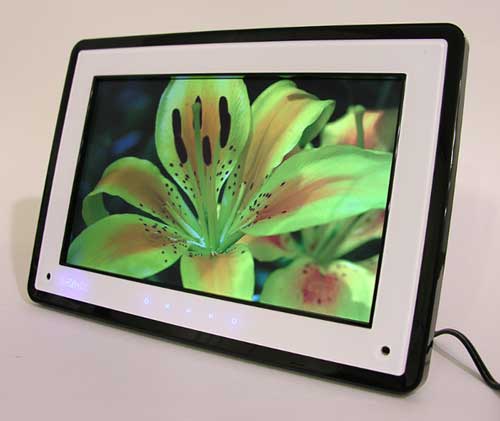 The 10 inch display is one of the nicer ones I've seen, but I would say that the Aluratek digital frame that I reviewed a few months ago is somewhat better in that regard. The D-Link has very nice color and crispness. It's bright and can be viewed easily at different angles. But surprisingly, there are no controls for adjusting contrast or brightness so that you can customize the display for your own person preferences.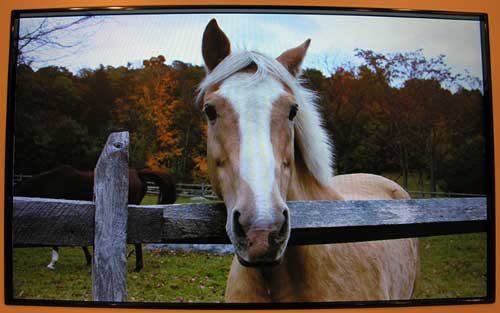 The screen resolution is 800×480, which is a widescreen 16:9 format. The images that your digital camera captures are probably not going to be in widescreen format. So by default, your pictures will display in 4:3 format and you'll see black bars on either side of the image. If this annoys you, you can have the image stretch to fit the screen or cropped to fit. Both of those options make the resulting image a little fuzzy though…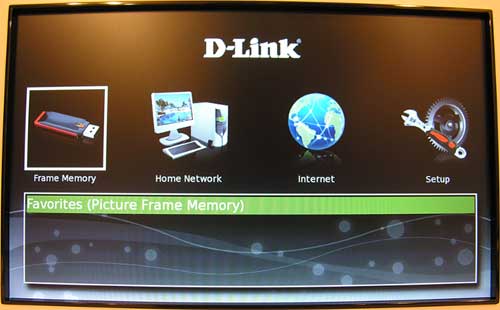 When you first turn on the frame, you'll be presented with the main menu. If you have any USB flash drives or memory cards plugged in, you'll see them in the Frame Memory listing. From there, you can pick which memory device you'd like to view images from. Unfortunately, you can't tell the frame to view all the images in all connected memory devices (internal, USB and memory card slot).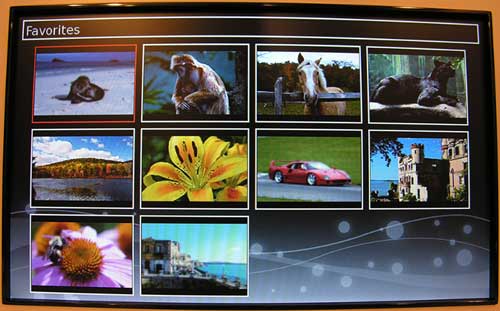 When you choose one of the listed memory options, a thumbnail list will be displayed.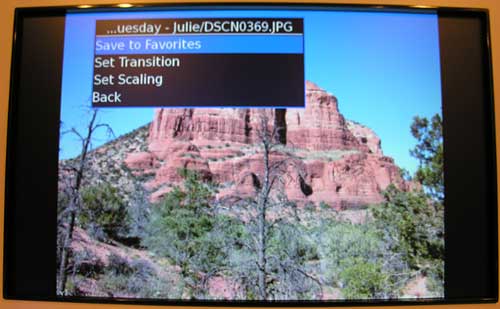 While you're viewing an image, you can press the Menu button on the IR remote. When you do this, you will have the ability to save that image to internal memory. This feature seems a bit clunky to me as there is no progress indicator while the image is copying. The frame just freezes while the operation is happening. It's also important to note that there isn't a way to copy multiple images into internal memory from USB or a memory card. You have to do them all one at a time. This makes using internal memory a bit too tedious in my opinion.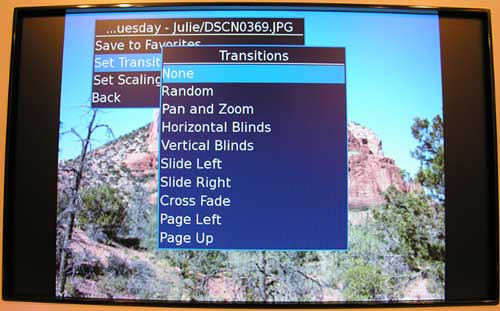 As far as transition effects go, I like the Pan and Zoom one the best. It's like the Ken Burns effect. Another omission is that you can't set the number of seconds in between each image. As it is, the time is approximately 5 seconds, which to me feels too fast.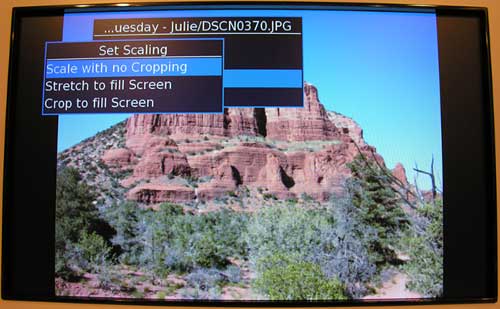 The image above is an example of what an image looks like in 4:3 format. Notice the Black bars on either side of the image.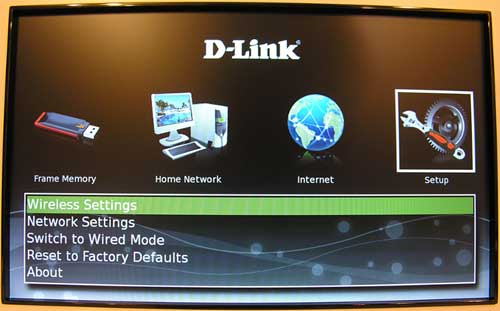 As mentioned, one of the main features of the DSM-210 is the fact that it is WiFi enabled. Connecting to an open network is simple. I was able to connect to mine within seconds after initially powering on the frame. Once connected, it will check to see if there are any firmware updates and will allow you to download and install them.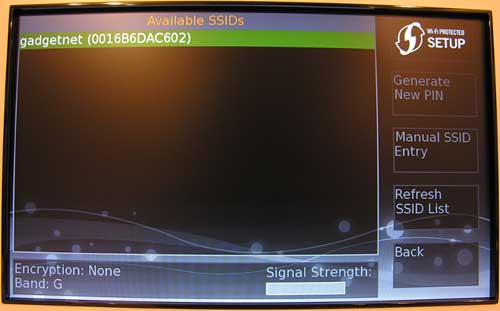 If your WiFi network isn't open, you can manually enter the SSID and connect that way.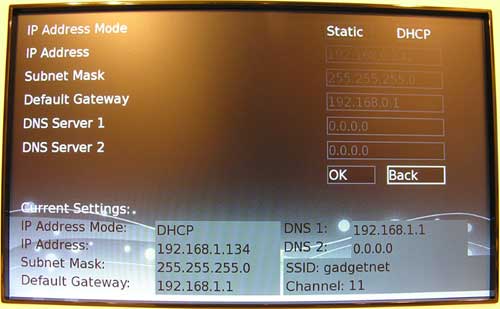 You can also configure other network settings if needed.
If you have a NAS (network attached storage) device or a PC running Windows Media Player 11, you can share images with the frame that way.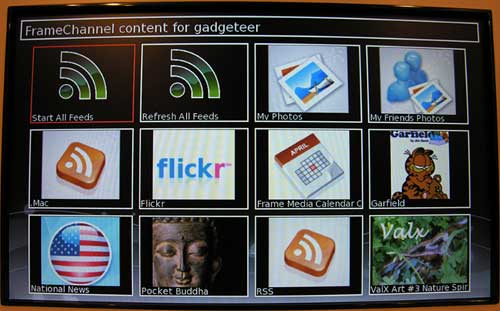 You can also view images from various popular image sharing sites like flickr, Facebook, and Picasa. By creating an account on D-Link's FrameCentral website, you can add all sorts of 'channels' to your frame. Just a sampling are shown below.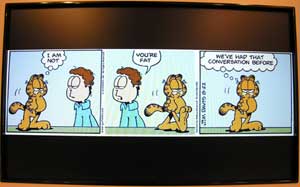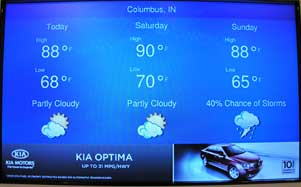 There are cartoon strips like Garfield. Local weather channel.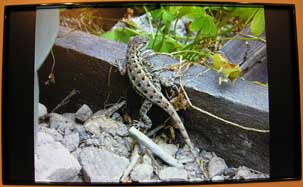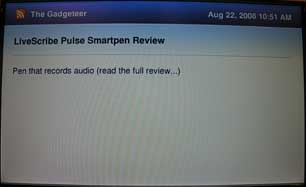 Nature and art images. RSS feed reader.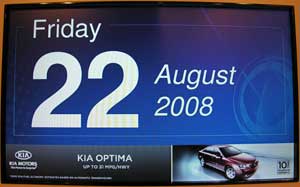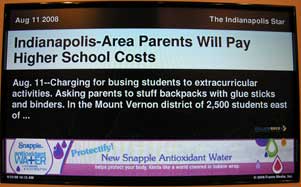 Calendars and news headlines.
You can then show just the content from an individual channel, or randomly show content from all channels. These channels are a nice feature as they allow you to view extra unknown content instead of your same images over and over. The only problem is that you can't really interact with the info channels. For example, if you add an RSS feed, you might just see the title of a new post, instead of the whole post. Same goes with news headlines. There is no way to see the rest of an item. Although I initially added a bunch of channels to my frame, thinking they would be cool, I ended up removing all but image channels.
People can also email images to your frame as it has its own email address. Great for friends and family to send you snapshots that will automatically show up in the slideshow if you're viewing all channels. Feel free to send my frame some images if you like: [email protected]
Just when I was wrapping up my testing of this product, I ran into a problem… I was copying an image from a USB flash drive into the internal memory and it seemed to freeze the frame for way longer than the other times that I'd copied images. So after about 5 minutes, I just used the power switch on the frame to turn it off. When I turned the frame back on, the internal memory vanished. I don't mean that the images that were there were gone, I mean that the option to even access internal memory vanished. Trying to copy images to internal memory does nothing now. And if that wasn't weird, the option in the setup menu to reset the frame to factory defaults also vanished. I tried toggling power, pressing the physical reset switch and disconnecting power for several minutes. Nothing has fixed the issue. I finally ended up calling D-Link tech support. I was on hold for about 15 minutes before getting a tech person. He took all my info, put me on hold for several minutes several times and then told me he would create a case# for me and transfer me to tier two support. I was then on hold for several more minutes when the phone disconnected. Yay – not. So I called back, was on hold again, got transferred to tier two, answered questions again about the problem, and was told that one of the engineers for that product would call me in 1 hour because everyone was at lunch. No one ever called me back… Grrrr…
Even with the odd software / hardware (?) issue that I now have with it, I do still like this product as everything is still working with the frame except for the internal memory. I like the DSM-210 mainly for its WiFi and internet features. Being able to link to your Flickr and other photo sharing sites is really nice and the ability to receive images emailed to the frame is equally fun. I am definitely concerned about the disappearing internal memory and menu option, but think that somehow copying an image from my USB flash drive into memory scrambled things. I hope that the next firmware update might fix the issue. Until my frame can be restored to complete working order, I can't fully recommend the D-Link DSM-210, but I will still enjoy using it in its current condition.
Product Information
Price:
289.99
Manufacturer:
D-Link
Requirements:

Open Ethernet port or WiFi network

Pros:

WiFi enabled
Can receive emailed images
Can display a variety of online content (channels)
Nice display
Motion detection

Cons:

No timer
No brightness / contrast settings
Can't change internal memory slideshow time interval between images
Internal memory disappeared after copying image from USB to internal memory
Reset to factory default settings option disappeared