We use affiliate links. If you buy something through the links on this page, we may earn a commission at no cost to you. Learn more.
I'm a minimalist. The problem is that I'm a minimalist that has too much stuff. ;o) For those of you that might be true minimalists, I have a nifty USB doo-dad to show you, that has the potential to allow you to ditch your High Def TV and DVR. It's the PCTV HD Pro Stick (801e) from Pinnacle Systems. With it, you can use your Windows laptop or desktop computer as your TV and DVR. Let's take a look…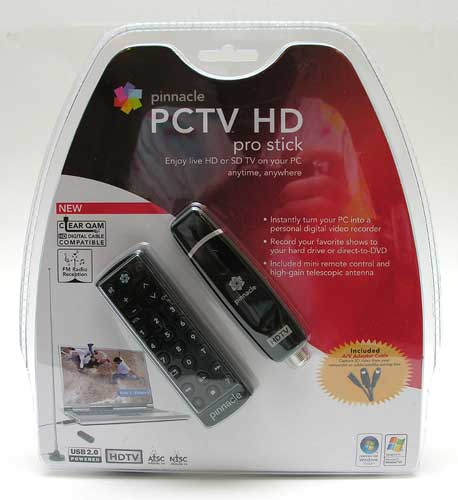 I'm sure that you've all been seeing the public service announcements on TV regarding the fact that as of February
17th next year, analog TV signals
will be going bye bye. This tuner will allow you to pull in DTV (digital TV) channels over the air or via your cable company.
Hardware Specs
TV Standards:
-ATSC (HDTV up to 1080i, SDTV)
-NTSC (cable, over the air)
-ClearQAM (HDTV up to 1080i, SDTV)
Inputs:
-TV/FM antenna (F-connector/Coaxial)
-S-Video, Composite Video (RCA), Stereo Audio (1/8″)
Recording Formats:
-MPEG-1/2
-DivX4
-MPEG-4: compatible with PSP or iPod (Trial Version)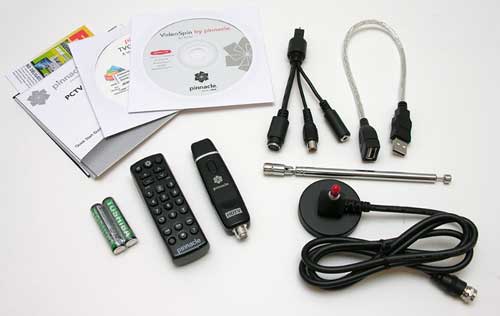 Package Contents
USB 2.0 TV tuner for ATSC/ClearQAM/NTSC and FM radio reception
Mini remote control including batteries
Portable telescopic high-gain antenna
A/V Adapter cable
USB extender cable
Printed quick start guide
CD with Pinnacle TVCenter Pro and VideoSpin editing software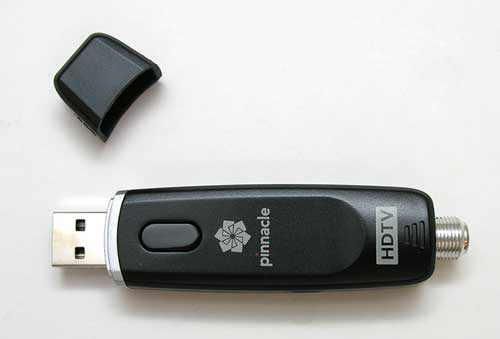 The PCTV USB tuner doesn't look much different than your run of the mill flash
drive. The only noticeable difference is the threaded connector sticking out of
one end. You can attach the included telescoping antenna to this connector, or
a coax cable to another antenna or cable TV cable.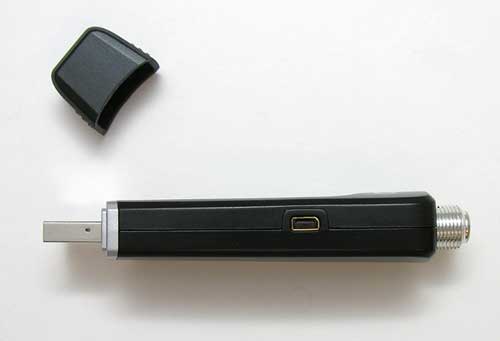 On the Right side of the tuner is a small connector for the A/V Adapter cable which is included
with the package. You can use this cable to attach the tuner to a satellite or cable box.

I love the 25 button IR remote control that ships with the PCTV. It has real
buttons instead of the crummy plastic membrane type. It runs on 2 AAA batteries
which are thankfully also included.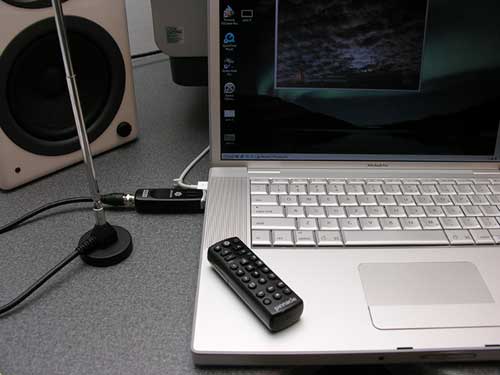 To use the PCTV, you first need to install the Pinnacle TVCenter Pro software which is included on CD. Then plug the USB tuner into a free port on your computer, attach the included antenna and start launch the TVCenter Pro software. FYI: you can also use this tuner with Windows Media Center. The included remote is not compatible with Windows Media Center though…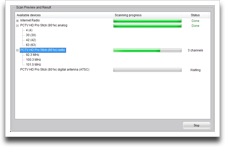 The first time you run the software, it will scan for available channels in your area. It will find analog and digital. It will also find FM radio stations for you. Scanning can take awhile, so be prepared to wait about 10 minutes or so for that step to complete.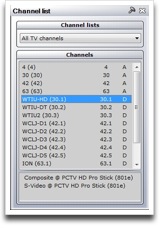 I was really surprised how many channels the included antenna found when I did my initial scan in my basement. Of course, when I did a second scan with the tuner connected to my 30 foot TV tower, it found quite a few more. The moral of the story is that the number of channels that this tuner can find is entirely dependent on your location.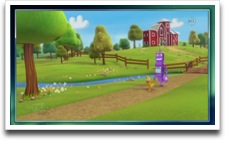 It's also important to remember that even if you get a long list of channels during your scan, that they might not all actually look that great when you try to watch them. Your signal will definitely vary per channel. In my area, scanning with the included desktop antenna found none of the network HD channels (ABC, CBS, NBC, FOX) in my area. But when I connected the coax from my 30 foot tower outside, it found all of them. I tried to get some screen shots of different channels in action, but had a heck of a time doing so. As luck would have it, the only screen shot I was able to capture that wasn't completely blank was of a cartoon. I will say that when the signal was good, that the HD broadcasts looked great. You can watch the shows in a window or full screen. I did all my testing using my Macbook Pro running Windows Vista with Bootcamp. The HD channels (all channels for that matter) looked considerably better in window mode instead of full screen.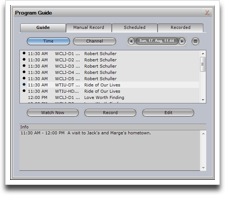 The software interface allows you to pause live TV just like a DVR / Tivo and then unpause to start playing the show where it left off. You can also schedule recordings like you would with a Tivo or VCR and save them to your hard drive or DVD. The program guide only allows you to see the guide per channel instead of all the channels in a grid, but it works ok. When you install the TVCenter Pro software, it gives you the choice of using the premium electronic program guide or the basic guide. The offer is 1yr free of the premium guide. Since they didn't require a credit card, I went with the free offer. To me the premium guide seems pretty basic… but I'm coming from using a DirecTV HD DVR, which has a full programming grid, with searching and other features…
In addition to watching TV, the PCTV HD Pro Stick also picks up FM radio broadcasts. The software interface even has internet radio too…
If I was super short on space, I might even consider using this USB tuner with a desktop computer and a large LCD display in the place of a regular TV. That said, I'm really spoiled by my DirecTV HD DVR, so I wouldn't want to deal with the weak program guide offered with this product. The other issue is the fact that there isn't a Mac version of the TVCenter Pro software… But, if you're a Windows user with $100, the PCTV HD Pro Stick from Pinnacle Systems is a fun USB gadget to play with.
Product Information
Price:
99.99
Manufacturer:
Pinnacle
Requirements:

Windows XP or later, free USB port

Pros:

Included antenna does a decent job pulling in stations
Easy to use software
Portable

Cons:

Program guide is weak
CPU intensive
No Mac version of the TVCenter Pro software