We use affiliate links. If you buy something through the links on this page, we may earn a commission at no cost to you. Learn more.
I love my 65 inch TV. Even though it's a rear projection TV and not a flat screen, which means it takes up a lot of space in my basement. I went from a 27 inch TV straight up to 65. I can't go back now… no way. What do you do if you don't have room for a giant TV, but still want that big screen experience? Vuzix thinks they have a solution with their iWear AV490 Video Eyewear. These glasses claim to give you a 62 inch screen experience. Let's just see about that…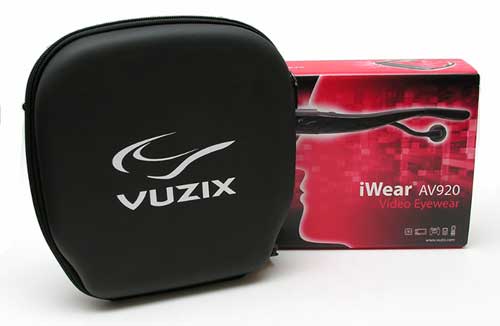 Hardware Specs
Twin high-resolution 640×480 (920,000 pixels) LCD displays
Equivalent to a 62″ screen viewed from 9 feet
Millions of colors
Visor weighs 2.9 ounces
Integrated rechargeable lithium ion battery allows approximately five hours of continuous operation
60 Hz progressive scan update rate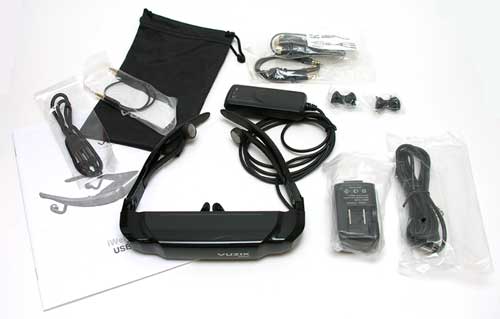 Package Contents
iWear AV920
Lens cleaning carrying pouch
Headstrap
DVD Player Cable
5th Generation Video iPod Cable (Cable Will NOT work with iPod Classic, iPod Nano, iPhone or iPod Touch)
Composite audio/video cable
Manual with warranty and safety instructions

I've always wondered how good video glasses were, but thought I wouldn't be able to test them given the fact that I already wear regular glasses. The AV920's can be worn with glasses, so I was happy to give them a try.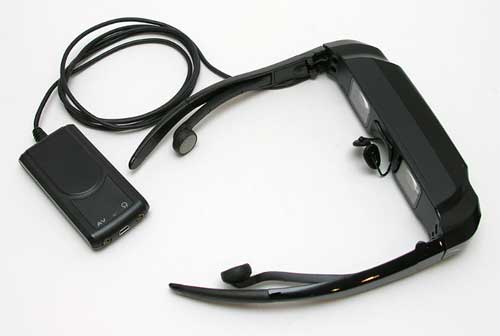 The glasses are made of shiny Black plastic and have a 53 inch cable with a small module connected at one end.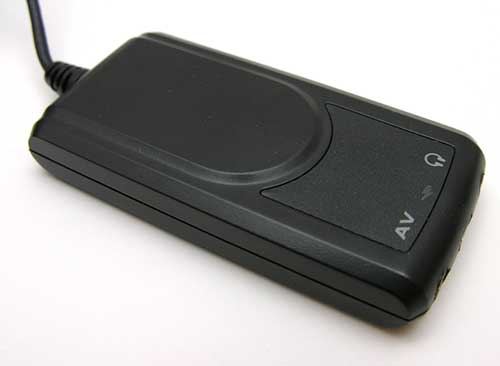 This module is where you plug in the included mini USB cable for charging, or one of the included video cables that allow you to connect these glasses to various video sources. Supported Devices include: Portable DVD players, Media players, Gaming systems, Digital cameras, Camcorders, Cellular phones with video output, iPod 5th generation devices. The iWear AV920 is designed to connect to almost all NTSC or PAL audio/video device with video out capabilities. For this review, I used my iPod Classic and a regular DVD player.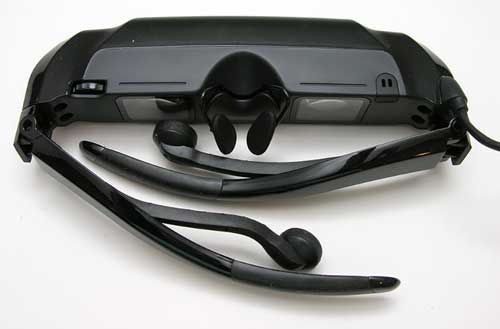 The AV920's are like normal glasses in as much as they have folding temples…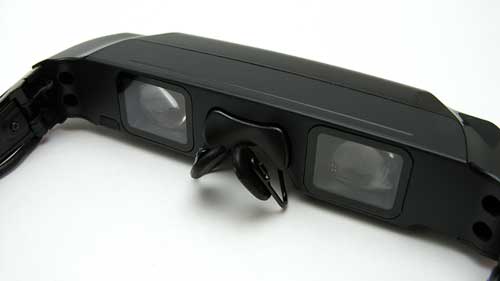 and an adjustable nose bridge.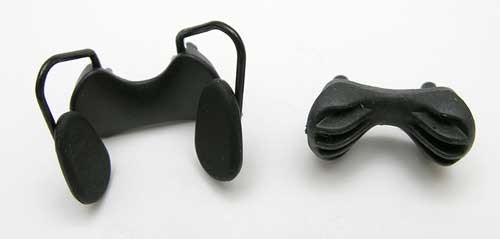 The default bridge has nose pads that can be customized by bending the wires that they are attached to. You can also remove this bridge and install a rubber bridge that is also included.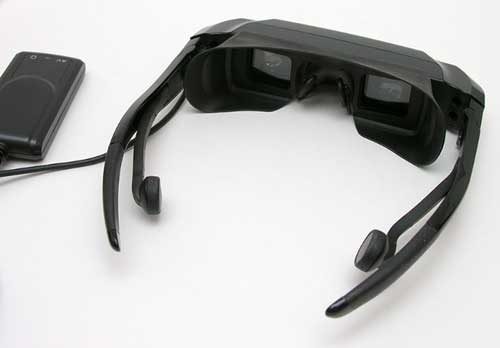 Also included is a soft rubber light shield that can be used with either style nose bridge.
You'll notice the earphones that are built into the frame of the glasses. These earbuds are attached to flexible stems. The earphones aren't really designed to fit inside your ears though…
You might think that a gadget like these video glasses might be difficult to use. That's definitely not the case. All you have to do is to charge the glasses using the included USB cable for about 4 hours. This will give you approximately 5 hours of play time per charge. Once charged, you connect the appropriate video cable to the module and then connect your preferred video output device.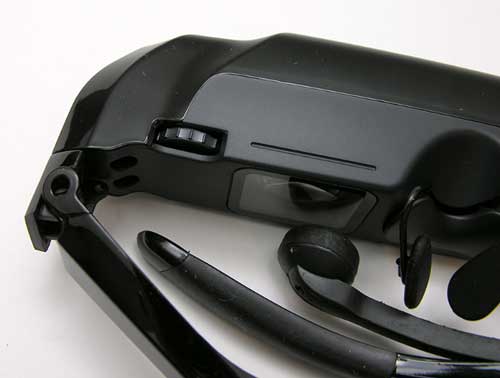 To power on the glasses, you just press the spring loaded wheel on the bottom right edge of the glasses. From there, you turn on the video device and video will begin playing on the twin LCD color screens inside the glasses. The wheel can be turned to adjust the volume in the earphones, or pressed to bring up the on screen menu which gives you the ability to change brightness, contrast, backlight brightness and video mode control (2D/3D).
The very first thing that I noticed with these glasses was the fact that I could not use either nose bridge style. The one with the adjustable nose pads stuck out too far and didn't allow me to fit the video glasses close enough to my eyes while I was wearing my regular glasses. I tried bending them in a variety of ways, but had no real luck. I didn't have much luck with the rubber nose bridge style either. Even when I took my glasses off, neither style felt right or allowed the glasses to sit on my face well enough. I couldn't see the video without my glasses anyway. It was blurry. I ended up taking off the nose bridge altogether and then the video glasses were able to fit me – sorta. They still were not very comfortable.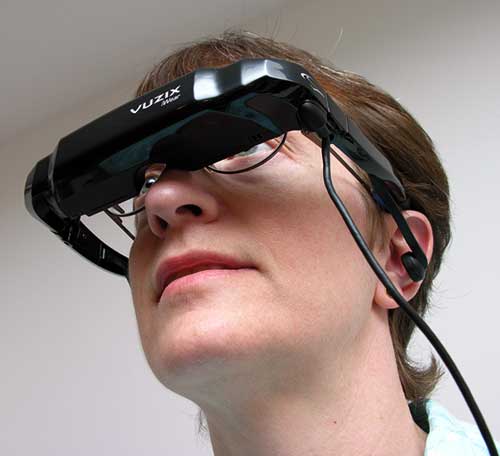 Oh look, it's Geordi La Forge's sister!
Video quality watching regular videos from my iPod or with a DVD player through these glasses was good. I won't say it was super fantastic, because it's not. The color is good, but the picture is nowhere near high def by any stretch of the imagination. And if these glasses are supposed to give a person a 62 inch big screen experience, I'd think you would expect a really really good picture. I'm not saying the video quality through these glasses is bad, it's just not going to impress many people. I have been watching a 65 inch TV for several years and these glasses do not give me the same experience. I'd actually rather watch a 27 inch TV from 6-7 feet away, or watch video on the small screen of my iPod classic, then watch video with these glasses. This is mainly because I find the glasses to be uncomfortable to wear for any length of time. Also after watching video through them for awhile and then taking them off, I felt like my eyes were a bit tired and blurry for awhile until they readjusted.
I did find two ways that these video glasses can be both fun and useful. The first way is that they can do 3D. There's a very short DVD included with the glasses that has a couple 3D movie trailers that you can watch. I love stuff like that and was impressed using the glasses for that type of video content. I'm not sure how much 3D content is available though.
The AV920's are useful in that they would be perfect for someone that is confined to a bed and has to lie flat. Wearing the glasses while lying down does seem to be more comfortable, at least to me…
In the end, I think that $350 is a lot of money to pay for this product. For me personally, I'd rather just spend that money on an actual TV or watch video on the small screen of my iPod. Let me know what you think, would you use a product like this?
Product Information
Price:
349.95
Manufacturer:
Vuzix
Requirements:

Video output device (DVD, 5th Gen iPod, etc.)

Pros:

Easy to use
Can connect to most video sources
Can play 3D video

Cons:

Uncomfortable to wear with and without glasses
iPod cable not compatible with iPod Touch or iPhone