We use affiliate links. If you buy something through the links on this page, we may earn a commission at no cost to you. Learn more.
This is not the game I planned on reviewing. That was going to be Astraware's Westward, but I was beseiged by demons while trying it out (named Small Screen, Bad-Eyes, and Lotsa Rulez) so it will have to wait.
I was excited to discover, however, that what I have long believed to the The World's Greatest Palm Freeware App: Trivia Category has been updated since I last saw it- Steve Litchfield's (3-Lib's) Trivopaedia.
Trivopaedia is 'just' a list of trivia subjects, organized neatly for quick reference, available in several formats- Psion, Pocket PC, Smartphone, iPod, and, of course, Palm. Within the Palm world, you can get it in Plucker, PalmReader, Doc, and Memo formats. This review will focus on the v2.0 Palm Memo format, although the newest version for Palm is v2.3 in iSilo and MobiPocket versions.
'Just' a list. And the Bugatti Veyron 16.4 is 'just' a car. Trivopaedia is not the fastest trivia list on Earth, nor is it heavily appointed with German engineering- although the design team IS British! (Which explains the odd spelling and UK-heavy content.)What Trivopaedia is is just plain cool.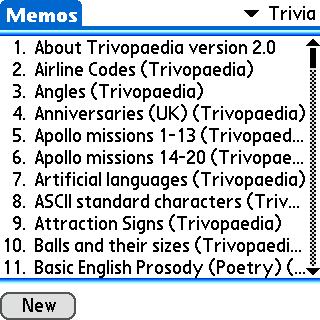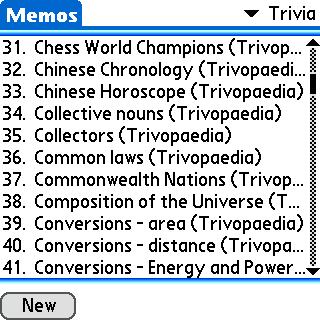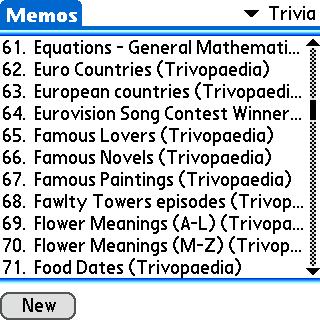 [Sample "Trivopaedia" Lists]
Like any good compilation of trivia, most of the stuff here has almost no real value. Lists include:
– Airline Codes and Apollo Missions
– Artifical Languages and Beer Measures
– A dozen different lists of things in the Bible
– Lists of natural features, geological ages, cities
– Lists of movies, kings and queens, inventors
– Lists of weird British stuff, like Wombles and UK Sea Areas
…for a grand total of some 237 lists (with about 15 more in v2.3)
It is astounding how far-flung the lists are- Wacky Racer cars and Star Trek movies… the Seven Dwarfs and the 'Seven S Business Model'… Santa's Reindeer and the Scart Lead Connections. The lists make nice little quicky 'did you know' games, are helpful in settling arguments, make for interesting quick reads, and they are still looking new input.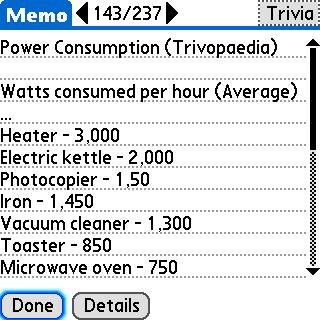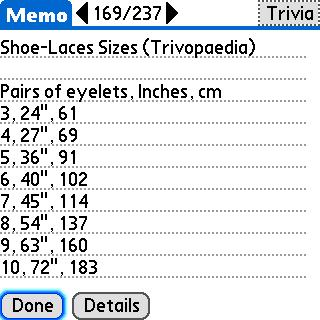 [A Couple of Random Lists]
By the way, didja know…
…the 1900 AND 1924 Summer Olympic Games were held in Paris?
…the top adult fears are public speaking, getting fat, and walking alone at night?
…the Latin abbreviation of D.V. means Deo volente or 'God willing'?
…the daily naval toast for Friday is 'a willing foe and sea room'?
…a water polo ball weighs 400-450 grams?
These are Memo lists- so they take almost no memory, can run on all Palms, and have no issues with crashes or hangs, etc. Installation (as a Palm Memo) is a tiny bit different in that you have to 'Import' it into Memos after loading it- but the Readme is very helpful.
Product Information
| | |
| --- | --- |
| Price: | |
| Manufacturer: | 3-Lib |
| Pros: | |
| Cons: | |