We use affiliate links. If you buy something through the links on this page, we may earn a commission at no cost to you. Learn more.
Are you a fan of podcasts? For those of you that are not in the know,
podcasts are pre-recorded
audio or video 'shows' that cover a wide variety of subject manner. These
digital files were first created for the Apple
iPod, hence the
name podcast. iPod owners that use iTunes, have an easy to use interface for
finding and downloading these shows to their computers and / or iPods.
Zune owners have a
similar ability, but owners of other digital audio players are not so lucky.
The CastGrabber comes to the rescue with a
standalone device that allows you to download podcasts into most USB equipped
MP3 players (even iPods), without the aid of a PC.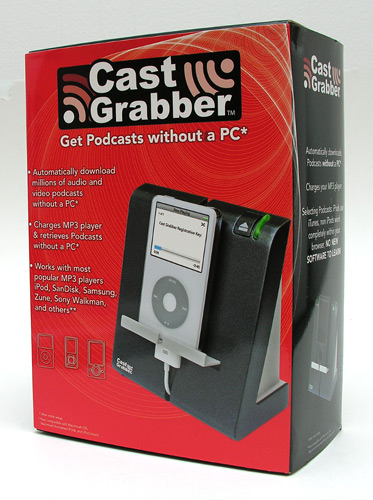 Available in Black and White, I was sent the CastGrabber in Black.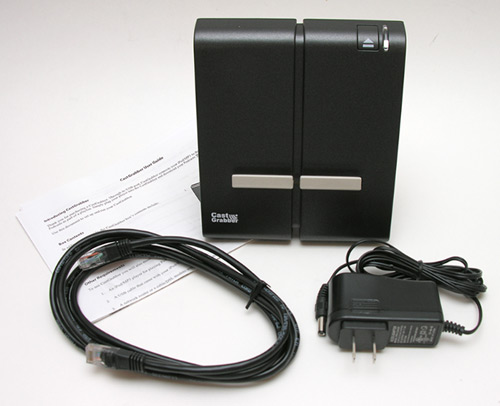 Package Contents
CastGrabber device
Ethernet cable
AC adapter
User Guide
Right away, I was a little disappointed that this device requires a hardwired
connection into your network by way of a free Ethernet port in your router. WiFi
would have been a much more elegant solution.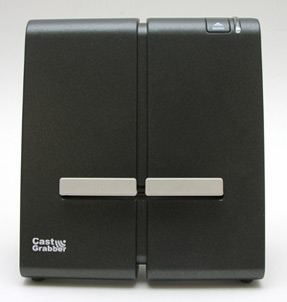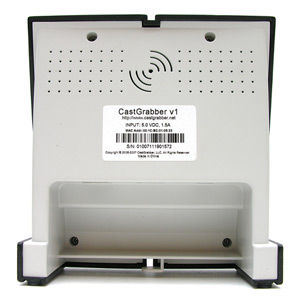 The CastGrabber is a plastic wedge shaped device, with one button and a status
LED on the front.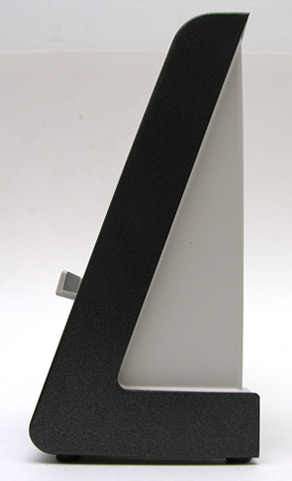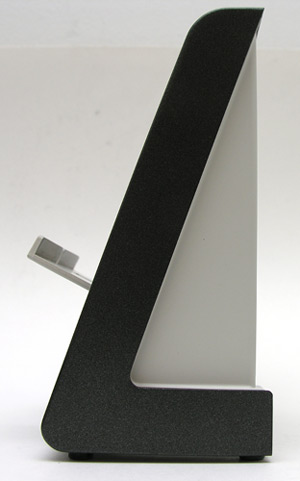 A pull out tray extends from the face of the device. You can set your media
player on this tray while it downloads and charges.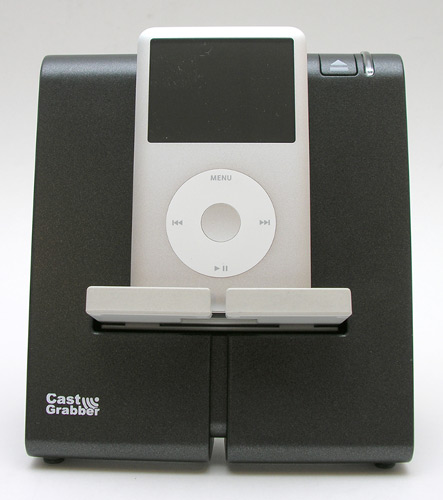 To give you an idea of the size of the CastGrabber, I show it here with my iPod
Classic (USB cable not connected…).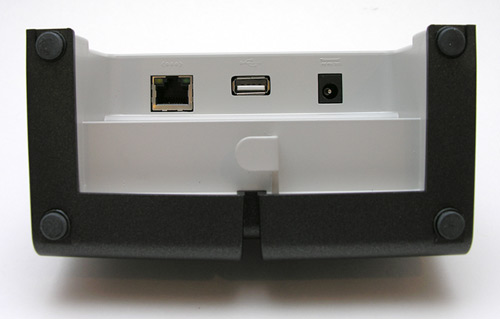 On the bottom of the CastGrabber, you'll find the Ethernet jack, USB port and
the power port.
Setup is a pretty simple four step process.
Step 1: Plug the included Ethernet cable into the bottom of the
CastGrabber and into an open port in your router, plug in the AC adapter and
then plug in your USB media player using the USB cable that came with your
player. Right now, there isn't a list of all the compatible MP3 players that
will work with this device, but chances are that yours will work as long as it
is not a Sony PSP, iPhone, iPod touch, or an iPod that
has been used with a Mac. For this review, I used a PC
formatted iPod nano, a generic Philips MP3 player and a USB flash drive.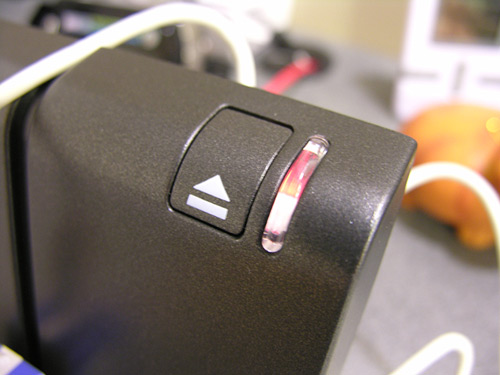 Step 2: As soon as you plug the media player into the CastGrabber, the
status LED on the top corner will begin flashing Red. After a few seconds it
will turn Green, at which point you can unplug it and check the player for a
track from artist CastGrabber, album CastGrabber. It will have a wacky three
word title like ItchyCowPants. This is the unique registration key for your
player.
Step 3: Go to the CastGrabber.net website and use that three word phrase
to create an account for that player. There isn't a limit to the number of
players that you can register for your CastGrabber.
Step 4: This last step depends on if you're going to grab podcasts for your
iPod, or podcasts for other media players… If you're going to use the CastGrabber with your iPod, you need to load up iTunes, pick some podcasts,
subscribe to them and then sync your iPod with the PC that iTunes is installed on. After
the initial sync, you can then sync with the CastGrabber from then on – or until
you want to add or delete podcasts from the player. Each time you want to make a change to your
podcast subscriptions, you'll need to do that on your PC and sync once with your
PC before using your CastGrabber to sync.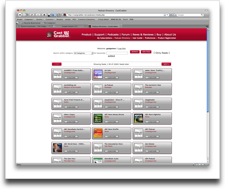 Click thumbnail to see full-size image
If you're going to use the CastGrabber with a non-iPod media player, you can browse the
podcast directory on the CastGrabber site to subscribe to shows.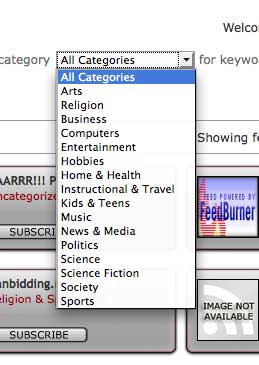 They have a large selection and variety of podcasts to choose from, but from my
experience, I found that quite a few of them haven't been updated in a long time, or are dead links.
No worries though as you can add your own podcasts by supplying the URL to the
podcast RSS feed.
After you subscribe to some feeds through the CastGrabber site, then you'll be
able to use this device without needing a computer. All you have to do is
connect your player to the device and it will download your subscribed content
automatically.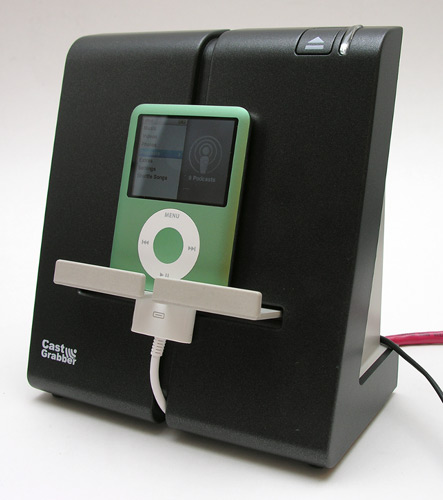 Cool right? Well there are some significant caveats… First of all, the CastGrabber only
has a blinking LED as an indicator for the download process. It blinks Red while
downloading and turns solid Green when complete. That might not seem like a big
deal, but to me, it just makes me feel helpless when I don't know how much
longer I have to wait for the process to finish. For my first test, I subscribed
to 12 podcasts and plugged in my iPod nano. After 1 hour had elapsed, I thought the CastGrabber
had crashed.
I let it continue and 6 hours later, I finally saw the Green LED.
The second problem is the transfer speed. It's slow, very slow. The issue here is that by default, every time you plug your
player into the CastGrabber, it will delete of all your subscribed podcasts and
then download the latest 3 episodes of each of your subscriptions. It does this even if
there isn't a new podcast to download. This is both annoying and time consuming. You do have the ability to change this preference to
the number of episodes that you want to download each time you connect the player to the CastGrabber. Just be aware that it will
still delete the all the episodes first and then download the latest x number of episodes again.
The third problem is that if you leave your player connected to the CastGrabber, it won't continue to check for new
podcast episodes automatically. The only way to get new content is to physically disconnect and reconnect your player.
So, what are the advantages to using the CastGrabber over using a computer with iTunes or manually downloading episodes to copy to non-iPods? That is a question that I asked myself several times during my
testing and writing of this review. For iPod owners, I don't see any real
advantage to using this device over using your computer with iTunes. Since you
have to use iTunes to make all changes (additions and deletions) anyway, it just seems
pointless to use the CastGrabber for syncing. For non-iPod users, the CastGrabber does
simplify things somewhat. You don't have to manually download episodes and copy them to
the player, so it does cut out one step for you. That said, the issues mentioned above tend to make this product more trouble than it is worth – at least with its current feature set. The CastGrabber's internal operating system can be updated though and according to the folks that make this product, they have plans to fix some of the problems that I've listed. Until they do, I would advise against purchasing this product.
Product Information
Price:
119.95
Manufacturer:
CastGrabber
Requirements:

Open Ethernet port on your router

Pros:

Computer connection not necessary after initial setup
Download podcasts to older MP3 players and USB flash drives

Cons:

Slow
No download progress indicator
Deletes podcasts and re-downloads newest episodes everytime
Not compatible with iPhone, iPod Touch or Mac formatted iPods