We use affiliate links. If you buy something through the links on this page, we may earn a commission at no cost to you. Learn more.
We live in a world of convenience and what is more convenient then wireless technology. Now power tools are probably not the first thing to pop into your head when you think of wireless technology, but if you have ever had to unravel an extension cord, navigate it around obstacles then coil it back up, all to complete a five minute job, no wires or cords sounds pretty nice.
So when Julie asked me to review the Black & Decker 1 VPX Starter Set, I tried my best to imitate Tim Allen's Tool Man trademark grunt of happiness.
Hardware Specifications
All 3 tools powered by 1 VPX 7V Lithium-Ion Battery
VPX Batteries interchangeable with all other VPX products
VPX Chargers include Daisy Chain Cord to power multiple chargers on one outlet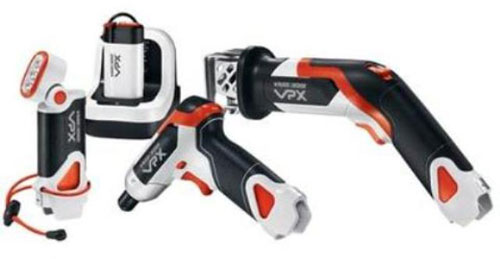 1 VPX Starter Set Includes:
VPX1101 Screwdriver
VPX1301 Cutsaw
VPX1401 3 LED Flashlight
VPX Battery
VPX Charger
2-year warranty
3 LED Flashlight:
Up to 5 hours of runtime per charge
3 LED bulbs
Length (inches): 6
Width (inches): 2
Weight (lbs): 0.46
Charge Time: 3-6 hours
Integrated belt clip and lanyard
Screwdriver:
2 speed transmission
Forward and reverse
Weight (lbs.): 3.5
Width (inches): 4.25
Height (inches): 9
Easy bit changes with ¼" hex shank collar
Low speed (RPM): 195
High speed (RPM): 650
Low torque (inch-lbs.): 40
Low torque (inch-lbs.): 140
Cutsaw:
Up to 1-inch cutting capacity in pine, PVC, and more
Tool free blade change
Accepts standard jig saw blades
2 jig saw blades included
Weight (lbs.): 3.7
Length (inches): 13
Battery:
Daisy Chain System Allows Multiple Chargers To Be Powered Off 1 Outlet
Dimensions (inches): 7.3 x 5.5 x 8.8
Weight (lbs.): 2
Opening the clamshell-type box revealed the individual items very secure in their own compartment and wrapped in plastic bags. Unpacking each item, exposed the fact that there is not assembly required. Plug in the charger, load the battery and wait for it to charge. Nice and easy.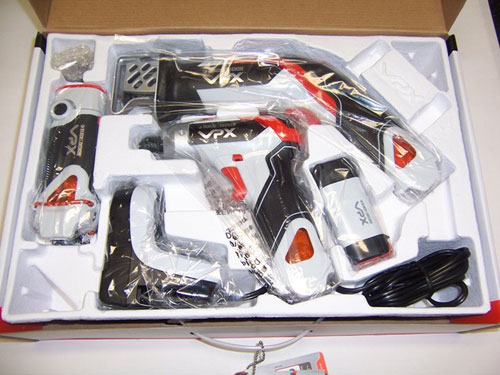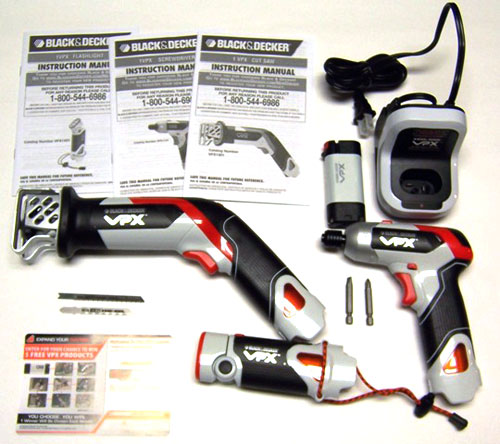 Black & Decker has updated their common branding strategy with its VPX line of tools. All the tools are white, silver, black and orange. The black and orange have been synonymous with Black & Decker for as long as I can remember and the white and silver is a nice change to the B&D's common look.
Waiting for the battery to charge, I am struck with a dilemma, which tool do I play with first? Let's start with the battery. That is the source of power for each one of these tools, so better start with the common denominator.
Battery:
The entire VPX product family is driven off the 7V Li-Ion battery technology. Understand that certain tools in the product line require more than one battery to operate but each product in the Starter Set utilizes 1 VPX 7V rechargeable Lithium-Ion (Li-Ion) battery for power, which is very convenient. Three different tools, one battery, just remove it from the flashlight and pop it in the screwdriver.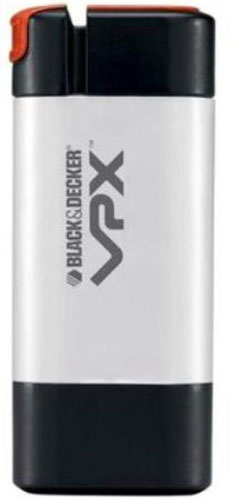 Black & Decker plan is to unveil new tools in the future that continue to utilize this common 7V Li-Ion battery technology, some 7V and others that require 2 VPX batteries to achieve 14V of power.
The VPX battery is compact in size yet feels very stout. Black & Decker states the VPX is 60% lighter than there Ni-Cad power tool batteries. I bet 70% of the weight in one of my cordless drills is from its battery alone.
The technology in the battery charger is smart in that it stops charging the VPX battery when it is full. It also periodically tops off the charge too. The manufacturer also promotes that the Li-Ion battery holds its charge longer.
The other cool part about the charger is that even though its capacity is for a single battery, it has the ability to connect to another charger via a Daisy Chain Cord. So you can have multiple VPX batteries being charged of a single power outlet. The engineer/designer who thought of that needs a raise.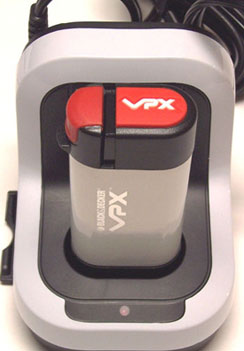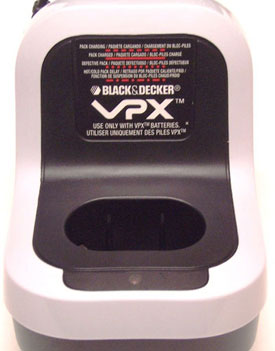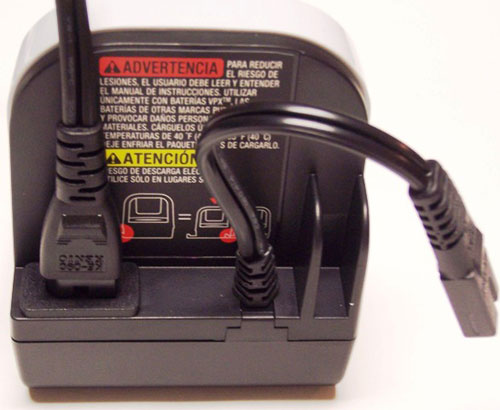 A charged battery and I am ready to try my first tool. So I loaded the battery into the flashlight.
Flashlight:
The mold of the flashlight is shaped like an oval tube and at only 6 inches in length; it fits very nicely in the palm of your hand or it can lay flat on a surface or stand on its base. It features 3 LED bulbs which are fairly bright.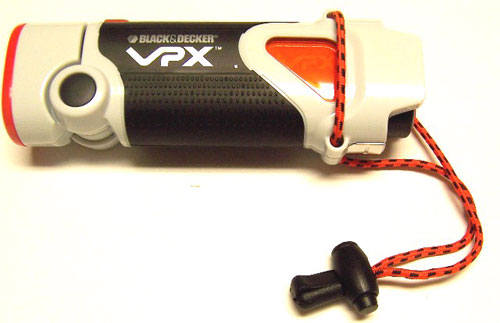 The specifications say up to 5 hours of runtime per battery charge so I turned it on and left it for 4 continuous hours and when I returned it was still beaming brightly. Never had to use a flashlight for that long of a continuous period, but nice to know it is possible.
A belt clip and lanyard are included in the designed too. The lanyard incorporates an adjustable gizmo, which allows you to tighten it down, which is nice if you want to wrap it around a pipe or a piece of wood while you are working.
The best part of the VPX Flashlight is the pivoting head, which allows you to direct the light where you need it most. I know there have been times when I have been in a tight spot and my old light was too big and rigid to hit the target I was working on. The VPX Flashlight gives the user a great amount of flexibility with its size and pivoting head.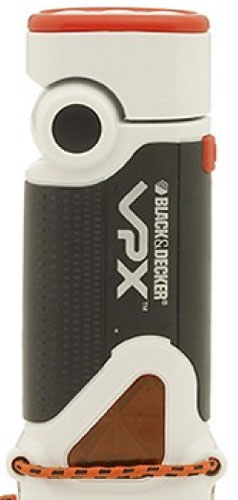 My one concern, and it is a small one, would be the narrow base of the unit. It is the compromise of a stabile base to maintain a small device.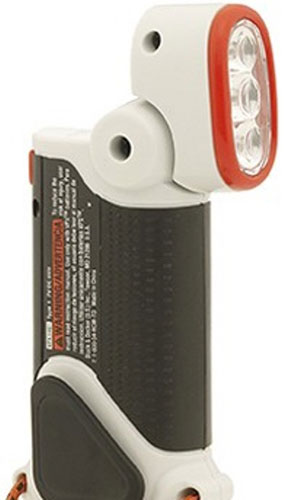 Screwdriver:
The next tool is the VPX Screwdriver. It is a light and compact option for a cordless screwdriver. I wish I had this baby when I was trying to install a cabinet drawer rail inside my mother-in-law's desk.
The tool fits comfortably in the palm of your hand and the size allows it to be utilized in tight spaces where other cordless devices might not fit. Plus it is nicely balance, so it does not feel awkward.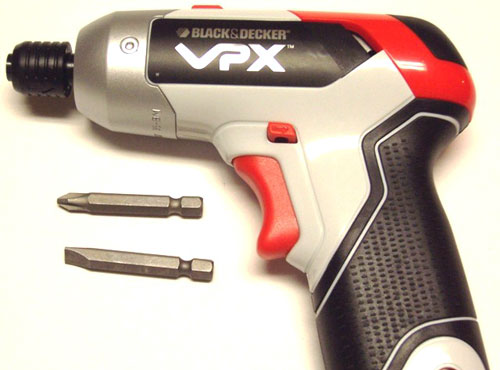 This is a screwdriver. Keyword here is screwdriver, this is not a drill. The screwdriver includes two speeds a low speed (0-195 RPM) for higher torque functions, including small diameter drilling, and a high speed (0-625 RPM) for tasks like assembling furniture. The dual speed transmission does a nice job of providing the power needed for driving and speed for drilling.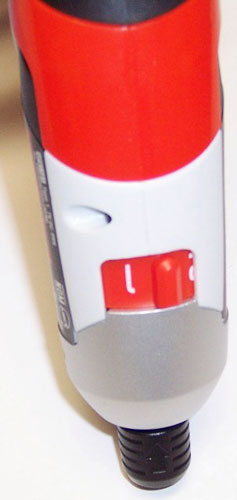 I have owned some other cordless screwdrivers that have lacked much power at all. I really wanted to give this one a good test. I placed 15 1-inch screws into a standard 2×4 using small pilot holes. I then screwed each one down flush and then put the screwdriver in reverse and took all 15 out.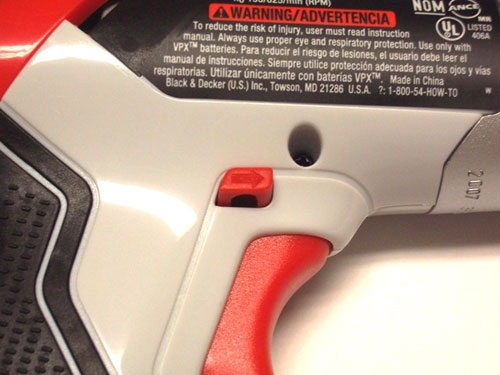 The device passed the test without any trouble. I even switched the speeds midway through and was unable to notice a loss in performance. I expected the screwdriver to get hot, but I was unable to detect much difference in temperature after completing my test.
The VPX Screwdriver accepts ¼" hex-shaped bits, which makes for quick and simple bit changes but can limit the ability to utilize common bits between such tools. The other concern is that the bit seemed to come out to easily. During my test, I left the bit in a screw on 3 different occasions. In other words, my bit was left in a screw on 10% of my tests.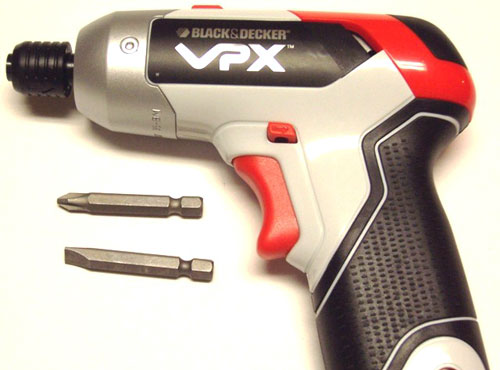 Cutsaw:
Like the other tools in the set, the cutsaw is light and compact, yet large enough to use two hands comfortable and sturdy.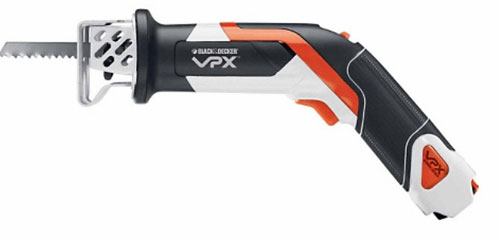 It has a full ½" blade stroke and has a max speed of 1950 strokes per minute. The cutsaw accepts standard jig saw blades and two are included in the set (wood & metal). Black & Decker engineered the saw to require no tools to change the blade, which is a nice convenience. Just pop one out and load the next one.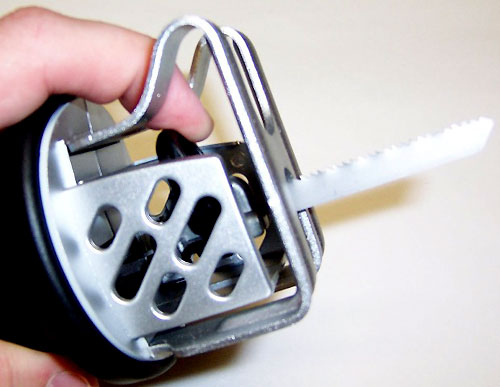 The saw includes a nice safety feature too. You must slide back the switch at the top, and then squeeze the trigger to activate the blade. As a father of two young kids, I appreciate features like that a lot more.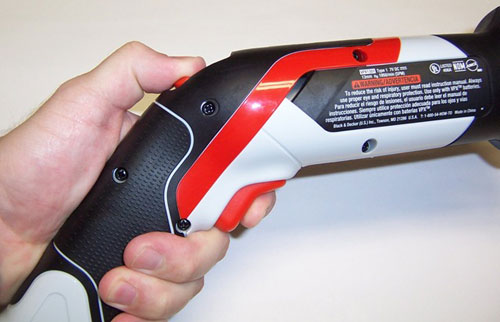 My first test with the cutsaw was some 1 to 2″ diameter tree branches in my back yard. I cut about 5 branches with ease.
Next, I found a piece of pine 2×2 leftover in my garage. I easily cut completely through the wood 20 times without any complications. I even purposely made 3 cuts through tight wood knots.
So that was 25 cuts and I noticed no slip in performance. The cutsaw did feel slightly warm afterwards, but nothing extreme.
The saw has a face plate that is 1-3/4″ wide and is made out of 1/8″ thick steel. This plate provides a stable base that helps the user make nice, tight cuts.

Conclusion:
I was pleasantly surprised by how much I enjoyed the Black & Decker VPX Starter Set. I think it is easy to see that B&D spent a significant amount of time designing these products to deliver for the light project weekend warrior.
If I had to pick one of the three tools, I think I was most impressed by the VPX Cutsaw. I honestly was not expecting much from the lightweight saw but I could definitely see using the device for quick and easy cuts.
Each tool in the starter kit is nicely designed, lightweight yet sturdy and compact for use in some very tight places.
The Black & Decker VPX Starter Set sells for around $100, which is a steal, for the three tools plus a battery and charger. Consider that I found a battery and charger unit retailing for $39.99 at a major home improvement store and you can really see the savings from buying the set.
The one drawback I noticed from buying these tools in the Starter Set as opposed to buying each individually is that in the set Black & Decker does not include the accessories. For instance, the screwdriver comes with a storage case and 10 bits when purchased separately.
In closing, I would recommend adding the VPX Starter Set to your cordless power tool collection. I do not think you will be disappointed.
Update 07/19/15
Julie: I know that Ryan originally wrote this review, but I ended up getting the same set of tools and have been using them (specifically the screwdriver tool) for years. I have used that tool with drill bits and driver bits for all sorts of odd jobs around the house. I love the size of the tool and the fact that the battery keeps a charge for years – seriously.
Product Information
Price:
$99.97
Manufacturer:
Black & Decker
Pros:

Flashlight has a pivoting head
Tools are lightweight, compact and well-balanced
All three tools operate off one battery.
Price
No tools required to replace blades in the Cutsaw
Two-year warranty
Safety feature on Cutsaw to activate the blade

Cons:

Flashlight base could be larger
No accessories included (included if tools are purchased separately)