We use affiliate links. If you buy something through the links on this page, we may earn a commission at no cost to you. Learn more.
Let's face it, the constant evolution of technology has spoiled us. We, as consumers, crave electronics that have everything, yet are small enough to be inconspicuous when not in use. The people at Insignia have created a shelf stereo system with numerous features designed to please, yet small enough to not require a lot of space. For those of you not familiar with Insignia, it is the brand sold exclusively at Best Buy. Today I review their 75W DVD/CD/HD Radio Compact Shelf System with USB Port (Model: NS-HD2114).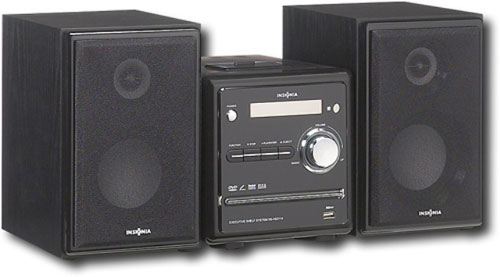 Hardware Specifications
Complete component system includes progressive-scan DVD/CD/MP3 player, 2 speakers and digital AM/FM/HD radio tuner
Plays DVD, DVD-R, DVD-R DL, DVD+R, DVD+R DL, DVD-RW, DVD-RW DL, DVD+RW, DVD+RW DL, CD-R/RW, CD, VCD/SVCD, JPEG, MP3 and WMA formats
75W RMS power: 37.5W x 2, (10% THD RMS)
Front panel USB port is compatible with MP3 players and other digital music devices; provides music playback control (play, pause/stop, fast forward, skip forward, rewind, skip back and random)
Tray load DVD/CD player
CD random/repeat functions, track programming and direct track access
Digital AM/FM/HD radio tuner with 18 presets
Dual 2-way speakers each with a 1″ tweeter and a 4″ woofer
Multiple DSP modes include Dolby Digital decoding; 6 preset equalizers
VFD display shows song information on the front panel based on the metadata in song files
Inputs: 2 audio (1 rear, 1 front)
Outputs: 1 composite video (rear), 1 S-video (rear), 1 component video (rear), 1 digital optical audio
Clock, sleep timer, on screen display, bass/treble controls and bass boost performance
Main Speaker Watts per Channel: 35W
Frequency Response: 200Hz – 20kHz
Total Harmonic Distortion: <10%
Tuner TypeDigital: AM/FM/HD
Station Presets: 18
Dolby Digital Decoder: Yes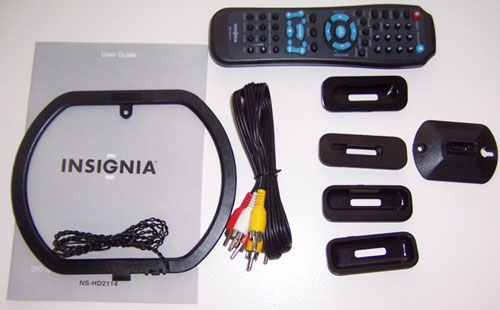 Package Contents
Main Unit
Two Speakers
Composite Cables
FM Antenna
HD Antenna
Remote Control
2 AA Batteries
iPod connectors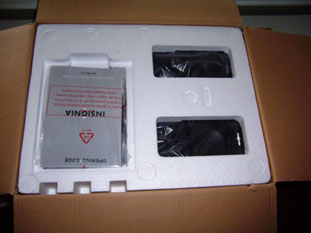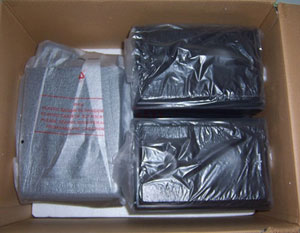 I was impressed upon opening the box and initial laying eyes on the system. The main unit is a small and light, black, sleek cube-like design.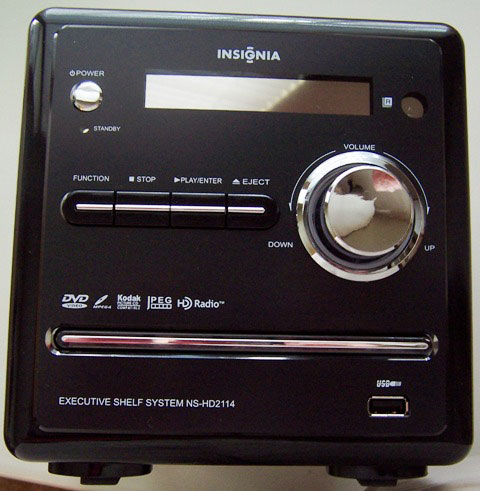 The two speakers, which are slightly larger than the main unit, are wrapped in painted black wood, which nicely highlight the grain of the wood. The wood is a nice contrast to the sleek and shiny exterior of the main unit.
Each speaker has four circular, dime-sized, rubber stabilizers on the bottom.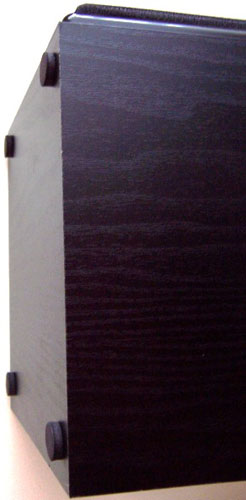 Set-up is about as simple as it gets. Unpack the unit from the box, make the connections in the back and plug it in, and then you are ready to rock.
The speaker wires are hard-wired in to the back of the speakers and the other end is pre-fitted with connectors, which makes set-up easy but greatly limits your ability to upgrade or lengthen the speaker wires.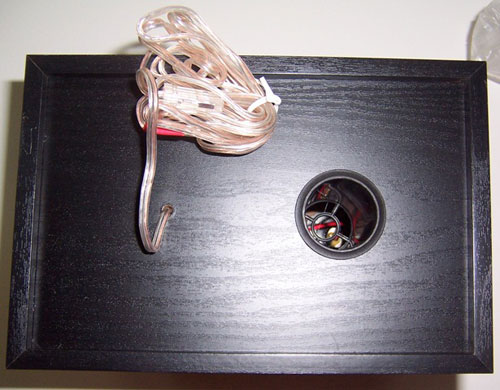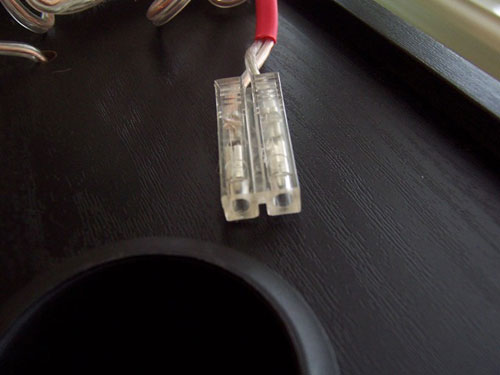 Moving to the remote, at first glance I was shocked by the shear number of buttons it contains. My quick count puts the total at 50, that's right, 50 buttons on the remote. Of course, with so many buttons, they are crazy small.

The large total of buttons greatly reflects the crazy amount of functionality this system offers. An iPod dock, CD, DVD player (video out), HD radio, AM/FM radio and USB connector are all included. If Insignia would throw in wireless capability, it would be a complete package.
The one gripe is that the actual main unit's front lacks half the functionality available via the remote. The front has only about 8 function buttons, meaning this system is way too dependent on the remote. If you lose the remote, you are in deep trouble.
Turning the device on, I decided to check out the basic AM/FM radio. Needless to say, I was less then impressed. I had trouble tuning in Indianapolis stations (approximately 50 miles north) that I clearly receive on my other home stereos.
The HD radio was not much better. I downloaded a list of local HD stations from the net and attempted to tune some in but just like the AM and FM radio, the reception was unclear and lacked consistency.
Fortunately for the system, listening to a CD allowed the 75 watts of sound to impress without the static from tuning in radio stations. I could easily hear rich and clear sounds throughout my downstairs, which is fairly large and open. The built-in 1-inch tweeter and 4-inch woofer speakers can really pump the volume up, yet give you the richness and clarity to enjoy the subtleties of your music.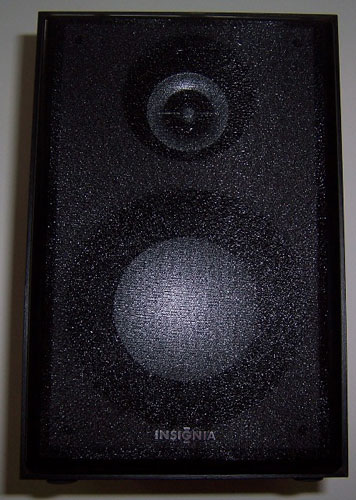 I did think the default equalizer setting was extremely bass heavy. I played with the Bass and Treble settings until I found a combo that work for my ears, again this is probably a user preference.
The iPod dock, CD and DVD player work as you expect. Meaning that I was not disappointed by the functionality and it did not serve as a delighter.
The iPod dock provides you control over each track, play, stop and pause functions.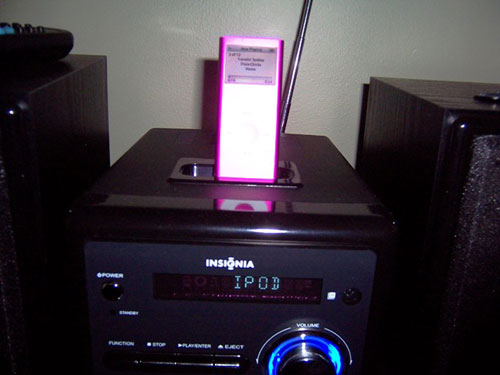 The DVD quality was adequate, nothing better or worse then the other players in the house. The menu system, although not extravagant, was very simple to use and navigate.
Now I have not made the digital TV leap yet but if you have, this system utilizes progressive scan output and component cable hook-ups for the best picture quality with a digital TV or monitor.
Here is a look at the hook-ups located in the rear of the main unit.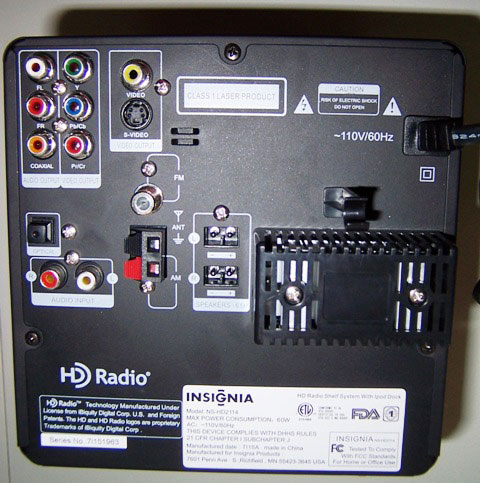 The USB port provides music playback ability to other digital players. I easily connected my iPod shuffle and a non-Apple player through the USB port and they worked great.
As previously mentioned the remote has an insane number of buttons, reflecting the amount of functionality present in the system. I did experience a terribly annoying response lag of at least two seconds when using any button on the remote. Even the volume dial on the main unit has a terrible lag, which drove me nuts.
The main unit has a VFD display that shows the music track information (album, artist) pulled from the digital music file metadata.
The Insignia shelf system has built-in sleep timer and automatic turn on settings. The auto turn on feature allows the system to be utilized as an alarm clock, although it does not support weekend schedules.
In conclusion, I was disappointed in the radio, the response delay and how heavily the system depends on the remote.
That said I definitely can see the niche this device fills. In a small apartment or college dorm room, this system would be ideal. For less then $150 you get a AM/FM/HD radio, CD and DVD player, iPod dock and a USB port that provides music playback connectivity for other MP3 players. I would love such a system when I was in college.
Product Information
Price:
159.99
Manufacturer:
Insignia
Retailer:
Best Buy
Pros:

Impressive sound quality
A complete, multi-functional system, ideal for an apartment or dorm room
Easy set-up

Cons:

AM / FM / HD radio is abysmal
Speaker wires hard-wire and include pre-fitted connectors
Buttons on remote are too small
Majority of the functionality is only accessible via the remote.
Two second response lag when using the remote buttons