We use affiliate links. If you buy something through the links on this page, we may earn a commission at no cost to you. Learn more.
I've always been interested in small, powerful computers, and when I saw the Sony U3 advertised in Tokyo, I couldn't wait to get my hands on one. The dream was short lived, since I did not have $2000.00 for a machine at the time. I consider the Sony U series to be the beginning of the UMPC Revolution!!
Several years have gone by now and I found a company on eBay- Direct from Japan, thats sells new and refurbished units with a 3-6 month warranty. A warranty!?? Yes it true. The refurbished Sony U3 I purchased came with a 6
month warranty. OK- on to the Review.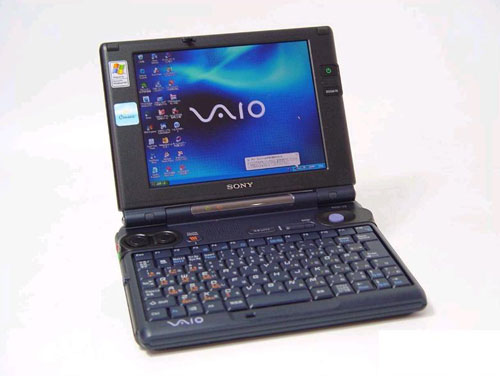 Hardware Specs
Model: PCG-U3
CPU: Transmeta Crusoe processor TM5800 933MHz

Memory: (maximum) SDRAM 256MB(on board) (maximum of 512MB via upgrade) * 24MB used by system

HDD: 20GB (Ultra ATA100)
Video: VGA ATI Technologies MOBILITY RADEON-M 8MB
PC card Type 2×1, also CardBus compat.
Ethernet 100Base-TX/10Base-T LAN
Interface USBx2, i.LINK (IEEE1394) terminal S400(four pin) x1, microphone input (mini jack) x1,
phones (stereo mini jack) x1, DC OUT (power supply) only for biotechnology related products, connector x1, Video out x1 (option cable PCGA-DA1S), AC adapter 100-240V 50-60Hz (included)
Loaded OS: Windows XP Home Edition (Japanese pre-install, English – option)
What works in English XP? ALL hardware – Zoom, Hybernate, Jog Dial, Keyboard, Memory Stick, PCMCIA, LAN, FireWire (iLINK), Video, Sound, Power Management, etc.. (All accept Thumb phrase)

Monitor 6.4 inch XGA (1024×768) TFT color liquid crystal

Extras Magic Gate/ memory stick slot x1
Battery time (standard) About 2.5 – 4 hours
* When in power-saving mode. Battery time may vary with use, setup, etc.
Outer size 184.5(W) x139(D) x30.6(H) mm 7.3 inches wide/5.5 inches deep/1.7 inches thick with standard battery
Mass About 820g (with standard battery)- 1.8 lbs.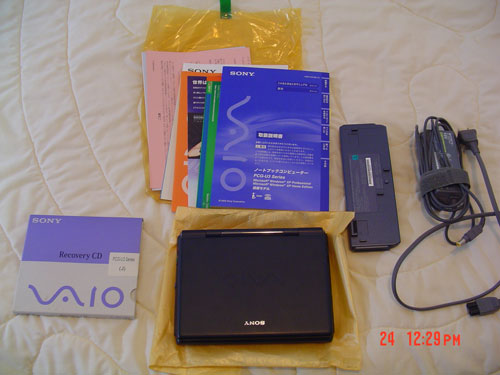 Package Contents
PCG-U3 unit
1 Standard Battery
Sony Power Supply
Japanese manuals/Paperwork
Restore CD Rom package
(Please see Picture)
I purchased my unit on a Thursday and it was shipped the following Tuesday, and it was in my hands on that Thursday. Three day EMS Shipping was $40.00.
The unit came in the original box with all the original paperwork.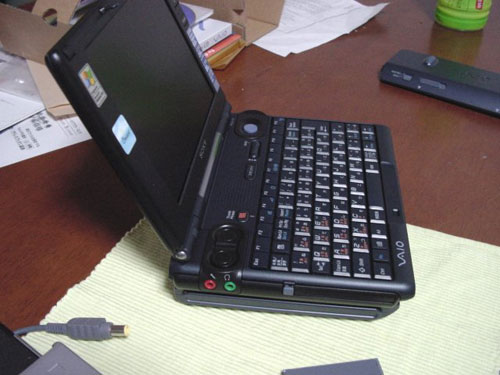 U3 with extended battery
The Sony U1 is the first in the line of U series and was followed by the Sony U3, and later the U101. The U3 is a compact laptop with many ports and a fantastic screen. It's small enough to fit in a briefcase or large purse and is only 1.8 lbs. with the standard battery. If you take 2 DVD cases and stack them together, that about how big the U3 is.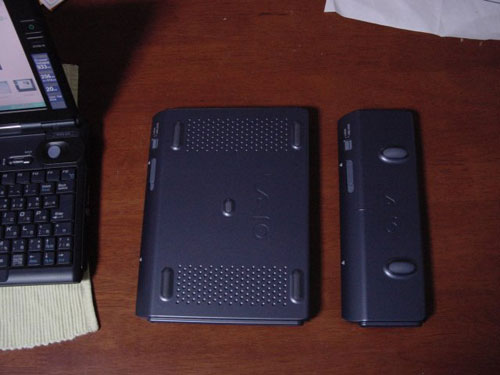 Standard and extended batteries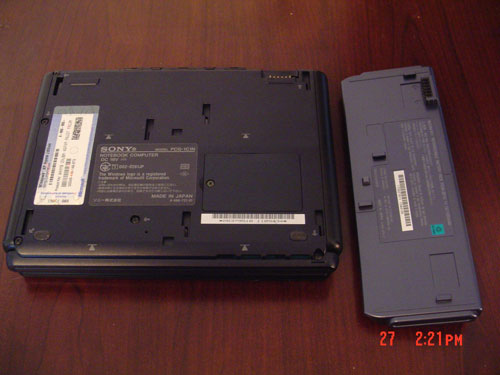 Bottom of U3 and standard battery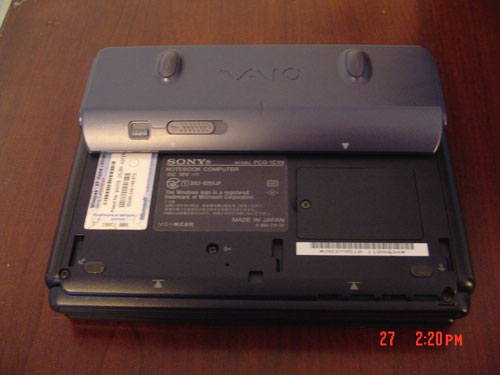 Standard battery installed
The standard battery is good for 2.5 hour depending on what you are doing. There is an extended battery that replaces the standard battery on the bottom and covers the entire bottom of the unit. The extended battery is good for up to 7 hours.
Since it is an older model it lacks built-in wifi, but that is easy to fix with any wifi PC card, or usb adapter.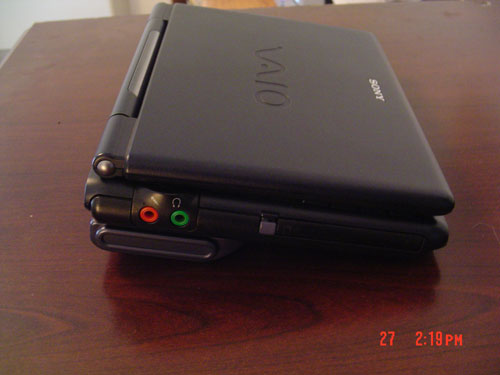 Left side / microphone and earphone jacks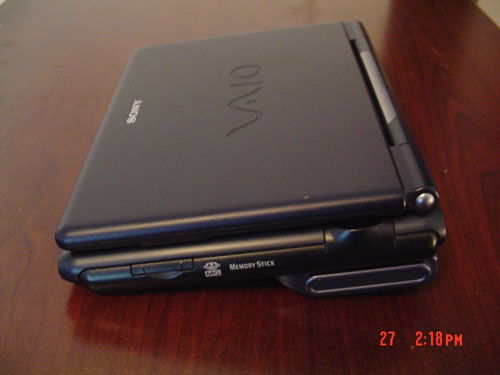 Right side / memory stick slot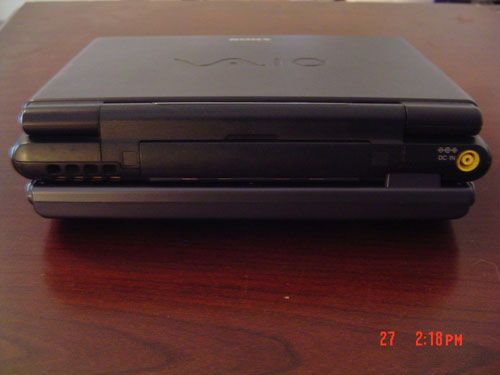 Back view / power port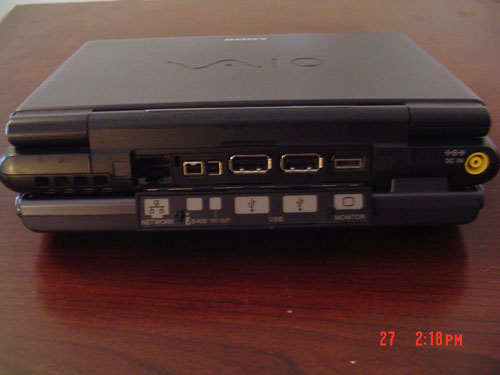 Back view / port cover removed
The screen is 6.4 inches in size and is viewable from many angles. The unit has 1 Type II PCMCIA slot, 1 Magicgate memory stick slot, 2 usb ports, a firewire port, and external monitor port for VGA output. The unit is too small like most UMPC devices to have a Optical drive, but there are many examples of external optical drives that will work with this unit.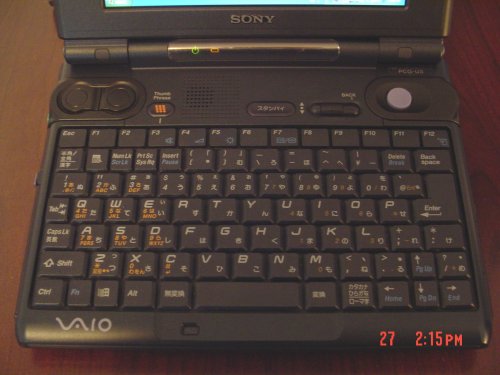 Since Sony created this unit for the Japanese market, the keyboard has the Japanese and English symbols,
but some of the keys are marked in Japanese only like the suspend/sleep key and a few others on the keyboard itself.
The Thumbphrase function is an interesting idea, but does not work with English software. It's like using a Blackberry with just your left thumb. The keyboard is cramped, but it is easy to get use to, since it is larger than the keyboard on the UX series. The keys are responsive, but have a short push.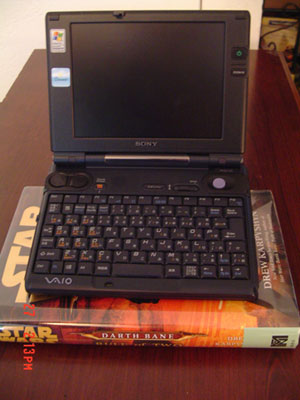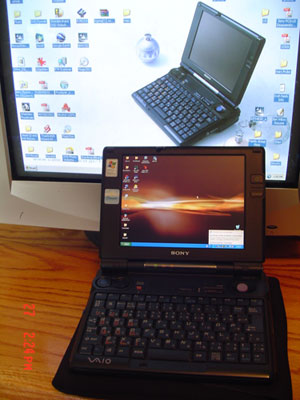 The placement of the Trackpoint mouse on the right, upper corner,and mouse keys on the opposite side are perfect for control, when holding the unit in both hands. The Trackpoint is very responsive and is easy to use. I have heard from some people that the trackpoint on this unit wears out fast, but so far I have not had any problems. The unit is fast booting up and shutting down, even with only 256 megs of RAM.
I plan to upgrade fairly soon to 512 megs, to maximize the unit's potential.
I've loaded Google Earth and Microsoft Streets & Trips and both are a little slow, but not so much that you notice it. The unit works with the Bluetooth PC card I installed, and the Bluetooth GPS works great.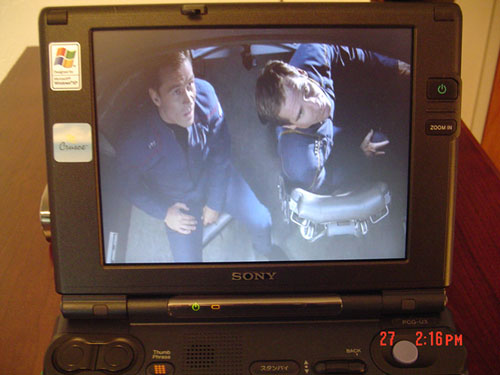 The Unit has a built-in 8 meg video card,and video streaming off the net is smooth.
I don't think this is a good gaming machine, since I did try Halo on it and it was pretty slow, and choppy. Remember that this unit was designed a few years ago and as a portable office, not for gaming. I'll be trying it again after I get the memory upgrade, and that will probably boost performance enough, for most older games. AVI video playback is very smooth and watchable from many angles. The screen is viewable indoors and outside.
Overall I'm very happy with the performance of this machine. The wait was well worth it!!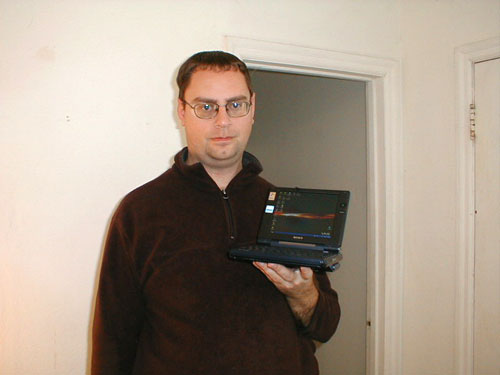 The past week I've used the U3 for my consulting business, Checking my email, writing reports and as a GPS for business travel. It's very light and is easy to carry anywhere.
I can slip it into my hip pack with the charger and a spare battery and jump on the bus,and not have to carry a brief case or backpack with me. People in my home town, don't have much experience with laptops, and they think I'm joking when I show them the U3. I've had small laptops before but this one is the handiest. I prefer the screen size, compared to the Sony UX series,because on this unit, I can see everything without having to squint. I feel the U3 is good for anyone who needs a laptop with keyboard, but is put off by the small size of the Sony UX series and other models of UMPC. I was worried about purchasing a used/refurbished item, but Direct from Japan gave me a 6 month warranty, with free return shipping to Japan for servicing. Thank you Direct from Japan!!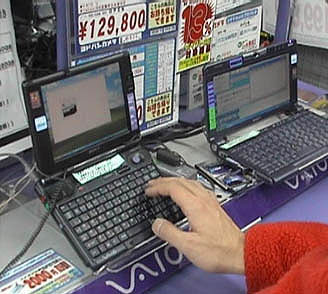 Product Information
Price:
Manufacturer:
Sony
Pros:

Ultra small laptop with usable keyboard and great screen
Good battery life
Easy battery swap
All the ports anyone would need

Cons:

Japanese Language only manuals/documentation
Limited support from Sony
Pricey for a Used/Refurbished unit ($750.00-$1200.00)