The Gadgeteer is supported by readers like you! If you buy something through links on our site, we may earn an affiliate commission. Thank you! Learn more.
How would you like to have your very own tornado? I think I just heard the gadgeteer collective voice saying: Whatchu talkin bout Julie? I'm talking about a very cool device, thingy, gadget called the Twister Tube from Cyclotek. Storm chasers (Hey Mark!) will love this thing. Check it out…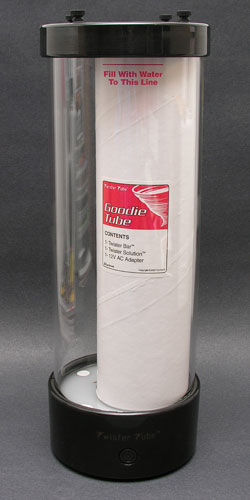 The Twister Tube is a 15 inch tall, 5.25 inch wide glass cylinder with a Black plastic base and top.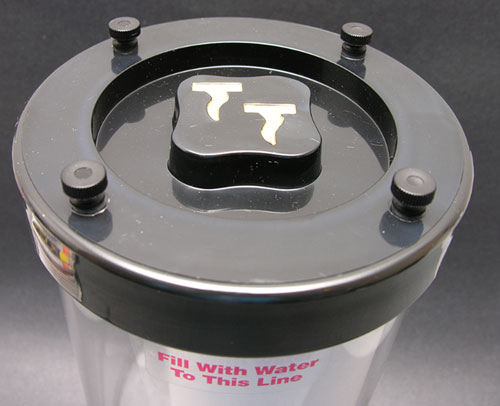 The top / lid is held in place by four thumb screws.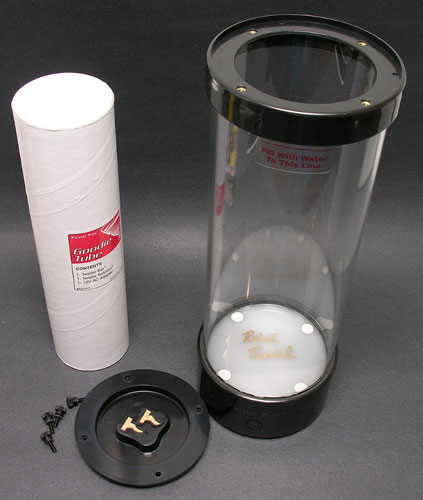 Let's set this puppy up. First remove the lid and pull out the cardboard goodie tube.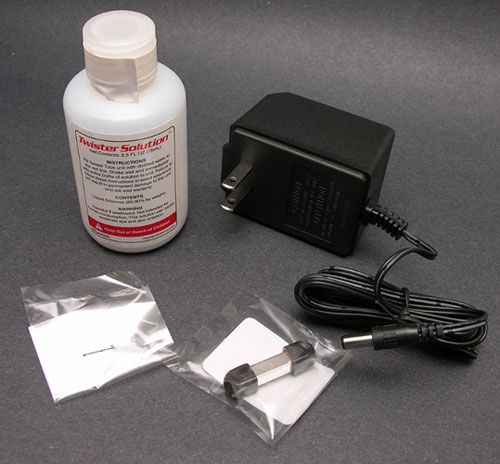 Inside the goodie tube you will find an AC adapter, an extra thumb screw, a bottle of twister solution and a twister bar. This is almost everything you need to create your own tornado in a tube.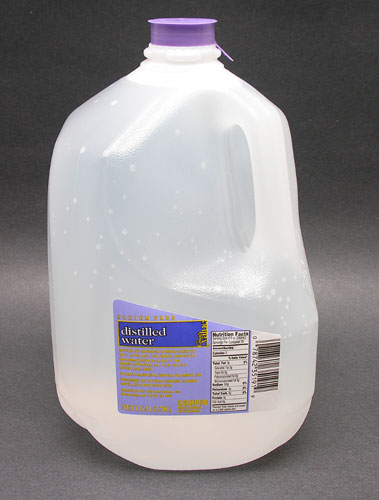 The only thing not included is a gallon of distilled water. Luckily, you can find distilled water at your grocery store, Walmart, CVS, etc.
You then pour the distilled water into the glass twister tube up to the Red fill mark. I was kinda annoyed about the fill sticker, but then realized that you can easily remove it. It's just one of those plastic cling type stickers.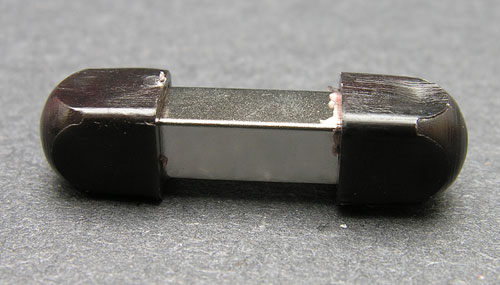 Next you careful drop the twister bar into the water. This is a small metal bar with what appeared to be molded plastic ends.
Now you shake up the special twister solution, which is a special mixture of non-toxic silicones, and pour it into the water. The solution will collect on the top of the water in a milky layer.
Put the lid back on top, secure the thumb screws and plug in the AC adapter…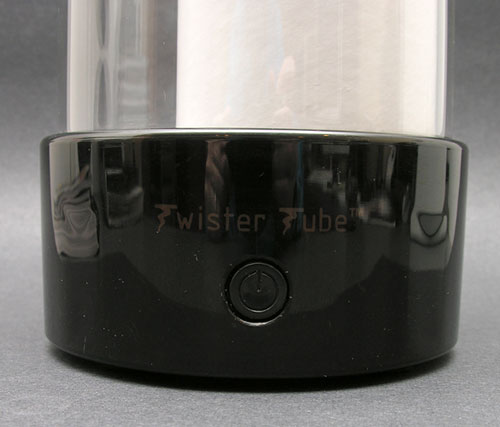 There is only one button / switch on the base of the twister tube. When you press it, the Twister Tube logo above it lights up and the twister bar laying on the bottom of the tube starts to spin.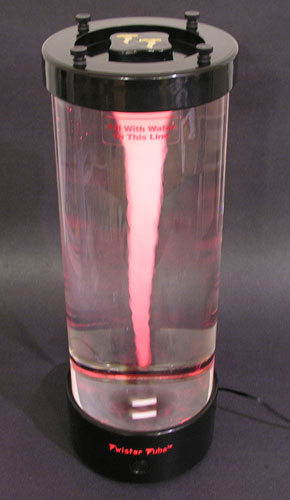 Then as if by magic, a Red 'tornado' starts to descend from the top of the tube until it is spinning in a ten inch column. Continued presses of the button will change modes, which cause the tornado to turn different colors. There is Fiery Red, Gold, Green Sky, True Blue and Majestic Purple. There is also Rainbow, which color cycles, Flame, Stormy Sky, Lightning and Mystical.
See it in action…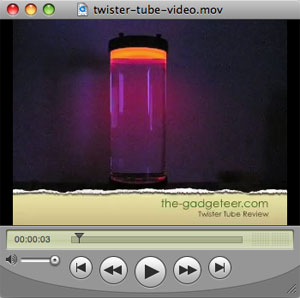 Click on image to play the QuickTime video (1 minute 11 seconds,
18.57mb). The video is encoded in the H.264 codec. You will need the latest version of
Quicktime to view it.
VLC is another free viewer.

You might notice in the video that the tail of the tornado was broken into a couple of little blobs at the bottom. I've noticed that this happens from time to time, but it seems that the tornado is able to repair itself over time. You can also turn it off and start it back up, which sometimes fixes the problem.
What amazes me about the Twister Tube is that it is virtually silent as it runs. If you put your ear to the base, you can barely hear the motor running. Since it is so quiet, this device would make a really cool night light. While it looks best in the dark, even in a lighted room, it looks very cool. It's hypnotic and kind of soothing to just stare at it. It's like a lava lamp for geeks :o)
I asked Robert Piontek of Cyclotek how he came up with this invention… "I was building a electromagnetic stirrer for another project I was working on. Basically, a stirrer is a piece of lab equipment that allows you to mix fluids using a stir bar. I added LED's just to spice the stirrer up a bit, and found that it looked pretty cool when illuminating a vortex. It was however not very visible with the lights off. This led to me adding different liquids to "fill in" the vortex. After 2 years, we arrived at the current solution which is nicely visible under all lighting conditions and looks like a real tornado."
The Twister Tube makes a cool gift those those people that seem to have everything or are always looking for something different and unique to decorate their office cubicle or a room at home. I'm taking mine to work for sure :o)
Support The Gadgeteer
:
The Gadgeteer is supported by readers like you! If you buy something through the links on our site, we may earn a small affiliate commission. Thank you! Learn more.
Product Information
Price:
99.95
Manufacturer:
Cyclotek
Requirements:

1 gallon of distilled water

Pros:

Unique
Quiet
Can change colors
Easy to setup

Cons: