We use affiliate links. If you buy something through the links on this page, we may earn a commission at no cost to you. Learn more.
I've reviewed several digital photo frames over the years, but this is the first
itty bitty frame I've had the opportunity to review. It's the Digital Photo
Album from Brando. This frame has a
display that is only 2.4 inches. Sounds like it might be too small doesn't it?
Let's find out.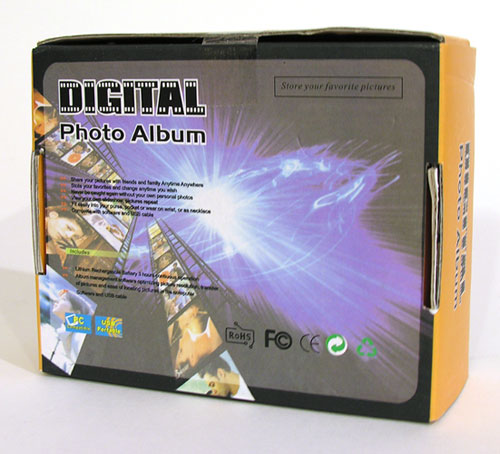 Hardware Specifications
2.4 inches TFT LCD Panel
320×240 Pixels Resolution
Supports JPG/BMP/GIF
Powered by USB port or Powered by Built-in Li-Ion Battery
Built-in 16MB memory (Store up to 32 photos)
Built-in 3.7V Li-Ion battery
Playing time ~5 hours
Size: 70x57x15mm without frame, 110x98x15mm with Transparent frame
Weight: 42g without frame, 63g with Transparent frame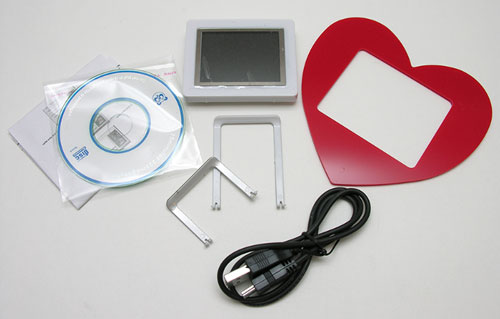 Package Contents
2.4 inch LCD Digital Photo Frame
Transparent frame or Heart-Shape frame
Two Stands (35mm and 60mm)
USB AC adapter
USB cable
User Manual
Driver CD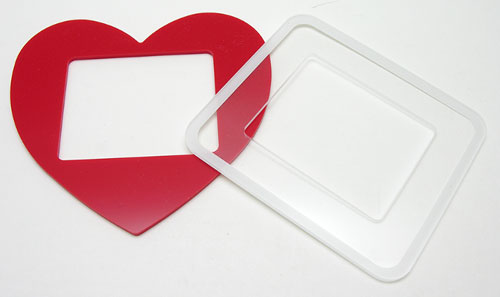 There are two different plastic frame styles available. A transparent frame and
a heart shaped  frame. I was sent both styles to review.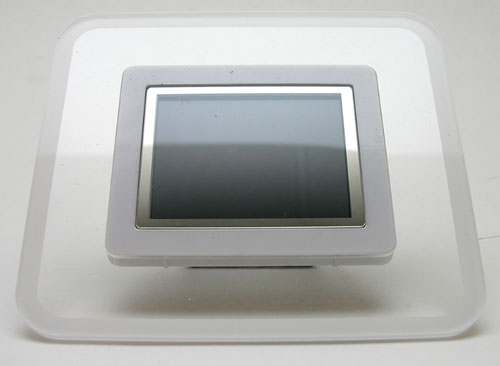 Either frame snaps over the actual display very easily and is held there by
friction.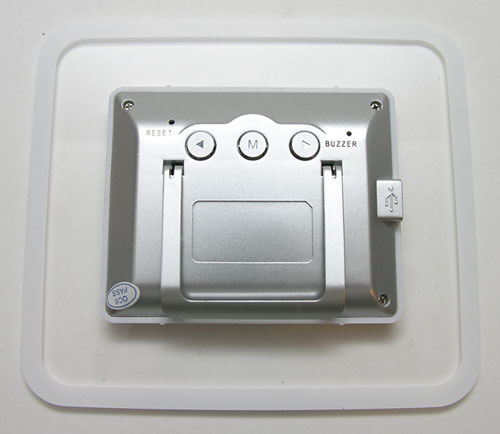 The controls are located on the back of the frame. There are three buttons. A
menu button with navigation buttons on either side of it. There is also a mini
USB connector.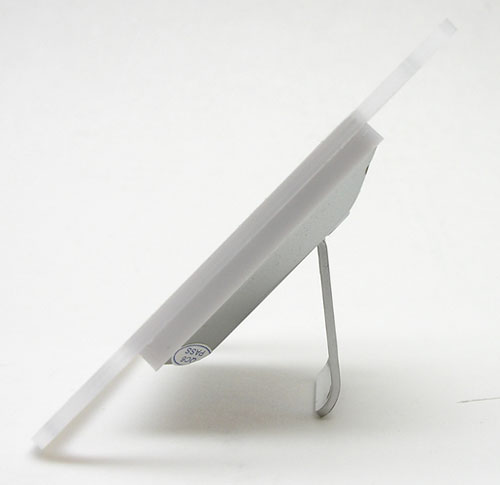 Two frame stands are also included. One is shorter than the other. I'm not quite
sure why there are two of them… Neither one allows you to place the stand in a
portrait position.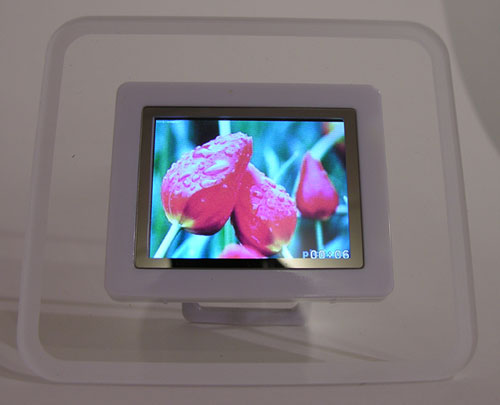 The display is only 2.4 inches, with a resolution of 320 x 240 pixels. Even
though that is very small, it's bright and has vibrant colors, making images
look surprisingly good.
In order to load your images on the digital album, you have to unfortunately
install some special proprietary software. I was surprised that I wasn't able to
just plug the USB cable into my Mac and copy pictures into the 16mb of memory
like any other flash drive. Nope, no such luck. I thought maybe it was just a
Mac thing, so I tried it on a PC and had the same result. The frame was not
detected as a flash device. So I installed the software … grumble, grumble…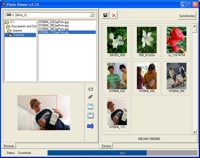 Click thumbnail to see full size screen shot
The software is easy enough to use. You just choose the images located on your
computer that you want to send to the frame, and click the sync button. They are
then automatically resized and cropped to fit the small digital album display
size. Unfortunately, I found that the images that I sent to the frame were
rotated into  portrait mode by default.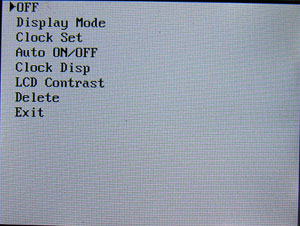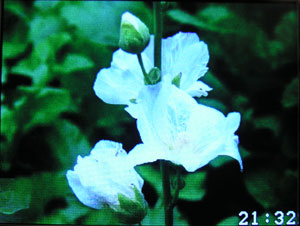 To user interface for the frame is simple. Just press the middle menu button and
you'll be presented with the menu you see in the image above. As you can see,
there aren't that many options.
Display Mode – Choose between auto slide show or manual slide show and
duration between slides
Clock Set – Set the time and date
Auto On/Off – Set an auto on and auto off time for the frame. Only works
when the frame is not connected to power / USB
Clock Disp – Show or not show a 24hr format clock in bottom right corner
of display
LCD Contrast – Display brightness adjuster
Delete – Allows you to delete the last image viewed from memory 
Exit – Back to slide show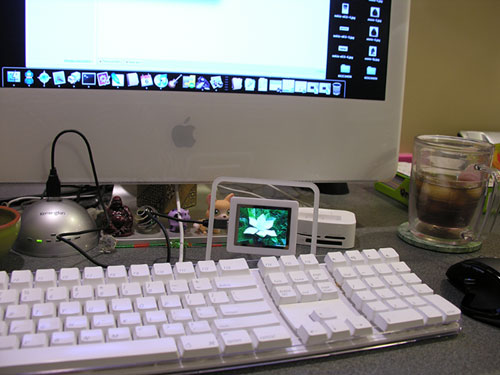 The automatic slide show mode has several transitions that it uses to go from
photo to photo. You don't have any control over which transitions are used, but
you can set how many seconds between photos.
Some people might not like how small this frame is, but it is just so cute
that I can't help but like it. I actually like it better than larger frames. I
guess it's because this frame doesn't take up that much space and I can just
plug it into a USB port an not have to tie up a power outlet. Although it has a
rechargeable battery built into it, I find that I just leave it plugged into a
USB port all the time.
There are three things that would make this little USB digital frame even
better than it is… More memory would be my first wish. 16 megabytes is pretty
low. Even better would be the ability to copy images directly to the frame
without having to dork with the proprietary software. And last but not least,
enable the auto on / off feature to work even when plugged into USB and / or the
included AC adapter.
Even with those few complaints, I think I'll continue to use this little
frame. It's cute and I like it :o)
Product Information
Price:
45.0
Retailer:
Brando USB
Requirements:
Pros:

Small
Rechargeable battery
Simple user interface

Cons:

Software is required to copy photos to frame (PC only)
Doesn't work like a regular USB flash drive
Only 16mb of memory
Auto on/off feature only works in battery mode