We use affiliate links. If you buy something through the links on this page, we may earn a commission at no cost to you. Learn more.
As a kid, I remember sitting in front of my Mom's vertical Baldwin piano, trying to learn to play Beethoven's Symphony No. 9 Ode To Joy. I never had real lessons, I just used the many lesson books that my Mom had used when she was a little girl. The piano bench was full of them and I loved paging through them, seeing the cartoon-like pictures for each new song. Once in awhile my Mom would sit down on the bench with me to give me pointers, but for the most part she never criticized my talent or lack there of. I just loved plunking those keys, making music. It didn't matter if I was any good at it or not. Wow, I'm tearing up just writing this. I miss my mom…
I didn't pursue piano, and wound up becoming more interested in guitar. But over the years I've often thought about trying to learn to play again. That's why I was really interested when I was asked if I might like to review the Piano Wizard hardware / software learning system by Allegro Rainbow.

Piano Wizard is a new way of learning to play piano and is geared more towards kids (ages 8+) than adults. That fact really didn't bother me though.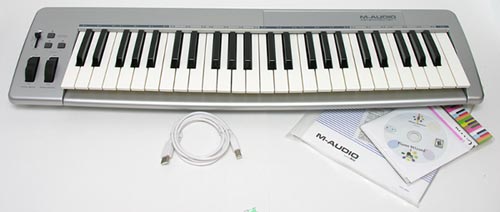 The PREMIER package ships with the M-Audio Keystation 49e keyboard. This is a USB Midi keyboard with 49 full size velocity sensitive keys. It is Windows and Mac compatible and requires a USB cable for connectivity and power. The package also includes the Piano Wizard software package on CD. There is a version of the software available for both Mac and Windows users.
Setup couldn't be easier. All I had to do was put the Piano Wizard software CD in my iMac and install it. Then I plugged the USB cable into my hub and was ready to go.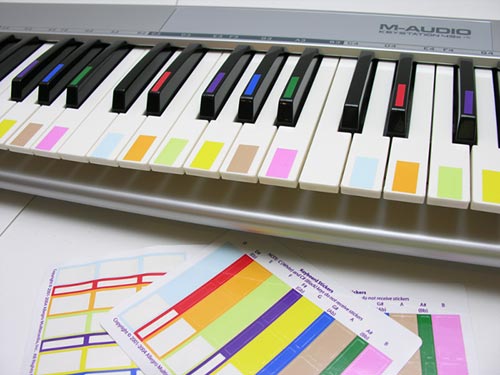 The software uses colors for each key, so three sheets of stickers are included that you use to map the keyboard. Extra stickers are left over, so you have replacements if they become worn.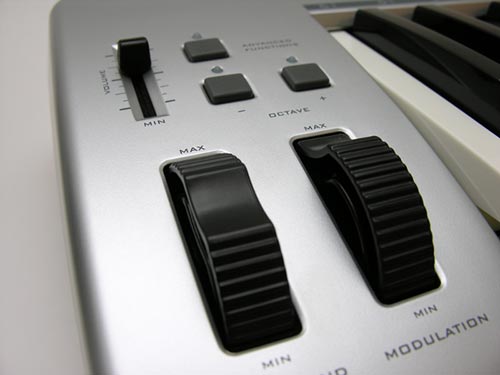 The M-Audio keyboard is very nice. It has a built in volume slider, a pitch bend wheel, modulation wheel and octave adjustment buttons.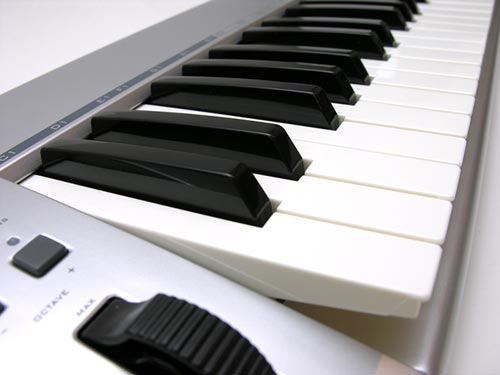 The keys don't feel like a real piano as they are plastic, but they are full size and have good travel.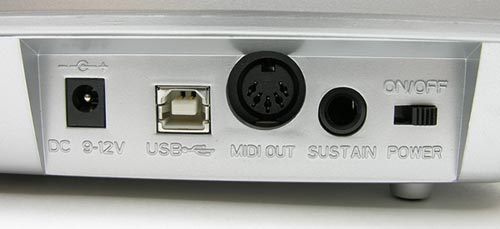 On the back of the keyboard, you will find a power port, USB port, MIDI out, a foot pedal port and the power switch. At first I was worried that the AC adapter had been left out of my package. But nope, you don't need it for connecting to your computer. All you need is the included USB cable. Yay!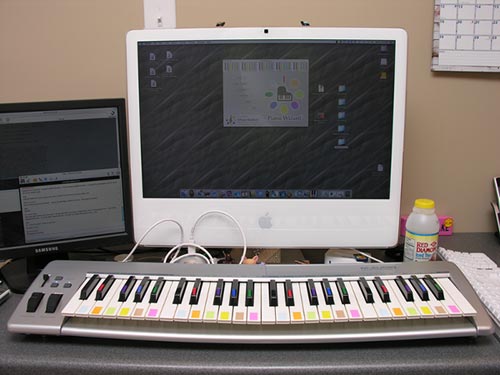 The keyboard is large (31.5 inches wide x 8.5 inches deep), so you'll need room in front of your computer to set it up.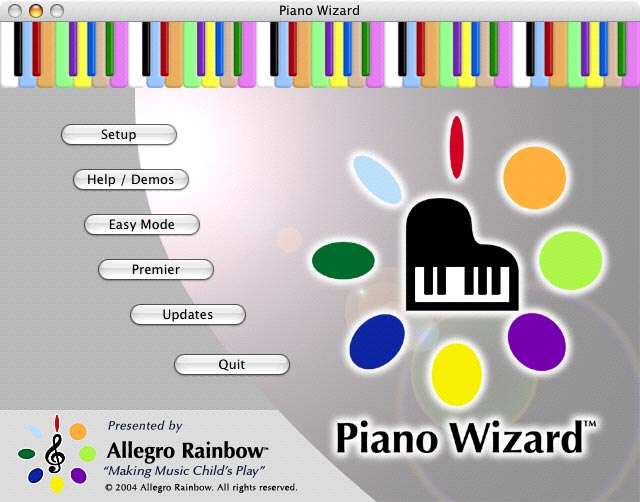 The software allows you to choose Easy Mode or Premier mode. Let's start with Easy Mode :o)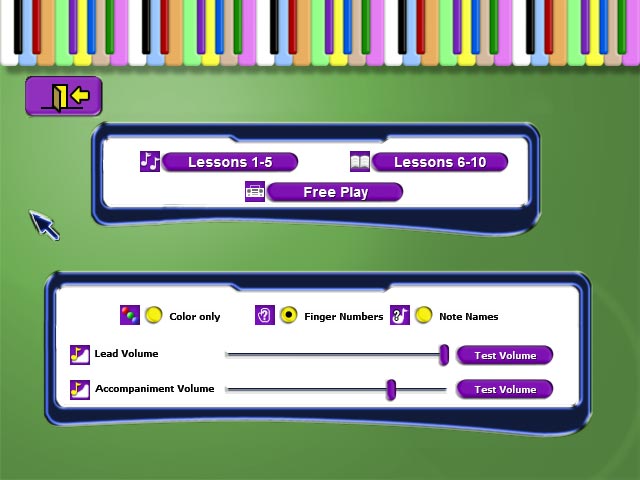 When you click Easy or Premier, the software (on the Mac) takes over the whole screen and changes the resolution, so that when you quit out of the application, all your windows have been resized and moved. That annoyed me a bit. I'd rather it just stay running in a window like any other OS X application.
You can decide which lesson block you would like to try, 1-5, 6-10 or Free Play. You also have the choice of how you want the notes to show up. Either just by color, with finger numbering or note names. Beginners will want to start with just color.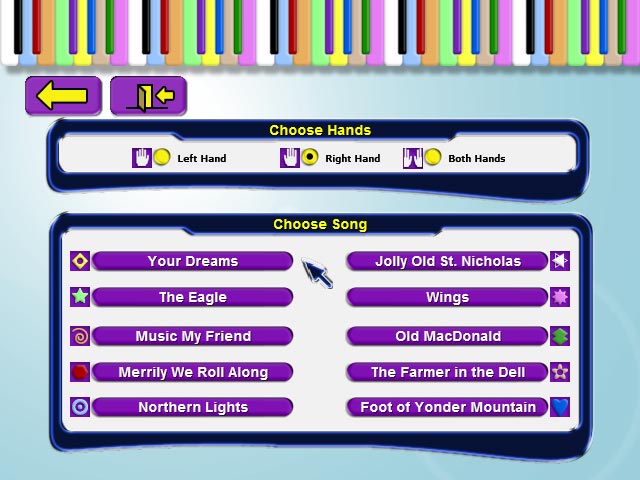 Then you can decide if you want to play just with the Left hand, Right hand or both. Again, beginners should stick with the default of the Right hand. You'll also see a list of 5 songs. The first song "Your Dreams" is the easiest and the last song "Foot of Yonder Mountain" is the hardest.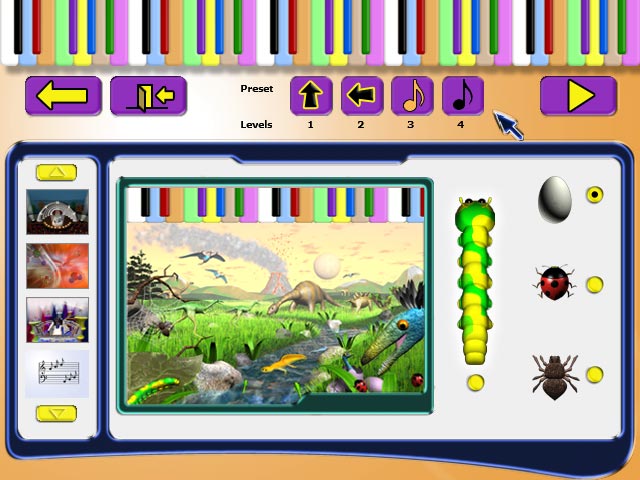 After you choose your song, you can pick the background, or as the software calls it: World. This is just a background image and associated graphics. The default here is the dinosaur screen with the egg graphic.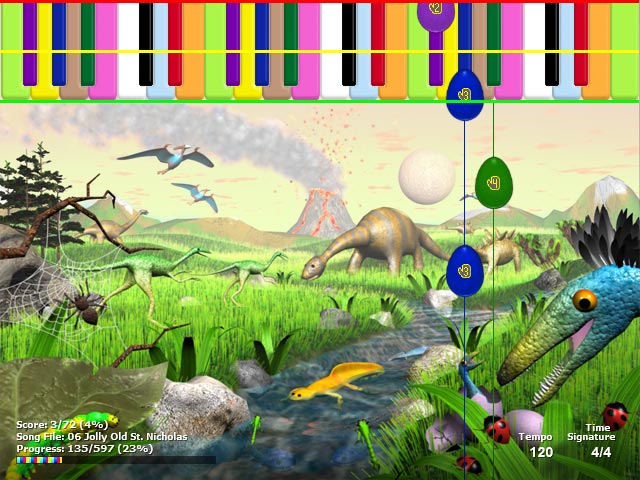 The whole idea of the Piano Wizard software is to make learning to play piano easy for kids. To do that, they have created a video game that is a little bit like Guitar Hero. As the song plays, colored graphics move from the bottom of the screen up to the keyboard along the top edge. When the graphic is right between the Yellow and Red lines, you press the matching key on your keyboard, to break the egg and sound the note. Easy huh? At first you don't even really care where your hands are. You just want to hit the keys at the right time, to play the song.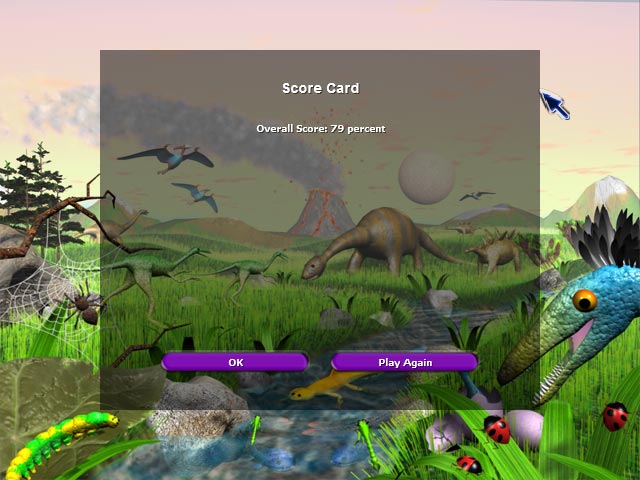 When the song ends, you are presented with your score. It's pretty addictive, even for an adult.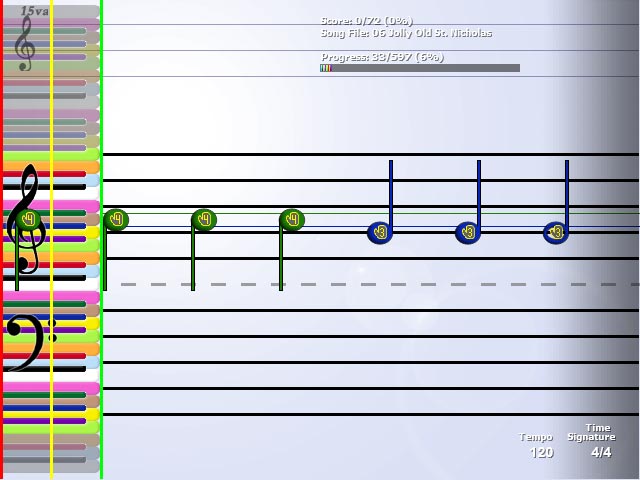 After playing with this level for awhile, I started wondering how in the heck this game would allow me to learn to actually play the piano. It wasn't teaching me the notes or even which fingers I was supposed to be using to press the keys. My questions were answered when I moved to Level 2, which turns the keyboard vertically. That starts preparing you to learn to read a musical staff. Later levels then introduce the actual notes. The colors are still there and you can even show the finger numbering to help you learn to place your hands on the keyboard in the correct way. The last level removes the colors and numberings. This method of learning is actually pretty clever.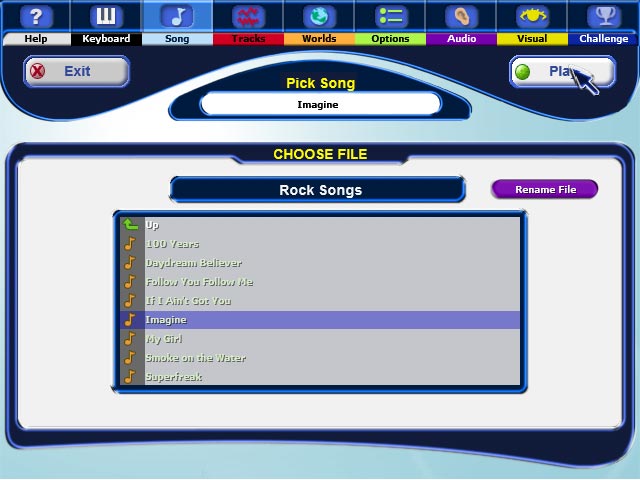 The Premier option has harder songs, including popular rock music like Smoke on the Water and John Lennon's Imagine. This software is very challenging! I spent all afternoon trying to get a good score playing Imagine. The best I could do was about 65%. Pretty lame. Hey, it's a tough song! Luckily, you can slow the tempo down, to help you learn.
Don't see your favorite song in the list? No problem, just search around on the internet for the song in MIDI format, and then you can load it directly into the software. Nice!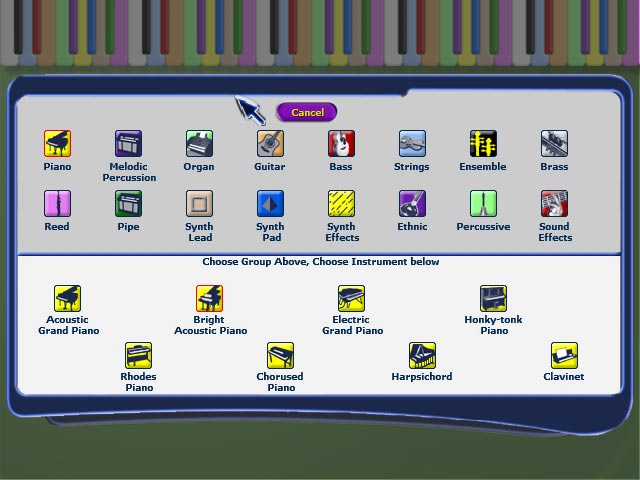 There's even a Free Play option that you can use to just jam on the piano using a choice of lots of different instruments. The only feature I didn't find was a way to record your songs in Free Play mode.
Piano Wizard is definitely an interesting approach to piano instruction. It doesn't start with theory, but just allows a kid have fun playing a video game. Little by little, the game helps the child learn to actually play music and read notes. The only thing I wish this system had is a music book with all the songs in both the color coded play method and regular notation. Other than that, it's definitely captured my interest. Now to go see if I can make a better score on that Lennon tune.
Product Information
Price:
199.95
Manufacturer:
Allegro Rainbow
Retailer:
Allegro Rainbow
Requirements:

Windows or Mac
Free USB port

Pros:

Learn to play music without learning theory
Fun video game method of learning
Very nice full size keyboard
Can load any MIDI song

Cons:

Doesn't come with any written help material
Can't record free play songs