We use affiliate links. If you buy something through the links on this page, we may earn a commission at no cost to you. Learn more.
Did you ever want a drum kit when you were a kid, but your parents vetoed the idea because you didn't have the space and they didn't want to deal with all of the crash boom bangs? What about now, do you still fancy yourself as the next Larry Mullen Jr. of U2? If so, I have a nifty little electronic drum pad from Dream Cheeky that just might start you down the path of stardom. Or not…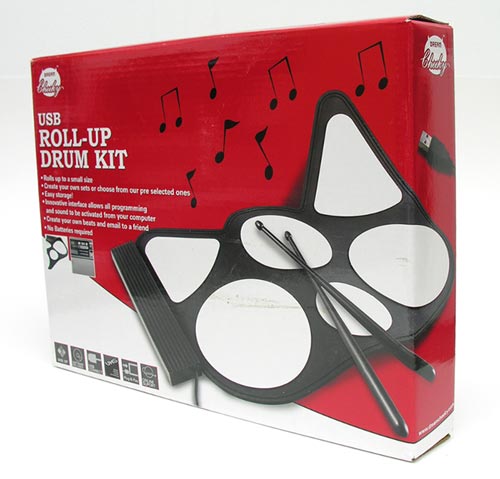 When Brando asked if I might like to review a roll-up drum kit, I had to think about it for a bit. I'd never really had the ambition to learn to play drums. But I thought what the heck, I'd give it a shot.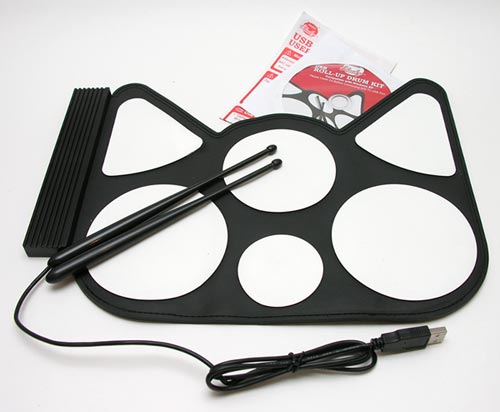 The kit basically consists of two plastic drum sticks (not standard size), a Windows software CD and the pad. The pad is a black rubber mat with six white playing areas (for snare, kick, plus 2 toms). The mat is flexible and can be rolled up for storage if desired. FYI: it sorta smells like an old tire. It is nice and compact though, so you will have no problems finding space on your desk for this kit.
On its own, this kit won't do anything when you plug the attached USB cable into your computer (yay, no batteries needed!). You have to first install the application which is included on the CD. Unfortunately, this software is only for Windows users…
The software is very simple, but does have the following features:
3-level learning feature
Play along option
Record/playback and program option
Tone: 6 Levels and Default of (-3 to +3)
Tempo 40-208 Bpm
50 Percussion Sounds
20 Preprogrammed percussion sets
100 Preprogrammed beats
You can choose from various drum samples (Jazz, Rock, Latin, Africa, Waltzes, Country and Electron), so that the sounds that come from the pads when you hit them change according to the style of music chosen.
The learning mode is reminiscent of the Guitar Hero game. Music plays, while colored bars descend down the screen above the pads that need to be hit with the stick. Let's just say that playing drums is way harder (for me) than guitar! ;o)
You can use your mouse to press the onscreen pads if you like, but it doesn't work near as well as using the plastic drum sticks.
You can even record your beats and save them as a .WAV file. Here's an example of my next Top 40 hit. Click to listen…
Drum Test (156k .WAV file)
What do you think? Yeah I know, don't quit my day job(s) right? ;o)
The Roll-Up Drum Kit is not a professional instrument, but it is easy to use and kinda fun. If you ever wanted to be a drummer, try one of these before you plunk down $100's for the real thing. Your parents, significant other and neighbors will be happy that you did.
Product Information
Price:
42.0
Manufacturer:
Dream Cheeky
Retailer:
Brando USB
Requirements:

Microsoft Windows 2000, XP or higher

Pros:

Easy to use
Learning mode
Can record beats

Cons:

Smells like a tire
Software is Windows only