We use affiliate links. If you buy something through the links on this page, we may earn a commission at no cost to you. Learn more.
I'm sure you've all heard of 900MHz and 2.4GHz cordless phone systems. Maybe you've even heard of 5.8GHz phones, but have you heard of DECT 6.0 phones? I'll admit that I hadn't heard of them until VTech asked if I might like to review their model 6042 two handset cordless phone system. I then came to learn that DECT 6.0 is a newly available frequency band (WiFi-friendly 1.9GHz) that provides improved range without needing to boost the power. It also has better protection against eavesdropping, that the older frequency models do not.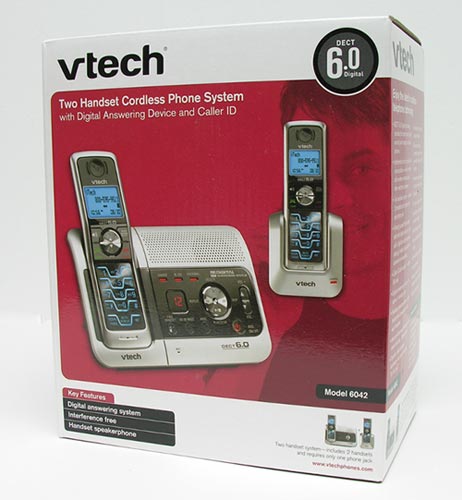 The 6042 system comes with a digital answering machine built into a base unit, as well as an extra handset that does not require an additional phone jack. This allows you to place the second handset anywhere in your house, as long as you have an available power outlet.
Hardware Specs
Frequency control: Crystal controlled PLL synthesizer
Transmit frequency: Telephone base: 1921.536-1928.448 MHz, Handset: 1921.536-1924.448 MHz
Channels: 5
Size: Handset: 170.9mm x 48.1mm x 25.8mm, Telephone base: 179.8mm x 123.8mm x 95mm
Weight: Handset: 131 grams, Telephone base: 296.8 grams
Power requirements: Handset: 2.4V DC 600mAh Ni-MH battery, Telephone base: 6V DC @ 600mA
10 hour talk time, up to 100 hours standby time
Memory: Handset directory: 50 memory locations, up to 24 digits, 15 characters
Handset call log: 50 memory locations, up to 20 digits, 15 characters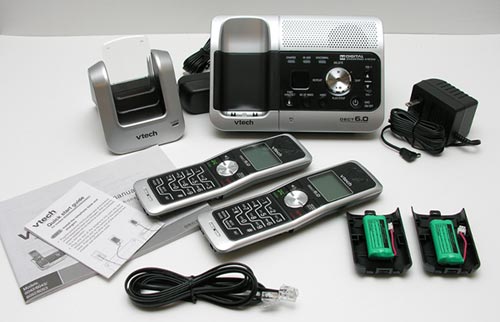 Package Contents
Base unit
Charger unit for 2nd handset
2 handsets
2 batteries for handsets
2 battery covers
AC adapter for base unit
AC adapter for 2nd charger unit
Telephone cord
Quick start guide
User's manual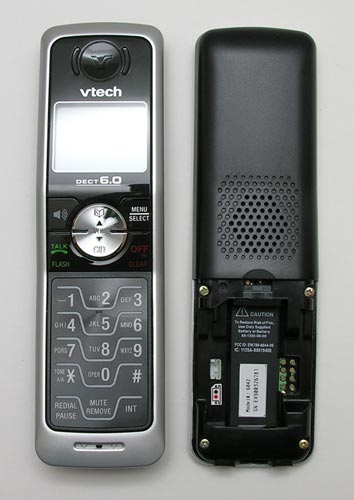 Never miss one of our posts again. Sent MON, WED, and FRI with the latest gadget reviews and news!
The handsets are long, thin and look more like a mobile phone than a typical cordless handset.

This phone is comfortable to hold in your hand, but isn't quite large enough to allow you to comfortably hold it between your ear and shoulder. At least not for me…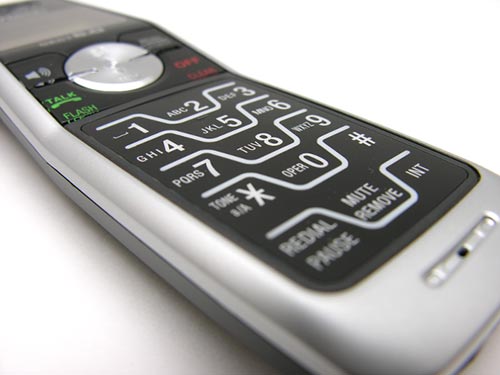 The keyboard is a flat membrane with a Blue backlight that glows for a few seconds when a key is pressed. Looks like they borrowed this design from the popular Motorola Razr line of mobile phones. Key presses offer both tactile and audible feedback. In addition to normal number keys, there is a row of action buttons along the bottom edge of the keyboard. These buttons allow you to Redial, Mute, and make intercom calls to the second handset. Pressing the Redial button brings up a 10 call list, that you can scroll through one line at a time to find a number to redial. When you see the number you want to call, you just press the Talk button to dial the call. Pressing the Int button will cause the second handset to ring, so that you can use it as an intercom system instead of shouting from room to room.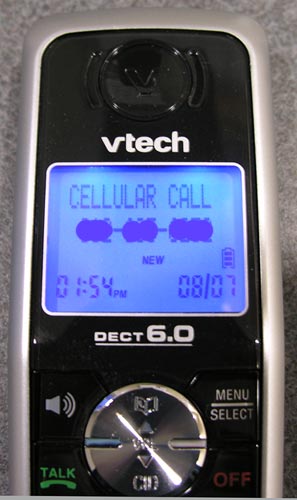 Above the keypad, there is another set of four buttons surrounding a circular up/down button. This circular button functions as a volume control button while in call mode. When not connected, pressing this button in the up direction will allow you to scroll through the stored phone directory one entry at a time. The 6042 can store up to 50 entries in its phone book. Pressing the circular button in the down direction will allow you to scroll through previous calls. This feature depends on you having the Caller ID service in order to use it. The four buttons surrounding the center button are for speaker phone toggle, menu, talk/answer and end call.
The display on the handset is monochrome and has a Blue backlight. It's easy to read even when the backlight is not activated. While in idle mode, the display shows the current date, time, battery level indicator and if there have been new calls added to the call log.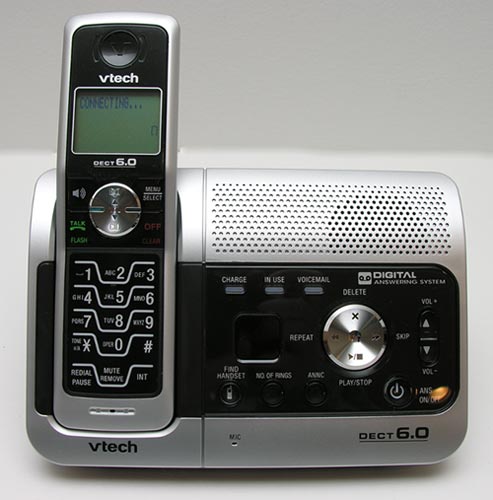 The base unit is the one that you have to connect to your phone line. It houses the digital answering machine, which can hold up to 99 messages with a total limit of 15 minutes of record time.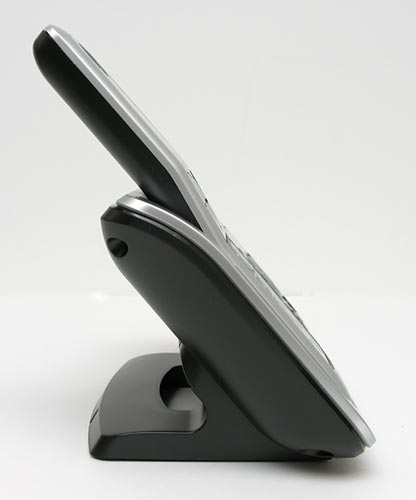 The base unit is made of Black and Silver plastic and has a small footprint which I like. I also like that it doesn't have an antenna like my previous phone.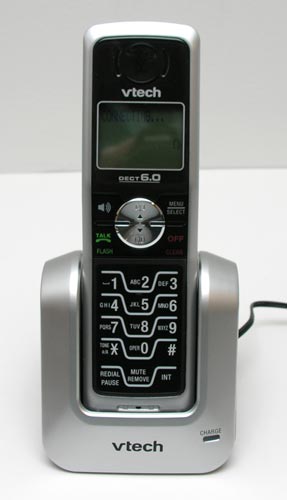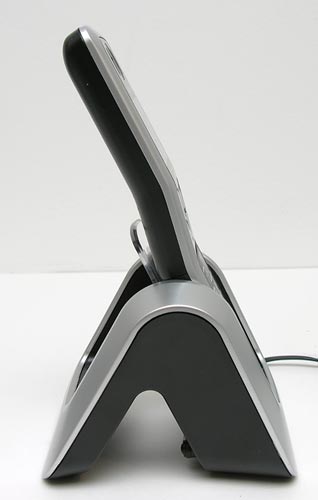 The second handset charging unit is small as well. The nice thing about it is that you do not have to plug a phone line into it. All you have to do is plug it into an outlet and you're good to go.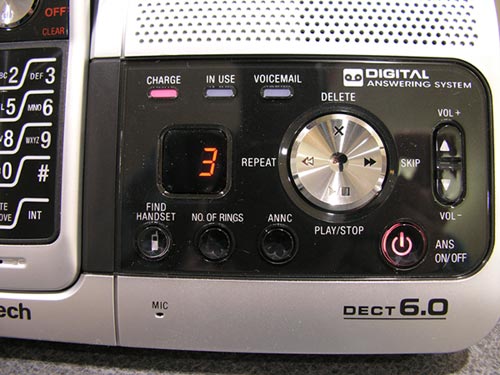 The base unit is easy to operate given that all of the buttons are clearly labeled. It's nice when you don't have to check the user manual in order to change the answering machine greeting or set the time and date.
It's interesting to note that you can set a different ring tone and volume level for the base station and for each handset. This causes quite a cacophony of tones when the phones ring, but it's still cool that you have the ability to customize each one.
Another useful feature is the ability to transfer a call to the second handset by pressing the Int button. The is way more convenient than yelling "It's for you!"
The volume levels and audio quality with the VTech 6042 seem to be quite a bit better than any cordless phone that I've used up until this point in time. The speaker phone is very good as well.
It's not all joy and light though, as I did discover some issues with this phone system. First of all, the handsets can not share directories between them. You have to create phone books on each one. Worse still is the fact that there isn't a speed dial feature. You have to scroll an entry at a time through the directory to find a number to dial. And lastly, if you have a number in your phone book, and that person calls you, it doesn't display the name you entered for them. It just shows the stock Caller ID listing. Bummer.
All in all, I can't really find a significant complaint about this product. It's constructed nicely and is easy to use. I suppose the only thing I would ask is that it be a little less expensive. But I am guessing that the price is due to the new DECT 6.0 feature. A quick google on this term found other dual cordless phone systems priced in the same ballpark. If the call directory issues don't sway you, and you like the looks of the VTech 6042 system, it might be the next landline phone for you.