We use affiliate links. If you buy something through the links on this page, we may earn a commission at no cost to you. Learn more.
I hate going to the dentist. I joke around and say that I'm still dealing with post traumatic stress from when I was a kid. It seemed like every time my sister and I went to the dentist, we had a cavity. The hygienist used to yell at us saying that if we didn't open our mouthes wider, she'd have to start all over again. Yikes, I get goose bumps just thinking about it. These days you practically have to drag me to go to my annual cleanings. I usually make them biannual just because I don't want to go. I must be doing something right though because I haven't had a cavity since I was a teenager and my dentist never yells at me for waiting so long in between visits.
Cordless toothbrushes aren't exactly high-tech these days. But how about a toothbrush that uses has an RFID (Radio Identification Frequency) microchip built into the brush head that communicates with a wireless LCD display to give you feedback during your brushing activities? The Oral-B Triumph with SmartGuide ProfessionalCare 9910 toothbrush could be considered the Ferrari of dental hygiene. Let's take it for a spin…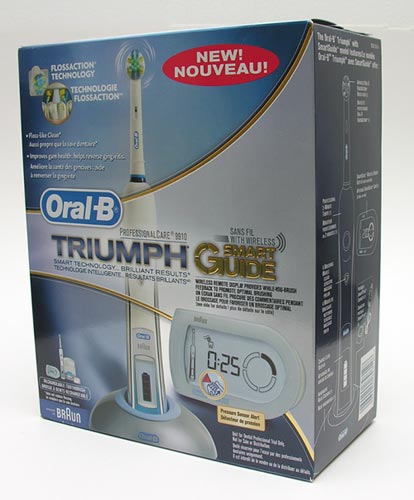 The box is quite impressive for a toothbrush.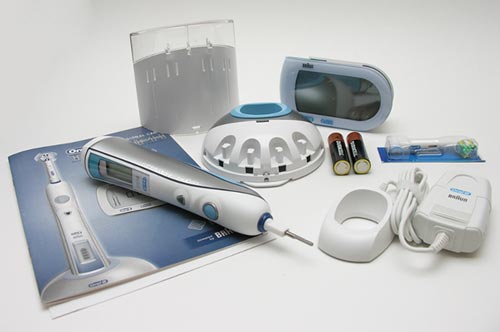 Package Contents
Cordless handle
FlossAction brushhead
Base unit
Brush storage unit
Wireless LCD display
2 AA batteries for LCD display
AC adapter for base unit
User guide
I was a little intimidated by all the parts. For goodness sakes, it's a toothbrush right? But setup really wasn't difficult.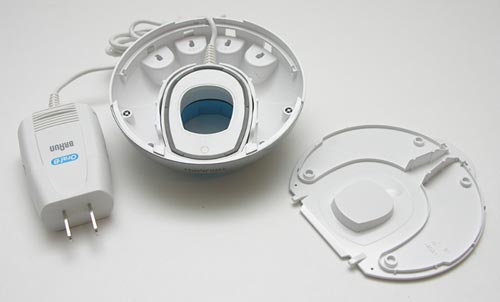 The first step was to fit the AC adapter / charging ring into the bottom of the base unit.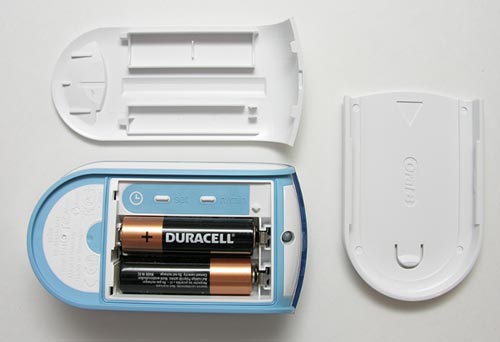 Then put the batteries in the LCD display and set the time by using the buttons under the battery cover.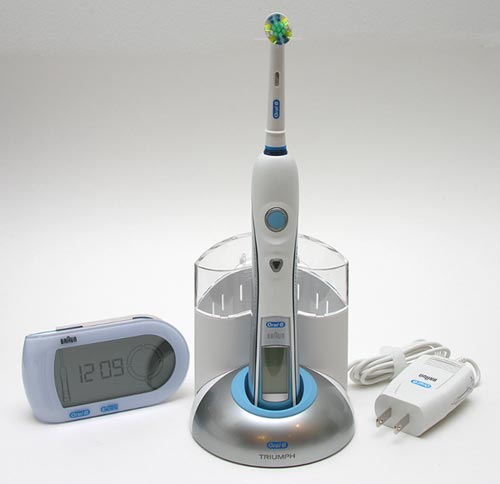 Plug the AC adapter into the wall, place the toothbrush in the inductive charging base and wait for about 12hrs for it to fully charge.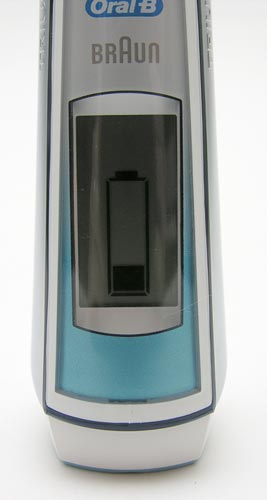 A large easy to read LCD on the handle shows the battery status while in the dock and during use. A full charge should power the Triumph for around two weeks of regular brushing for two minutes twice a day.


The handle is made of plastic with a Blue rubber grip on the back. A large power toggle button, brush mode button and battery status display are located on the front.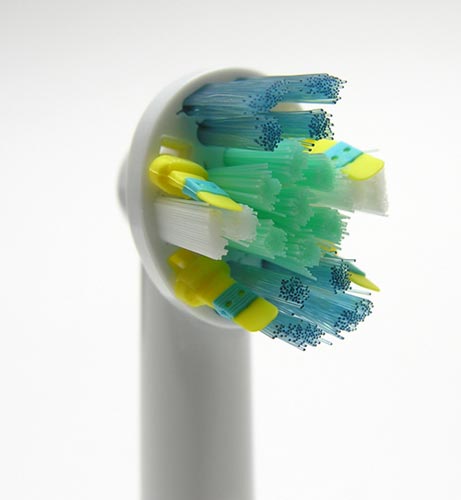 The Triumph comes with one FlossAction brushhead (replacements are available for approximately $15 per 3/pk.). The head has several different groupings of bristles that are different lengths and hardnesses. There are also four flexible flosser 'bristles'. You can see them in the image above, in Yellow.
The toothbrush is also compatible with Oral-B's ProWhite polishing brushhead. The brushheads feature oscillating-rotating technology for plaque removal between teeth and along the gum line. Both of these brushheads contain a smart chip to communicate with the electronics inside the toothbrush handle wirelessly using the 2.4 GHz ISM band.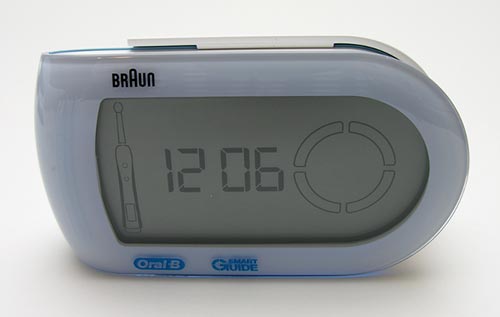 The wireless LCD display has a few different functions. When you aren't brushing your teeth, it is a regular clock that you can set to show 12hr or 24hr format.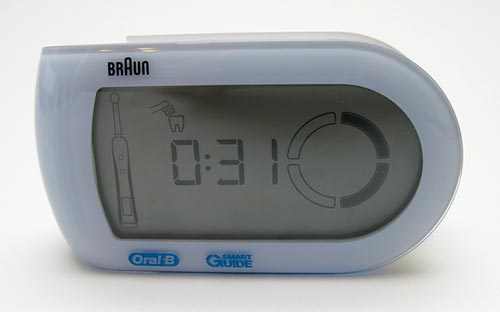 When you start brushing, it begins counting up to 2 minutes, which is the dental-recommended length of time to brush your teeth. A circular quadrant display next to the timer shows which area of your mouth you should be brushing. Each quadrant represents a part of your mouth. Left and Right sides, Upper and Lower teeth. You brush each area for 30 seconds. After 30 seconds have elapsed, the brush kind of stutters and another quadrant segment will turn black, to let you know you should move on to another area.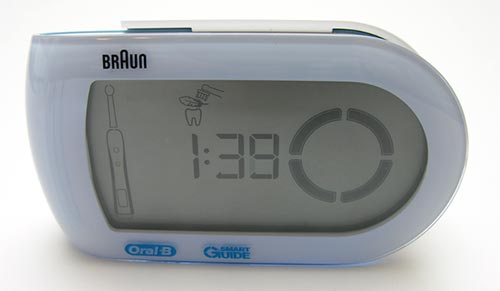 You might also notice the little tooth icon above the timer. This is the brushing mode indicator. By pressing the small triangular button on the toothbrush handle, you can switch through the different modes. The mode you see above is for sensitive teeth.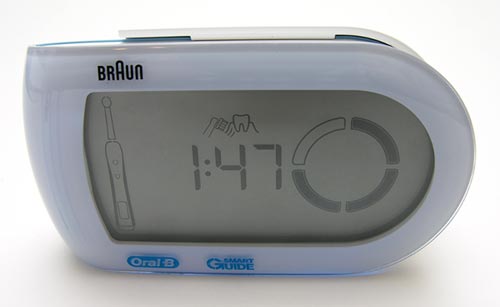 This mode is the massage mode for brushing your gums.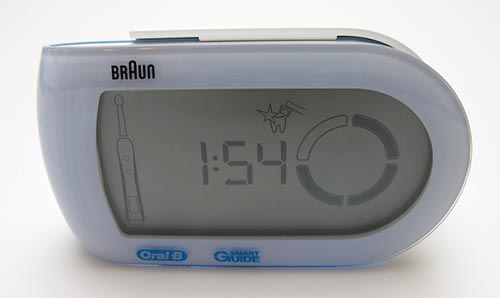 This is the polish mode.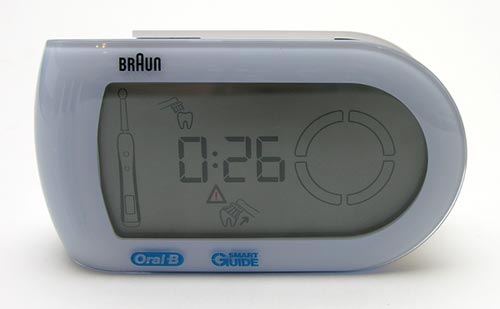 The chip in the brushhead monitors how much pressure you are putting on the brush and will display a sensor alert on the wireless display signaling when you are brushing too hard. Studies have shown that too much pressure can lead to teeth sensitivity and early gum recession.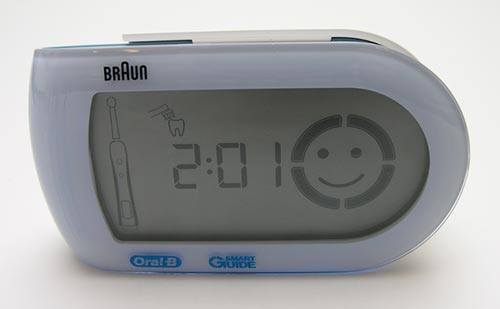 Once the 2 minutes is up, the brush will stutter for a few seconds and you'll be rewarded with a smiley face, this signals that you can stop brushing. The only thing I found missing was an audible alert. All of the alerts on the LCD are visual, which means you need to be paying attention to the LCD for the full 2 minutes. I know that the brush stutters every 30 seconds and then again at the 2 minute mark, but half the time I don't even really notice that. It would be nice if it would also beep when I needed to switch quadrants or stop brushing.
Besides showing the count down brush time, quadrant info and brushing mode, the LCD will also alert you when it's time to change the brush head. The wireless display can also communicate with multiple Triumph brushes in wireless range. Each LCD display can sync with up to 2 toothbrush handles.
If you've never used a cordless toothbrush, it can take a bit of getting used to. You don't scrub the brush back and forth on your teeth like a normal brush. Instead, you just hold in on the tooth and let the brush do its thing. You also need to put the brush in your mouth before you press the power button. If you don't, the toothpaste will fling off to parts unknown.
I don't consider my teeth and gums to be sensitive, but I found the Triumph to be a bit rougher than my normal non-cordless Colgate toothbrush. The very first time I used it, my gums did bleed a little bit. Nothing dramatic, but I did notice it. No problems though after that first day, and I have been very impressed at how smooth it makes my teeth feel after every brushing. The only other problem I had was that toothpaste and drool often ended up running down my hand because I was standing up watching the wireless LCD display instead of bending over the sink. Luckily the handle is sealed, so clean up is pretty easy.
The biggest issue that I have with this product is of course the price. $149.99 is very spendy for a toothbrush, even if it does have a wireless display and RFID technology built in. You also need to have an outlet to plug the charging base into. That can be inconvenient in a small bathroom. I mean, you could just buy a regular old $3 toothbrush at Walmart and use a timer to make sure you brush a full 2 minutes. Granted, a non-cordless toothbrush won't make your teeth feel as smooth as this one does. Oral-B actually makes other more affordable cordless toothbrushes that even have a 2 minute audible alert. They don't tell you when to change areas in your mouth though… The Oral-B Triumph with SmartGuide ProfessionalCare 9910 toothbrush is definitely the nicest toothbrush I've ever had the opportunity to use. It's just very hard for me to justify the price… But, if price isn't a consideration for you, then I say go for it!