We use affiliate links. If you buy something through the links on this page, we may earn a commission at no cost to you. Learn more.
I'm a firm believer in the fact that you're never too old to play with toys. Especially RC toys from HobbyTron.com. I had a great time with their mega popular PicooZ Helicopter last year. Then in January I had the opportunity to meet with the HobbyTron folks during a special event at the Consumer Electronics Show. It was there that I saw the AH-64 Apache Helicopter in action. It made the PicooZ look like an uh… toy! ;o) The Apache is currently on sale for $119 and comes with everything you see here…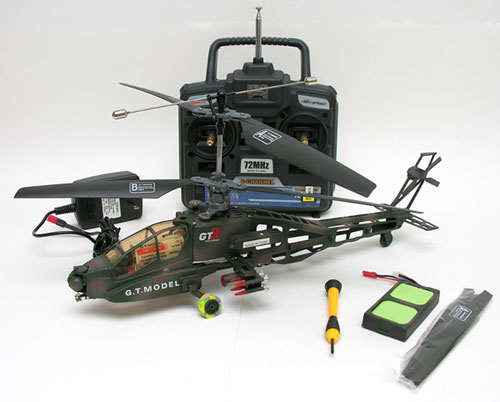 The Apache is meant to be flown outdoors. If you're more of an indoor flier, then you'll want to check out the HobbyTron.com-branded mini RC helicopter called the Hornet 3. The Hornet is a hobby-grade copter… not a toy. You might think that translates to $$'s, but it's only $39.95. Be sure watch the in action video!
Flying not your thing? Then how about a 1/5 scale RC car (Ford GT, to be exact), with disc brakes on each wheel and a weed-whacker engine in it! It's the 2-Stroke SuperScale RC car! This FAST gas powered RC car is priced at $650.
Visit HobbyTron's RC blog for info and videos on products. Fun stuff!