I want to start out by saying that I typically do not use a Bluetooth headset all that often. I'm not one of those people that you see in the grocery store walking around with a blinking plastic blob hanging out of their ear. The only time I really use a headset is when I'm driving to and from my day job. The headset that I've been using for awhile now has been the Cardo Systems scala-500. I've found this headset to be both comfortable to wear and easy to use. A few weeks ago, Bluetake approached me to see if I might like to test the BT400GL. They said it was one of the smallest and lightest headsets on the market. If that wasn't enough to pique my interest, it also was available in Pink! So I said sure! Don't worry guys, you can buy this headset in plain old Silver too ;o)
Hardware Specifications
Bluetooth Standard: Bluetooth v1.2 specification, Class 2
General Radio: Carrier Frequency: 2.4 ~ 2.483GHz
Talking Time: Up to 15 hours (with Portable Charger)
Standby Time: up to 350 hours (with Portable Charger)
Weight: 8.5g
Dimensions: 39mm(L) x 17.5mm(W) x 12mm(H)
Operation Range: up to 10 meters (in open space)
Bluetooth Profile Supported: HSP (Headset Profile), HFP (Hands-Free Profile)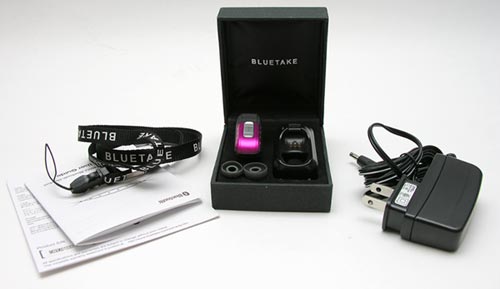 Package Contents
BT400GL Bluetooth Headset
Portable Power Bank
Neck strap
AC Adaptor
3 Sizes Of Earplugs
User Manual
Warranty Card
When the BT400GL arrived, I was surprised at just how small and light this headset actually was!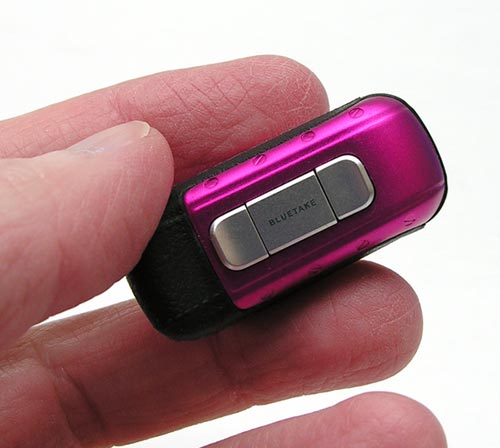 Give the size, it is pretty easy to lose this little guy in the bottom of a gear bag.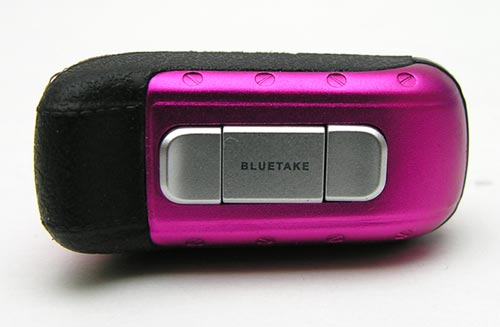 Available in girly flashy Pink and manly Silver, this headset has a fun design without being too wild. If you take a look, there are even faux screw heads embossed into the case. The case is made of plastic with Black rubber coating around the sides.
There are just 3 buttons on the headset and they are located on the surface that faces outward from your ear. The buttons are grouped together in a horizontal bar. The outside buttons have ends that are slightly raised so that your finger can feel where to press. The outside buttons control volume levels. The Volume + button is the one on the left and the Volume – is on the right. These buttons double for 2 other functions. Holding down the + button will transfer a call back to the mobile phone while in a call, and holding the – button will redial the last number dialed. I tested both of these features with my Treo 750v and they worked perfectly every time.
The middle button is the call handling button, pairing button and power toggle. When a call comes in, you'll hear a tune (the Ride of the Valkyries). Press the middle button and it will answer the call. Press the button again and it will disconnect the call. Holding the button down for a few seconds will toggle power. Hold it down for over 10 seconds, will initiate pairing. Press it once while your phone and headset are turned on, and it will initiate voice dialing (if your phone supports this feature… the Treo 750v doesn't). There's also an LED behind the middle button that shines through. It blinks Blue when the headset is on and alternates between Blue and Red while in pairing mode.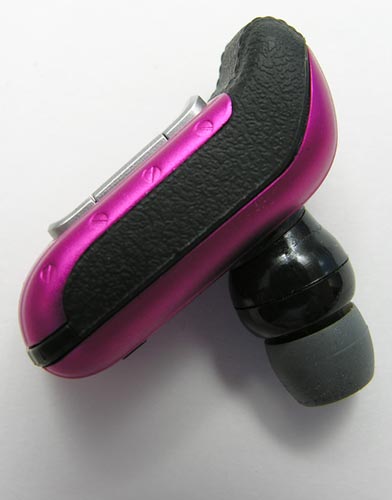 The BT400GL comes with 3 different sized earplugs so that you can customize the fit. You might be interested to know that the earplugs are made of material that kills bacteria (at least that's what the user guide says). I had to use the smallest plug which is pictured above.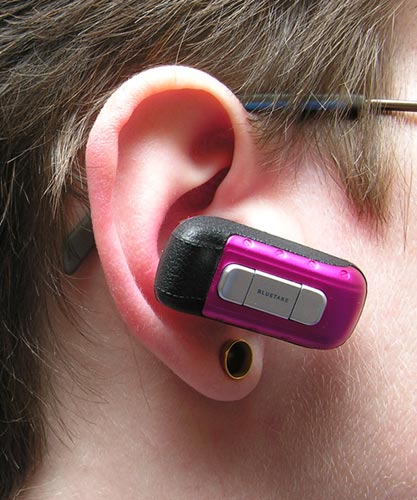 Comfort is a big deal when it comes to a headset. I didn't find the BT400GL to be overly comfortable. That said, I must mention that I do not really care for earbuds that have to inserted into the ear canal… and that is the style that this headset uses. Even with the soft earplug, it still feels uncomfortable to me when I first put it on. After a few moments, I get used to it and after awhile, I don't notice the headset at all. But, whenever I have to press one of the buttons, I found that doing so would cause the discomfort cycle to start again. Also, even though I never had the headset fall out of my ear, it felt like it might. Especially if I did any activity other than sitting in a car.
Charging this headset is easy using the included charging dock.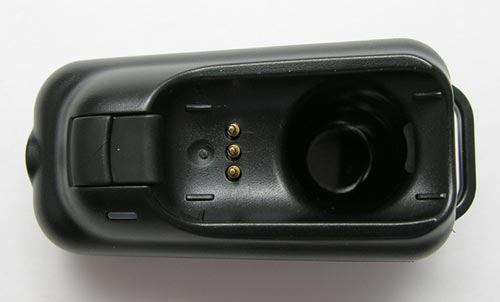 The dock isn't much bigger than the headset itself, which snaps securely into the top of it.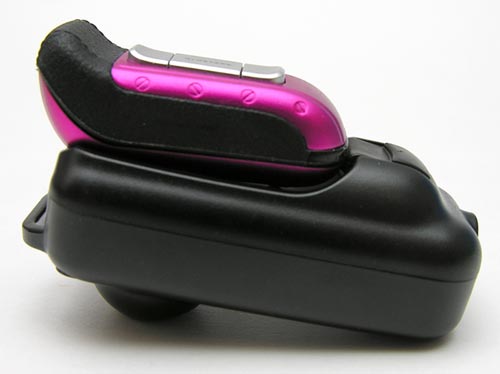 Bluetake has done something kind of cool with this charging dock. They've added a battery to it, so that it can charge the headset without needing to be attached to the AC adapter. Their idea is that you attach the included neck strap and wear the headset / dock combo as jewelry. Yeah, kinda odd… who would actually do this? Not I. But, I would definitely drop the dock into my gear bag for some wireless charging if need be.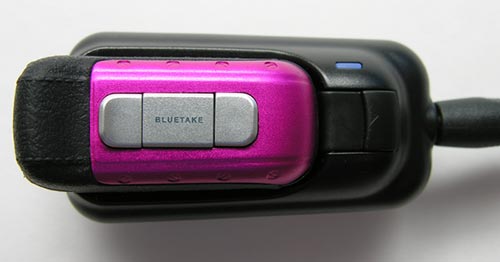 A small Blue LED glows Blue while the headset is charging, and will turn off when fully charged.
Ok, time for the sound tests! Below are three audio clips of the BT400GL headset in action. This will give you an idea of what it sounds like to receive a call from someone using this headset. I
used the free voicemail / fax service from K7.net for these tests. I signed up for a free account, got a phone number and called it using a Treo 750v, using the headset. The resulting voice-mails are then emailed to you. Pretty nifty! At test time, the phone had full signal strength. Click to listen.
Inside Test (380k .WAV file)
Outside Test (272k .WAV file)
Driving Test (156k .WAV file)
In use, I found the audio on *my* side of the BT400GL to be clear, and loud. I had no gripes at all with it. If you listen to the two sound tests above, they don't sound that bad either. That said, my best friend hates it when I call her with this headset. She says I sound like I'm talking in a can and that sometimes my words are muffled. I tested by calling my sister and she said she didn't like it either, that I sounded like I was in a box. So there you have it.
While this headset is small, light, easy to use and has good volume and sound clarity, it lacks a bit of comfort for people that have sensitive ears and transmitting sound quality seems to be less than stellar.