We use affiliate links. If you buy something through the links on this page, we may earn a commission at no cost to you. Learn more.
Over the years, I have had the opportunity to review 4 different digital photo frames. The last such review was the Tricod Frame just this past summer. Although I did like this device, I ended up giving it to my Dad, because it lacked one feature that I've always longed for in a digital photo frame. Today I'm going to tell you about the 7FF1 (what a wonderful product name) Digital Photo Display from Philips. Guess what? It has the feature I've been wishing for. You'll just have to continue reading to find out what that feature is…
Hardware Specs
5.4 x 3.6 inch, 133ppi, 16-bit (65,536) color 720×480 resolution LCD display
Vertical dot pitch: 0.1905 mm, Horizontal dot pitch: 0.1905 mm
Brightness: 200 nits
Viewing angle (CR>5): Horizontal (-85°~85°), Vertical (-85°~85°)
Backlight Half-Life time: 20,000 hours
12 mb of internal memory
Rechargeable Lithium ion battery
Compact flash (Type I) and SD/MMC/Memory stick slots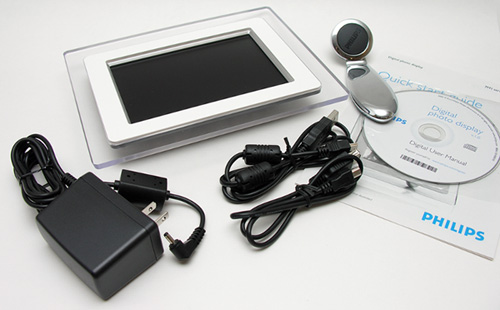 Package Contents
Digital photo display
Photo display stand
Power adapter
USB female cable
USB male cable
Quick start guide
CD with user manual
Hardware Design
Front
Designed with a thick clear and White Lucite type frame, this device fits in nicely with my similarly styled Apple hardware. Unlike some other frames that I have reviewed, this one does not allow for customization of the frame around the LCD display. However, there is a wood frame version available.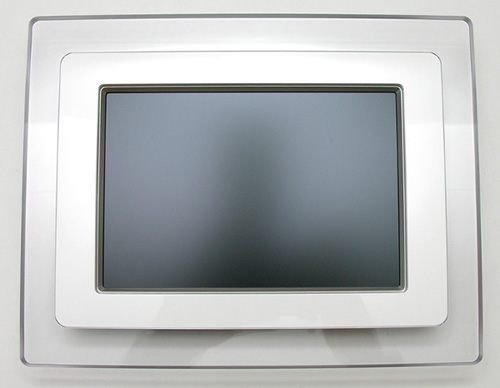 At 5.4 x 3.6 inches, the display is a nice size, neither too big or too small.
Back
When you flip the 7FF1 over, you will be presented with a row of control buttons, a socket for the table stand, the On/Off switch, media card slots, USB connector and an AC adapter connector.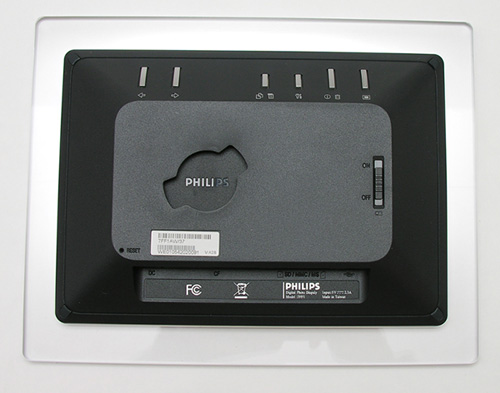 A chrome plated table stand is included with the frame. It's keyed, so that you can only attach it one way.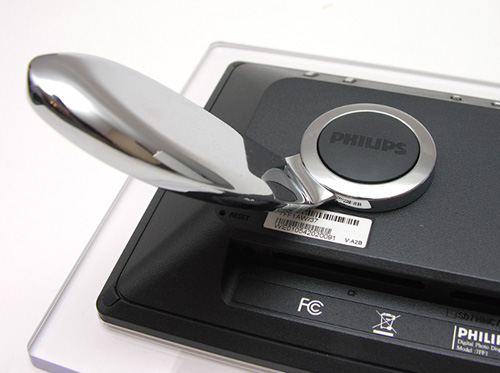 You just line it up and give it a turn to lock it in place. The stand is pretty heavy, which keeps the frame from scooting around on your desk when you don't want it to.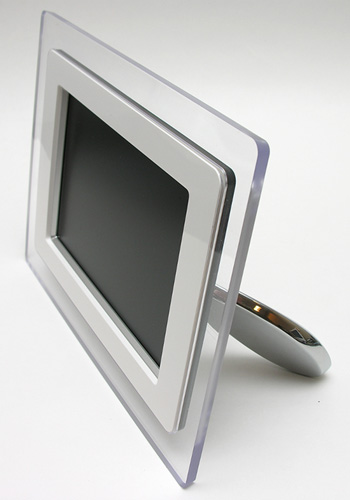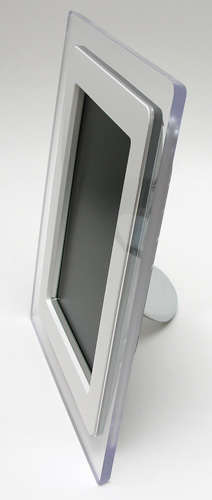 Without manipulating the stand, you can set the frame up in either landscape or portrait orientation.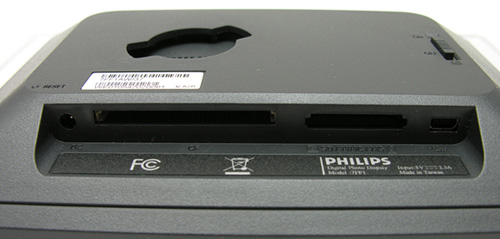 The 7FF1 includes 2 media card slots. One for Compact Flash and one for SD, MMC or Memory stick.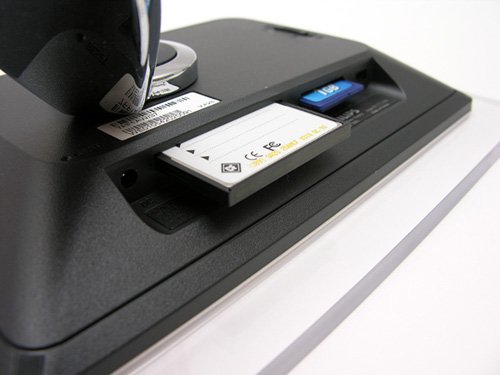 In addition to the card slots, the frame has 12 megabytes of internal memory that you can use to copy images into. As cheap as flash memory is, you would think they would have included more. But then it's also odd that they included any at all. I guess it's there for people that don't have an extra flash card that they can just leave plugged into the frame.
You can also use the included USB cables to attach your digital camera to the frame for image downloading, or even your PC / Mac. When you plug the frame into your computer, it shows up as an external drive that you can drag and drop photos to.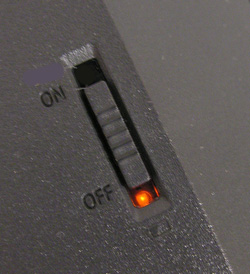 The On / Off switch has an LED that shows the status of charging the internal Lithium ion battery. The battery will charge no matter if the frame is powered on or off. More about using the frame unplugged in a bit.

The row of buttons along the top back edge of the frame allow you to interact with the display and onscreen menus. I will warn you now that navigating through the menus can be very frustrating. They really need to work on that aspect of the product.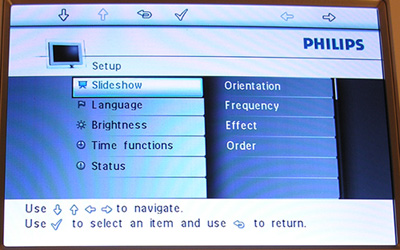 In setup mode, you have the ability to change the different settings for the slideshow. This includes screen orientation, frequency (speed that pictures change), transition effects and order. The frequency can be set from 5 seconds up to 1 day.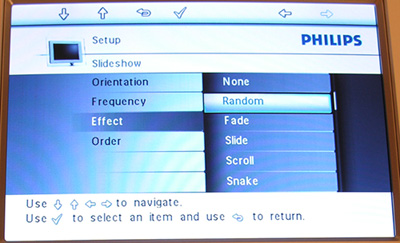 The transition effects are really pretty good with this frame. Better implemented than other frames I've reviewed. They just seem smoother to me.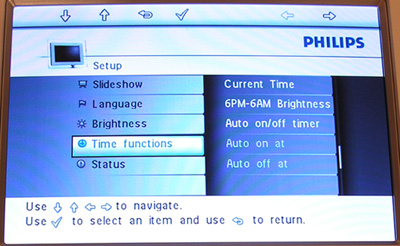 Ok, here we go. This is the function I've been waiting for! With the Philips 7FF1, you can set an auto on and auto off time. Yay! This means that you can have the frame set to turn on around 5pm when you get home from work, and then turn off at 11pm when you go to bed. Nice! There's also a setting to change the brightness level between 6pm and 6am. The weird thing is that this is hard coded. You can't change the time, just the brightness level that changes.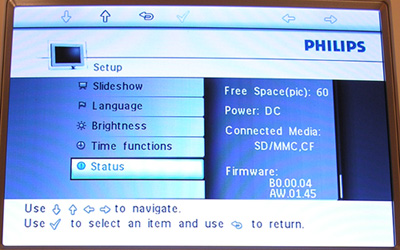 The status screen tells you how much space is left in internal memory.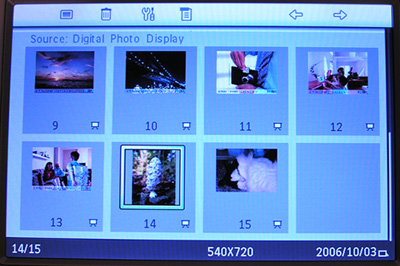 There are 3 viewing modes. One mode is the thumbnail view as seen above.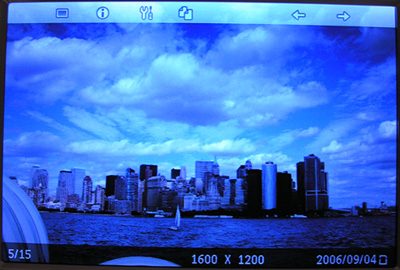 There is also a browse mode, which you can have display information pertaining to the photo in a status bar below it. In this mode, one image will remain on the display until you press an arrow key to advance or go back to a previous photo.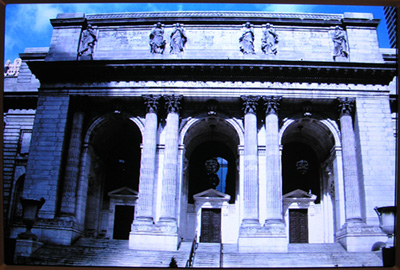 In slideshow mode, images will continuously cycle depending on the transition effect and frequency settings.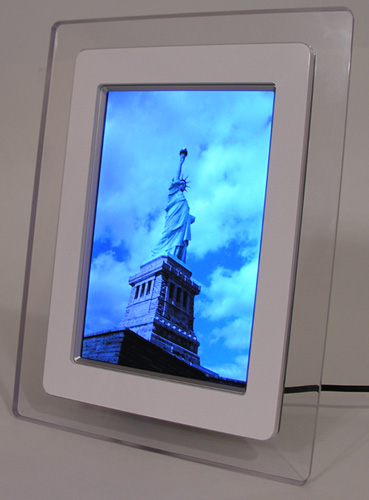 In use, I found the Philips 7FF1 digital photo display to be a welcome addition to my home. It has a very crisp, bright screen with good color saturation. The pictures shown in this review do not do it justice.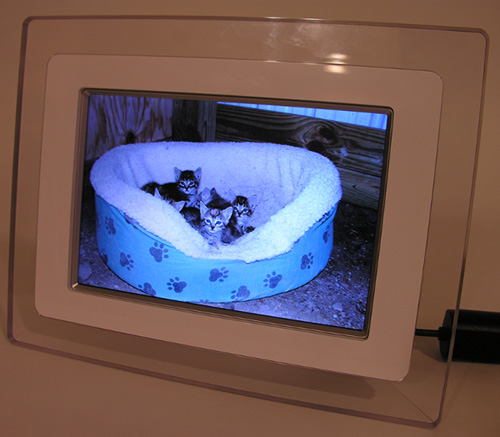 In landscape or portrait orientation, this frame can fit into almost any decor. While it does have a contemporary flavor, the style is simple and basic.
Besides the auto power features, I've not yet mentioned one other feature that sets this digital photo frame apart from others. This one has a rechargeable battery. You can use the 7FF1 untethered to a power cord. That may sound exciting and great, but the only problem is that the battery life is pretty crappy. I was able to get 2hrs per charge when using all the default settings for brightness etc. To me, that really doesn't make this feature all that useful, except maybe for passing it around at a party.
It seems that the only online retailer that I can find for this product is Amazon. Their price is around $167, which isn't too horrible considering the great image quality of this particular frame. If I was in the market for a digital photo frame, this would be the one that I would buy for myself.