We use affiliate links. If you buy something through the links on this page, we may earn a commission at no cost to you. Learn more.
Today's review is on a category of software that isn't very exciting or sexy but something that everyone who really uses their PocketPC device needs each and every day…it's the File Explorer utility. If you are like me, you are constantly working on the internals of your PDA, moving files between cards and internal memory, accessing hidden registry files or just doing some old fashion housekeeping. I believe a truly great File Explorer can be worth every cent if it makes these functions easier for me!
As most of you know, the current built-in File Explorer provided by Microsoft on the majority of devices today still falls short of being all it could be for such an important functional application. As a result, there are literally dozens of alternative programs that have cropped up to fill that void both from the commercial marketplace as well as in the freeware world, many of which have a large following themselves. Some do this function very well while others just fall short of expectations.
That is where Voyager comes in. Voyager is a freeware version of the File Explorer utility and was created by Harold-Rene Flasch of hfrmobile.com. It is built upon the .NET Compact Framework that seems to be popping up all over the place as developers learn more about its capabilities and incorporate those uses into everyday applications like this. Voyager was easy to install and relatively straight-forward to operate without too much effort or advanced "Help" reading.
Feature overview from Voyager's Help Screen:
GUI which is easy to use
Directory/File operations: Copy & Paste, Copy & Paste Shortcut, Delete, Rename, New Directory
Execute and Execute With
File/Shortcut properties dialog
Configurable user interface
View Modes (Large, Small List and Details
File type icons
File type icon indicators
Sort Modes: By Name, By Size, By Last Change
File attribute column
CCrryyppttoo Integration
Favorites directory as menu items
As you can see, it has all the basics of Microsoft's File Explorer but it also has an added feature of an encryption module called CCrryyppttoo. The program states it will encrypt and decrypt files, which does work, but I cannot find any documentation as to the level of encryption or the limits to what can be encrypted with the exception of NOT encrypting files that are converted during ActiveSync with the PC. Having said that, it is probably not something a normal IT shop might find acceptable as security but for everyday encryption, I'm sure it will serve the purpose it is designed.
Voyager Screenshots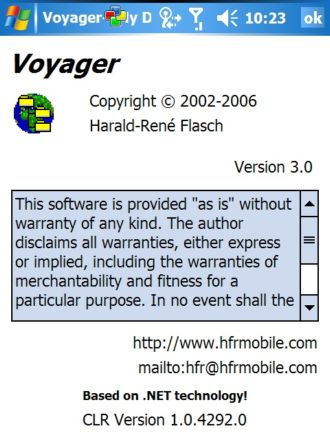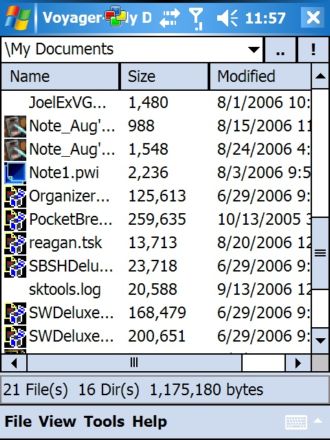 Left: "About" screen with version. Note the .NET utilization
Right: View of files under "Detail" view. The ".." permits you to back up one folder level while the "!" executes whatever is highlighted under the "Name" column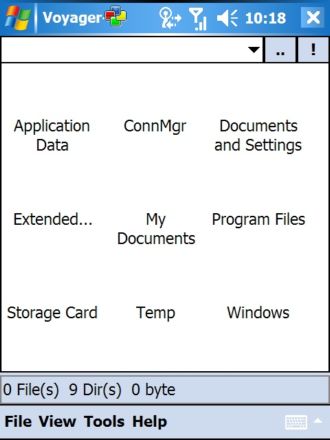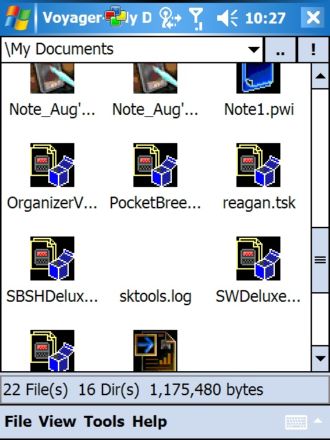 Left: This was my view under "Large Icons" for all my folders at the root level; I'm not sure why this occurred. I contacted the developer but no response or fix was provided prior to the completion of this review.
Right: This was another view under "Large Icons" from My Documents folder. Still no folder icons but icons do appear for the individual files. Here it shows default icons of some sort for each file.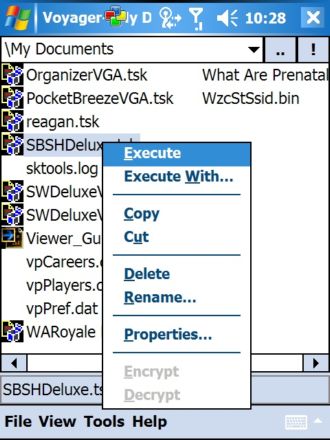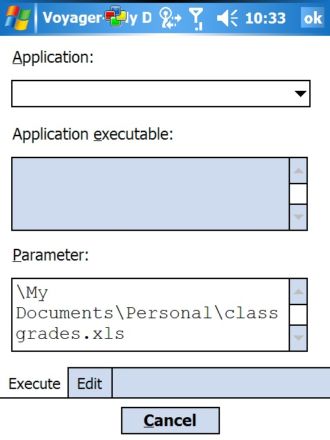 Left: These are the individual action options available when holding down the stylus on the file name; typical fare for a File Explorer utility
Right: This is the "Execute" option for a selected file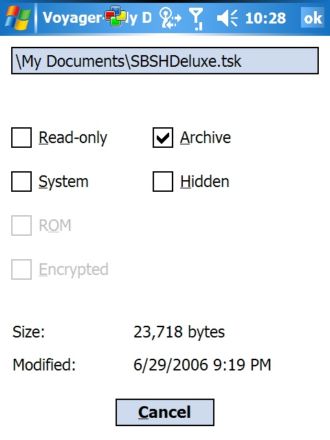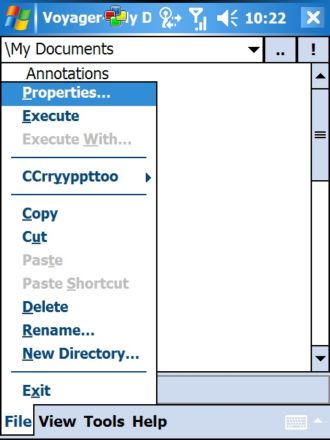 Left: Here is your typical file "Properties" screen
Right: This shows what is under the "File" tab. Note the encryption module that comes with the program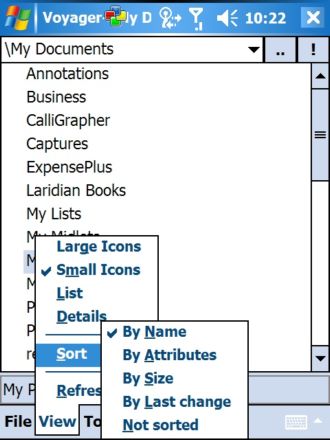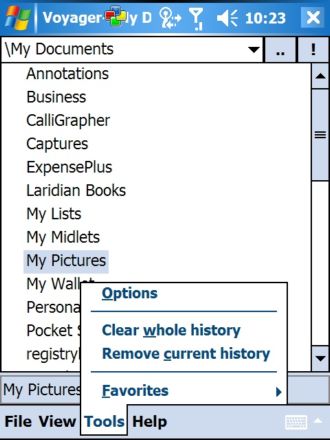 Left: Next is the "View" tab and "Sort" options
Right: Here is the "Tools" tab.
The CCrryyppttoo Encryption Module with Voyager: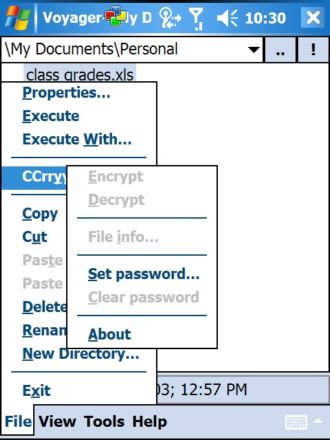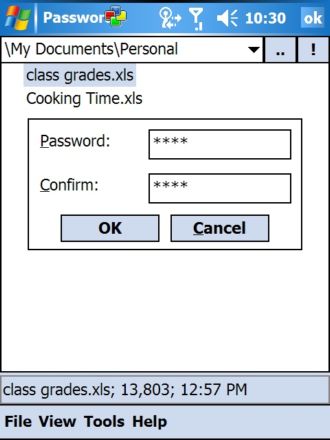 Left: The CCrryyppttoo encryption module of Voyager; first you activate it by selecting the password
Right: Here you set the password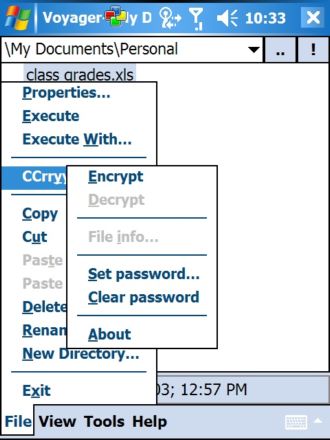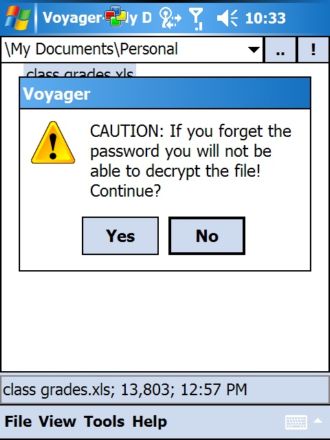 Left: Now that you have set the password, the "Encrypt" function was activated for use on a file
Right: Here's the warning about the file encryption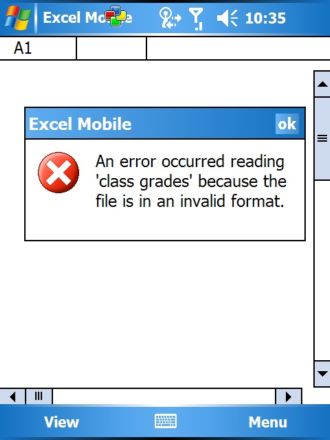 My attempt to access an encrypted Excel file. I did not attempt to "crack" the file so if you plan on using this module for more serious purposes, I would do a little more research first before relying too much on it
Voyager Program Options: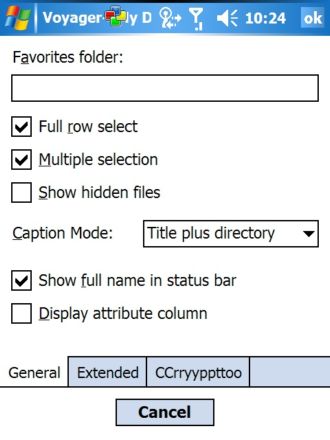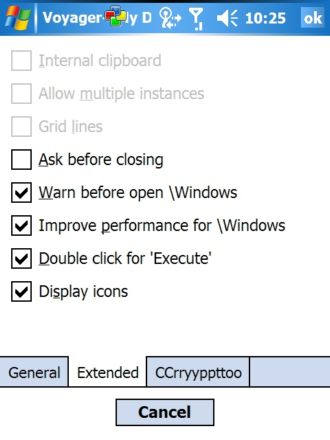 Left: Not much new here…but what would expect?
Right: Same here…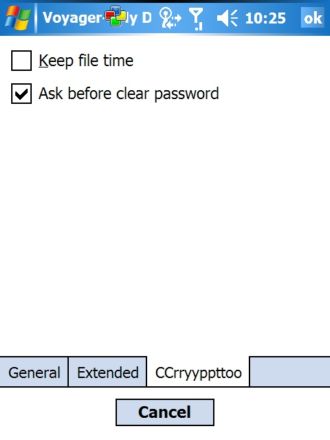 Options are limited on CCrryyppttoo
Installation:
Voyager installation is downloadable from the developer's web site in your typical zip file format containing both the readme text and CAB installation file. Since this is built on the .NET Compact Framework, you will need to have it installed for the program to work. The zip file is really small, coming in under 80KB and the program expands to 210KB on the PDA itself. I installed and ran it on both the internal memory and a 4GB SD card with no problems. As with other .NET programs, Voyager does seem to have a larger footprint, coming in around 1.1MB on my i-mate JasJar's RAM while running.
Conclusions:
As I said at the start of this review, a good File Explorer is worth every cent. In this case, Voyager is a decent File Explorer substitute for a freeware program. It does pretty much what it says it will do and tries to offer a little extra with the CCrryyppttoo encryption module. In the end, I think Voyager really falls short on documentation, support and functionality in its present state of development. Granted it is freeware so what do you really expect for no cost!
Having said all that, Voyager is not a bad program, just one of many freeware alternatives out there that are "okay" but not something that will make the administration of my PDA much easier. I'm sure there are other freeware versions of the File Explorer out there but I haven't come upon one yet but I'm sure now that I said that, someone will point out the error of my ways!
Particularly for those less technically inclined, I would likely recommend to most people that are open to the expense to consider a commercial good File Explorer substitute. I have been using Resco's File Explorer for many years. Besides the basics, it has a useful registry editing module, its network capable and has many other well documented features plus a good reputation for support. Another good option that I have tried is a shareware program called Total Commander. TC seems to have a large following on many PDA boards that I visit and it too many usable features like FTP, LAN access, Registry Editing and much more. You can't go wrong with either of these two if you don't mind the expense.
Product Information
Price:
Manufacturer:
hfrmobile
Retailer:
hfrmobile
Requirements:

Any PDA with MIPS, ARM or SH3 Processors
PPC2002, WM2003 and WM2005
NET Compact Framework 1.0 must be installed
210KB of storage memory
1.1MB of RAM/ROM operating memory
Installable on internal memory or storage card

Pros:

A basic File Explorer substitute with a simple encryption module
Low impact on storage memory
Zero cost...it is freeware

Cons:

Limited features compared to other File Explorer substitutes
Encryption module likely not strong enough for high security users
Not much in the way of documentation on features or support