We use affiliate links. If you buy something through the links on this page, we may earn a commission at no cost to you. Learn more.
Fall has arrived! The temps here in Southern Indiana are dipping
below freezing at night. Brrrr. It's time to switch out all your
short sleeve shirts for ones with long sleeves. If you're looking
for some new ones to buy, you might want to take a 2nd look at the
SeV
Performance T-Shirt from SCOTTeVEST. Since our
review was posted, they have updated their product line to
include 3 additional colors. While still available in Black, they now also have White, Red and Blue. I was
sent a short sleeved Red and long sleeved White t-shirt to try out.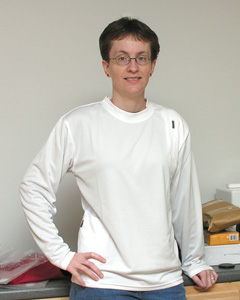 As you can see from the photo above, the men's size Small is a little too large for me. I'm not sure what it's going to take for Scott and Laura to finally get women's sizes, but nonetheless I really love SCOTTeVEST's products. These t-shirts are very comfy and being able to carry a few items descreetly in the 3 hidden pockets is a real bonus. Read the full review linked above for more details.
—
Time is running out to get your contest video / slideshow entries submitted. Right now, we've got 14 entries, so chances are high to win a prize. I'm very impressed by what I've seen so far. :o)
—
What's your favorite new network TV show this season? I'm kinda hooked on Heroes. I've been a superhero / comic book fan since I was a kid and so far this show is a lot of fun. Anyone else like it too?