We use affiliate links. If you buy something through the links on this page, we may earn a commission at no cost to you. Learn more.
Tonight I decided to go ahead and try / buy 2 of 9 the new iPod games, because the preview option through the ITMS (iTunes Music Store) didn't work for me. After downloading it took me awhile to get the games to install on my iPod. I kept getting an error telling me that my computer was not authorized to play the games. I finally found that I had to double click on the games and enter my iTunes Music Store password to authorize them. Anyway, I made a little video that shows the games in action. Take a look!
See it in action…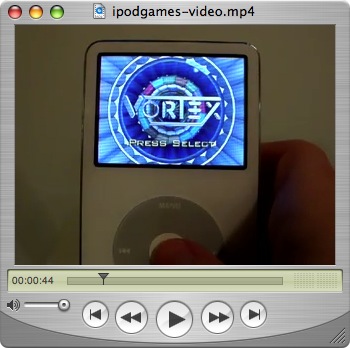 Click on image to play the QuickTime video (4min 23sec,
8.8mb). The video is encoded in the H.264 codec. You will need the latest version of
Quicktime to view it.
VLC is another free viewer.

You can play the games AND listen to your tunes / podcasts at the same time. You'll hear all the sound effects. Nifty! How many of you will be buying games for your 5G iPods?