We use affiliate links. If you buy something through the links on this page, we may earn a commission at no cost to you. Learn more.
When I was a kid, I was given an elephant hair bracelet. I was told that
the bracelet was supposed to protect against harm, sickness and bad luck. Who
knows if it was true or not, but I have always felt that I was pretty lucky –
so maybe there was something to it. The coolest thing about that bracelet,
besides how awesome it looked, was that it would slide open and allow my hand to
enter and would then slide shut to fit my wrist. I wore that bracelet for years,
and for sentimental reasons I kept the broken pieces for many years more.
Perhaps suffering from a bit of nostalgia, I went looking for elephant hair
bracelets on eBay about a month ago. In the process I found

Patrick Martinez, a New Mexico artist, selling under the name
SafariBracelet. Patrick
offers a 2006 interpretation of my old beloved bracelet – one that does not
require plucking the hairs from the live (or dead) animal's tail or harvesting
shed hairs from bushes. These elephant bracelets are composed of wires made from copper,
silver, solid 14K gold, 14K gold filled or various combinations thereof. As are
the elephant hair bracelets made in Africa, these precious metal bracelets are also
handmade. Because of the variety of metals that Patrick uses and the various strand designs
possible, he can make a bracelet for any budget.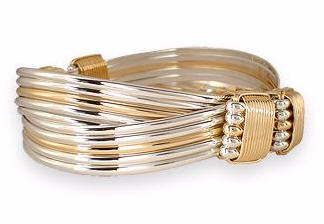 Patrick can create the "two knot" bracelets like my old elephant hair version, but
he also offers "four knot" models which are even more intricate. Once I had
decided to place an order, I opted to try something new and got the "four knot"
model. Since I love the look of silver with gold, Patrick custom made a
10-strand version showcasing a gold wire in between those of silver.
My bracelet arrived this week; lovely, isn't it?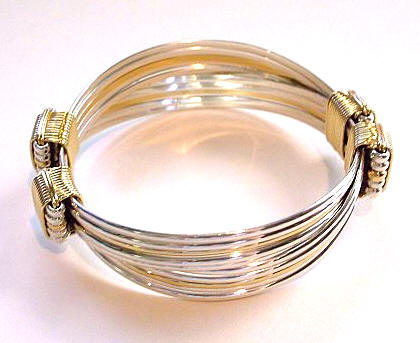 Patrick does all of the work himself…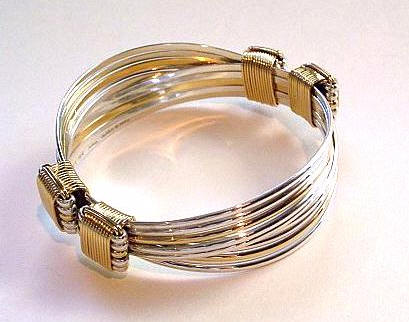 …and each unique creation is custom sized based on the measurements of the
owner's hand and wrist. Adding to the bracelet's uniqueness, an inside wire strand is
signed by Patrick and dated. I really enjoyed working with him because he is
easy to talk to and open to custom design ideas.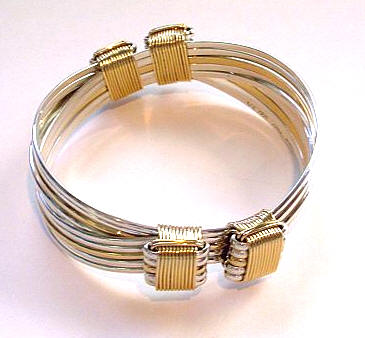 My bracelet is not exactly a gadget, but Patrick's fresh interpretation of a
much-loved classic is now an essential part of my daily gear.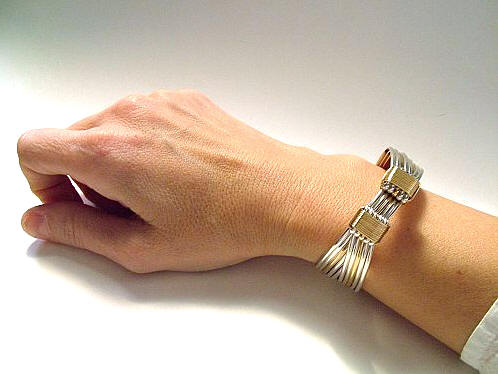 Perhaps it will bring me the same good luck as the original. :0)