We use affiliate links. If you buy something through the links on this page, we may earn a commission at no cost to you. Learn more.
I have the good fortune of recently becoming an "adult" or mid-career graduate student at a fairly prestigious (read punishing reading lists) Public Affairs school. I also have the less ambiguous honor of having a family with young children, and the good luck of having a full time IT job. About 1/2 of the way through my first semester, I realized that my antiquated late-90s academic skills were no match for this 2006 curriculum. As any IT geek will tell you, the answer to any problem is more money spent on cool technology.
Specifically, though, I wanted to spend less time copying and recopying notes, sifting through notes and readings, and managing references. I had used Microsoft OneNote before and it was a great place to collect, well, notes.
WINDOWS XP TABLET PC EDITION
I've carried a PDA with me for a long time, and I even use mine to take brief notes in meetings. Using a Bluetooth keyboard, it's not a problem getting data into it. What is a problem is retrieving and working with that data. It's great for presenting PIM data, but for taking class notes or annotating a book/journal article – not so much. A CE device with more screen real estate and a usable keyboard would be intriguing – but there's still the issue of having my notes in multiple places.
I used a 14″ Omnibook XE3 last semester, and bulletproof as it was, it was slow and heavy. Due to its age, it also needed charging frequently, and it wasn't useful for taking quick, handwritten notes on. I needed something in-between my PDA and the Omnibrick.
I poked around a bit to see what other geeks were doing and I stumbled upon the convertible class Tablet PC. This is essentially a laptop with a twist and lay-flat touch-screen (Like the Sony Clie UX/NX series). Lighter, "harder-core" tablets are "slates" or true keyboard-free units. I am irretrievably bound (by age or runic curse) to a keyboard for any appreciable amount of entry on a computing device – so although handwritten notes and annotating strongly appealed to me, I didn't think a slate would cut the mustard. The convertibles were generally heavier and bigger, but they offered laptop-like use combined with slate use when needed.
It was like the clouds parted and a ray of light shined through (unromantically, a crepuscular ray). There appeared to be two rough form-factor convertibles: 12″ and 14″ screen size; and also, in a weight class to itself, the Fujitsu P1500D (which was, and continues to be, a serious object of lust for me). The P1500D is a true subnotebook combined with a passive, use-your-finger-touch-sensitive screen. Unfortunately, its beautiful LCD is native at 1024×600 pixels. That's not a lot of real estate for a page of anything. Try as I might to escape reality, that screen resolution was a guarantee of constant scrolling.
Gateway, Toshiba, and Acer put out 14″ monster convertibles that were too big to "whip out in class" or really to lug around everywhere. That left – at the time! –Lenovo (X41), HP (TC4200), Fujitsu (T4020/D), Acer (C200), and Toshiba (M200). Having pitched my one true love, the P1500D, I really embraced the idea of a livable resolution. Only Fujitsu and Toshiba offered the SXGA+ resolution (1400×1050) that I loved on my Compaq N610 and HP NX6125. In whatever screen size, to me it's the perfect resolution. Down to two, it was a very tough decision – the Fujitsu offered an internal optical drive and an optional fingerprint scanner – the M200 was an older model (since replaced), but had a good reputation for running cooler. The M200 also offered a 7200 RPM drive.
I finally opted for the M200 as my wife has a monstrous HP laptop we can bring with us for DVD duties / game playing. What I really was aiming for with the choice of the M200 was trusted design, cool running, first-tier manufacturer, form-factor, resolution, and speed. I configured mine with 512MB factory and added another 512MB for 1024MB total (two slots permits a total possible of 2GB, but that's a little hard to justify for my purposes). I also opted for the fastest-available processor in this model – a 2GHz Pentium M, Bluetooth, and the 7200RPM drive. It shipped with built-in Intel 2200BG wireless (B/G compatible).
Hardware Specs
Processor: Intel Pentium M 2.0 Ghz "Dothan"
Operating System: Windows XP Tablet PC Edition 2005
RAM: 2x SODIMM slots, 512 MB 400/533 MHZ in each for 1GB total RAM
Hard Disk: 60GB 7200 RPM

Optical drive: none
Display: 12.1″ SXGA+ 1400×1050 TFT Polysilicon Wide View Angle
Graphics: dedicated nVidia GeForce Fx Go 5200 32MB
Interface: 2x USB 2.0, docking connector, 10/100 Ethernet, modem, VGA out, Wacom "active" EMR touch screen
Wireless: Intel 2200BG 802.11 B/G, Bluetooth 1.1
Dimensions and Weight: 9.8 inches x 11.6 inches x 1.5 inches; 4.4 lbs
Battery: 4600 mAh Lithium-Ion rechargeable (user replaceable)
Expansion: SD, PCMCIA
I added 3 year accidental damage protection, a portfolio case, extra pen, and docking station/port replicator to my order. I also ordered a Cross Penabled pen suitable for Wacom digitizers, and two Strong Engineering screen protectors. I then hunkered down to wait out the long build/shipping interval as the laptop was built and shipped from the PRC to me; and also fortified myself against the good-natured doubts of the Tablet PC literati as they proselytized the virtues of the soon-to-ship replacement model.
The M200 arrived with barely a week to spare before my winter semester kicked off. I had enough time to update it, load Office 2003 + Project, Visio, and Onenote, restore my Outlook and OneNote files, and just start to puzzle over what else would need to be loaded to start to sharpen this thing as a tool. My initial impressions were that it wasn't as teeny as I was expecting, nor as light – but it was perfectly portable. It comes with me everywhere – in my briefcase (inside a slipcase).
BASICS: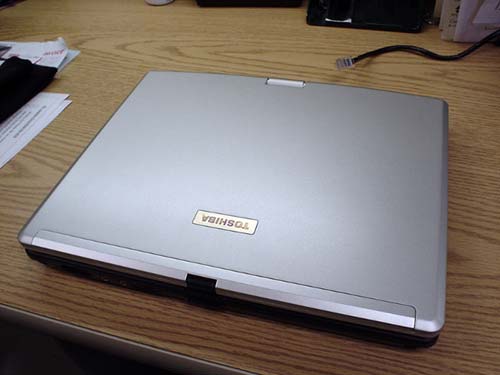 The M200 has understated design with a silver plastic screen housing and a black main-unit housing.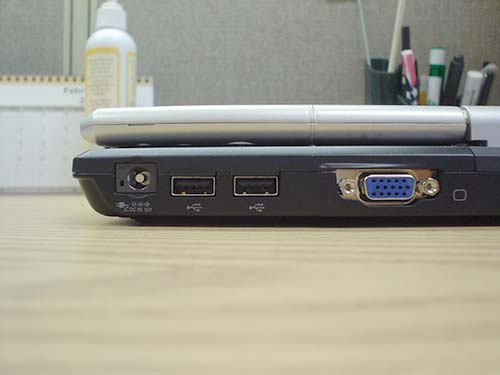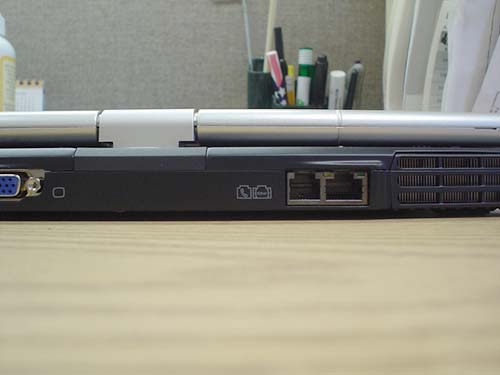 The M200 has a moderate complement of ports. In the rear AC, 2x USB2, and VGA out on the left and and 56K modem and 10/100 Ethernet on the right.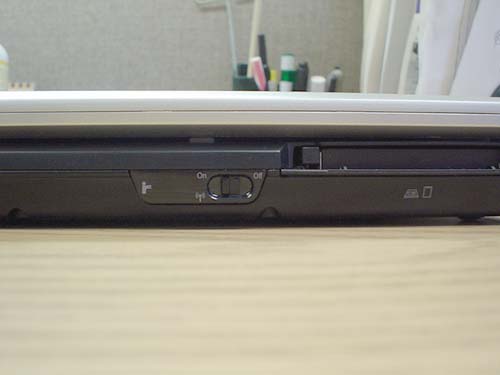 It also has an IRDA and one PCMCIA slot (as well as an actual hardware wireless on/off switch). The wireless switch unfortunately controls both Bluetooth and 802.11 (as is the case with every laptop I've ever used) – it would be nice to have the frugal Bluetooth running (and available for mousing) at times when the 802.11 is not needed.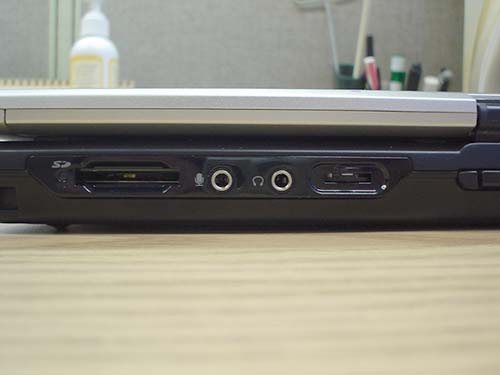 In the front is an SD card slot, headphone and mic. Jacks, and a hardware volume dial. The hardware volume is very useful when you forgot to mute on shutdown! The SD card is bootable; but only using some funky Toshiba floppy emulation. This mightily limits its utility as a removable-media recovery device. It's great for transferring pictures, though!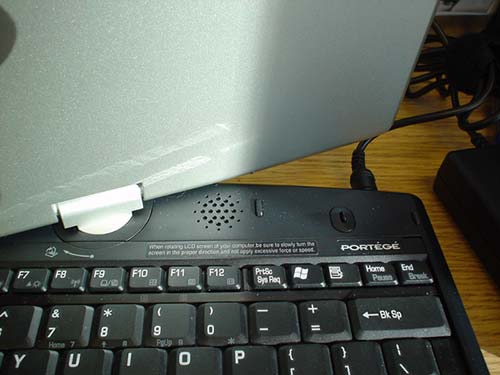 One area where Toshiba cut some corners is built-in audio output. There is one monaural speaker built in — although the headphone jack is stereo. It does have a 3-microphone array, but I was never able to get speech recognition to work properly. This is not a feature that even got on the radar for me, but I have to give props to Apple – I have fond memories of controlling my friend's old Quadra 600AV, "Alabama, close windows…" Unfortunately, I wasn't able to get the same seamless control on the M200. Actually it kept crashing during training; which pretty much killed the whole idea on the vine for me. I was intrigued at the thought of actual built-in transcription abilities. I guess we'll just have to wait for MS to buy Dragon Software!!!
PERFORMANCE:
The Pentium M is also a speedy enough processor – I have to admit I'm still a GHz snob; I want something that's switching so fast it's just starting to experience relativistic time dilation (who cares if it's only performing one operation a cycle). The 2 GHz Dothan, though, is a very serviceable CPU. It's easily faster than the 2GHz P4 in my old Compaq N610c, and is comparable to the 3.2 GHz P4 mobile in my wife's HP Pavillion and the 2GHz AMD Turion in my NX6125 at work. Overall, the M200 is fast enough that I'm not conscious of its speed – this may just represent some kind of marketing-hype maturity for me.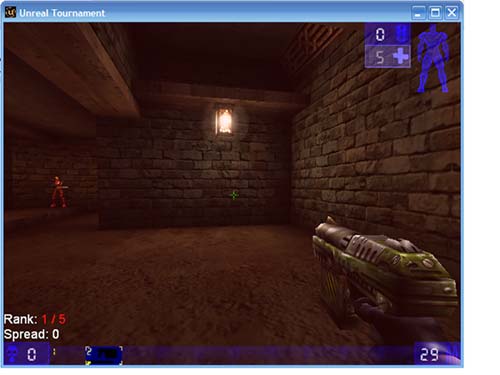 It actually will play Unreal Tournament. Although I didn't grab a screenshot, it actually plays Quake III at an ok pace too. Lack of a CDROM drive is like a weird throwback to the "early days" of laptops. MS "provides" (as in you can hunt around for it on their website) a utility that emulates a CDROM drive from an ISO image. At the same time, the frugal Pentium M, when dialed to "trickle" will easily last through my 2.5 hour class.
SCREEN: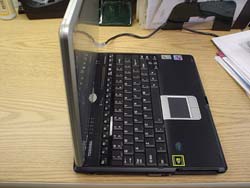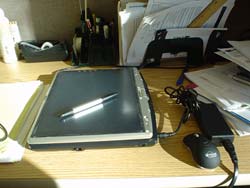 Of course the real eye-popper is the twist-flat screen. It comes with an appropriate warning that, just as you might expect, the single hinge is worth treating with respect! In terms of brightness and color, I have to say that my untrained eyes thought it was comparable or even better than the Dell D800 and NX6125 I had readily available to compare it with.
The SXGA+ resolution is what I really was after. You can really tell how much more you can see per screen. This is still true, even when converted to portrait/slate mode.
SIZE: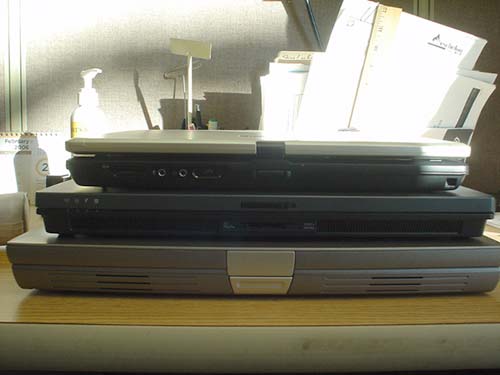 Size-wise it's compact, but definitely not a subnote. As a 12″ laptop, it's definitely smaller than a monstrous Dell D800 and HP NX6125. At 4.4 lbs, it's beefy, but not burdensome. Since it has no optical drive, I did investigate my options for external storage …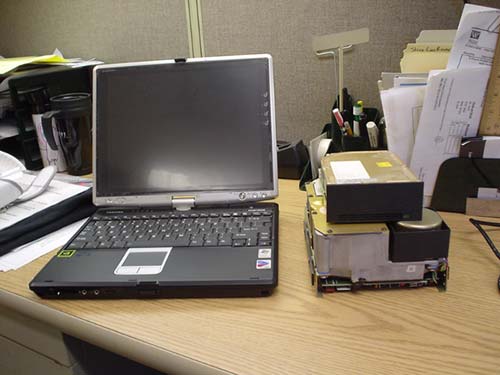 TABLET SPECIAL FEATURES:
One of the most basic differences between the M200 and your average 12″ laptop is the crazy spring-loaded stylus that comes out the side! The M200 uses the same technology as a Wacom drawing tablet – meaning unlike the "passive" digitizer in most PDAs and the Fujitsu P1500D, the screen will not respond to your finger (or palm/hand) pressure. Similar to most PDAs, though, the stock stylus is a wee bit flimsy. I picked up a Cross stylus that feels a thousand times better in-hand.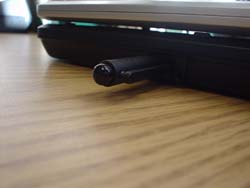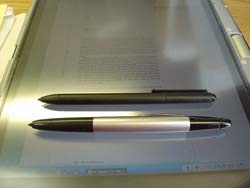 In terms of functionality, though, both offer a spring-loaded eraser that works intuitively in some Tablet-aware applications (like OneNote and most drawing apps), and pressure-sensitivity. The latter really turns the M200 into a giant drawing pad that's relatively easy to use. My oldest daughter loves the freeware app, ArtRage 2, designed specifically for Tablets.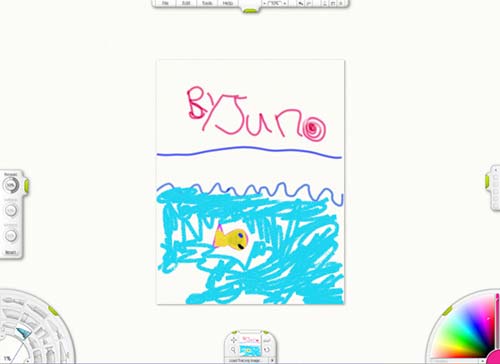 Physical features: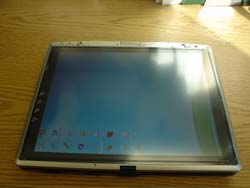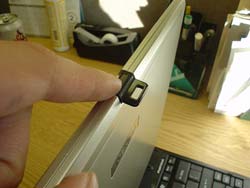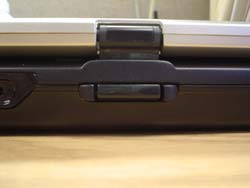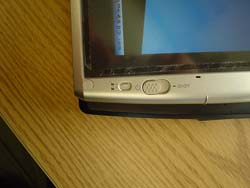 Folded flat in slate mode, the screen catch flips around to attach the other way. I like the design a lot – there's not a lot to screw up, and the clasp is large enough that I'm not worried about it snapping. Toshiba also put a mechanical lock on the power button to keep you from doing anything you'd regret with your palm!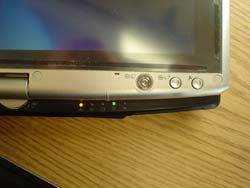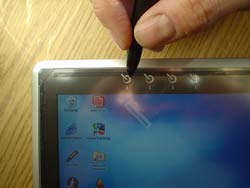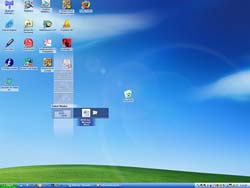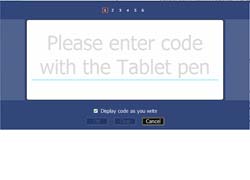 The M200 has a special security button (weird plunger symbol), an escape button, and a five-way joystick which can be programmed to help navigate in slate mode. In addition, Toshiba provided four context-sensitivity (functions change on a per-program basis) software-buttons that you can use to perform basic tasks. They also packaged a menuing app called "Crossmenu" that can conveniently provide other functions in slate mode (like task switching). The real conversation stopper is the bundled "Tablet Access Code Logon Utility" that turns your signature into an authentication token!!!
Software features: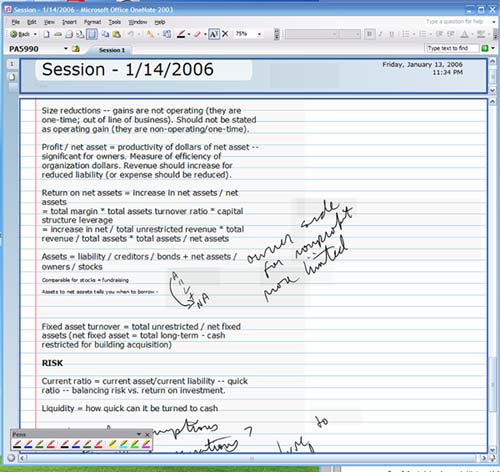 The M200 also shipped with Microsoft Office OneNote – which provides a virtual notebook experience for combining handwritten and typed notes. Intriguingly, it provides one-way importing of notes from a Windows Mobile device. I use PhatNotes on my Loox – Phatware also produces PhatPad which will actually sync two-ways between the Loox and the M200. Practically speaking, I don't do this.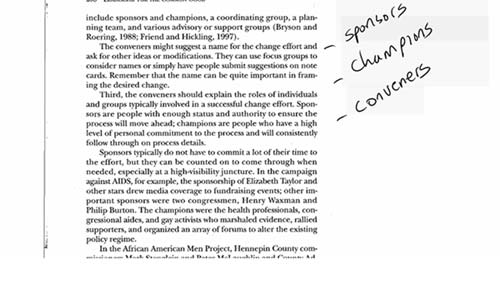 I hate to overuse a buzzword, but the write-on screen really does provide a paradigm shift for using the M200. My major goal was annotating on the page, and via a circuitous route (involving Adobe Acrobat) I can annotate on my actual texts in OneNote. These notes can either be recognized, or left as handwriting. I'm still feeling my way around the best gains for changing note-taking; but many people are trying to go completely paperless. This is highly appealing!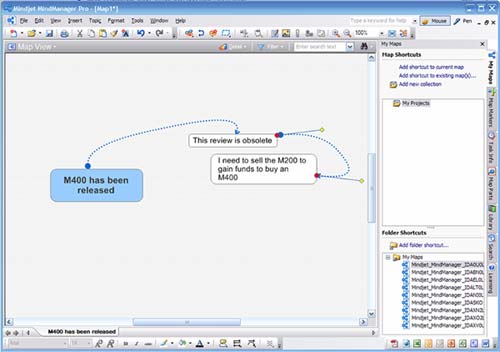 Finally, a number of companies produce software designed to leverage the write-on capabilities of tablets. MindJet produces an application called MindManager that allows for onscreen causal/cognitive mapping. I need all the help I can get!
CONCLUSIONS:
Specific to this particular model, potential buyers ought to consider how important an optical drive is. Significantly, Toshiba lists only a few drives that are "bootable" in case of a disaster-recovery scenario. Other drives may work, but it's a concern for folks that might not want to worry about it. Also, Toshiba is now shipping the replacement M400 model, with Yonah CPU and built-in optical.
More general concerns for Windows XP Tablet PC edition include the speech and audio features – which are just not quite ready for prime time. Also, while the handwriting recognition is surprisingly accurate, the method of entry requires a "TIP" box that can be cumbersome. Specific programs like OneNote and Office 2003 allow writing anywhere on the screen – but others will require the somewhat cumbersome input-panel style entry.
The Tablet form-factor presents about as steep or steeper a learning curve / behavior shift as the initial shift from a day planner to a computerized PDA. I'm only just beginning to appreciate the other areas where it can bring "silos" of information into one place. Particularly, in combination with an effort to get either digital originals or scanned print-media, the ability to annotate on-page has been a HUGE time saver for me. Taking notes on class-slides, while in class, is also a convenient time-saver. Being able to draw free-hand when necessary makes using a laptop that much more practical; and not needing to use both paper and electronic notes adds just a teensy bit of sanity back into my life!
Product Information
Price:
Manufacturer:
Toshiba
Pros:

Attractive screen at a great resolution
Dedicated graphics
Typical Pentium M performance (balance between power and good battery life)
Thoughtful design
You can write anywhere on the whole freaking screen – or you can type if you choose

Cons:

No optical
Weak built-in speaker
Speech not quite ready for prime-time
12" screen + SXGA resolution may be a problem for some sets of eyes
No "write anywhere" functionality