We use affiliate links. If you buy something through the links on this page, we may earn a commission at no cost to you. Learn more.
USB Flash based memory drives come in so many shapes and styles these days,
it's almost hard to remember the time when every computer didn't have a USB port
and a floppy disk was the most convenient way to transfer files between
computers. Considering that USB ports are the only type port common to
every laptop and desktop anymore, and that finding a PCMCIA slots on both is
no longer a given, having and using a USB based flash memory device makes sense.
Today we'll take a look at one of the most unique and most convenient USB flash
memory drives I have yet seen, the
Walletex

Wallet Flash.
Measuring exactly 3.4" long from the tip of the USB plug to the card's other
end x 2.13" wide x 0.07" thick, the Wallet Flash looks like a slightly thicker,
oddly shaped credit card. Touted as being the "World's slimmest USB device", I
would have to say that it's probably true since the next slimmest flash
drive I've reviewed (the
StealthSurfer)
was 0.1" without it's plastic case; although the overall size of the
StealthSurfer was much smaller. Look at me getting off track! Anyway…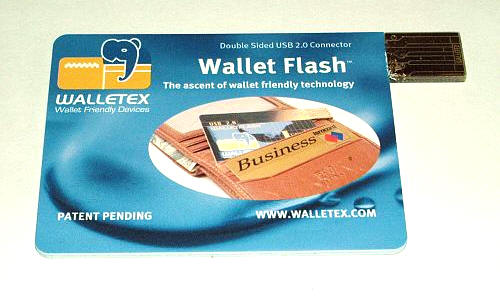 The USB connector is double-sided, meaning that the card will plug into a USB
port from either direction – whichever works better for the user's particular
setup.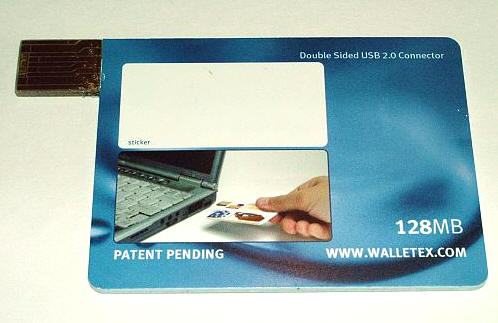 Specifications
Capacity and Performance: 64MB, 128MB, 256MB, 512MB, 1GB, 2GB
USB Interfaced: USB 2.0, USB 1.1 Compatible
Data Retention: Up to ten years
OS Support: Win XP, Win 2000, Windows ME, Win98/Win98SE (download
driver here), Linux 2.4 and above, MAC OS 9.0 and higher
Connector: Double sided USB connector
LED Indicator: Functional green LED indicator
Water Resistance: Water Proof
There are also some further customizations which can be added when large
quantities are ordered…
Surface Printing: Customized or standard
Magnetic Stripe: Optional
Customized Photo: Optional
Auto-Run and Non-Erasable Files: Optional
Here is the interior of my wallet. Can you spot the USB Flash card?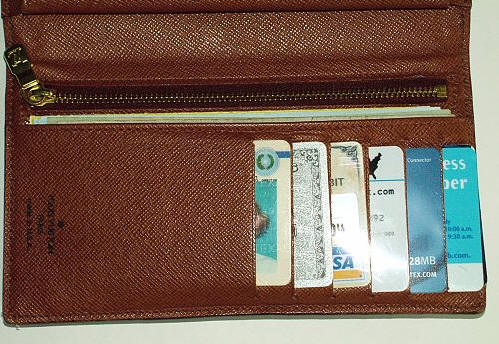 Okay, maybe the "128MB" caption gave it away. But otherwise there is almost
no difference between this memory device and the typical credit card. What that
means to the user is that this is a memory card with few if any caveats – it
won't fall off a keyring, it won't get confiscated at the airport, it is easy to
store in something that a person will just about never forget – their wallet.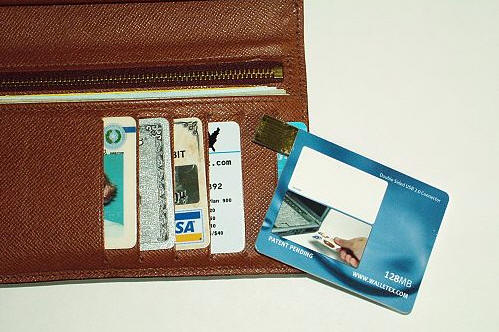 Using the Wallet Flash is very easy – it simply plugs into an available USB
port and is immediately shown as removable storage.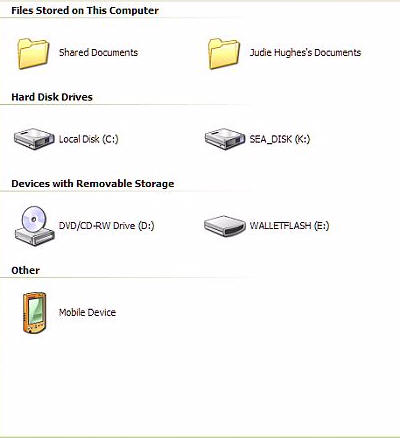 Transferring files
between a desktop computer and a laptop has never been easier, and the ability
to flip the card in whatever direction is necessary to plug it in makes using
the Wallet Flash quite convenient. Notice the light green LED between the words
"Wallet" and "Flash" which will blink when the card is being accessed.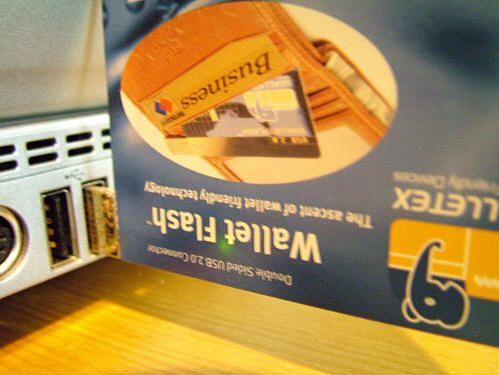 On the website, the
card is touted as being "strong and robust", its resistance to water is even
shown in a picture where one is sitting in a glass of water. I suppose that
property will come in handy on those occasions when some guy accidentally sends
his wallet through the washer. Not that any of our readers would ever do
that…
My bigger concern would be how well the card does in extreme heat –
like when a wallet is left sitting in a car on a summer afternoon, or how well
the card will hold up over time to the pressure of being curved against some
guy's bum, day after day. According to the Walletex site, the Wallet Flash is
"temperature tolerant" and it's "unaffected by heat such as being left on a
dashboard." The card does have a slight bit of flex, so I think it would
probably do all right in the typical guy's wallet.
Surprisingly enough, prices for larger capacity cards are fairly reasonable:
64MB is $16.49, 128MB is $19.99, 256MB is $27.99, 512MB is $42.99, 1GB is $64.99
and 2GB is $119.99. If you have been looking for a fool-proof method to always
have remember a USB based flash memory device, then this may be your answer.
Perfect for anyone with an empty credit card slot in their wallet, the Walletex
Wallet Flash is a rugged and dependable method to transfer files between
computers. If you have been looking for a customer give-away that won't be
thrown away, or a business card that really makes a statement, bulk ordering is
available.
Product Information
Price:
Manufacturer:
Walletex Microelectronics, Ltd.
Requirements:

Win XP, Win 2000, Windows ME, Win98/Win98SE (with driver), Linux 2.4 and above, MAC OS 9.0 and higher
A free USB port

Pros:

Convenient - fits in the user's wallet
Available in up to 2GB sizes
Reasonably priced
Able to take heat and daily abuse

Cons: