We use affiliate links. If you buy something through the links on this page, we may earn a commission at no cost to you. Learn more.
If you are a geek, chances are that you have a gear bag or a gear closet / cabinet. If your geekiness is truly l33t, you may even have both. Yes, I am proud to say that I do have both! I carry a nice assortment of gear 'stuff' with me in my gear bag everyday, but I also have some indispensable tools that I keep at home. One of these tools has been the second version of Brando's USB to IDE cable. These cables have proven to be very handy for computer upgrades and also for family members and friends that have encountered hard drive problems. Often, I'll give away sample products to friends after my review is complete. Not so for these particular items. I kept the original cable until the 2nd version came out, and now that the 3rd version is here, I know I'll be keeping it around until there is a 4th.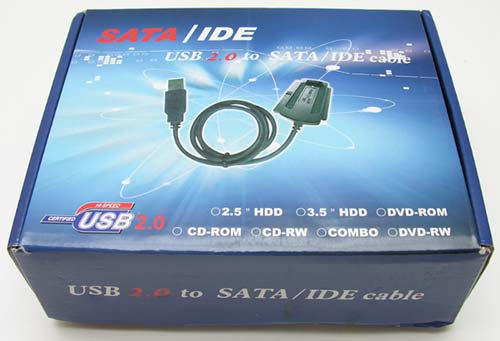 Package Contents
USB to SATA / IDE cable
SATA Cable
SATA Power cord
AC Power Adapter (100-240v, 50-60Hz)
AC Power cable (UK, Asia and US style cables included)
Driver CD
User's Manual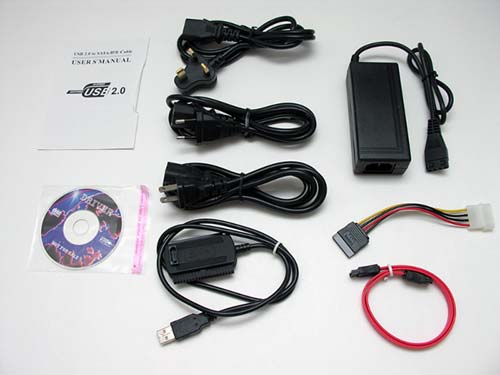 The new USB 2.0 to SATA / IDE cable really kicks things up a notch this time around by adding support for Serial Advanced Technology Attachment or SATA hard drives. Not to worry, the cable still works with 3.5 and 2.5 inch IDE hard drives too. And although I'll only be testing this cable with hard drives, it can also be used with CD-ROM and DVD drives.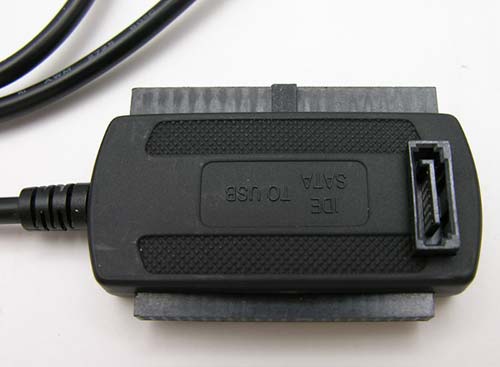 The main cable looks almost identical to the 2nd version of this product, except that an SATA connector has been added to the top surface.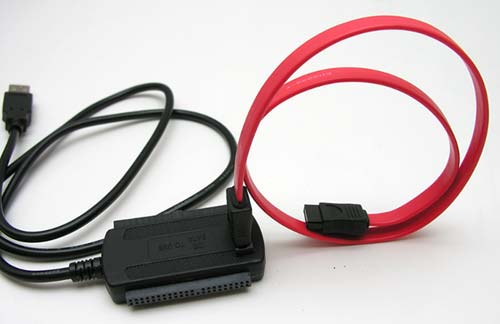 The included SATA cable snaps into the keyed port easily and securely.
At this point you might be thinking that since this cable has 3 different connection points, that it might be possible to plug in 3 different devices at the same time. Ah, great minds think alike! But alas, 3 at once is not possible. Believe me, I tried. Two at once though, will work as long as it is an IDE and an SATA device. Two IDE devices at one time will not work. Sorry.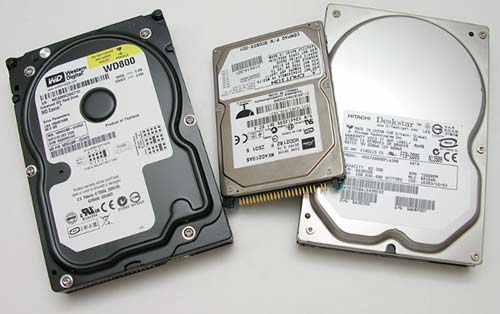 The test candidates for this review are shown above. I'll be testing with a 3.5 inch Western Digital Caviar 80gb IDE drive, a 2.5 inch Toshiba 40gb IDE drive and a 3.5 inch Hitachi Deskstar 80gb SATA drive. Let the games begin!
Hooking up a single drive is a simple operation. Connect the SATA or IDE cable to the matching connector on the drive, plug in the power plug into the drive's power port (if one exists), and then plug in the USB cable. That's it. Once all connections are made, the drive should spin up, and then automatically mount as a removable drive on your PC or Mac computer (all my testing was conducted on a 20″ iMac G5).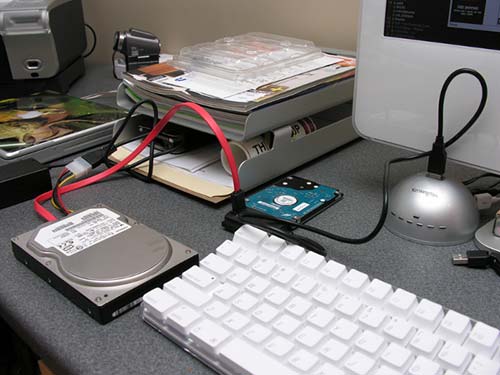 My first test consisted of the Hitachi SATA drive and 2.5 in Toshiba IDE drive. The little Toshiba does not require power, so setup was a snap. Both drives spun up and appeared on my desktop.
The cool part about being able to connect 2 drives at once, is the fact that you can copy / move files between them.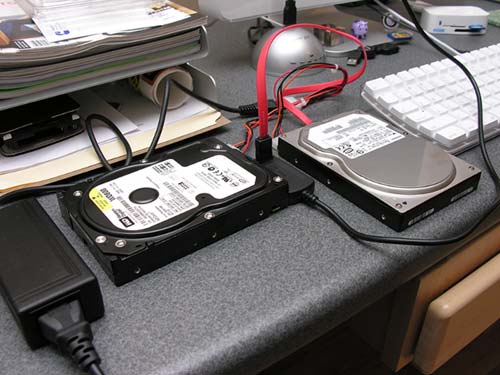 My second test involved the Hitachi SATA drive and Western Digital Caviar IDE drive. Connecting the interface cable was not a problem, it was only when I went to connect power to both of them, that I realized that I only had one power connector and two devices needing power. A quick trip to Radio Shack and $5 resulted in a Y-adapter power cable. With this cable, I was able to connect power to both hard drives, without needing 2 AC adapters. Nice!
I had no problems copying files, moving files, running programs, watching videos or listening to audio files using this cable and the test drives. Yeah, I know, you want to see test data. The test file that I used for all of the transfer tests was a 118.3mb .WMV video of the Napoleon Dynamite movie.
File copy from Mac to Hitachi SATA 11.12 seconds
File copy from Mac to 2.5 Toshiba IDE 33.68 seconds
File copy from Mac to 3.5 Western Digital IDE 11.06 seconds
File copy from Hitachi SATA to Mac 10.22 seconds
File copy from Hitachi SATA to 2.5 Toshiba IDE 45.58 seconds
File copy from Hitachi SATA to 3.5 Western Digital IDE 20.91 seconds
File copy from 3.5 Western Digital IDE to Hitachi SATA 20.75 seconds
File copy from 3.5 Western Digital IDE to Mac 11.07 seconds
File copy from 2.5 Toshiba IDE to Mac 11.72 seconds
File copy from 2.5 Toshiba IDE to Hitachi SATA 22.25 seconds
This cable is easy to use, works great and is valuable tool for techie's and geeks. It's one of those items that doesn't get a lot of use, but as soon as you need one, you're thankful that you do.
Product Information
Price:
35.0
Manufacturer:
Brando USB
Requirements:

Windows 98SE, Windows 2000, Windows Me, Windows XP, Mac OS

Pros:

Connects an SATA and IDE drive to a PC or Mac
Easy to use
Handy

Cons:

Can't connect 2 IDE devices at one time