We use affiliate links. If you buy something through the links on this page, we may earn a commission at no cost to you. Learn more.
It doesn't take much to entertain me when it comes to geek toys. Some times the simplest products can be the best products. So, what do you get when you take a solar panel, a prism, some gears and a suction cup? You get the solar powered Rainbow Maker. Available from Lazybone, this little gadget sticks to your window and makes sunny days more colorful and also more fun.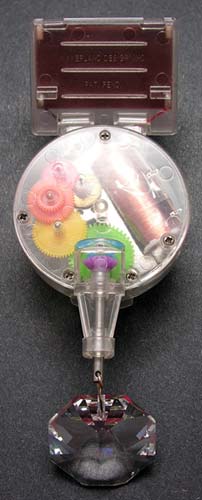 The Rainbow Maker is a 6 inch long pendulum looking plastic thingamabob that sticks to your window by way of a clear suction cup.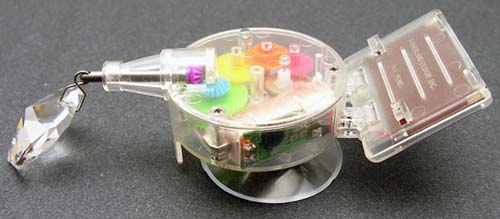 The top of the Rainbow Maker has a small solar panel affixed to a hinge. The hinge allows you to manipulate the angle of the panel, so that it can receive the sun's rays. The hinge doesn't feel very sturdy, so I advise that you don't dork around with it all that much.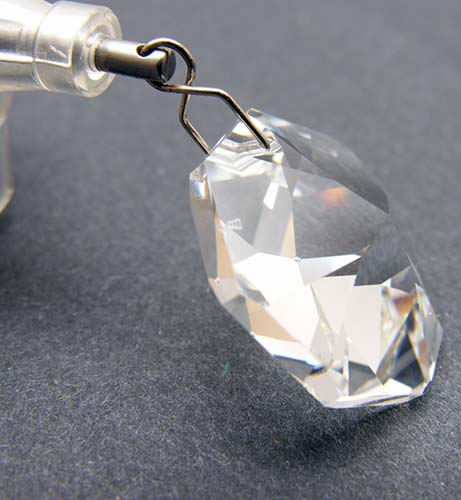 A large Strass Swarovski crystal dangles from the opposite end of the Rainbow Maker. To start the fun, just stick the device on a window, and wait for the sun to start shining. When the solar panel starts receiving rays of direct sunlight, the crystal will begin to slowly rotate. As the crystal rotates, you'll start to see rainbow 'sparks' flying around on your walls and ceiling.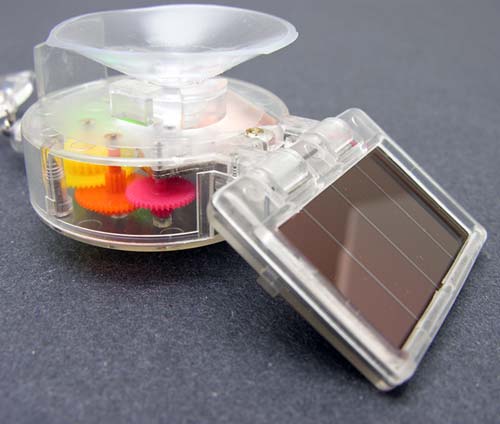 That's all there is to it. Simple! The only problem is that the Rainbow Maker will only make rainbows when sun light is shining directly on it. That means that it won't work on bright cloudy days, or even all day on a sunny day, since the sun won't shine directly into the same window all day long. Even so, when it is working, it gives a pretty cool effect that doesn't require any batteries.
See it in action…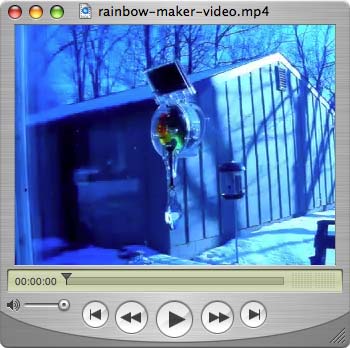 Click on image to play the QuickTime video (1min 41sec,
3.4mb). The video is encoded in the H.264 codec. You will need the latest version of Quicktime to view it. VLC is another free viewer. .
The Rainbow Maker is one of those little gadgets that make a fun gift for children or anyone that can appreciate something unique and simple.
Product Information
Price:
32.56
Manufacturer:
Lazybone
Pros:

No batteries required
Cheery

Cons:

Does not work on cloudy days