We use affiliate links. If you buy something through the links on this page, we may earn a commission at no cost to you. Learn more.
Update 02/02/06
See text at bottom of review….
Wireless devices make me smile. I have enough wires in my life, so when a new wireless device comes along that I can review, my day becomes a little happier. When that device is simple to setup and use, I may just do a happy dance. The latest wireless product to arrive at the Gadgeteer basement lab are the HiFi Bluetooth Headphones from AIRcable. Now, I'll be the first to admit that I've not had the best luck with Bluetooth devices. They are a pain in the butt to setup, with their profiles and drivers. Yuck! But AIRcable promises no stress with their product. No drivers needed… and they are compatible with mobile phones and the Mac. I think I need to go find my tap shoes! But before I start channeling Gregory Hines, let's take a closer look…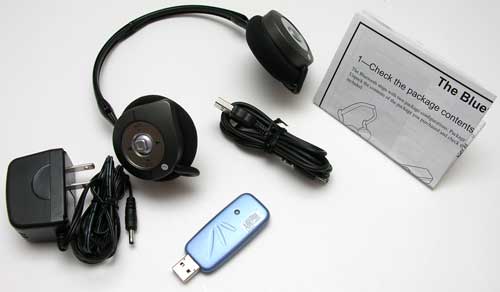 Hardware Specs
Standards: Bluetooth specification V1.2 compliant, Bluetooth HS/HF profile, Bluetooth A2DP profile (AV Profile), Bluetooth AVRCP profile
Frequency Band: 2402 ~ 2480 MHz
Tx Power: 0.25 ~ 2.5mW (Bluetooth Power Class II)
Rx Sensitivity: Distance: Audio Streaming Format: SBC Max 200kbps, 48.000kHz
Audio Frequency Range: 20Hz ~ 22kHz
Audio S/N: > 85dB
Audio THD: Audio Output Power: > 20mWrms
Battery: (3.7v, 380mAH) Music play > 5 hrs.
Package Contents
Bluetooth headset
Bluetooth USB audio dongle
USB charge cable
AC Adapter
Quick Guide
The first thing you have to do before you can begin using these headphones, is to charge the internal lithium ion batteries. This can be accomplished two ways. You can use the included USB cable, or the included AC adapter. Either one will do the trick. I like that they included the USB cable. It's so much easier accessing a USB port than to crawl under my desk to plug an AC adapter into my power strip.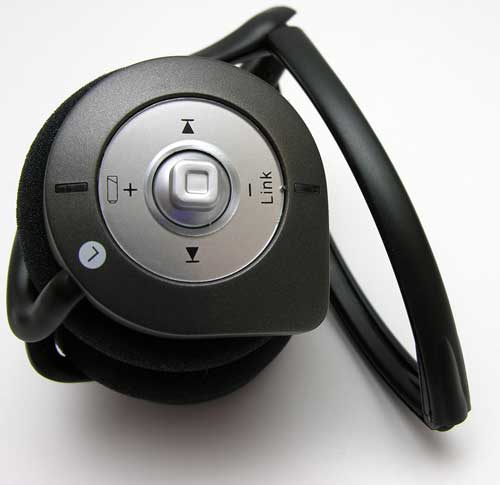 Never miss one of our posts again. Sent MON, WED, and FRI with the latest gadget reviews and news!
After the initial charging step (they recommend 10hrs), you are all set to try them out. In case you can't tell from the pictures, these headphones are behind your head type. They also fold up. Comfort-wise, they aren't much different than other behind the head style headphones currently on the market. I was able to wear them for about an hour before needing a break.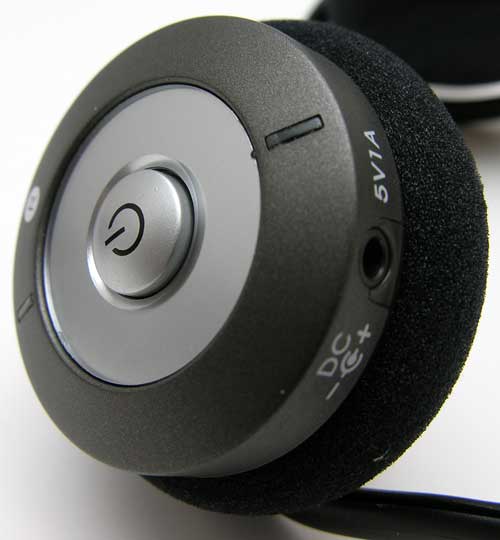 The right earphone has the AC adapter / USB charging cable jack, charging status LED, reset switch and power button. The charging status LED will glow red when the headphones are first powered on. During charging the LED will remain red until the batteries are fully charged. The LED will blink to warn of a low battery. The reset switch looks like an LED, but it's really a spring loaded switch which is small and hard to activate. The power button doubles as the mobile phone answer button. More on that later in the review.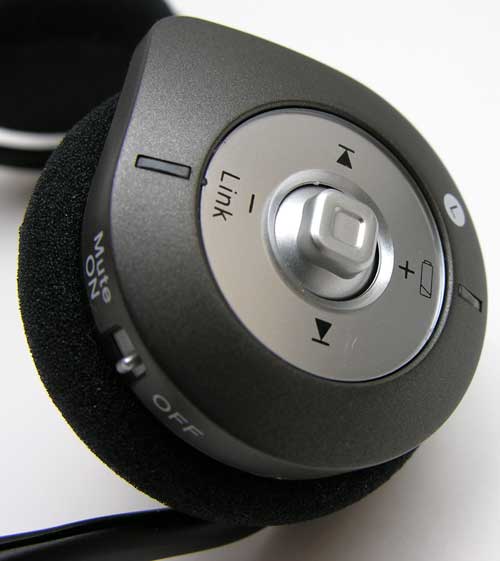 Notice the odd shape of the left earphone. The protruding part is the microphone.
The left earphone has the power / Bluetooth link LED, low battery LED, mute on/off switch, microphone and joystick. The spring loaded joystick functions as a volume up/down and forward/backward switch. The joystick can also be pressed in. Thing is that I don't know what pressing it in is supposed to do. The Quick Start guide doesn't say… I also found that using the joystick to adjust the volume works on both the Mac and PC, but forward / backwards (through song tracks) button does nothing on the Mac. Strange since I tested on both platforms using iTunes.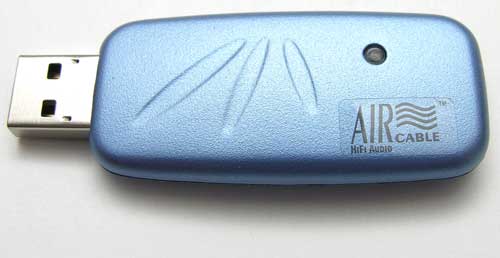 I use an iMac as my primary computer. It has Bluetooth built in, so I didn't think I'd need to use the included USB Bluetooth dongle in order to use the headphones. I was right… sorta. Yes, I could easily pair the headphones with the Mac and route all sound and music through them. The problem was though that sound quality sounded crummy. Not stereo and flat. I was disappointed to say the least. A little investigating netted me the info that the Mac does not yet have an A2DP (Advanced Audio Distribution Profile) Bluetooth profile. But then I looked on the box they came in and saw that the included USB dongle also worked with OS X. I thought well, what the heck and plugged it into a free USB port. Then I went into the systems prefs and immediately saw that a new device had shown up in the sound prefs screen. As soon as I clicked on it, the audio quality instantly switched to stereo. Wow, that was easy!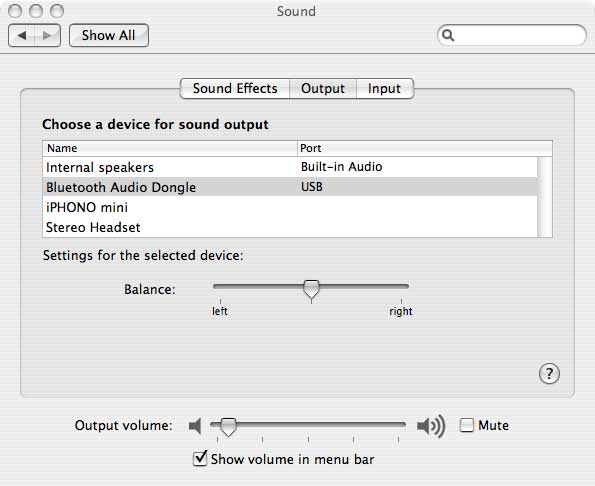 As you can see in the picture above, there are 2 listings for the AIRcable headphone: Bluetooth USB Audio Dongle and Stereo Headset. The iPHONO mini is another Bluetooth headset that I'm reviewing… I also tested on a PC. I had the same easy setup experience. I just plugged in the USB dongle and was good to go.
Like I said, audio quality is very good. However, they aren't quite as good as my cheapy behind the head Sony MDR-G52 headphones plugged into the earphone jack on the back of the iMac. The Sony's have a fuller richer sound, while the AIRcables are brighter and with less bass. Remember, I'm not an audiophile, I just know what sounds good to me. So, your mileage may vary.
I did run into a potential problem with the AIRcables that need to be pointed out… Sitting at my desk within 2 feet of the Bluetooth USB dongle, the sound would sometimes stutter or cut out for a split second. I'm unsure what may be causing this to happen as the batteries are fully charged and as far as I know, I don't have anything that would be interfering with the signal. I would be curious to try another pair of headphones to see if I might have gotten a defective pair.
As far as distance, I was able to walk around upstairs (the computer is downstairs) and still listen to music. Sometimes the sound would cut out, but not too bad considering that I was probably 20ft away.
These headphones aren't just for music. You can use them as a handsfree headset for your mobile phone as well. Not that you'd use these in a car, but if you're sitting at your desk listening to music and a call comes in, you won't need to remove them in order to take the call. All you have to do is press the power button to answer the call. You'll even hear the phone ringing through the headphones.
The headphones paired with my Treo 650 just fine. When a call would come in, the Treo would ring 3 times and then I would hear a ring in the headphones playing over whatever audio was already playing through them. The left earphone has a microphone built into it, so it has everything you need. Sound quality through the microphone might not be the best though. During my testing, I was told that I sounded like I was in a can.
According to the AIRcable website, the headphones can be set to automatically answer an incoming call. I've yet to figure out how to switch to this mode. I thought maybe pressing the 5 way joystick would do this. Nope…
Except for the intermittent sound problems, I enjoyed testing these headphones. I really appreciated the no fuss, no muss setup. This is what Plug and Play is meant to be. These headphones are currently on sale for $99, which is a very good price.

Update:

An AIRcable iTunes Plug-in is now available for download. This plug-in for Mac enables the forward / backward / play / pause function buttons on the HiFi Headphones for use with iTunes. Here is a link to the Support page where the download link is located: http://www.aircables.net/support-hifi-headset.html

This download is free.
Product Information
Price:
199.0
Manufacturer:
AIRcable
Requirements:

Microsoft Windows 2000 XP, Mac OS X and Linux

Pros:

Truly plug and play
Good audio quality when used with the USB dongle

Cons:

Encountered some intermittent stuttering