Whether it's for a PDA, or a MP3 player, Vaja knows how to protect gadgets with a combination of both style substance and style. The substance part is taken care of beautifully with high quality leather, stitching and findings. When it comes to style, Vaja set the bar a long time ago. No one makes a better form fitting and great looking leather case. It's a common practice for me to buy a new gadget and then anxiously wait for the day that Vaja creates a case specifically for it. This time around it's an Apple iPod nano case. Two of them actually…
Classic AP171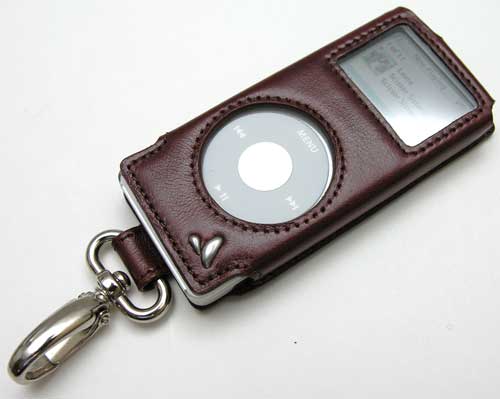 The AP171 case is play through leather case that adds very little bulk to the super small nano. It is available in Aniline and Vitelino leathers. Vitelino is shinier than the more matte finish of the Aniline leather. Regardless as to which style you choose, this case is not padded. The leather is stiff though and provides adequate protection.
The nano slides into the bottom of the case. You don't need to worry about the nano falling out of the case though. The fit is extremely tight. You could say too tight. I started having a panic attack the first time I tried to remove the nano. Without using an object to push it out from the top, it probably would still be there.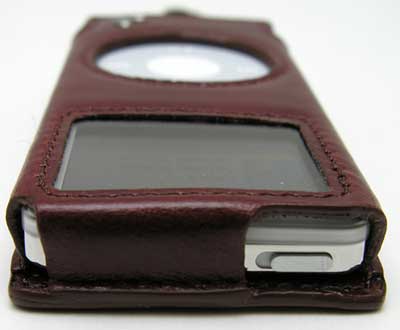 You really don't need to remove it from this case though, as all controls, switches and jacks are fully accessible while the nano is in this case. The cutouts line up perfectly and the plastic screen cover protects the display while remaining crystal clear.
Since the bottom of the case is open, you can easily plug in the dock connector to sync and charge with your computer. That said, the bottom of the nano is the main part of the device that remains unprotected. We all know how easy it is to scratch an iPod, so this may be a concern.
This case can be purchased with several different options. For additional $'s, you can have it embossed with your name, add a wheel protector, or matching leather lining. You can also get a regular plastic belt clip, a Rivet system clip, a metal hook or no clip at all. I asked for the metal loop clip.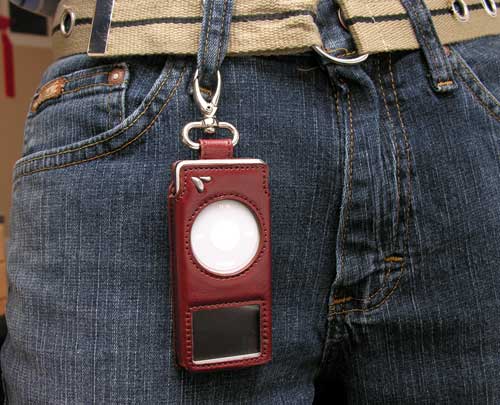 The metal hook clip swivels and has a spring loaded clasp that you can use to clip on a belt loop, purse strap, etc.
I like this case because it's pretty minimal and doesn't add much bulk to my music player.
Prices start at $34.00.

Classic AP161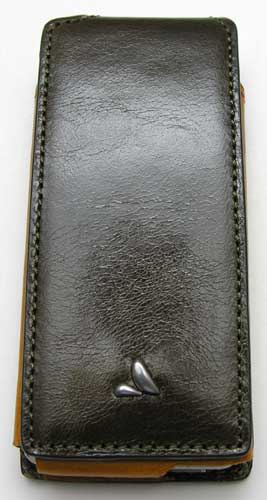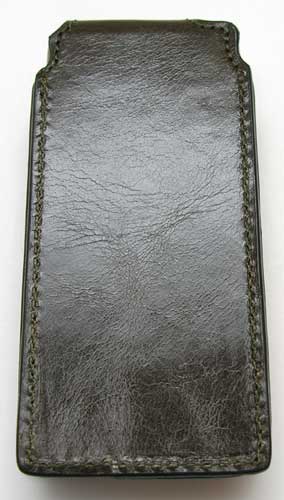 If you want a little bit more protection for your iPod nano, you can go with the AP161 case. This one is also play through, but it has a magnetic flip cover that protects the click wheel and bottom of the nano. Like the AP171, a plastic screen protector is sewn into the case.
It has the same design, where the iPod slides in from the bottom, top first. Yeah, this one is just as tight as the AP171.

Like the AP171, the AP161 can be purchased with a belt clip, rivet clip, metal hook or no belt clip at all. A wheel protector is also an option.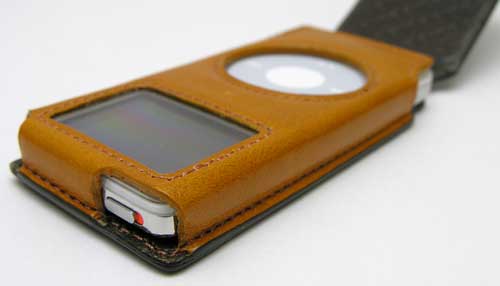 There is a cutout at the top of the case for the hold switch.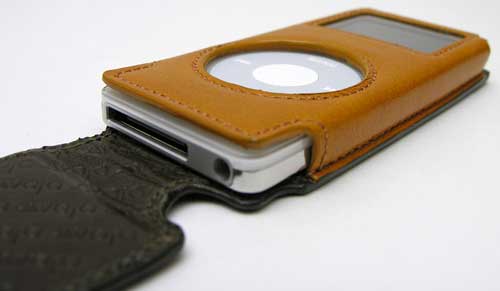 The dock connector is accessible for syncing and charging.
This is a great looking case. It adds very little bulk to the nano, but protects it from everyday wear and tear.
Prices start at $40.00.
Product Information
Price:
Manufacturer:
Vaja
Requirements:
Pros:

Built in screen protection
Play through
Available with different belt clip options

Cons:

Very tight fit
Bottom open on the AP171