We use affiliate links. If you buy something through the links on this page, we may earn a commission at no cost to you. Learn more.
One of the first things that happened after walking into Seattle's
Edgewater Inn for
Mobius
2005, was that I ran into Jason Dunn from
Thoughts Media at the check-in desk.
"Nice Skooba," he said as he pointed to the model he was wearing and then
pointed to mine, "I bought the
same one for my wife!" He was of course referring to the pink & black
RoadWired
Skooba Satchel
that I was carrying.
The Skooba is a ballistic nylon laptop bag with neoprene trim. Available in color combinations that include black and blue, gray and
orange, olive and red, khaki and black, and the pink and black version I was
sent, there is a Skooba to match just about everyone's style.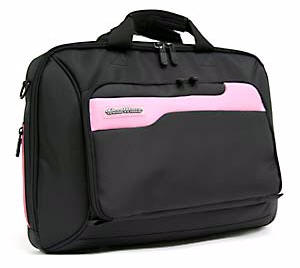 Photo courtesy of RoadWired
This picture looks
deceptively shiny. In person, the black Cordura bag is matte, with the pink trim
on the front adding a dash of color.
The Skooba measures approximately 17" wide x 12" tall x 6" deep, and empty it
weighs about 45 ounces. The bag is deceptive because it doesn't seem all that big,
that is…until one starts to fill its many pockets and compartments. Perhaps one of the most unique things about this bag is that it
uses RoadWired's patented Air Square™ protection system to surround the owner's
laptop with "hundreds of individual, air-filled cells that support and protect
[the] computer from the daily bump and grind." We'll talk more about that in a
little bit, right now let's take a look at the bag's exterior.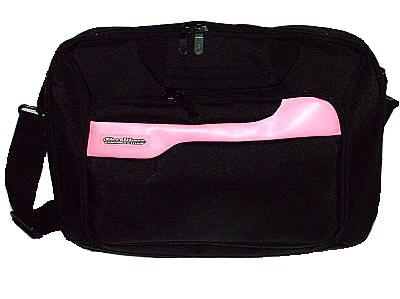 There are two neoprene wrapped handles on either side of the bags dual
zippered main compartment. Each zipper has a sturdy plastic RoadWired branded
zipper pull.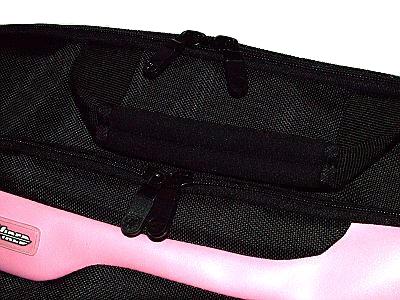 The forward set of zippers reveal a 12.5" wide x 8" tall pink nylon lined
compartment chock full of pockets for keeping daily gear organized. A 12" wide x
6" tall zippered mesh pocket is on the outside flap, and it features a built
in card or ID holder with a vinyl window. This pocket is perfect for cables,
power cords and other loose items. On the inside wall is a 5.75′ wide x 6.5′
tall gusseted pocket with a Velcro secured flap. This pocket is great for
holding a larger PDA in its case or a CD player, a digital music player, a small
stack of CDs in their cases – or any larger electronic item which the owner does
not want to carry in the main body of the bag. There are four pen slots which
are sized to accept even larger bodied pens such as my

Delta Dolcevita Stylus. Next is a 2.5′ wide x 6.5" tall gusseted pocket with
Velcro secured flap that would be perfect for holding a candy-bar mobile phone
or other tall and thin gadgets. A substantial 1.25" metal clip hangs ready
to accept the owner's keyring.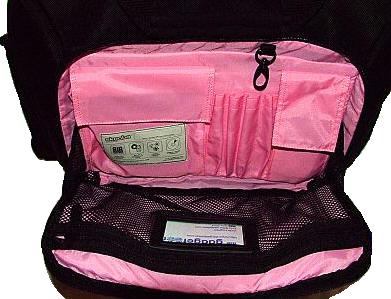 Mesh has been sewn on either end of the front flap to keep it
from flopping completely open
According to the RoadWired website, "All load-bearing points [are] massively
reinforced with 'box-X' stitching," and that describes what is under the
shoulder-strap attachment metal ring on either side of the bag. The left side of
the bag has one of the most clever compartments I have ever seen on any
bag – a hidden mesh water bottle holder which can be tucked away behind its 6"
long zipper when not in use. I love that the mesh pocket does not have to always
show, as I very seldom actually carry a bottle of water around like that.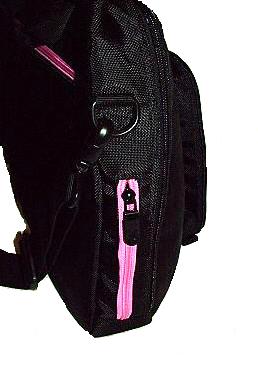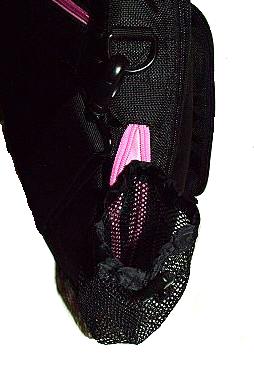 The right side of the bag has incorporated "Rivet Ready" attachment points,
which can accept items which mount with the optional Rivet® "e-Treker"
or "Power
Broker" micro-clip system kits.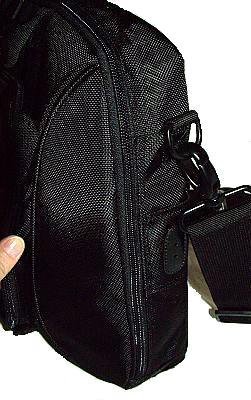 Notice the solid metal no-twist clip attaching the adjustable shoulder strap?
This is a really nice touch! The back of the Skooba has a 13" wide x 9.5" tall
pocket which is accented in a sea of black by its contrasting pink zipper.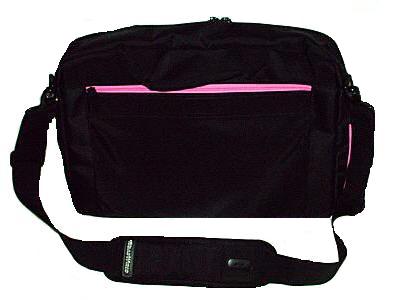 This deep and wide pocket is perfect for carrying magazines, files, airplane
tickets, any flat items to which the user would like to keep neat while enjoying
easy access.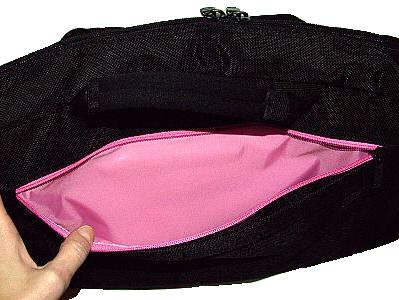 A reinforced 13" wide x 1.5" tall strap is hidden underneath the zipper which
can be pulled from its Velcro moorings against the bag for slipping over rolling
luggage handles for easy toting through the airport. When not in use, it stays
firmly attached to the bag.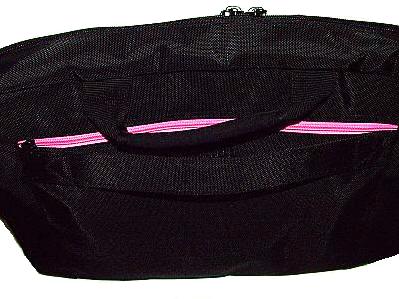 The bottom of the bag has two 2.25" long x 1.5" wide rubber feet for
protection.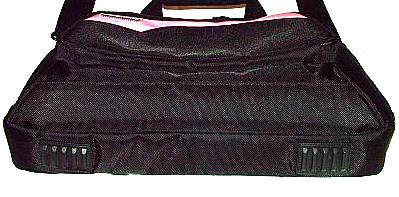 The comfortable 11.5" x 3" shoulder pad also has built-in "Rivet Ready"
attachment points, which can be used to carry a phone or other item to which the
user might need immediate access. A built-in Velcro secured pocket allows the
wearer to carry an ID, business cards or a transit pass in a handy place.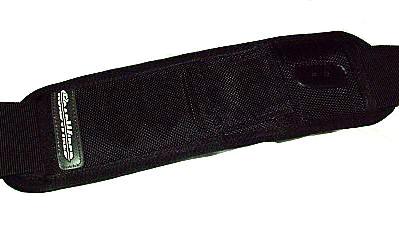 The reason why the shoulder pad is so cushy and comfortable is because it has
a 10 x 2 grid of RoadWired's patented Air Square™ protection system built in.
The rubbery surface of the Air Squares helps to keep the pad from slipping when
in place.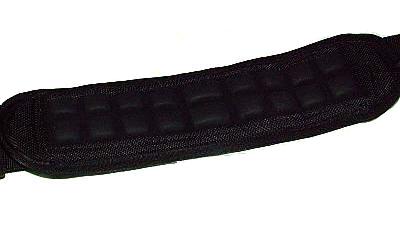 Opening the rear double zippers that lead to the main compartment of the
laptop bag reveals a large pink nylon lined interior with two partitioned areas.
The first is the 15" wide x 10.5" tall x 2.5" deep laptop area, which is secured
by an adjustable quick-release retention strap with a plastic clip. This pocket
will hold almost any laptop, including most 17" screen models (measured
diagonally). The light weight of the bag coupled with the padded shoulder strap
allows the owner to carry larger laptops without too much strain on their back.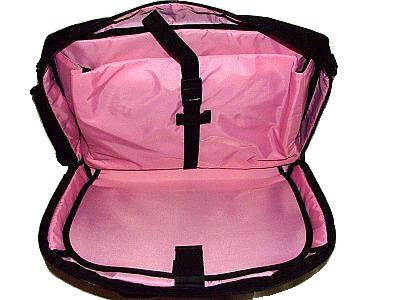 Inside the laptop pocket is perhaps the most interesting form of padding I
have ever encountered. RoadWired has positioned their Air Square™ protection
system, which utilizes "hundreds of shock-absorbing, air-filled pouches," on the
front, back and both sides of the pocket to protect the owner's computer. These
Air Squares stick out about 0.25", which causes a goof buffer between the laptop
and anything carried in the bag – much less anything the bag might be bumped
against.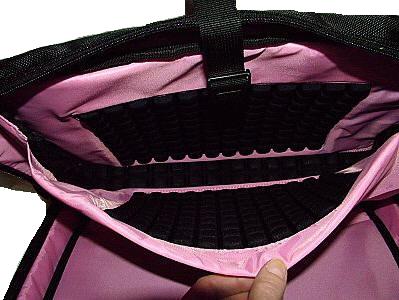 The other side of the main compartment allows the owner to carry flies,
papers, and other flat items securely in place behind its Velcro secured
divider. Because of this design, when the main compartment is opened, the papers
and files stored inside will not spill out.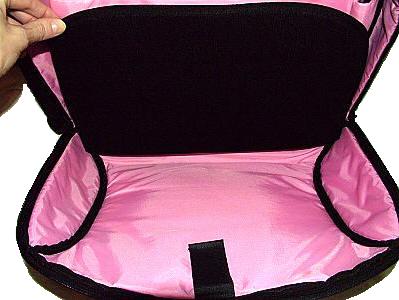 Even when loaded with a laptop and other assorted gear, the Skooba Satchel is
comfortable and even though it is a larger bag – it does not over-whelm the
wearer.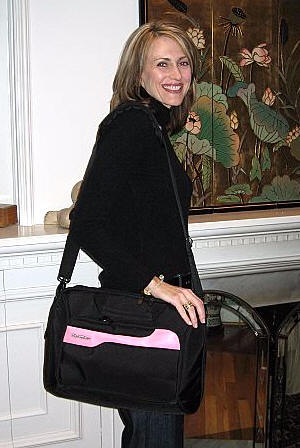 For reference, I am 5'10"
The RoadWired Skooba Satchel is very well made from quality materials, and
its design shows an attention to detail and the actual needs of the people who
will be carrying it. I love that it is available in colors other than basic
black or brown – the splash of pink is enough to differentiate the
bag without making its wearer look like a 13 year old girl trapped in a 30 year old
woman's body. If you have been looking for a feminine laptop bag that has as much
substance as it has style, then the RoadWired Skooba Satchel may be the right
bag for you.
Product Information
Price:
99.95
Manufacturer:
RoadWired
Requirements:
Pros:

Very well made of quality materials
Lightweight design with comfortable shoulder strap
Well thought out interior compartments
Masculine as well as feminine colors are available

Cons: