We use affiliate links. If you buy something through the links on this page, we may earn a commission at no cost to you. Learn more.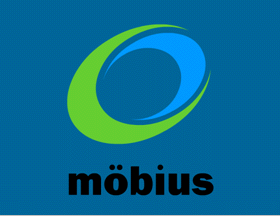 Julie's comments are in Black, Judie's are in Blue and italicized.

Mobius 2005 was held at the
Edgewater Inn in Seattle, Washington this year, and other than a jaunt to race go-karts
at Champs on the second evening, we were predominantly on the 3rd floor of the hotel most of the time.
The first night kicked off with a meet and greet held downstairs in the Forest
Room. Here you can see Lisa Gade,
Julie and Joel Evans.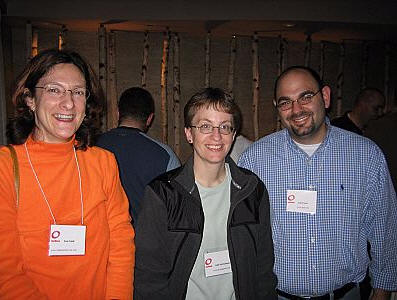 Like previous Mobius events, no one really knows until they arrive, just who else has been invited. Although a large
percentage of the guests this time were old timers, we were happy to see some new faces as well. 22 people were
invited this year. The guests represented the following sites:
The Gadgeteer
Mobile Tech Review
Howard's Forums
Geek.com
Smartphone Thoughts
Treo Central
Brighthand
Mobileburn
PocketNow
Engadget
Unwired
Clintonfitch.com
Phonescoop
PDA France
PPCSG.com
Threegmobile

Around the room were arranged all sorts of older and current Pocket PC, PPC
phones and Smartphones. I got to finally hold and fool with an HTC Universal,
also known as the
JasJar, and I got to finally handle an
HP Jornada 928 –
the Pocket PC phone I had lusted over in 2002. Since they were not easily
available over here, I never even got to see one in real life. It brings a tear
to your eye, doesn't it?
I was curious to see the GSM version of Judie's phone; the HTC Wizard. Too bad that the CPU is half the speed of the 6700, or I'd be tempted to buy one. That said, I found the 6700 to be more sluggish than my Treo 650. But, I did like the bigger screen and larger keyboard. WiFi too!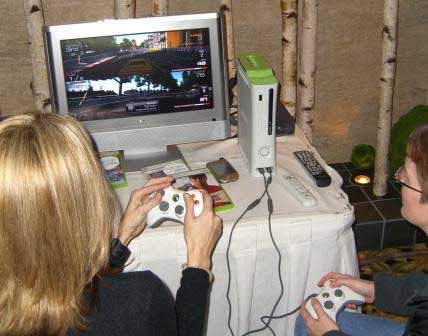 Picture taken by Shane Chiang of PPCSG.com
Besides just standing around talking gadgets and phones, there was an Xbox 360 set up in one corner of the room. At one point Judie and I saw that there was no one playing with it, so we sat down and tried to play Project Gotham Racing 3. Wow, the graphics on the 360 are great. Too bad we really sucked at the game ;o) I think I spent more time pinned against the guard rail, than racing!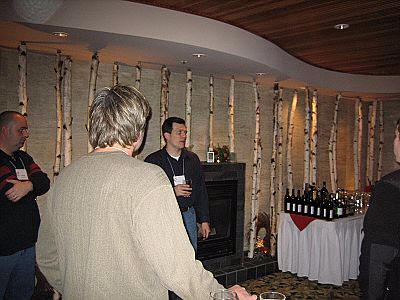 The guy we are all listening to is John Starkweather with Microsoft. He just
got done thanking us for coming and told us to be sure to pick up our new phones
on the way out that night. John also pulled me to the side and told me that he
wouldn't mind loaning me a JasJar so that I could write a review on it. So maybe
in January I can get started on that.

Hold up – did he say new phones? Hey now!
FYI: John was the person responsible for organizing and leading Mobius this year. Thanks John!

The freebie phone that was given to each attendee was an unlocked i-Mate SP5m, already loaded with software, a 128MB mini-SD card, all of the attendees' info and our schedule for the upcoming days -very
nice.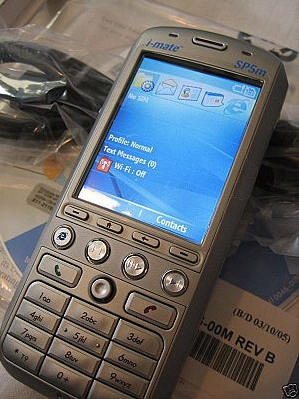 I was a little worried that it would be a European version of this phone without 850MHz, but was happy to find that it's actually a quad band and does work in my town.

The next day we met on the third floor and after eating breakfast we got set
up for the upcoming day. Julie and I sat at the head of the table, which only
seemed right. ;0)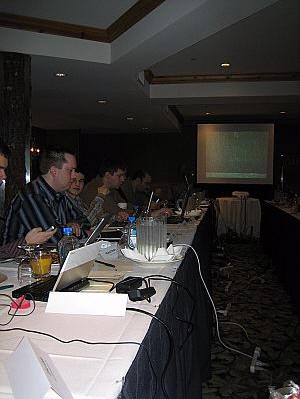 I was directly behind the water pitcher, and Julie was to my left.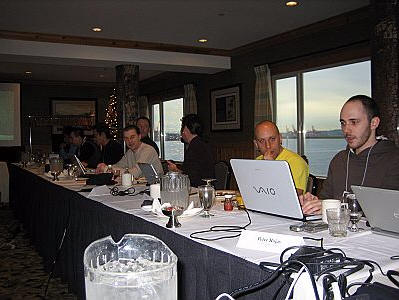 The day started out with Ford Davidson presenting a retrospective of mobile
phones – all the way from the old Motorola Dino to these prime examples of
telephonic computer wizardry…
…starting with the
IBM Simon, the
first Smart Phone – ever!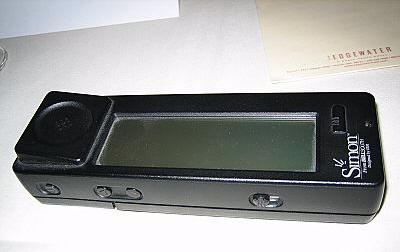 You mean smart brick!


The Motorola
Envoy – I wanted one of these so badly when it came out!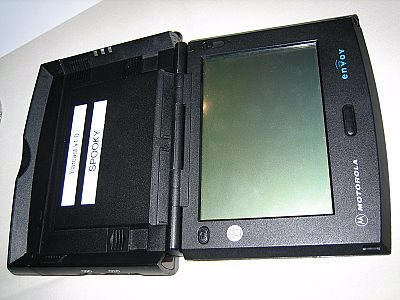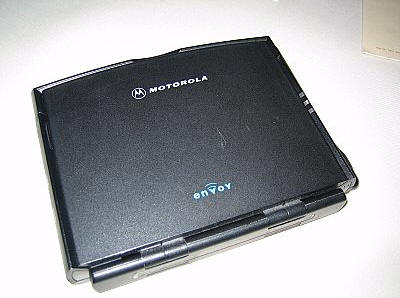 Same here! Weren't those things super expensive? That's probably why I never had one ;o)


…and a

Motorola StarTAC with the
clip
on organizer  – I did have one of these! Ah, memory lane…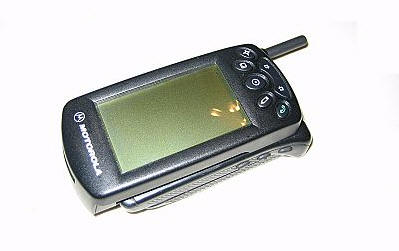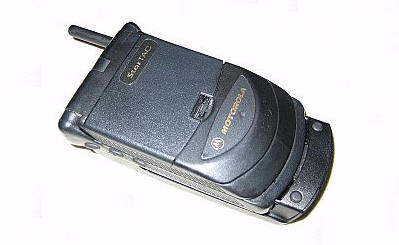 Would you all believe that my Dad STILL carries a StarTac? He loves that thing because the battery stays charged forever when you don't make many calls.


…which brought us to the latest Windows Mobile 5 and a sneak peak at the
new Treo 700w.
It's not quite ready, but will soon be debuting, and it appears to be a pretty
sweet addition to the popular Treo line.
I am VERY interested in this phone. I guess it's because of all the phones I keep trying, I keep coming back to the Treo 650. I really like the form factor and keyboard size. I just wonder how snappy the 700w will be? I don't like a sluggish PDA and definitely don't want a sluggish phone!


Peter Bernard showed us a bunch of

Portable Media Center devices that we weren't allowed to photograph. so
that's all I'm going to say about that.
For now I'm quite happy with my Video iPod. It fits in my pocket and although it has a very small screen, it is gorgeous and easy on my eyes. I have yet to develop much interest in the portable media center devices. I guess I'd rather just have an iPAQ 4700, which has a big screen and can do way more than just play movies and music. Of course the iPAQ doesn't have a 20-60gb hard drive either…


Next, Andre Vrignaud presented us with an in-depth look at the
X-Box 360…and by the time it ended I
was drooling. I'll wait until next year to get one though, maybe they'll
actually be available for retail at that time.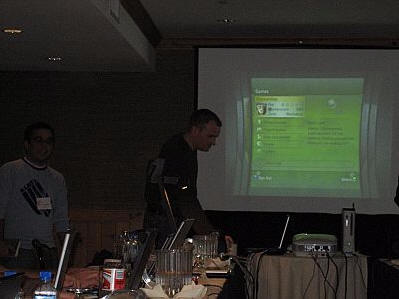 It's a very good thing that I don't have access to low latency broadband. Because if I could have DSL or Cable, I'd be an Xbox Online junkie for sure. The way the 360 builds a robust sense of community is very appealing to me.


Jeremy Toeman with Sling Media came
in to tell us about their new Sling Box. What a cool premise – through this box
you can watch your TV from anywhere in the world, either on a laptop
computer or a Pocket PC phone like my PPC-6700. This demo was way cooler than
any other "watch TV from your mobile phone" demo I have ever seen…by far!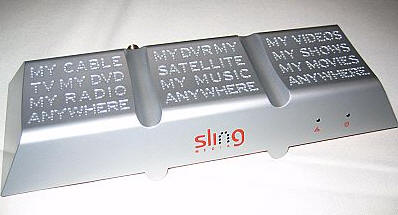 Jeremy promised to send all the attendees a Sling Box. I'm very excited to try it out. Not sure how well it will work with my Direcway satellite, but I'm willing to give it a shot!

The following presentation about Industry Trends that was obviously recycled
from a previous presentation to people who know all of the industry buzzwords
went right over my head, and my eyes glazed over as drool escaped the corner of
my mouth. Okay – it wasn't quite that bad…(yes it was!)

I think my brain turned off during that talk, because I only remember the acronym IMS and that's it. I don't recall what it even stands for…


Ending the day was a discussion by Peter Wengert about

Windows Automotive. I was interested to hear about a sub-$10,000 vehicle
being introduced in Japan which is computer enabled and completely media ready.
Cool stuff!
He also had a tricked out Hummer with a plasma TV in the back. 3 lucky Mobians got to ride to the evening event in it.


That was the last presentation for the day, so we headed to Champs for a
catered dinner and an evening of go-kart racing where I proceeded to "represent"
since Julie and Lisa didn't race. ;0)
While Judie was embracing her inner Tony Stewart or Jeff Gordon, Lisa and I got to get up close and personal with the new Motorola Q. I wasn't overly impressed. The screen seemed smallish and the keyboard cramped. Peter Rojas of Engadget had one of iRiver's tiny U10 media player that he was showing off. Cool concept, which they came with more storage capacity though.

After the races, John brought out the box
of PDAs from the previous night, and said if any of us wanted some of these
relics we could have them…! Guess which PDA I literally snatched from
the pile? That's right – the Jornada 928! I even managed to snag one for Julie.

It needs a new power cord and a good cleaning – but isn't it beautiful?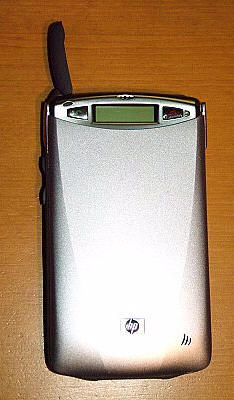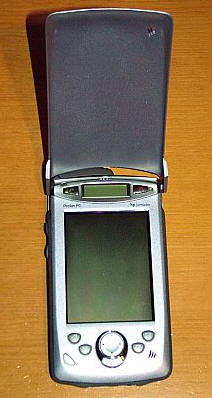 I got my hands on an old Samsung i600 too.


The next day kicked off with a very interesting speech by Michael Gartenberg
with Jupiter Research Group, regarding how cell-phones have become an almost
invisible item – meaning that similar to their wallet and keys, people don't
count it when they consider how many items they are packing.
Michael was very entertaining to listen too. I particularly enjoyed the part where he wanted to get people's ideas on what makes a device caress-able. Is it shine, curves, both? Something else?


Horace Luke presented an amazing demonstration of Photon, a future version of
Windows Mobile. This update is still several years away, but it would appear
that we will be in for a multi-media treat once it finally appears. And that's
about all I am allowed to say about that.
I for one am very excited if what little bit we were privy to see, actually becomes a reality in a few years. I don't want to wait that long for it though…

The next presentation was by Paul Pierce and Jason Gordon of Motorola. Paul
was actually on the team that designed the

Motorola Q, which was interesting to finally see in the flesh…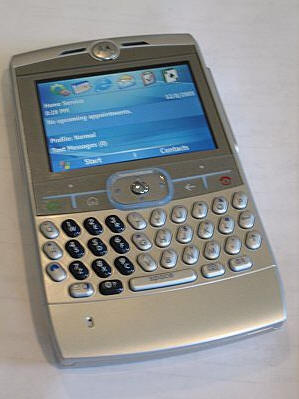 I didn't much like the keyboard, because the keys felt "plasticy" and very
stiff. Otherwise, the Q is a cool phone, if a bit wide.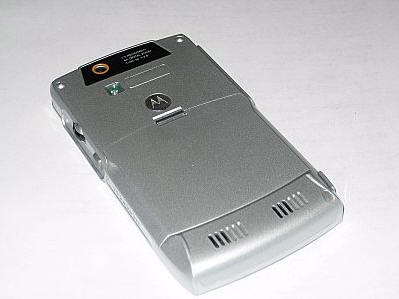 This one isn't for me. It just doesn't feel like a phone in my hand. I think I'd rather have a Blackberry…

We got to handle the next RAZR…and me likey. Make it a WM5
Smartphone, and I would buy one today.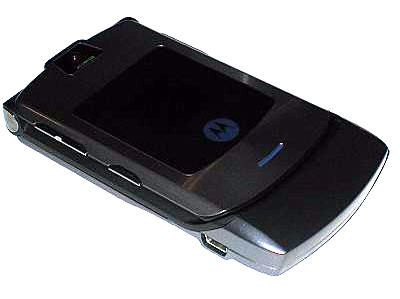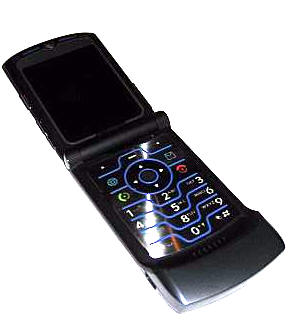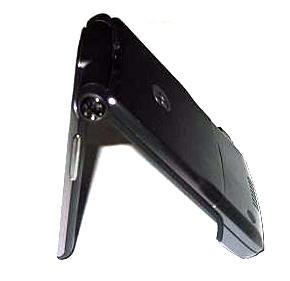 I must be the only person who doesn't love the Razr. Whenever I see it, I just think "Beam me up Scotty!"

This is the new

PEBL, which because of its comfortable shape and black rubbery coat just
feels good. If I could get this black paint on my PPC-6700, I would be one
happy camper!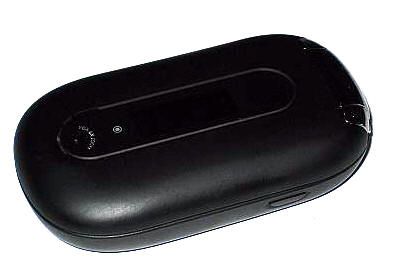 The interior is similar to the RAZR, in that it is a metal keypad with a
distinctive design.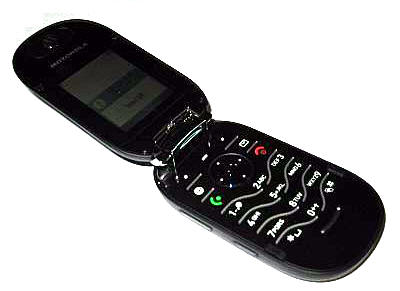 We also got to handle the shiny finish PEBL, which was a total fingerprint
magnet.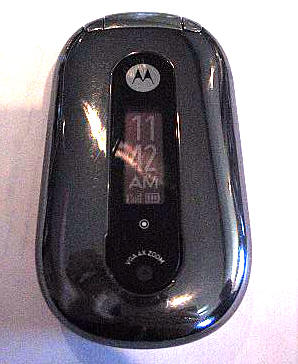 Here's a better shot of its interior…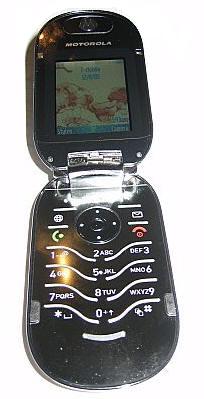 The PEBL is really slick – but it is no Smartphone.
Nope, it's not a Smartphone, but the display was really nice and it just felt great in your hand. I also loved how you could press the top and it would spring open. I would actually carry this as my phone because it would fit perfectly in my front jeans pocket.

Also passed around was the
A910,
which although it had a beautiful screen came across as downright clunky after
handling all of those other sleek metallic phones.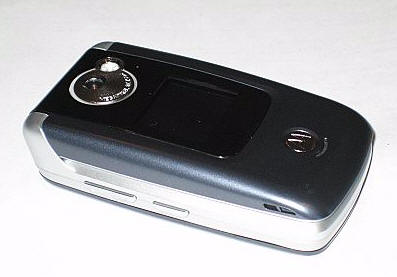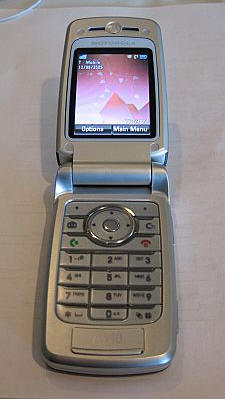 The next order of business was to break into workgroups and design the
perfect mobile phone. My group consisted of
Ryan Block, Matt Miller
(palmsolo) and myself, and was moderated by Derek Snyder. We were to discuss
what discussed hardware would be desirable in four different levels of mobile
phones, which we did with great gusto.
My group was moderated by Wes Salmon (from PDA Buzz fame) and had the task of coming up with the best software feature set. There were two other groups which talked about services for phones and … I'm drawing a blank on the last group…
In the end, the groups had to present their ideas in front of the whole group and then vote on them. Hopefully Microsoft will actually use some of this info…

The final session was a discussion on the future of Mobius, and once it
adjourned we were told to pick up our gift from under the Christmas tree – which
turned out to be a pair of Motorola Bluetooth enabled Oakley RAZR sunglasses.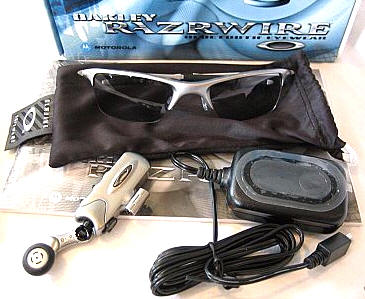 Julie and I then proceeded to the Edgewater Inn's restaurant,

Six Seven, to have a fabulous meal of Alder Planked Salmon with Sweet Corn
Sauce, Seared Mushrooms and Truffle Oil – YUM! Thanks for treating,
Julie! :0)
You are very welcome. :o) I didn't have the mushrooms though… I *hate* mushrooms. I subbed for garlic mashed potatoes ;o) After dinner, we went to Judie's room and gabbed about the event for a couple hours. I then went back to my room to get some sleep since I had to get up at 5:30am. YUCK.


The next day brought a four hours delayed flight home for me, due to the
backup caused by the foul weather in Dallas. Ah well, I eventually made it home
safely.
Luckily, I was only late 1hr due to the rerouting of flights through Chicago O'Hare, caused by the accident at Chicago Midway the previous day.
As always, Mobius was a fun time. I enjoyed catching up with Judie and Lisa Gade, as well as meeting new people. It's a shame there aren't more small events like this that can bring like minded people together.