We use affiliate links. If you buy something through the links on this page, we may earn a commission at no cost to you. Learn more.
I can't even begin to say how many times I have wanted to run a quick errand
without taking along more than the basic necessities – my ID, Amex, some cash
and my PDA phone. Even as a die-hard Gadgeteer I feel that it is a bit of
overkill to make a quick trip to the grocery store loaded down with a day's
supply of connection cables, adapters and memory cards.
Julie and I have talked about how nice it would be to have a small bag or
specially designed wallet that could hold these basic necessities on quick
jaunts, and that's what first brought the Maxpedition Rat
Wallet to my attention. The Rat Wallet is designed to carry the
"technologically savvy" users absolute necessities, while remaining small enough
to either tuck into a larger bag, wear on the user's belt, or attach to the
strap of a larger Maxpedition bag.
As I mentioned in the
Maxpedition Fatboy Versapack review, Maxpedition bags are composed of
1000-Denier water and abrasion resistant, light-weight
ballistic nylon fabric which has been coated with DuPont Teflon
fabric protector. The various components of their bags are held together with
high tensile strength composite nylon thread


and all straps are made of high
tensile strength nylon webbing. All Maxpedition bags use YKK #10 high strength
zippers and zipper tracks and UTX-Duraflex nylon buckles.
The Rat Wallet is available in black, green and
khaki, I was sent the khaki version.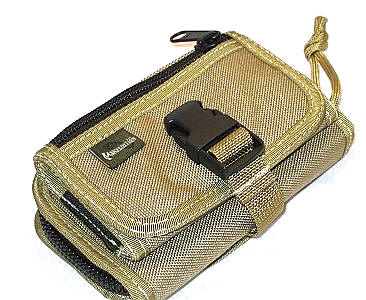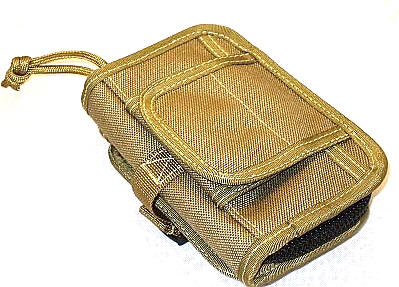 Measuring approximately 5.75" long x 4" wide x 2.5" thick when empty, this
smallish wallet has a lot of pockets and secret hiding places for tucking ID,
bills, receipts and yes – either a small PDA or typically sized cell phone.
Let's start from the top…
On the front of the wallet is a plastic clip which holds the PDA or cell
phone compartment closed. Above that clip is a 4" x 2.5" zippered compartment
which is perfectly sized for ID, credit or business cards.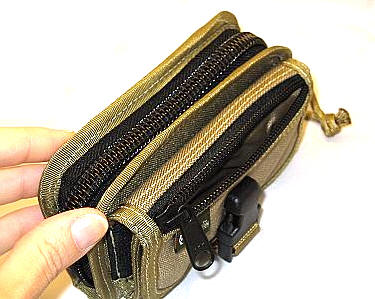 Undoing the clip on this compartment reveals a 4" x 2.5" open slot pocket
which is also perfect for holding ID, credit or business cards. Behind this slot
is a larger compartment measuring approximately 4.5" long x 3.25" wide x 1"
deep, which is a suitable place to carry a small PDA, mobile phone or even a
digital music player. Expanding strips of elastic making up this compartment's
sides allow it to expand a bit to accommodate various items.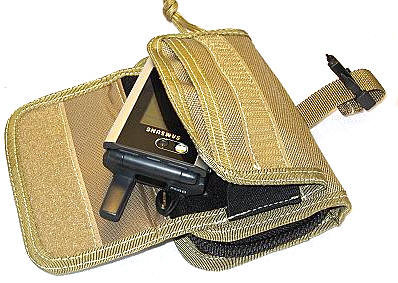 The pocket easily holds smaller PDA phones such as the Samsung
i550
The only complaint I have against this pocket's design is that there is a
piece of velcro included which seems superfluous, considering that there is also
a plastic clip to keep the compartment secure. I realize that for someone that
never remembers to snap the clip the Velcro might be a good safety net – but I
would rather deal with the clip than deal with the Velcro.
My solution was to completely remove the stiff loopy strip of Velcro, and now
the compartment seems much more accessible.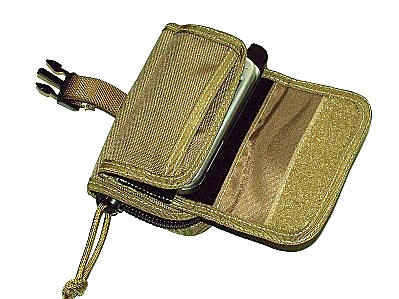 The compartment is just large enough to hold the PPC-6700
PDA phone
On the back side of the wallet is a zippered compartment which when undone
reveals two pockets…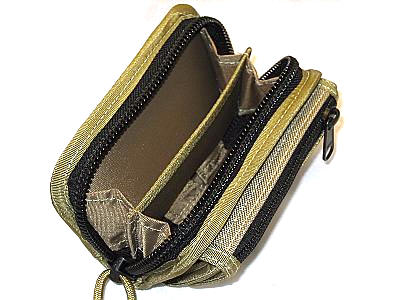 …which are suitable for holding ID, credit or business cards, as well as
folded cash, receipts, memory cards, digital music player earphones, small
adapters and / or folded checks.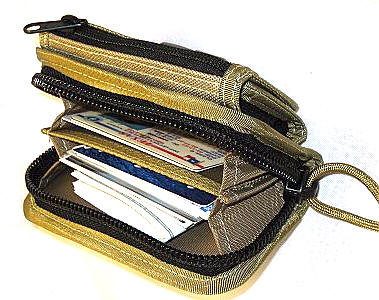 The back side of the Rat Wallet has two Velcro loops which fold over each
other, making it possible to attach the wallet to a belt or bag strap. If the
wallet is usually stowed inside its owners gearbag, then this feature will
probably never really be used – but this portion of the wallet will still have a
function. Pulling back the top flap of Velcro reveals a 5" long x 3" deep slash
pocket which can be used to store receipts or other small flat items.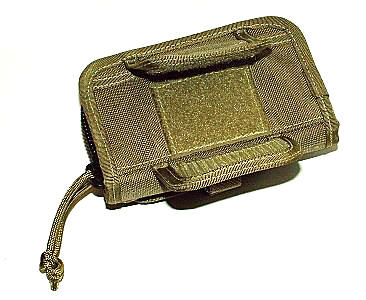 Notice that there is a 3" loop of nylon cord attached to the zipper for the
wallet's middle section. This loop makes it easy to quickly open the wallet, but
it also gives the user a handy way to carry the wallet – by looping through a
finger.
Here is the Rat Wallet shown
attached to my Maxpedition
Fatboy Versapack strap. The ability to position the wallet on the exterior
of my bag makes it possible to access its contents easily, or remove it quickly
when I don't want to carry all of my gear.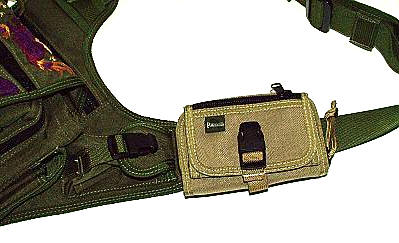 Really, the only complaint I had against the Rat Wallet was that extra strip
of Velcro. Now that I have removed it, I am able to enjoy the convenience of
having an all-in-one wallet to use when I want to run quick errands or travel as
lightly as possible.
 
Product Information
Price:
21.99
Manufacturer:
Maxpedition
Pros:

Ability to combine PDA / phone case with wallet
Extremely well made of quality materials
All-in-one conveneience when traveling light

Cons:

Extra strip of velcro in phone / PDA pouch is unneccessary (but it is easily removed)