We use affiliate links. If you buy something through the links on this page, we may earn a commission at no cost to you. Learn more.
If you're an extreme type of person, then you need an extreme type of case to protect your toys while you're out doing extreme things. There's nothing worse than getting dirt or sweat on your mp3 player while you're out doing motor cross in the mud. Not that I've ever taken my Apple iPod shuffle mp3 player with me while riding a motor cross bike. Ok, I really don't have a motor cross bike. But if I did have one, I wouldn't take my iPod shuffle with me unless it was housed securely in an OtterBox case.


This case is the only play-through, rugged, waterproof (up to 3ft / 1m) case available for the shuffle at the time of this writing. The case is made of thick clear plastic that will protect your shuffle in the event of a drop. A rubber seal along the edges of the case keeps your player dry and free from dirt.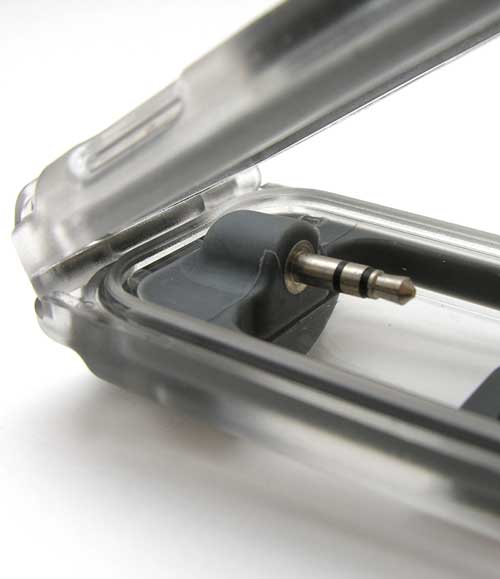 The case has a clamshell design, with a hinge at the top and a latch at the bottom. The cover opens to about 45 degrees. To insert the shuffle, you just slide it onto the earphone jack that protrudes from the top of the case. Once you close the cover and snap the latch shut, the shuttle will be protected from falls, water, dirt, sand, etc.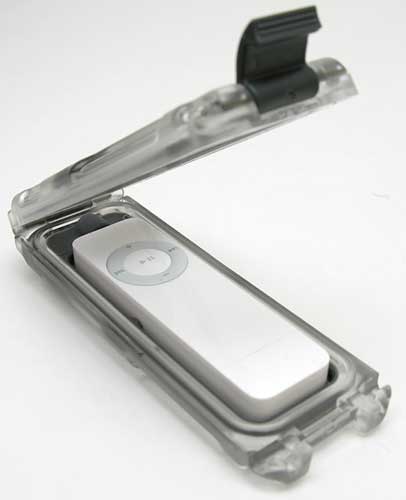 A standard sized 1/8″ headphone jack extends out of the case so that you can either plug in your Apple earbuds, or any other set of earphones.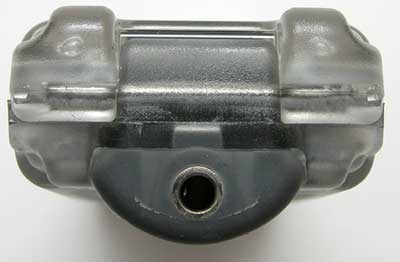 While in the case, you can control the player with the rubber button on the front. The controls match up with the actual shuffle controls for Play/Pause, Next/Prev, Volume Up and Down. Pressing this rubber button takes a little bit of force, but not too much. You can feel the tactile feedback from the shuffle when pressing the buttons. On the back of the case there is a rubber button that when pressed shows the battery status. Unfortunately there isn't a way to turn the shuffle on or off while it is in the case. You have to open it to perform this action. Phooey.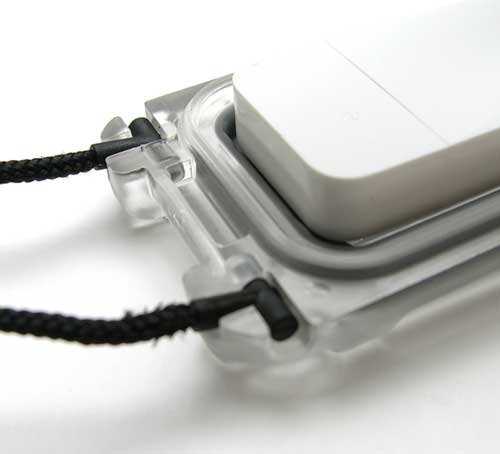 This case comes with a removable lanyard that you can attach for wearing the case around your neck.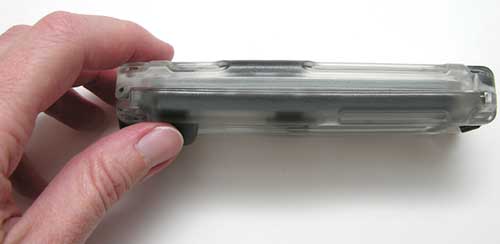 This isn't a welterweight case. It actually weighs 3 times as much as the shuffle. But you do get a lot of added protection from this added bulk. As a test, I put my shuffle in this case, latched it, and put it in a bucket of water for 30mins. I put a plate on top of it so it wouldn't just float on top. After the time was up, I dried off the case, opened it, took out the shuffle, turned it on and listened to some tunes. :o)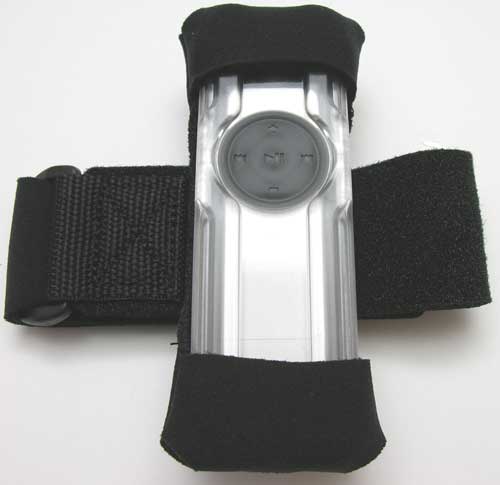 But wait, there's more… For an extra $14.95, you get this neoprene arm band holster that allows you to wear this case on your arm. This is great for working out at the gym or swimming.
I'm not really an extreme person and don't do many extreme activities, but if you are extreme and you have an iPod shuffle, this case is something you should definitely consider.
Product Information
Price:
29.95
Manufacturer:
OtterBox
Pros:

Protects against water, dirt, dust
Can use with any earphones
Play-through

Cons:

Have to open to toggle power
Bulky