We use affiliate links. If you buy something through the links on this page, we may earn a commission at no cost to you. Learn more.
When I was a kid, I could spend hours with my brother and his extensive
collection of Matchbox cars.
Mark had every cool racer from a 70s model Corvette to a tricked-out GTO. He had
military jeeps, fire trucks and police cars, the gas station play set and a case
that opened into a car garage, but no racetrack. That was not a problem for us
however, as we were quite content to create virtual towns and all-terrain tracks
on the ground, through which we would then drive the four-wheeled miniatures. We
had a saying that "the cars are the people and the people are the cars" which we
would chant before beginning a play session. This simply meant that our cars
could talk and interact with one another, just as if they were "people". Hey, I
was eight and he was five – it made perfect sense to us at the time. Years
passed and we both eventually became too "cool" to crawl in the dirt and play
our game, but my love for shiny cars has never waned.
I hadn't thought about "playing cars" with my brother for years, but after
plugging in and using the
Optical Car Mouse
from USB Geek, the memories came
rushing back. Once again, I was pushing a shiny car across a surface, but this
time I was accomplishing something other than wearing out the knees of my jeans.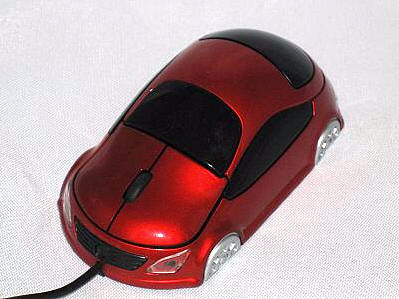 How cute is this?!
The USB Optical Car Mouse measures approximately 4.5" long by 2.5" wide by
1.5" tall, weighs 2.2 ounces and it is available in metallic red or blue
plastic. I was sent the metallic red version, which is best described as a
"cop-magnet red" coupe with illegally tinted windows. The mouse is plug and
play, therefore no additional software is required for out of the box operation.
The left and right click buttons have been cleverly worked into the hood of
the car, as has a scroll wheel. The USB cord spouts from the front grille, and
the roof and rear hatch make a comfortable palm rest. The overall effect is a
clever blending of a generic sporty vehicle with a traditional mouse.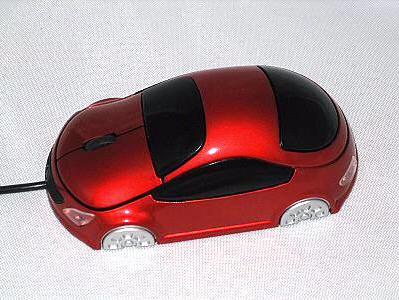 The molded non-spinning plastic wheels have been chopped so
that the car will smoothly glide across any surface
This is a tethered mouse, and its cable measures approximately 54" from the
tip of the car to the end of the USB plug. The Optical Car Mouse is compatible
with Windows 98/98SE/ME/2000/XP/SERVER 2003 and Mac OS X. A PS/2 adapter
is also included for those that need one. According to the USB Geek site, the
mouse uses 800dpi resolution, and I found it to be
accurate when doing photo editing; it didn't seem to try to "jitter" as my
cordless mouse sometimes will.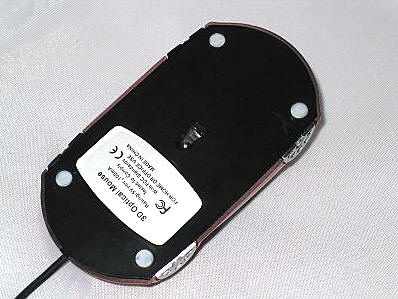 As cute as it is, there is something else that makes the Optical Car Mouse a
clever rendition of a compact sports car – the blue headlights that appear when
the mouse is plugged in. During the day, this is noticeable, but not
distracting.
Never miss one of our posts again. Sent MON, WED, and FRI with the latest gadget reviews and news!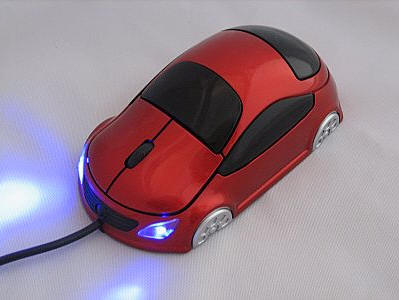 When used at night, the glow is really noticeable, as are the faint red
taillights on the rear which appear when the mouse is jiggled.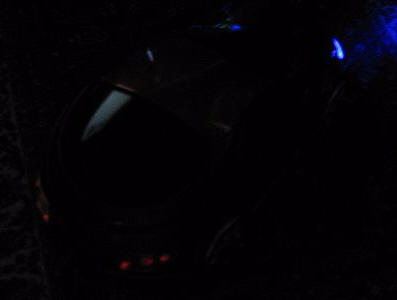 Perhaps best of all is the fact that the mouse is compatible with certain
other USB mouse control software. I am not even sure why, but I have the
Viewsonic ViewMate Desktop software installed on my computer. Clicking the
middle scroll wheel on the Optical Car Mouse brings up the Desktop screen with
its convenient button controls.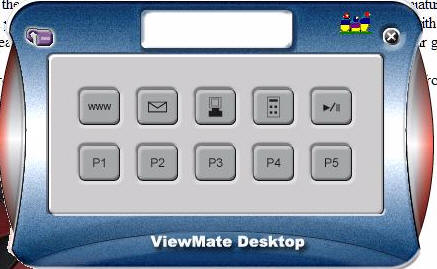 Perhaps the only complaints I might have are that the mouse is tethered and
it does feel so light. However, these quibbles are only valid because I have
been using a large Logitech wireless mouse for some time, one that is not only
larger but is also substantially heavier. Perhaps I should be thankful that the
Optical Car Mouse is tethered however, as it has come in quite handy those times
when I had to cradle my wireless mouse after forgetting to charge it the night
before…sometimes low-tech can be a very convenient thing!
The USB Geek Optical Car Mouse is an easy way to add a bit of whimsy to any
desktop. For such a simple mouse, it really does have quite a few bells and
whistles – the least of which being its ability to remind the user of a simpler
time, when playing with Matchbox Cars was all in a day's work.
Product Information
Price:
15.0
Manufacturer:
USB Geek
Pros:

Whimsical vehicular design
USB or PS/2 connector

Cons: