We use affiliate links. If you buy something through the links on this page, we may earn a commission at no cost to you. Learn more.
We sure do like our digital audio players here at The Gadgeteer. While I'm an iPod lover, Judie has yet to experience THE BEST player on the market. Sometimes I wish I'd never purchased an iPod because I'm forever disappointed when reviewing new players. Even Apple's own spin-off has failed to give me gadget hot flashes. Earlier this Spring, I purchased the 1gb Apple iPod shuffle, which I liked for its size and player features, but disliked for its lack of an LCD display. Call me wacky, but I want to see the name of the song as it's playing… For this fact, that little flash player has pretty much remained unused on my desk since the review.
When I first saw the mobiBlu DAH-1500 being advertised on various gadget sites, I was really excited about it. Not only was it even smaller than the shuffle, it also had my much coveted LCD display! Then shortly after, Brando contacted me to let me know he was selling this same player under the JNC brand name on his digital gadgets page.
To date, the SSF-8100 is the smallest MP3 player that I've had the opportunity to review. It is a 1 inch cube that is available in 256, 512 and 1GB versions. Depending on the capacity, it is also available in different colors. I was sent the 1GB Blue version.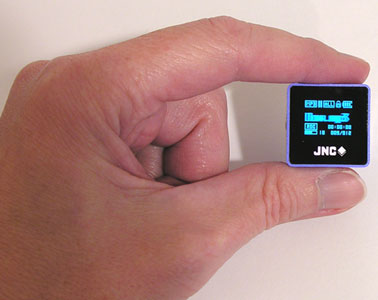 Hardware Specs
Memory: 256, 512MB or 1GB versions
File formats supported: MP3, WMA
Supports Display Multi Language
Built-in FM Radio and FM Radio Recording
Bit rate: MP3 8-320Kbps, WMA: 32-192Kbps
Display: OLED Backlight (Blue)
Built in Li-ion Rechargeable Battery
USB 1.1
Dimension: 25W x 25H x 25D mm
Weight: 18g
Package Contents
Stereo necklace earphones
USB cable
Rubber cover
User's manual
Windows 98 software
This player is so yummy that you just want to eat it. Ok, maybe not. But really, it's just begs to be flashed around. Almost everyone that has seen it has had two words to say about it: No Way! They can't believe that this 1 inch cube can hold 1 GB of music.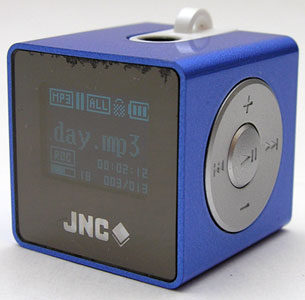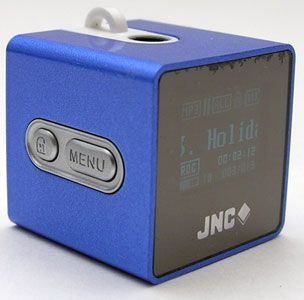 Like the shuffle, this player is simple in design. One face has the display. A gorgeous easy to read bright blue OLED display. The pictures just can't reflect how cool the text looks as it scrolls across its surface. The information shown on the display includes the song title or filename depending if you have the ID3 option turned on, battery status, track number, song count down time, and volume level.
On the left side of the player are the Hold and Menu buttons. Press the Hold button once and the display will switch to a clock with hours, minutes, seconds, year, date, and day of the week. This time display will stay on the display for about 15 seconds before reverting back to the main playback display.
The Menu button will allow you to navigate through the various settings for music playback (equalizer, play mode, audio boost), display settings (backlight on time, contrast, language, ID3 tags, scroll speed), and other misc. settings (OS version, memory status, set time, auto power off and sleep mode).
On the right side of the player is the main navigation button. It is a circular button with a smaller button in the center. The side ring can be pressed up and down to adjust volume, and right and left to move forwards and backwards through tracks. The middle button doubles as the play/pause button and power button. To power the device on and off, you just press and hold the button for several seconds. Pressing and holding the Hold button for several seconds will put the player in Hold mode, where button presses will be ignored.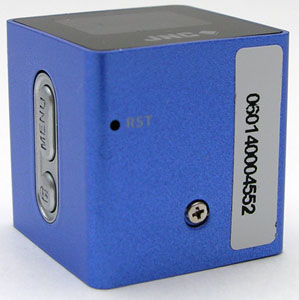 On the bottom of the player is a reset hole. So far I've not had the need to reset the player. The top of the player has a standard sized stereo earphone jack and a small lanyard loop.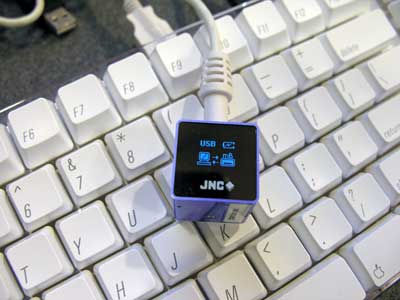 Like most battery powered devices, the first thing you must do before using them, is to recharge their battery. This device is no different. So, when I first removed it from the box, I began looking for an AC adapter. When I didn't find one, I then looked on the player itself and noticed that the only connector it had was the earphone jack. This made me scratch my head and say hmmmmmmm. Then I noticed the USB cable with an earphone jack on one end. Too cool, the earphone jack is used for two functions… Plug one end into the player and the other end into a free USB port on your PC or Mac and you're able to charge and transfer files. Of course, while the player is transferring / charging, you can't listen to tunes…
Transferring and charging is completely plug and play with a PC or a Mac. No additional software is necessary. As soon as you plug in the player, it will show up as a removable drive. Just drag and drop your music files and folders like you would to a regular hard drive. Since this player isn't USB 2.0, transferring music and other files will take a little longer than you may be accustomed to. I personally don't find this to be that big of a deal considering this is only a 1 GB player. By the way, you can copy any types of files to this player, so you can use it for portable storage as well as a portable music player.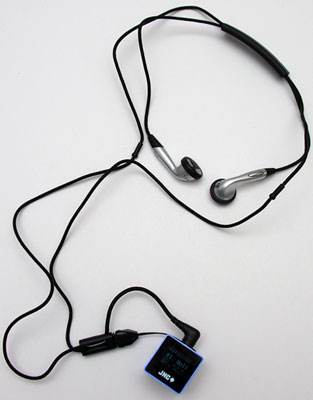 Once you have some music copied to the device, you can plug in the included set of earphones and start enjoying your tunes. The included earphones are kind of weird. They can be attached to the lanyard loop on the player, so that you can wear it like a necklace. Sound quality is very good. Comfort is so so.
For those of you that like to fiddle with sound settings, you'll be happy to know that there is a 5 preset equalizer mode that you can set to Rock, Classic, POP, Jazz and Normal. There is also an audio boost setting that amplifies the sound somewhat. Max volume is plenty loud enough though and goes from 1 to 30. I would typically listen with the volume set to 12 or 13.
Unlike the shuffle, this player will allow you to navigate to a favorite song by a method other than pressing the Next track button repeatedly. By pressing and holding the Menu button, the player will go into file mode. Then you can scroll through a listing of all the music on the device till you come to the one song you want to play. Hey, I didn't say it was easy, but you can do it. The most interesting feature of the shuffle was how iTunes would fill it with new / different music every time you would plug it into your computer. No, this player won't do that… but you can 'shuffle' your music by setting it to play the songs randomly. If you don't like random play for all your music, you can set it to just randomize the songs for a particular folder / album instead.
Another feature that this player has going for it, is the built in FM radio with a frequency range of 87.5MHz – 108.0MHz. The Prev and Next track buttons are used to tune in a channel, or scan for a station. The radio isn't the best, but it will pick up strong local stations. Up to 20 station presets can be saved into memory too. You can also record from the radio by holding and pressing the Menu button while listening to a station. The recording will then start and will stop when you press and hold the Menu button for a 2nd time. These recordings will be saved as .MP3 files in a folder called FM.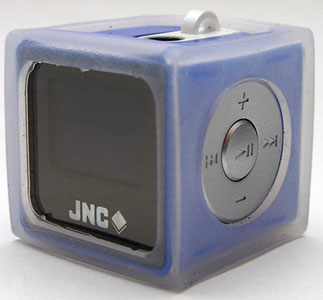 Included rubber cover
I'd have to say that this is one of the more interesting players that I've reviewed in awhile. It draws attention whenever someone sees it. It has an excellent display, plug and play capability and great sound. Battery life is rated at 15 hrs which is close to what I found during the review period when I had the display turned off and volume set to around 10. Some might think that being so small, that it would be hard to actually use the buttons on this device. I didn't really find that to be the case at all.
If you want a digital audio player that is both tiny and flashy, this one will not disappoint. Depending on where you find it, the price for the 1GB version is the same an equal capacity shuffle. I'd much rather have this little player than the shuffle. Sorry Apple!
Price: $242 from Brando. Also available from Walmart.
Pros:
Teeny tiny!
OLED display
Built in radio
Cons:
No playlists
Can't play music while player is charging
Product Information
Price:
242.0
Manufacturer:
Brando
Pros:

Teeny tiny!
OLED display
Built in radio

Cons:

No playlists
Can't play music while player is charging