We use affiliate links. If you buy something through the links on this page, we may earn a commission at no cost to you. Learn more.
Adding extra file storage capacity to a desktop or laptop computer used to be a task that involved a screw driver and a blood sacrifice to the computer gods. That is definitely not the case these days, as the external hard drive market is booming. Instead of digging into the inner bowels of your computer to replace the actual hard drive with a newer / larger one, you can just plug in a stand alone hard drive for added file space. You can't get much simpler than that folks.
External drives are available in various physical sizes and capacities. There are 5 GB pocket sized drives and large desktop only 300+ GB sized drives. The Seagate Technology Portable External Hard Drive that I'm going to talk about in this review falls somewhere in between big and small, so it adapts well to stationary desktop usage and on the road usage.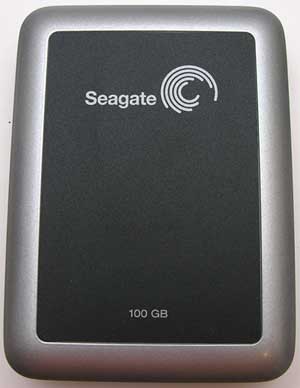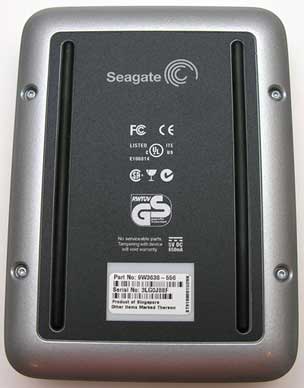 Available in 40, and 100 GB capacities (120 GB will be available later this year), I was sent the 100 GB version, which comes packaged in a vacuum sealed static protected bag. Also included with the drive is a CD with Microsoft Windows compatible utilities and backup software, a quick start guide and a USB cable.
Hardware Specs
5400 RPM 2.5 inch drive
Up to 480 Mbps supported
2MB cache (40 GB), 8MB cache (100 GB)
5,000 Gs non-operating shock resistance
23 acoustic decibels

My first impression of the drive was that it would compliment an Apple Powerbook or Power Mac G5 desktop due to its design. The shell that houses the drive is made of thick grey aluminum with a stylish chrome grill around the sides. There are no buttons, switches or visible LCDs to detract from the simple yet contemporary styling.

On the back edge of the device you will notice a round connector to the left of the USB connector. This is for an optional AC adapter. Problem is that the documentation does not tell you what the specs are for the adapter, should you want one.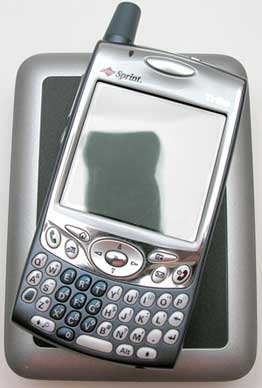 As far as size goes, the drive is not big and not small. It's just right for leaving on your desktop, or throwing in a gear bag for your on the road storage needs.
This is a true Plug and Play device if ever there was one. It doesn't even have a power button! It comes with a Y shaped USB cable that plugs into the drive and then into your PC or Mac. This cable allows you to completely power the drive from your computer. Depending on the computer, you may need to connect both USB connectors in order for the drive to power up. On my iMac, I only needed to plug one cable in to power the drive. But on my PC I had to use both cables.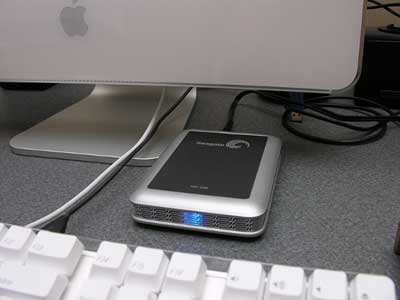 You will easily know when the drive is powered up and ready for use as a blue LED will glow through the front grill. I like this light as it matches the LEDs on my Direcway satellite receiver.
The drive is already formatted (FAT32) and ready to go as soon as you plug it in with 93.1 GB available. At this point, you can reformat using NTFS if you so desire, or you can just start dragging and dropping files. This is a USB 2.0 drive, and as such is pretty fast when it comes to disk i/o. I conducted a few informal tests, just to give you an idea of the speed.
165 MB file copied from PC to drive took ~11 seconds.
165 MB file copied from drive to PC took ~12 seconds.
165 MB file copied from iMac to drive took ~21 seconds.
165 MB file copied from drive to iMac took ~11 seconds.
368 MB folder of files and folders of more files copied from PC to drive took ~30 seconds.
368 MB folder of files and folders of more files copied from drive to the PC took ~32 seconds.
368 MB folder of files and folders of more files copied from iMac to drive took ~51 seconds.
368 MB folder of files and folders of more files copied from drive to the iMac took ~28 seconds.
You'll notice that iMac is much slower at copying files to the drive than the PC is. This has to do with the difference in the file systems. FAT32 isn't native to the Mac, so it's not quite as fast as it is on a PC. That brings me to a strange passage in the user guide that warns against sharing the drive between a Windows PC and a Mac. It says that if you absolutely must share the drive, that you should format it on the Mac first and then buy a 3rd party app for the PC that allows you to read Mac drives. Weird… Not sure why they are all freaked out about using the drive on both systems. I have done this with other external drives, and I have done it with this one. It works fine… If someone has more info on why this might be a problem, feel free to share in the comment area of the review. Of course, if you buy this drive only planning to use it with a Mac, the best thing to do is to reformat it to use a native file system. The drive will work better and faster for Spotlight and other Apple features that use the file system.
The CD that ships with this drive has a few tools (all Windows based) that you can use with this drive and actually other drives too. One program is called DiscWizard which can be used with any Seagate drive, not just this one. It will help you format the drive, add partitions, perform self-tests, etc. The main application included on the CD is CMS Products BounceBack Express.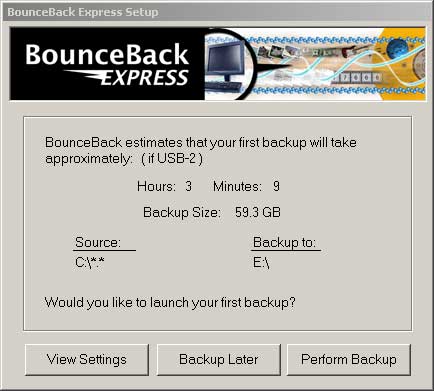 This is a simple automated backup program that you can schedule to run once, daily, or monthly.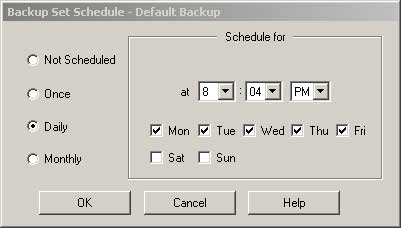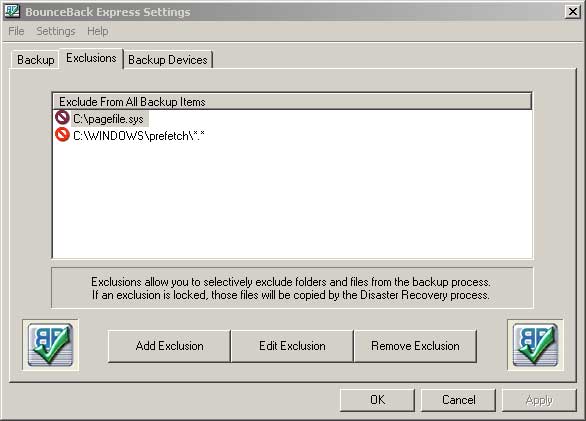 You can exclude specific files and folders from being backed up as well as creating backup sets of specific files and folders. Although this is a simple program, it does work fine for simple backups. However, you will need the professional version of BounceBack in order to things like synchronizing files, password protecting and encrypting. Judie actually covered this software in more depth in her review of Seagate's 400 GB USB / Firewire Hard Drive.
Even though the included back up software leaves a little to be desired, the drive itself is a very nice one. I like the look of it, the size of it, the fact that it is quiet, and that it is fast at transferring files. Really, what more could you want out of an external portable drive?
Price: $259
Pros:
Sturdy
Plug and play
Doesn't require an AC adapter
Cons:
Included BounceBack Express backup software is missing some power features
Software not included for password protection or encryption
Product Information
Price:
259.0
Manufacturer:
Seagate Technology
Pros:

Sturdy
Plug and play
Doesn't require an AC adapter

Cons:

Included BounceBack Express backup software is missing some power features
Software not included for password protection or encryption