We use affiliate links. If you buy something through the links on this page, we may earn a commission at no cost to you. Learn more.
Whether I am at the ranch or working from home, in warmer weather you can
just about always find me wearing a t-shirt with a favorite pair of jeans. While
I generally prefer to buy the more fitted women's style t-shirts, there are more
than a few men's Ts in my collection. I don't necessarily consider myself to be
a t-shirt connoisseur by any means, but there are definitely certain things
which I can be very picky about when I am deciding what shirt will be worn and
which will stay folded in my dresser drawer. If I had to pin down just three
attributes that make one T better than another, I would have to choose these:
the shirt's material, the way it fits and what's on it.
When I was approached about reviewing the new SeV T-Shirt,
I was more than just a little bit skeptical. We all know that SCOTTeVEST
is famous for creating jackets that are capable of carrying tons of gear in
their almost myriad pockets, but a t-shirt? The first image that came to mind
was that of a weighed down mess with a distorted neckline. Hmmm…not a pretty
picture, no matter how geeky of a girl I am.
The SeV T-Shirt is available in ash gray for men's sizes medium to XXL; I was
sent the medium. Since the shirt is composed of 100% cotton, it will likely
shrink a little bit when laundered the first time, so when choosing a size it is
important not to go too small.
As I pulled the shirt from its wrapper, I was pleased to notice that the T's
material was of a nice heavy weight. The fabric is soft, and will most
likely get even softer every time the shirt is washed and dried.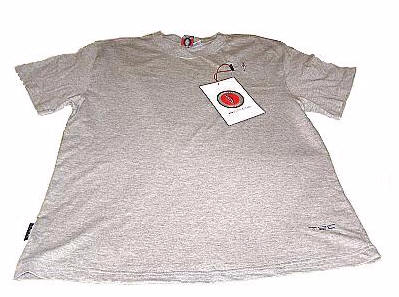 Laid out like the above picture, one would never know that this T not only
has a nicely integrated pocket, but it also has its own version of SCOTTeVEST's
trademark
Personal Area Network (PAN).
We'll talk more about this feature, later.
The back of the T also features a neatly embroidered 1.25" x 0.5" SeV logo in
its center…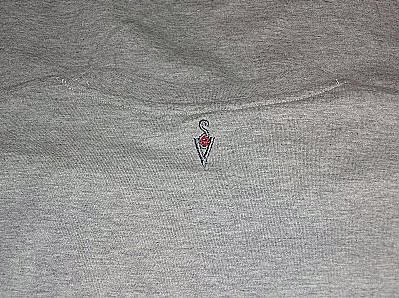 …and the bottom left front corner has a monochromatic "TEC" (Technology
Enabled Clothing) logo embroidered which will not show when the shirt is tucked
in.
Never miss one of our posts again. Sent MON, WED, and FRI with the latest gadget reviews and news!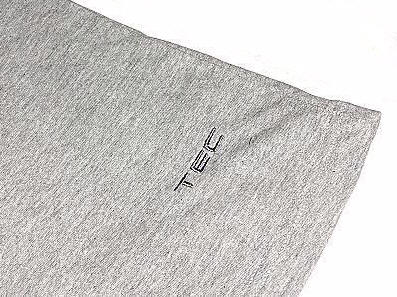 The only branding which I felt was a bit redundant was the black tag on the
right side which once again says "TEC Technology Enabled Clothing". If you wear
your shirt tucked in, this tag does not show.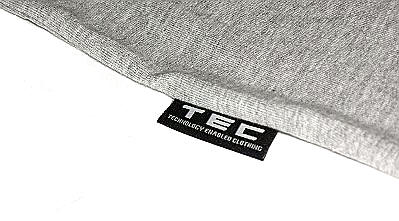 The medium size shirt measures 24 inches long from neck to hem, so unless you
have a very long torso, the T will tuck and stay in place.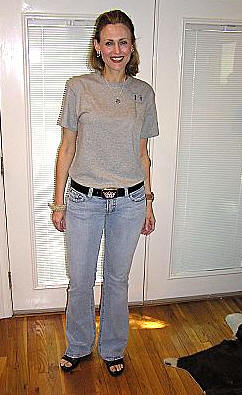 Now, let's get to the part of the review which talks about why this T is
being featured in The Gadgeteer!
Located on the left breast is a 5" long vertical zipper which when opened
reveals a pocket measuring approximately 8.5" long x 5" wide. Directly to the
left of the pocket is a neatly embroidered 1.25" x 0.5" SeV logo.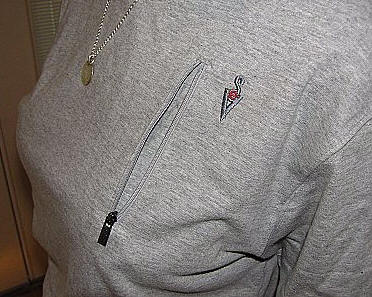 What you can't see in this picture is that in the center top of this pocket
is a reinforced PAN opening which allows the headset wire for a mobile phone or
digital music player to be run directly from the neck opening into the pocket
where the device is held. This pocket is also sized so that it can hold ID and
credit cards, cash, keys, really any item that needs to be carried that the
owner doesn't want to hold in hand. Yes, it can even hold a pack of cigarettes.
This T-shirt was obviously created first and foremost with men in mind. I say
that not because it is only available in men's sizes, but because it employs the
traditional boxy cut of just about every man's t-shirt. Of course, this feature
is needed in a shirt such as this. The boxiness of this style, coupled with the
weight of the material and the placement of the pocket are the only reason that
it is possible to carry items weighing several ounces in the pocket without
looking like a packrat – try doing that with a form fitting woman's style.
Because of pocket placement and because of the fact that I have a little more
to my chest area than most men, I was a little bit worried that when I had items
in the T's pocket I might not like the way the shirt fell. I needn't have
worried.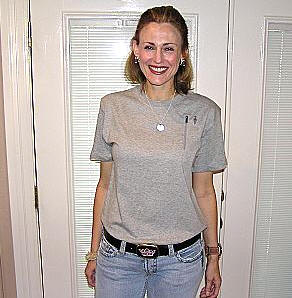 In this picture I have my Sony HD NW-1 zipped into the pocket. You can see a
slight line on the left side of my chest, but it doesn't look weird or feel too
lop-sided. I bet you can't spot the wire going from the neckline to my ear!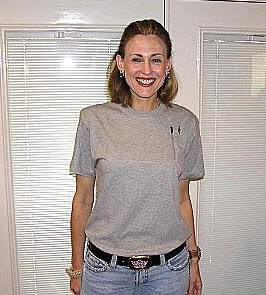 In this picture, I am only carrying a couple of ID cards and some cash. You can
once again see the slight angle from the card's flat surface, but it was nothing
that made me feel self-conscious or funky.
The only time I didn't like putting something in the pocket was when I tried
to carry my Samsung i550. Sure, there was plenty of room for it, but this phone
weighs 5.3 ounces and it is slightly thicker than 1". It made me look like I had
a third appendage…not pretty. On a man, while it might be a little bit bulgy
(like carrying something in a typical T-shirt pocket), it at least wouldn't look
like an unnatural additional growth. The good news is that even that weight did
not cause the neckline to uncontrollably sag.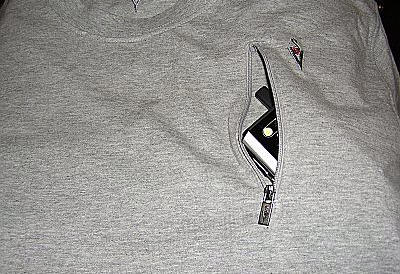 Overall, I am very pleased with the SeV T-Shirt because it is an extremely
well made item that serves more of a purpose than just "clothing". On days when
I am traveling light and don't want to carry my bag or even my wallet, I can
stow a few cards and bills in the pocket and go. If I want to listen to music, I
do not have to carry my digital player in my hand or a pant's pocket, instead I
can place it in the T's pocket. At the introductory price, this shirt is even
less expensive than a similar weight and style (sans the PAN and pocket, of
course) from one of my favorite online catalogues. Considering this T's hidden
talent, I think that it is a steal.
Price: $19.99
Pros:
Good heavy weight T that has a quality look and feel
Carries a smaller portable electronics item in the pocket without a saggy
neckline
The bulge from the item is nicely camouflaged – unless the item is too bulky
Women will not feel weird wearing it, but it is designed with men in mind
PAN opening in the top of the pocket allows wires to be run in a near invisible
manner
Cons:
Really odd shaped items or truly bulky items should still be carried somewhere
else
The black TEC tag is redundant
Product Information
Price:
19.99
Manufacturer:
SCOTTeVEST
Pros:

Good heavy weight T that has a quality look and feel
Carries a smaller portable electronics item in the pocket without a saggy neckline
The bulge from the item is nicely camouflaged - unless the item is too bulky
Women will not feel weird wearing it, but it is designed with men in mind
PAN opening in the top of the pocket allows wires to be run in a near invisible manner

Cons:

Really odd shaped items or truly bulky items should still be carried somewhere else
The black TEC tag is redundant