We use affiliate links. If you buy something through the links on this page, we may earn a commission at no cost to you. Learn more.
Product Requirements:
Device:
PalmOne Treo 650
I have been happily using the

USB Retractable SyncCharger Cable from Brando's Workshop
with my
PalmOne Treo 650 for several weeks now.
I haven't had a reason to switch to another syncing and charging solution until
Seidio contacted me to let me know
about their cable.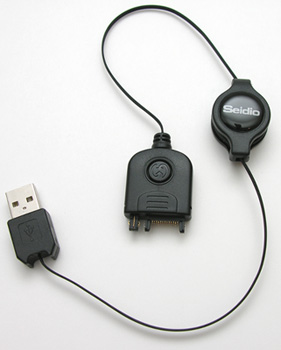 Their cable looks very similar to Brando's cable. It has the same overall
shape and length when retracted and extended. The cable extends to 29in (74cm) and retracts back down to 4.5in (11cm).
Extending and retracting is accomplished by pulling both ends of the cable at
the same time. When you do so, you will hear a ratcheting sound as the cable
stops at various lengths. As long as you remember to pull both ends at the same
time, you won't need to worry about the cable getting jammed around the holding
spool.
The only difference between the Brando cable and the Seidio cable is the
addition of a Hotsync button. This is a big deal in my opinion. With the button,
you no longer need to navigate to the Hotsync application on the PDA. You just
press the button and syncing begins.
The only thing I can think of to complain about with this accessory is that
it is easy to accidentally press the sync button when you are inserting or
detaching the cable from the Hotsync port. That said, I really like this cable
and am using full time on my desktop at home. I haven't ditched the Brando cable
though, I still keep it in my gear bag for my day job.
Price: $15.95
Pros:
Syncs and charges without needing a AC adapter
Cable retracts
Cons:
None
Product Information
Price:
15.95
Manufacturer:
Seidio
Pros:

Syncs and charges without needing a AC adapter
Cable retracts

Cons: