We use affiliate links. If you buy something through the links on this page, we may earn a commission at no cost to you. Learn more.
Product Requirements:
Device:


Fossil Wrist PDA
After Julie and I returned from
CES, I
was very excited about getting my hands on a Fossil
Palm Powered

Wrist PDA. One of the first things I realized upon its receipt was that if
ever there was a solid case for screen protection, this huge watch with the
exposed screen was it. Not only was there a danger from inadvertently scratching
its screen with a stylus, there was also the issue of a fragile PDA screen that
had no possibility of protection from a case…ever.
I happened to have a spare iPAQ 4700 protector in my spare drawer, so I did a
bit of trimming and came up with a decent temporary solution. But I knew that I
was going to want something a bit more correctly sized in the long run, so I
wrote to Abe at BoxWave and asked if they
would be interested in producing a protector for this new device. He had me take
a bunch of measurements and several scans of the watch's face next to a ruler,
and about a month later I opened a package to find the following…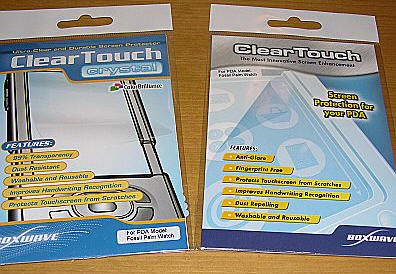 …pretty cool!
Not only had BoxWave created the

ClearTouch Crystal that I had asked for, they had also made a

ClearTouch Anti-Glare version.
Inside each package is a screen protector, a lint-free cloth and a stiff
paper squeegee.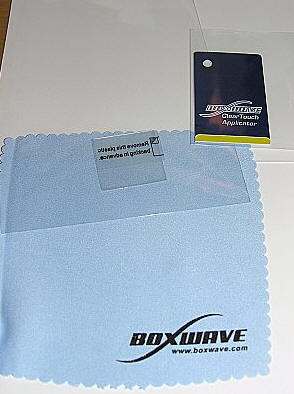 Just like their larger sized counter-parts which I have previously reviewed,
each version of the Wrist PDA protector uses a silicone based adhesive that will
not leave any residue on the watch's screen. They are removable, cleanable, and
will last for months on end.
Here is a shot of the ClearTouch Anti-Glare version…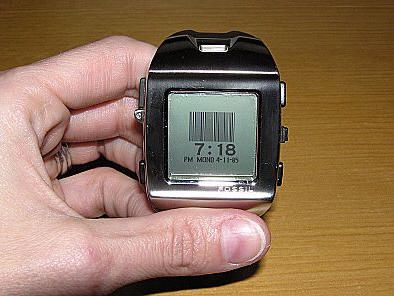 …as well as the ClearTouch Crystal.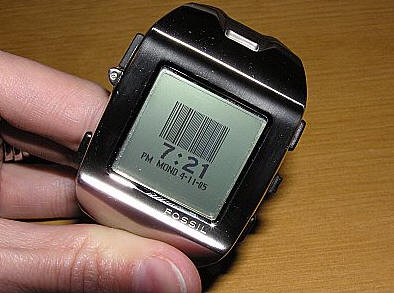 It's hard to see it in the pictures, but in person – just as their names
imply, there are some differences.
For starters, the Anti-Glare model does not show fingerprints as easily and
it has a slight haze that cuts down on reflective glare. The Crystal version is
completely clear, and I personally like it better. Since this PDA doesn't have a
color screen and it is a bit dim compared to what most of us are used to these
days, I feel that the Crystal version is the better choice.
If you have a Fossil Wrist PDA, don't take a chance on getting a scratch
across your screen; protect it! Even if you are not using the stylus to enter
information, odds are that you will scratch the screen somehow. It would be
better to be safe than to be sorry.
Price: $8.95 for one or $19.33 for three
Pros:
Protects screen
Either anti-glare or crystal clear protection is available
Removable, cleanable
Long lasting
Inexpensive insurance against screen damage
Cons:
None
Product Information
Price:
8.95
Pros:

Protects screen
Either anti-glare or crystal clear protection is available
Removable, cleanable
Long lasting
Inexpensive insurance against screen damage

Cons: