We use affiliate links. If you buy something through the links on this page, we may earn a commission at no cost to you. Learn more.
Product Requirements:
Up to 90 DVDs and their covers
I really love to watch movies, and in my town there are two theaters.
One has not been remodeled or upgraded since 1988 or thereabouts. I stopped
going to that theater after I was rained on one wet afternoon. To add
insult to injury, I was
sitting on one of their hard seats whose cushioning had long ago been compacted by
the force of one too many buffet-butts.
Our other theater is a more modern stadium seating Cineplex. While the
Cineplex is definitely cleaner and more comfortable, there always seems to be
something wrong with their sound. Either the bass will cut out in the middle
of the movie, or it will be on half-power throughout. Going to the Cineplex is
usually an exercise in frustration, because the sound will be fabulous though
the advertisements, but then the bass will inexplicably cut back to half-power
by the time the movie starts. Sometimes there will be a mysterious crackling to
punctuate the missing rumble. It certainly is never the DTS experience
that their advertisements promises.
I am usually not the type to get up and complain to the management, but I
have thankfully watched as others would get up in the middle of a movie (after a
few rounds of muttering to their neighbors) to go and say something…only to
watch them come back to more of the same.
Every now and then we'll go to the movies and the sound will be decent, but
it is like hitting the lottery. Sometimes while we are vacation we will go to a
theater in that locale, and the fact that our theaters are so lame will
once again be driven home.
I have one more thing to add to my theater rant…the parking lot situation.
Did you know that in San Angelo, Texas it seems to be de rigueur for
every person with a driver's license to drive a big truck or a honkin' huge SUV?
This makes for a door ding situation any time you pull your vehicle into a
parking spot, because  these drivers never seem to be able to park evenly
within two straight lines.
Never mind the fact that after going through two rounds of grand jury duty, I
have since learned the disturbing fact that theater parking lots are a favorite
hangout for our local meth-addicts. They like to break into cars, so that they
can steal items containing information about the vehicle's owner. Yikes.
For the amount of money (and aggravation) that it costs for the three people
in my family to go see a movie in one of our local theaters, we can almost
buy two DVDs to watch at home on our 60" Philips rear projection TV.
We have a Panasonic Dolby Digital and DTS surround sound system, so if the
volume is ever not high enough or if the bass is ever not rumbly enough, we can
make a few simple adjustments on a remote control. As we enjoy the movie in a
comfortable setting where we can stop or replay scenes as needed, our car is
safely parked under our lighted carport. It's a win-win situation, so we are now
in the habit of making note of interesting new movie titles as they come out, so
we can buy their DVDs a few months later upon release.
As a result, we have a lot of DVDs.
This cabinet in our bedroom is just one of the many places throughout our
house in which we store these DVDs. I am showing you this picture, because there
are 100 DVDs currently residing inside that 5′ 6" tall x 16" wide x 10" deep
piece of furniture…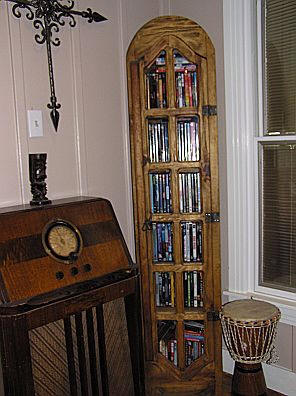 …which is exactly ten more DVDs than can be held in the new
Slappa
90/90
HardBody DVD Case.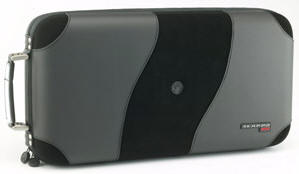 Photo courtesy of the Slappa site
Granted, the Slappa case isn't a cool piece of  pine furniture that we
picked up on a trip to the Mexican border town of Ciudad Acuña,
but it also takes up a whole lot less room and wasn't near as expensive. It is
also portable, which is not anything I would ever say about our wooden
DVD cupboard, even when empty.
As with other
Slappa cases I have reviewed, the 90/90 features
a black on black exterior made of molded DURO-SHOCK (a rubbery plastic),
bisected with a dash of black  Z-suede through the middle and on its
corners. Everything about this case screams quality materials and craftsmanship.
This is even further evidenced once the interior is examined.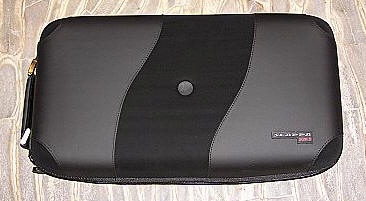 The 90/90 is thus called because it can hold 90 DVDs and 90
covers. While the Slappa is definitely portable, it is also quite large – as it
would have to be to accommodate so many disks. It measures approximately 19"
long x 11" wide x 5" deep, and it weighs 3 pounds 15 ounces empty. The
only drawback that I can see to this case is that it is a beast and will
be quite heavy when full. However, that's a small price to pay
There is a substantial handle on the spine of the case, which has a
transparent plastic sleeve to hold one of the two included index labels. The
heavy gauge zipper is opened or closed with two easy to grab molded rubber
pull-tabs.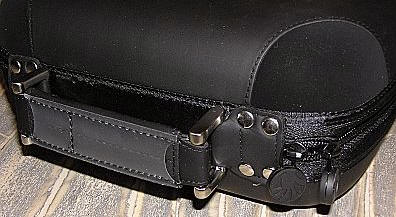 The case feels substantial, and the hard covers are padded to add protection
to the contents. The interior is lined in fuzzy velvet, and there are fifteen
pages of three-sectioned D2 pockets on both the front and back sides. There is
sufficient space inside the case to accommodate the pages once they have all
been filled with DVDs.

The left side of the interior features a mesh pocket with a light elastic top
border, in which small, flat loose items can be kept.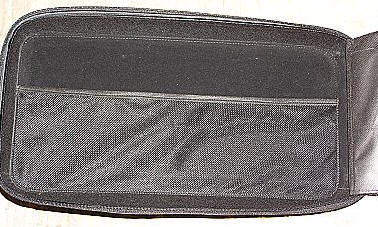 I have talked about how much I approve of Slappa's
d2 pockets in the past, and I
will do so once again. These pockets are composed of soft, non-scratchy material
that touches both sides of the DVD as it enters. There is a clear plastic window
in front of the DVD pocket in which to store the movie's booklet or cover. All
sections of the pocket are sewn, not glued. You will never insert
a DVD into a d2 pocket, only to discover its middle material scrunching down
with the DVD. You will never have to worry about the silk-screened art on
the front of your DVD sticking to a plastic pocket cover, because none will ever
touch it. I can not praise the the d2 pockets enough! They have raised the bar
and set the standard for others to follow, as far as I am concerned.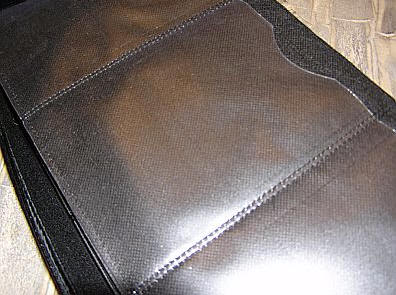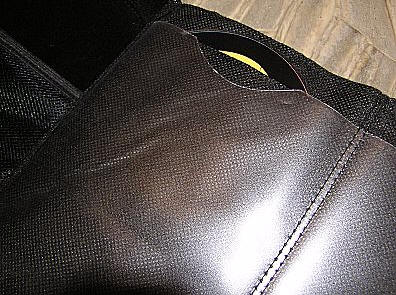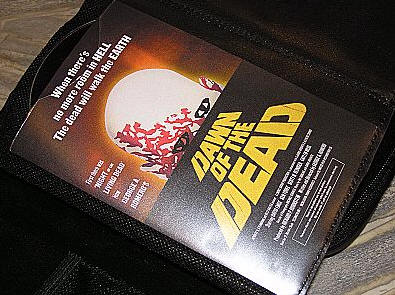 Included in this case, is the standard Slappa lagniappe – a thick 6" x 2.75"
dust free cleaning cloth as well as two index labels for placement in the case's
handle.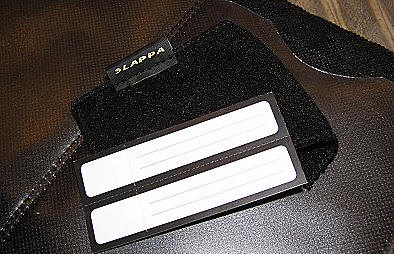 This case isn't just for DVDs though. You serious gamers out there have
probably already realized that it could just as easily carry and store your

PlayStation 2 or

X-Box games in safety and style.
You know, there are those that
would rather keep their DVDs in the original boxes, and I can't say that I blame
them. But not everyone has the available storage space to do so, and for them, I
firmly believe that the
Slappa DVD
case line is the best storage option available. If you have acquired
a very large DVD collection that is threatening to take over all of your shelf
space, and you want to store that collection into the best case possible,
then I highly recommend the Slappa 90/90 HardBody.
The Slappa 90/90 HardBody DVD
Case is available
here,
as well as from other retailers.
Price: $49.99
Pros:
Inexpensive
Quality construction and materials
D2 pockets are sewn, not glued
Soft cloth touches both sides of the DVD
This case holds 90 DVDs
Excellent quality materials, design and implementation
Ability to carry DVD with their covers
Included cleaning cloth
Can also be used to carry CD based games – like

PlayStation 2 or

X-Box
Cons:
The case is a beast and quite heavy when full
Product Information
Price:
49.99
Manufacturer:
SLAPPA
Pros:

Inexpensive
Quality construction and materials
D2 pockets are sewn, not glued
Soft cloth touches both sides of the DVD
This case holds 90 DVDs
Excellent quality materials, design and implementation
Ability to carry DVD with their covers
Included cleaning cloth
Can also be used to carry CD based games - like
PlayStation 2 or
X-Box

Cons:

The case is a beast and quite heavy when full