We use affiliate links. If you buy something through the links on this page, we may earn a commission at no cost to you. Learn more.
Product Requirements:
Device:
All current iPod Models
Most people probably recognize the object in the picture below. If you don't,
you really need to get out into the gadget world a bit more ;o)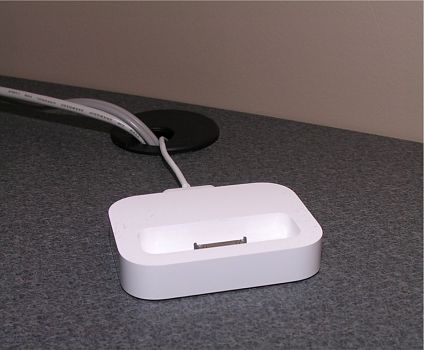 Yes, it's an iPod dock. Simple and functional, but let's just admit it shall
we? It's b-o-r-i-n-g.
What if your iPod dock could look like the one below? Pretty nifty huh? The
folks at Westshore Craftworks have
designed a new product called the iDockCover. No, it won't make your iPod sync
or charge any better or faster. All it will do is make it look a heckuvalot
better.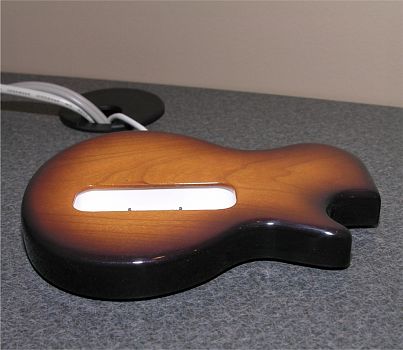 The iDockCovers are not just some cheesy snap on covers for your dock, these
are hardwood, hand polished works of art. Available in all sorts of exotic
woods, these things are really eye catching. You can choose from such woods as
good old Oak, Walnut, and Maple. Or more exotic woods like Teak and Zebrawood.
They even have some faux stone iDockCovers available.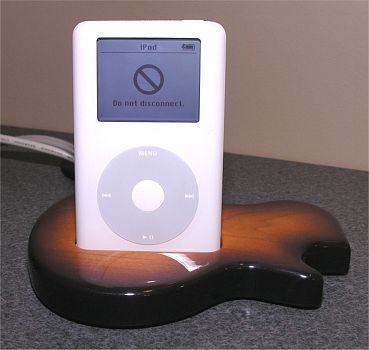 As for the shapes of the covers, they are available in oval, and 2 guitar
shapes.
Regardless as to which one you might choose for your iPod dock, the
iDockCovers really dress up your desktop and the  dock.
The covers are basically just a hollow shell that snaps over the Dock.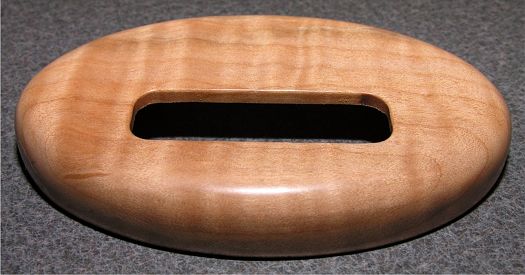 I was sent the Natural Flame Maple and a Tobacco Burst Guitar cover. Both
were super smooth and free of splinters or imperfections.
A felt dot stuck to either side of the cavity helps to keep the cover snapped
securely over the dock.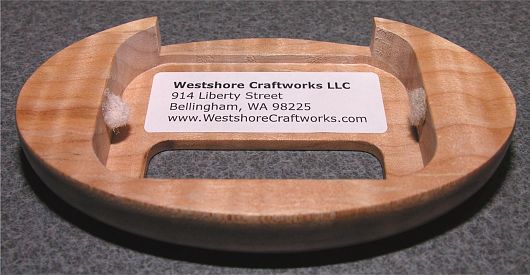 Once in place, it looks like the iPod dock was always meant to be encased in
wood.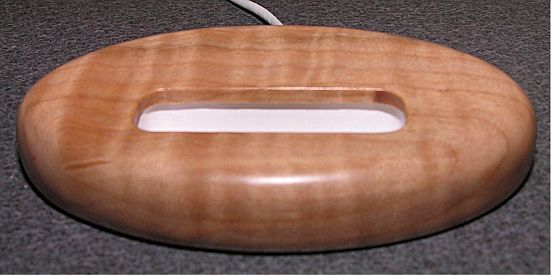 As you can see below, there is plenty of room for the cable to connect to the
dock, and for the line out jack.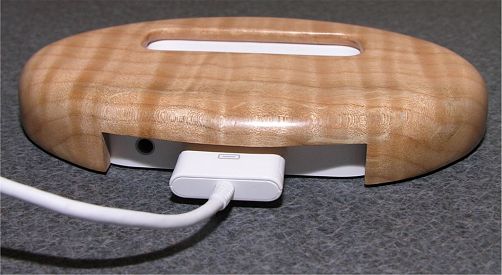 Check out the Tobacco Burst in the guitar shape.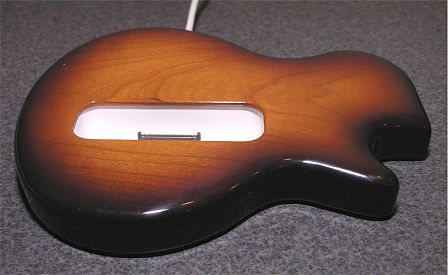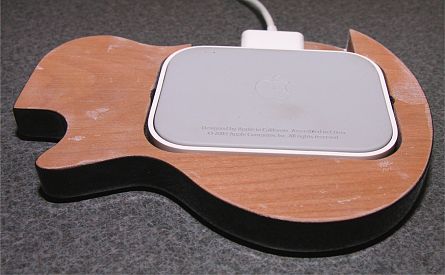 As long as you fully insert the dock into the cavity in the cover, the cutout
for the iPod will match up just fine. The iPod can then be easily inserted and
removed from the dock as usual.
Some of you might think that the iDockCover is a waste of good money. It's
not like it actually does anything… To those people I would have
to say "Don't be such a stick in the mud!". Seriously, I have a real love of
wood products. They help warm up an otherwise drab area. If you want to make
your desk a little more cozy, the iDockCover might be just the way to do it.
 
Price: $14.95 – $49.95
Pros:
Gorgeous hardwood cover
Easy to use
Cons:
Expensive for a product that is only for show
Product Information
Price:
14.95
Manufacturer:
Westshore Craftworks LLC
Pros:

Gorgeous hardwood cover
Easy to use

Cons:

Expensive for a product that is only for show