We use affiliate links. If you buy something through the links on this page, we may earn a commission at no cost to you. Learn more.
Product Requirements:
Device:
Windows PC 98, 2000, ME, XP or later
Like almost all products on the market, the consumer has a variety of brand
choices that tend to map directly to price choices. For example, if you're in
the market for a pair of jeans, you can buy a no name pair at Wal-Mart for $20,
or go to a shop in the mall and buy a pair of Lucky Brand jeans for around $90. Besides
the brand name though, is there really that big of a difference between the two
pairs not counting the $70? What about car models? You can spend $20,000 for a
brand new Subaru, or $45,000 for a new Corvette. Both will get you from point A
to point B, so is there really a difference in the two besides price?
Many of you will answer yes to the questions above saying that there is a big
difference between product brands. There are quality differences and perceived
status differences. So, what do you think about the differences between the Dell
Axim X50v Pocket PC and the HP hx4700 iPAQ
Pocket PC? Both employ the same fast processor, both run Windows Mobile 2003
SE, and both have dual card slots, both have WiFi and Bluetooth. But for all these similarities, the iPAQ
costs $150 more than the Dell. Is the iPAQ truly that much better? Hopefully
this review will answer that question as I will be taking a close look at the Axim
X50v Pocket PC.
Hardware Specs
Processor: Intel® PXA270 Processor 624 MHz
Operating System: Microsoft® Windows Mobile™ 2003 Second Edition software for
Pocket PC (with Windows Media Player version 10 Mobile)
Memory: 128 MB Strata Flash ROM and 64 MB SDRAM
Display: 3.7" Transflective 16bit VGA TFT color display
Graphics: Intel 2700G multimedia
accelerator with 16MB video memory
Interface: USB 2.0, Infrared, Bluetooth 1.2, WiFi (WLAN 802.11b)
Dimensions and Weight: 4.7 x 2.9 x .7 in (119 x 73 x 16.9mm), 6.2oz (175g)
Battery: 1100 mAh Lithium-Ion rechargeable battery (user replaceable)
Expansion: SD card slot (3.3v), supports MMC and SDIO Now cards, CF Type II card
slot (3.3v)
Package Contents
Dell X50v Axim Pocket PC
AC adapter
Charger adapter to plug AC adapter directly into PDA
USB Desktop Synchronization Cradle
Nylon slip case
Stylus
Companion CD including Microsoft Outlook and Microsoft ActiveSync 3.7.1
Quick Start Guide
Quick Start poster
It seems like a lot of people really don't like Dell home computers. I'm not
sure why though, as I've had good luck with both a desktop and a notebook through the years. I
used the heck out of the desktop and then sold it to a friend years ago who only
just this past year upgraded to another Dell desktop. The notebook that I have is about
5yrs old and is still going strong. So, when Dell started producing Pocket PCs,
I was more than a little interested in what they were going to offer with their Axim line. The problem is, once I saw the first slew of Axim's, I was under
whelmed to say the least. The first generation was big and ugly, while the 2nd
generation was overall blah. Then they announced the 3rd generation and I was
hoping they finally would have a model that I'd like to take a look at. One look
at the X50 series though and I thought eck. I didn't care for the
silver / black body styling at all. So I thought I'd skip reviewing yet another
model…
A few months ago, Judie and I reviewed the HP hx4700 iPAQ
Pocket PC and both promptly made them our PDA of choice (or as Judie calls hers: her daily driver, and as I call mine: my main brain). I had moved from
the HP 2215 iPAQ, and Judie from the
Tapwave Zodiac. The upgrade for me has
been with mixed emotions. While I absolutely love the hx4700's display, I
equally loathe the touch navigation pad. So, when the opportunity to review the
Dell X50v actually presented itself, I was happy to take a look even though I
was pretty sure I would not be all that impressed.
Never miss one of our posts again. Sent MON, WED, and FRI with the latest gadget reviews and news!
The day it arrived, I opened the box and was quite surprised that the unit
was so small. Size-wise, it is pretty similar to the HP 2215. The black and
silver case styling that I had first seen in pictures on the web had caused me
to turn up my nose in dislike. But in the flesh, I found the PDA to be quite a
bit more appealing.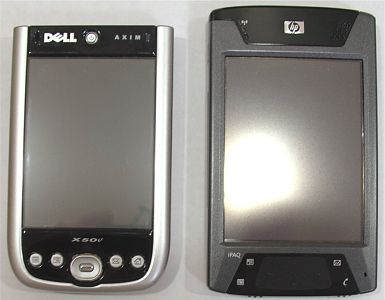 In hand the X50v is very comfortable. Unlike the hx4700, this device has a more
hand friendly shape. The unit is not as wide and the sides are more rounded to
fit in the palm of your hand. The rounded sides on the back half of the case
have a slightly rubberized feel to them to help you keep a secure grip during
handling. As far as the Gadgeteer creak / squeeze test is concerned, the X50v
passed, but not with flying colors. The sides have a very very tiny amount of
flexing to them if you really give the PDA a squeeze and the battery cover on
the back side of the PPC creaks a bit. Yes, I'm being extremely picky, but
that's just the way I am!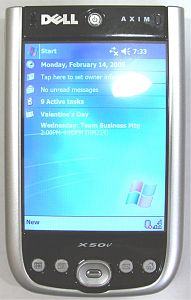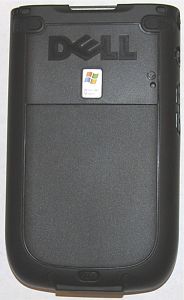 As you look at the face of the device, you first notice the silver U shaped
edging. While this might look like metal in the online pictures, it is just
silver colored plastic. The microphone, power button and status LED are located
at the top of the face. The small power switch is easy to press with the tip of
your finger. A cool feature of this button is that it doubles as both a battery
charging indicator and alarm indicator. It lights up in amber while the battery is charging in the
cradle, and turns green when charging is complete. It also blinks green when
an alarm sounds. The status LED next to it blinks blue when Bluetooth is enabled, green when
WiFi is enabled and alternates between blue and green when both are enabled.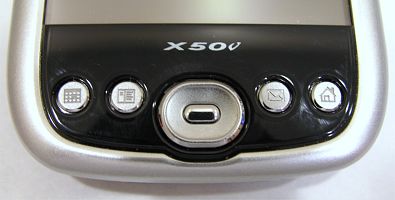 The application buttons and 5 way navigation pad are located at the bottom of
the face. By default, the small app buttons are mapped to Calendar, Contacts,
Inbox and Dell Home app launcher applications. The buttons are round, flat and do provide some
tactile feedback when pressed. The 5 way navigation pad is slightly oval shaped, with a
smaller button in the center. Although the button is small, it is easy to
manipulate due to the concave shape and raised ridge around the outside edge. Using
these buttons to play games may not be the greatest experience, but they are a
billion times better than the touch pad on the hx4700! Using the navigation button to
scroll through e-books is also much easier with the X50v, than it is with the
iPAQ.
The speaker for this PDA is located under the 5 way navigation button. Sound
quality from the speaker is decent. There should be no worries that alarms will
go unnoticed with this PDA as max volume is more than adequate even for use as
an alarm clock.
The 3.7in (diagonal) VGA display is very nice. Colors are bright and vivid,
while text is crisp and sharp. If I compare the display to my hx4700, it is of
course smaller, but not by that much. To my eyes, the display may
be just ever so slightly brighter than the iPAQ (both set to max brightness) and whites seem just a teeny
tiny bit more white. All that said, the differences aren't enough to really harp
about. I think anyone would be happy with the display on this Pocket PC. They
might be even happier if the special graphics accelerator chip (Intel
2700G) used in this model sees more games that take advantage of it. Right now
there are just a few games and apps that let this graphics chip shine. Two are
included on the companion CD: Fathammer's Stuntcar Extreme
and Enigmo. Both games look amazing!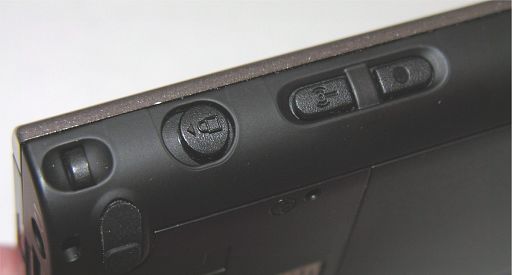 The left side of the X50v has a lanyard loop, hold switch, wireless toggle and
voice recorder button. I usually don't have problems with buttons located on the
sides of PDAs, but for some reason, I was constantly activating the wireless and voice
recorder button on this device when I would pick up the PDA from a table or
while extracting it from
the cradle. I ended up setting the action for these buttons to
<none>. Problem is that pressing the buttons while the PDA is off, still caused
it to power on.

The right side of the PDA is devoid of any buttons, while the bottom has the
serial connector. This connector is different than previous Dell Axim models, so
older cables and accessories will not be compatible.
The cradle that ships with the X50v is nicely weighted, but you will still
require both hands to remove it from the base. One cool feature is the ability
to charge a 2nd battery while the PDA is inserted.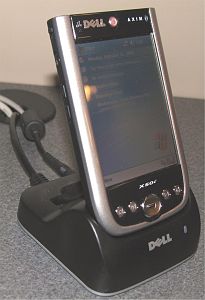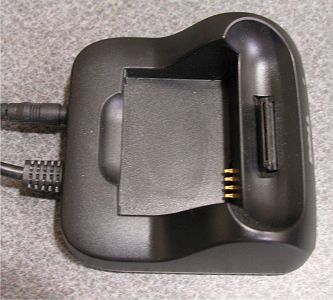 The dual card slots are located at the top of the X50v, along with the IR
port, earphone jack and stylus silo. Sound quality through earphones is great.
No complaints there at all.

Last but not least, the reset switch, battery compartment and battery door
lock are all located on the back side of the PDA. When it comes to battery life with
the X50v, the only word that comes to mind is short. Using the
stock 1100mAh battery
with this fast processor, VGA screen and special graphics accelerator chip
you tend to get around 3hrs usage per charge. Thankfully, there is an optional
battery available that doubles the capacity to 2200mAh. This larger capacity battery does
increase the thickness of the unit though. Below you will find a table detailing
typical usage / battery life from one charge of the 1100mAh battery.
Battery Level
Time Used
Activity
Screen Brightness Level /
Volume Level thru built-in speaker or headphones
100%
10:30am – 11:00am (30min)
Media Player Playing MP3s thru speaker
backlight auto off / 50%
91%
11:00am – 11:30am (30min)
Media Player Playing video thru speaker
screen on 100% / 50%
 
11:30am – 5:00pm (330min)
Powered off / out of cradle
n/a
65%
5:00pm – 5:30pm (30min)
Image Viewer slideshow pulling images from SD
card
100% / 50%
5:30pm – 7:30pm (120min)
Powered off / out of cradle
n/a
47%
7:30pm – 8:00pm (30min)
Wireless surfing
50% / 50%
8:00pm – 9:00pm (60min)
Powered off / out of cradle
n/a
28%
9:00pm – 9:24pm (24min)
A little of this and a little of that (games)
50% / 50%
14%
9:24pm
1st low battery warning
50% / 50%
14%
9:24pm – 9:59pm (35min)
Media Player Playing MP3s thru speaker
50% / 50%
10%
10:00pm
2nd low battery warning
50% / 50%
 
10:00pm
End of test
n/a
Total usage
time 2hrs 59mins / Total powered off time 8hrs 30mins
The X50v has both WiFi and Bluetooth built in. Surfing via WiFi was
effortless to setup, I just pressed the wireless toggle button on the left side
of the PDA twice and then selected my SSID from the list available and voila, I
was connected to my access point. I didn't have to add any IP addresses, proxy
addresses or anything. Simple and fast, just the way I like it!
Bluetooth was a little bit of a pain though… For some reason the PDA
decided to start popping up an error message every few seconds which told me
that the license for Bluetooth had expired. I was like whatchu talkin bout?!
Soft resets did not fix it. Luckily the latest OS patch from Dell did. I've yet
to see the error since upgrading.
As far as available memory, out of the box, the X50v has 61.75 mb of user
memory and 91.43mb of non volatile file store memory  available. I guess
I'm ok with that. More is always better though. I don't like that there is only
61mb of user memory. Having a the file store is nice, but I wish there were at
least 96mb of user memory.
System speed is snappy. Just as snappy as my hx4700 iPAQ. No
surprises there as they do use the same 624MHz processor. If you want to save a
little battery power, you can monkey with the speed settings. I don't know about
you though, but once I know I've set the processor to a slower setting, I start
thinking the PDA is running like a dog and turn around and set it right back up
to the max again. I'm not sure you really save all that much juice. Maybe
15-20mins per charge. Not enough to justify a little lag in my opinion.
In addition to the stock bundle of Windows Mobile apps (Pocket Word, IE,
Excel, etc.) included in ROM, the X50v does ship with a few extra goodies that other Pocket PCs don't
have. They include:
Home Launcher: Just a simple launcher that you can add categories and icons
to. Does anyone ever use these apps? I don't.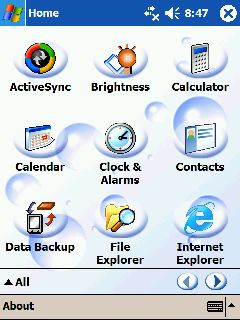 Dell WLAN Utility: Full featured WiFi connection manager that allows you to
see available networks, view packet transfers info, signal strength, etc. This
is a great set of tools!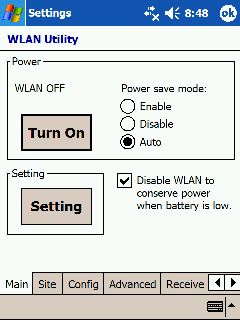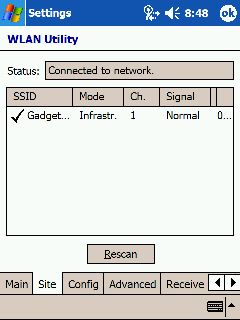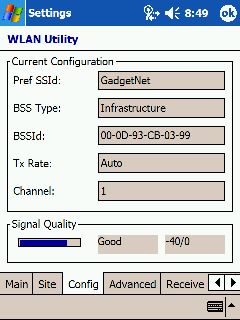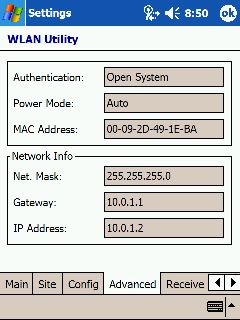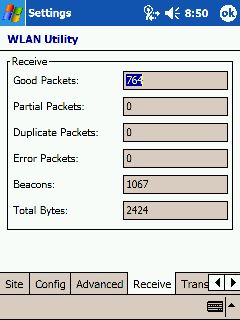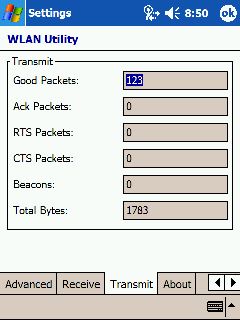 Data Backup: Simple backup utility that allows you to backup your PIM info to
a storage card. It's pretty lame compared to the version that comes with the
hx4700 that allows you to schedule automatic backups and backup programs as well
as your PIM info. My advice: get a 3rd party replacement for this one.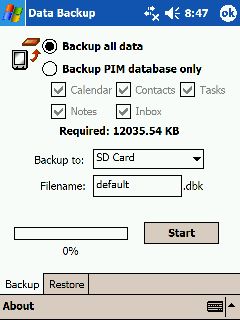 Windows Media Player 10: This new version has some neat features such as
having the ability to display album art, searching memory and media cards for
library content and playing videos
in full screen.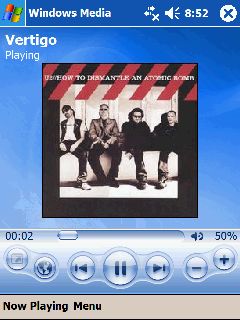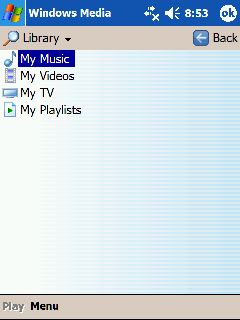 Switch Bar: Task switcher / closer app. Nothing too exciting here…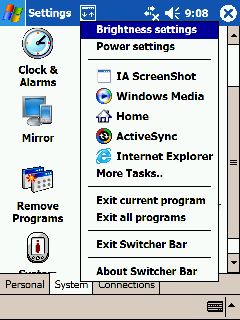 Processor speed tweaker: Again, nothing out of the ordinary.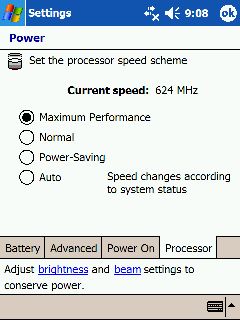 Additional software on companion CD:
Funk Odyssey VPN client:  Supports 64/128 bit WEP, WPA and CCX 1.0.
Resco
Picture Viewer:  Popular image viewer.
VGA 3D games that show off the special graphics chip: Enigmo by Aspyr and Fathammer's
Stuntcar Extreme.
Overall, I am surprised at how much I have ended up liking the Dell Axim X50v
Pocket PC. The hardware is nice and definitely comparable to the hx4700. The
Dell's style isn't quite as cool as the hx4700 though, you have to give props to
HP for the iPAQ's metal case. But that metal case is bigger and a tiny bit
heavier than the Dell's plastic case (only 1 oz though). The iPAQ has a little
bit bigger display, but to my eyes, they are not that different as far as
brightness and color saturation. I can deal with the Dell's .3 in smaller
display.
I could go on and on comparing the difference between my hx4700 and this
X50v. But when it all comes down to it, I'm not going to ditch the
hx4700, even though I like the 5 way navigation pad on the Dell so much better.
It's crazy, that the button would be the one thing that almost makes me want to
trade. I hate the touch pad on the iPAQ that much! But, the Dell's battery kills
it for me. It's just too anemic. Especially if you're mobile all the time.
All that said, the X50v is a great Pocket PC. It has pretty much all the
features anyone needs (except for long battery life) in a PDA for an ok price.
People in the market for a economical VGA PPC, really owe it to themselves to
consider Dell. If money isn't as tight (you can find some deals if you

search) and you aren't into action games that require a 5 way navigation
button, need a more rugged metal case, then the iPAQ might be a better bet for
you.
Price: $499
Pros:
3D Graphics accelerator chip
Comfortable in hand
WiFi & Bluetooth
Dual memory card slots
Cons:
Brief battery life
Different serial connector on this model means incompatibility with older cables
Buttons on left side are easily activated
Product Information
Price:
499.0
Manufacturer:
Dell
Pros:

3D Graphics accelerator chip
Comfortable in hand
WiFi & Bluetooth
Dual memory card slots

Cons:

Brief battery life
Different serial connector on this model means incompatibility with older cables
Buttons on left side are easily activated