We use affiliate links. If you buy something through the links on this page, we may earn a commission at no cost to you. Learn more.
Julie's comments are in Black, Judie's are
in Blue and italicized.
Read Part 1
here
and Part 3 here.
Thursday
We started the day with a rib sticking Luxor buffet breakfast. We had to gear
up for a full day of walking didn't we? Actually their buffet was pretty darn
good. Once we finished, we found the complementary shuttle bus pick up and were
lucky enough to walk out only 5 minutes or so before the bus arrived to take us
to the convention center.
Yes, we were very lucky because it was pretty chilly
outside! At least it wasn't raining, though…not today, anyway!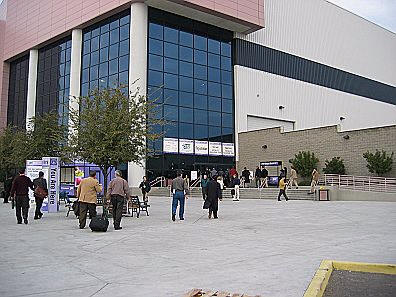 We got off the shuttle a bit too early, and found
that we were at the wrong South end of the humongous convention center. A brisk
walk got us to the correct entrance and up to the Press area.
Our first task was to check in to the press registration area to get our
credentials.
Right after getting our cards and neck pouches (the
ultimate non-cool accessory), we turned in our coupon for a free CES Press bag.
The picture below shows the stacks that they had waiting to be claimed.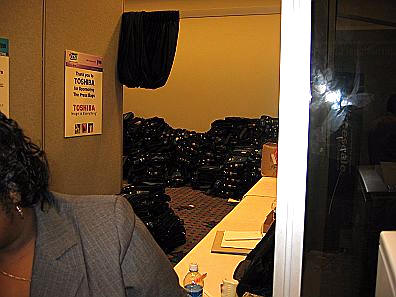 This process was relatively quick and painless and soon we were loaded down
with a very nice CES embroidered shoulder bag. Just the item we would need to
schlep around our swag and product materials.
For the last couple of years we have gotten
backpacks that could also roll, but this year we got a nice shoulder bag with
all sorts of pockets and a padded area for a laptop. After loading it down a bit
with brochures and things, we started to really miss the rolling bags of
previous years.
We had hoped to be able to check email before hitting the show floor, but a
quick look in the computer room showed that all the computers were occupied. So
we decided to grab a soda, sit down and go through our new bags.
They had come pre-loaded with brochures, pads of
paper, and other small items for our perusal. Shortly thereafter, we decided it was time to hit the showroom floor, so off we
went to punish our feet.
One of the first unusual things that we saw was a
poor guy having to walk around in a SanDisk SD Card costume. We decided to
pretend we were at Disney, and get our pictures taken with him.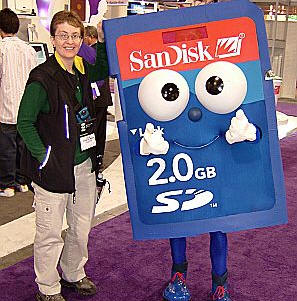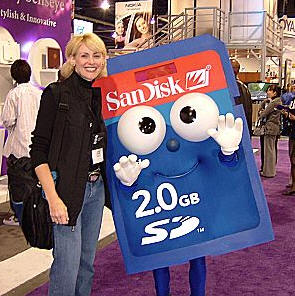 He should have been passing out free 2gb card samples! ;o)
The following picture is a public service
announcement: Men, when you're at a trade show and they have an air guitar
contest, you should not enter, because some other attendee may take a
picture of you being ridiculous and post it on their web site for all to see.
Seriously, what happens in Vegas does not always stay in Vegas! Ha! ;0)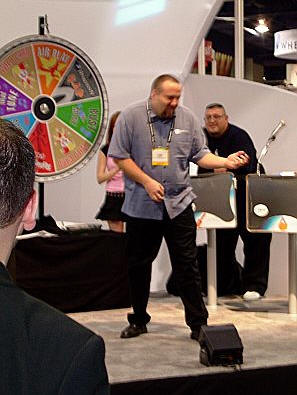 Oregon
Scientific always has neat weather gadgets, and this year was more of the
same. This indoor weather station includes a

portable weather radio. Just what you need when a tornado is coming and you
are hiding in the cellar!
I really like their products. A few years ago I bought 4 of their atomic
clock / wireless temperature monitors for Christmas presents. Everyone I gave
them to is still using them. 
Following the wet theme that I mentioned in part
one, we began to see the first of many water resistant products, like this
camera by…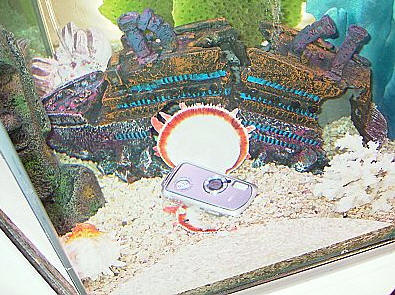 Ummmm Judie, it's the "Pentio" That's the Pentax OptioWP for all you
normal people… ;o)
These pictures are here to represent the plethora
of mini-flash drives Julie and I would encounter throughout the day. Seriously,
we saw so many that it was just mind-boggling. Some were straight-up data
receptacles, and some were also mini-MP3 players. It got to a point where Julie
and I had to wonder out loud how these type companies can stay in business, when
there is so much competition – some backed by big name companies. Most of the
ones that we saw were from companies that we had never heard of, and will likely
never hear of again.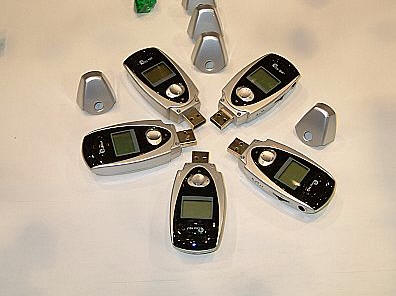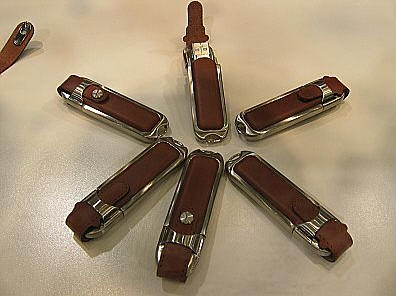 The ones above were wrapped in leather. I think we saw some with rhinestones
too. Crazy really!
We found the
Gizmondo, and though Julie played with it for a moment, it didn't do
anything for me. Why? Because I had already played with the
PSP that she had brought to Vegas
for me to see! <drool>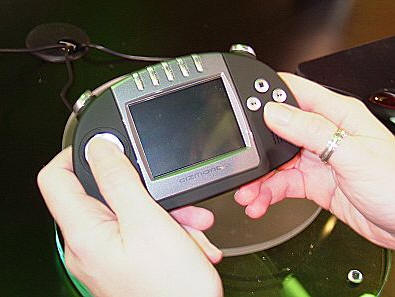 The Gizmondo feels pretty solid. Not sure how well it's going to do in the
same market as the Nintendo DS and Sony PSP though… I don't hold out much
hope.
Digital content media players were everywhere, like
this new PQI mPack. This player actually
looks pretty sweet – as evidenced by its
specs page.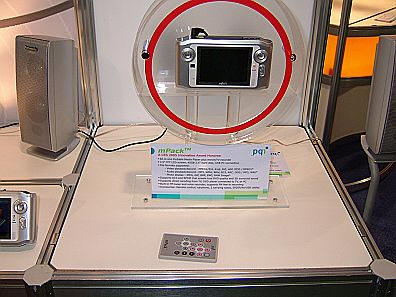 Benq had a huge
booth of various items. One of the more interesting things that they had one
display was this odd little mobile phone/MP3 player, the Z2.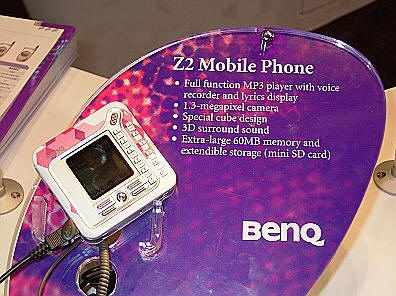 Could you picture yourself actually using this phone to talk to someone?
Uhhh, No.
For those of you that like to go snorkeling while
listening to music…cue the Jaws theme!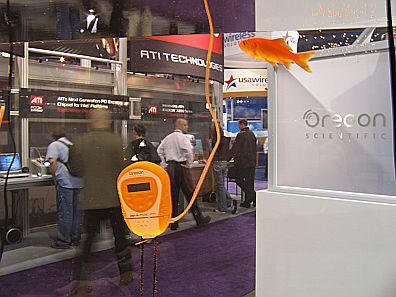 Julie busted me while I was registering to win a
flat screen TV. I have a feeling that by entering "online product reviewer" as
my occupation, I may have killed my chances of winning. I should have entered
"rancher." ;0)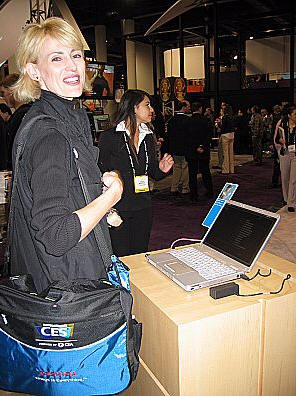 This was a pretty cool product that we stumbled
across – the LensPen. Julie and I have a
huge pet peeve with fingerprints and dust on our screens. This product comes in
various sizes to tackle jobs large or small, but the gist of it is that it uses
carbon blacking to remove finger grease and dust, making the screen once again
pristine – as when new. Sometimes it is the simplest products that really
impressed you, but both of us walked away from that booth glad that we had found
it! I want their largest size, the
VidiMax for my TV and
computer screens!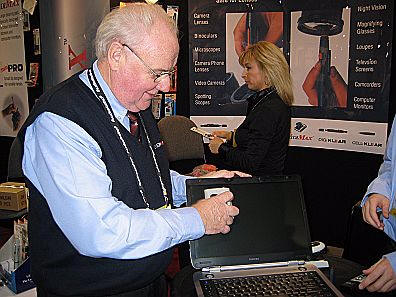 They also had versions specifically designed to clean camera lenses. I passed
them off to Bill to try out on his camera. It's always nice to come across a
product that is different or new.
How would you like to lay down while playing
videogames, on a mat with built in speakers and vibration effects (from
"rumbling bass). Well, you can with the
Pyramat! This mat is also aimed at people who just want to relax and listen
to music…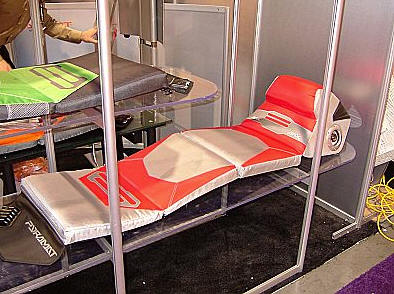 Somehow I don't think I'd be able to relax all that well with a thumping
speaker in the pillow.
I'll be reviewing a similar product soon, but
evidently there are a couple of companies that are putting out fashionable
MP3 watches.
These are from Aigo.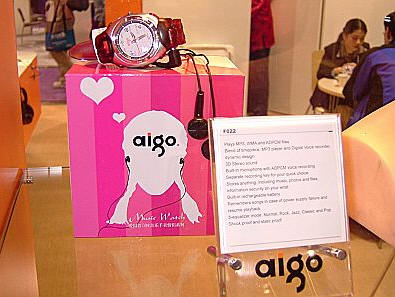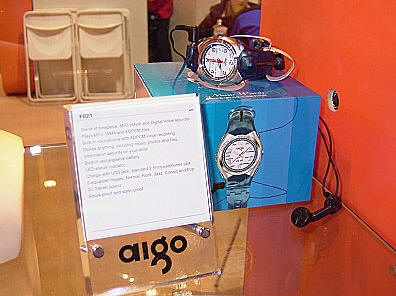 We stumbled into the large Xavix booth where they were displaying a small
docking station that connected to your TV. Different packages are available such
as bowling, golf, tennis and baseball.
I can hear you now, "Why do we need yet another
video game console?" Well, I admit that I was thinking that too. What makes
Xavix different is that you actually have to get involved in the game by moving
and actually being in the game. Most of the games are fitness / sports oriented
at this time, but I bet that some of you RPG players might see some future
possibilities after seeing these pictures.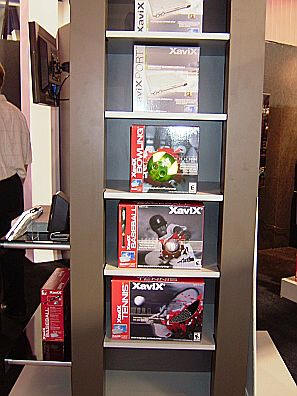 Games appear on the TV screen and you interact with them using the included wireless
tennis racket, golf club, bowling ball etc.
Okay, so you have to have a television in front of
you and then you have to actually "do" the sport. Here is a booth -lady
bowling…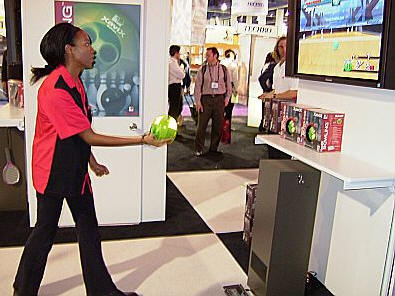 Now imagine if you were in front of a screen like
this and instead of boxing like this guy, you were swinging a wireless sword or
other weapon that got your character into the game in a way like never before. I
don't think that Xavix is planning on releasing any games like that, but it
would be cool…don't you think?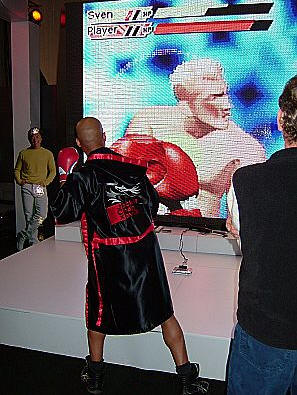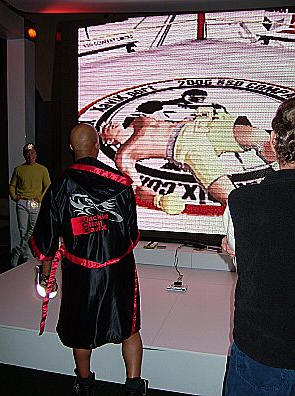 I was actually pretty impressed with the reaction time of the boxer vs. the
screen refresh. The game kept up with his moves pretty easily. I think your idea
of a RPG hack/slash game for this product is excellent!
Yah, you'd just need a really large and clear area
to play!
I can see this incarnation of the game selling
really well with executives that live for the golf course. This duffer doesn't
look too pleased with his swing results…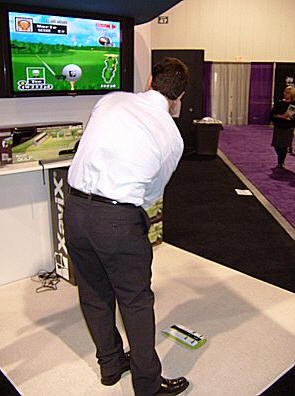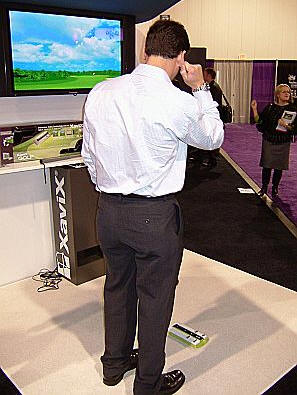 We kept noticing life-size cutouts of Jackie Chan and then learned that he
was going to be there to promote a fitness product.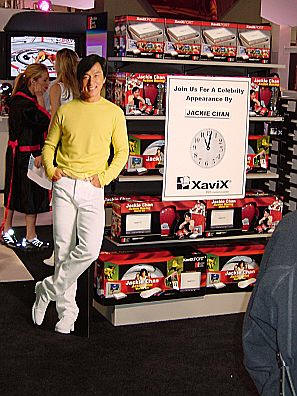 Of course we couldn't miss
seeing him in person, so we camped out at a nearby table and waited for the
press event. Soon we were smooshed into a small area with too many other people
as we listened to him describe the product and then demonstrate it for us. Wow,
that guy is in good shape!
With our mighty press badges, we were able to get
right up front.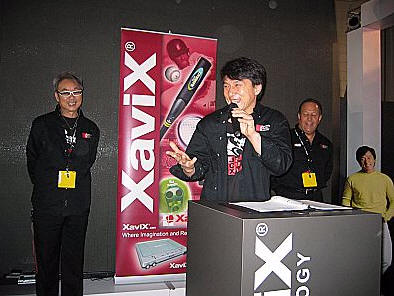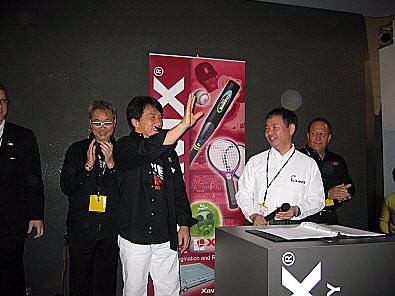 After his speech about his new Xavix fitness game,
Jackie went on to demonstrate how to use the footpad and follow along with his
onscreen character's moves.
The free press luncheon was next on our agenda. We lucked out and didn't have
to stand in line very long at all before we were filling our plates with chicken
and rice. Not too bad for free food.
Once we had finished, we got back on the floor and
began to wander through the booths again. I believe that it was in the Nikon
booth where we found this mock-up village. It was set up so that you could test
the zooming features on various cameras. I am sure that some of our professional
photographers (yes, I mean you, Bill) have probably seen something like
this before, but I thought it was pretty nifty.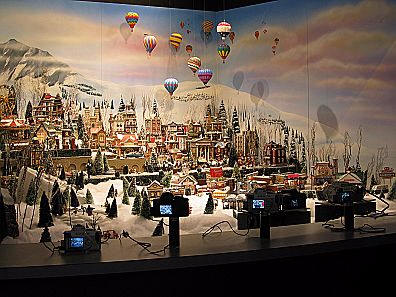 As mentioned before, Sirius and XM had large displays promoting their wares.
The new Xact Sirius caught both Judie's and my eye.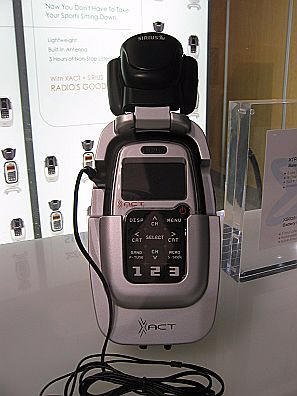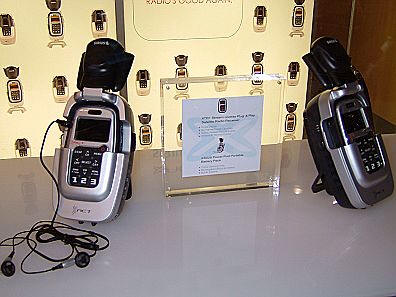 As if their cool new portable Sirius devices weren't
enough, Xact was also giving
away a couple of Sirius custom-fitted Vespas. Yes, I entered that give-away,
too!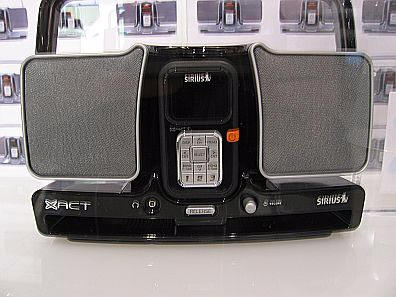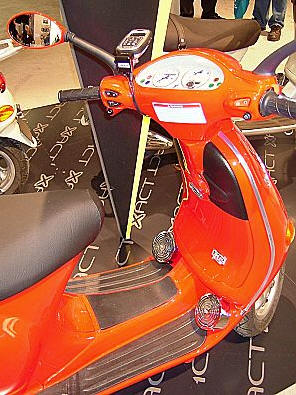 I'd really like to try one of the portable units. I'm wondering how well the
antenna really works though. Since they are still pretty large, I'm not sure if
I'll be packing one in my pocket anytime soon. That said, I've been enjoying my
XM radio more than my iPod lately <shudder>.
Ha! To think that you used to think I was crazy for
saying I didn't need a digital music player since I had satellite radio! Of
course, now you are telling me the same thing about Replay and Tivo. I guess I
will have to get one…one day! But I digress…
Actually, the whole Xact booth impressed me. A lot
of their items looked really unique and clever, like their

home phones and the tiny

telephone headset pictured on the right.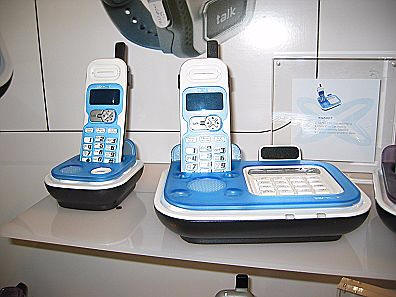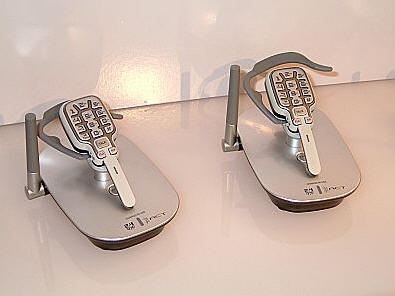 These Xact

WristLinx communicators looked pretty cool – too bad they aren't mobile
phones.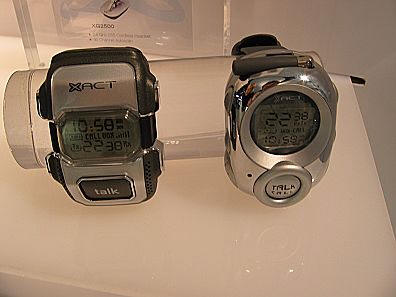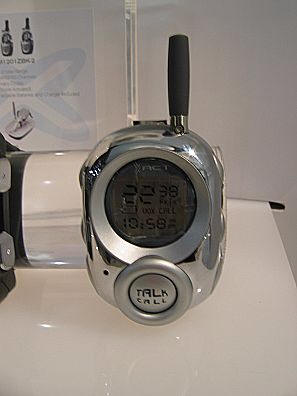 You still have a Dick Tracy watch fetish don't you?
I do! ;0)
Nearby, Sirius was doing a live broadcast of Maxim
Radio. Maybe you caught the show that day…two vapid models were talking about
how "down-to-earth" Carmen Elektra is, but totally dissing Lindsey Lohan as a
"trashy party girl." Oh, you missed that show? No big loss. :0P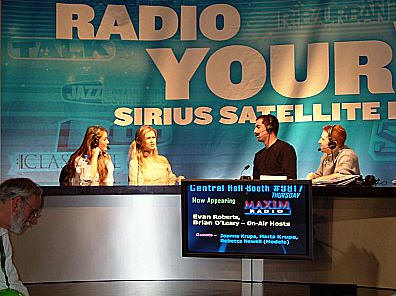 Memorex had a
couple of cute little orange shaped MP3 players on display. The "rind"
supposedly slides back to reveal the ports and / or card slots. I guess it is a
fun design, but I would not want one.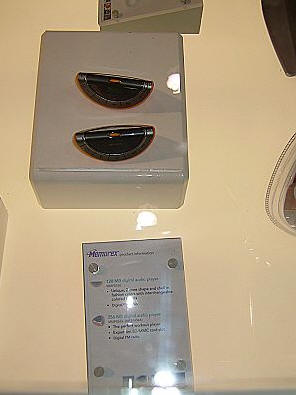 Not sure how well it would fit in a pocket. You can't tell by the picture,
but the rubber rind is actually orange in color.
GPX had a couple
of imaginative booth displays…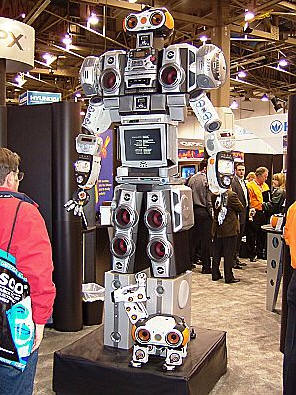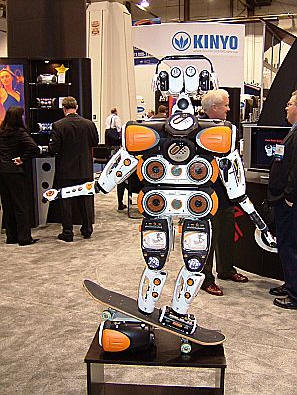 For the teenager that has everything but an
MP3 player  – mouthy CD cases. <rolling eyes>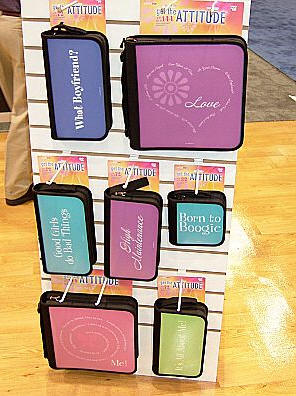 Thunderbird products are a great combination of
retro styling with modern function. I liked the mini-fridge with the built-in
clock, and the iPod radio was a fun idea, too. We thought at first that the iPod
might slide into the top of the radio, but it looks like it just sits in the
well and broadcasts through the speaker.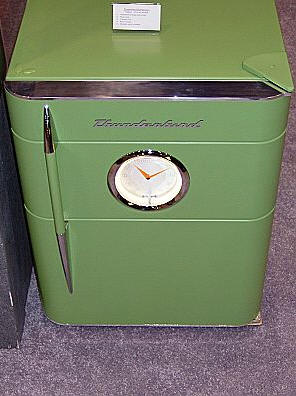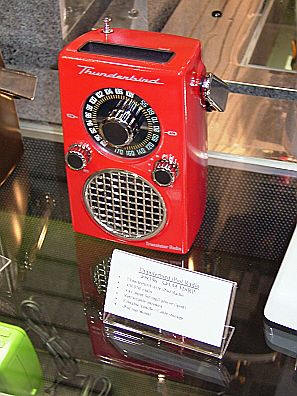 If I remember correctly, the Thunderbird brand was a spin-off of the Jeep
brand of products that we looked at during last year's CES.
How would you like to have a multi-colored LED
display on your alarm clock. I thought this was cute idea – and much more fun
than the standard green.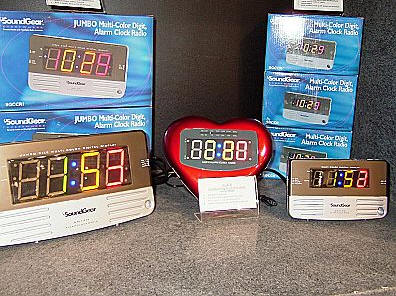 After looking around a bit more, we decided to take a walk across the street
to quickly check out some of the other smaller buildings.
On our way, we passed a display of
Zap cars. These little two-seaters are
SMART cars that have been Americanized by Zap. They offer 60mpg and SMART-Safe
construction and exchangeable body panels. I think they would be great for
anyone that has a commute to deal with.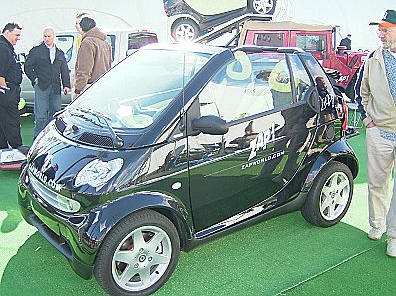 I thought these were electric cars, but they are actually powered by
gasoline. They only have a 8.7 gallon tank capacity. But the 60mpg is
incredible.
Inside the pavilions across the street, we were
under whelmed by the offerings. However, there was one booth that caught our
interest. I believe that this is just a screen on which a projected image is
being shined, but it got me thinking about how cool a TV that looked like this
would be. Maybe one day…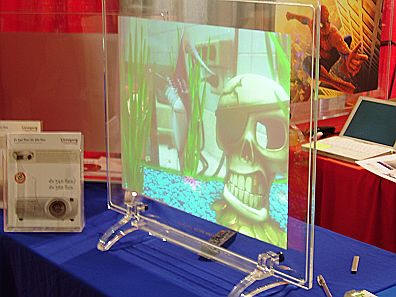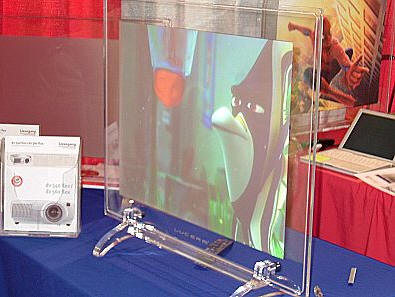 Why is it that I think of Star Wars when I see these displays? Obiwan, you're
my only hope…
Since everything seemed so lame on this side of the
street, we decided to head back over to the main halls of the convention center.
On the way over we couldn't help but notice the huge Motorola Snow
board exhibit where real snowboarders were flying down the incline packed with
artificial snow.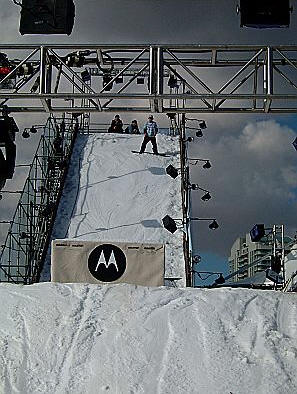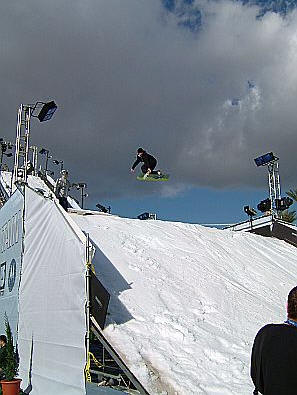 Back over to the main buildings, we check out the
Wowwee booth. They were showing off the
Robosapien and friends. The dinosaur was
especially cool, as was the new larger robot.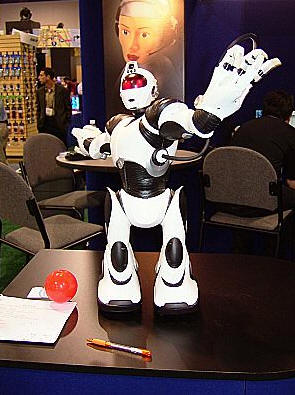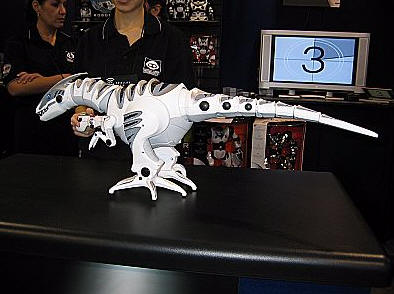 Creative had
booth-bunnies running around in 60s inspired mini-dresses with colorful belts
holding multiple Zen Micro players.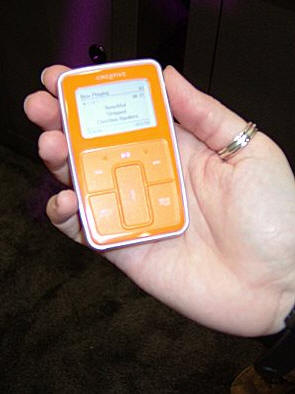 These little Zen players are very compact. I remarked to the PR person in the
booth that the interface was a total iPod rip-off. She didn't seem to be
offended which was good as I meant it as a compliment.
InClosia had a
booth displaying some of their items that have been created to add real wood,
leather or fabric to items that we use everyday. Julie and I were a little
disappointed that the only iPAQ covers they had were for the 3600 series. :0/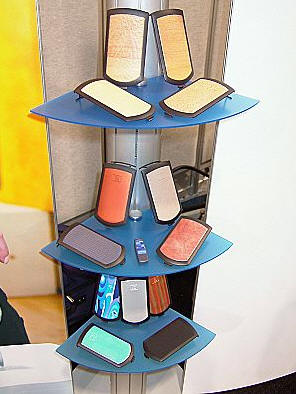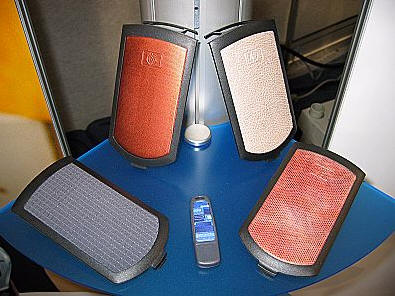 It seemed strange to us that a company would be showing off products for such
an old product. I don't know about you, but I would be interested in a cover for
my hx4700.
Otterbox had
a booth set up displaying their products in the climate in which they are meant
to be used…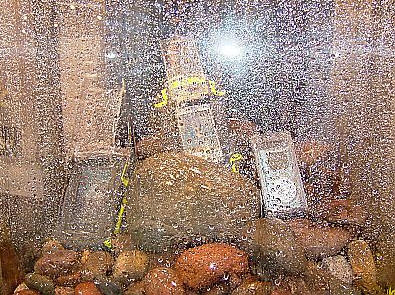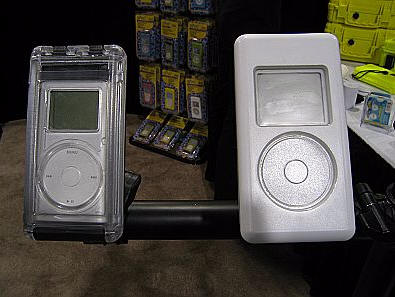 I recently reviewed this exact

portable cooler, so it was fun to see one set up with a thermostat
display…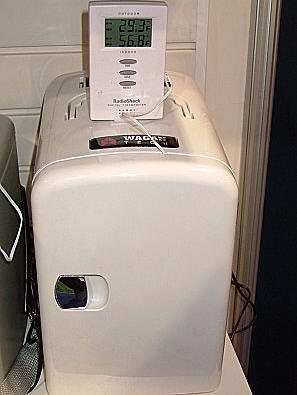 By this time, we were exhausted. We headed back to
the hotel and in a move that is totally not usual for me, I laid down and
took a two hour nap while Julie surfed on my laptop. Once I woke up and we were
ready to head out again, we decided to catch an
IMAX movie
at the Luxor's theater. Here you can see us with the 3D glasses on – we look
like bugs, don't we? ;0)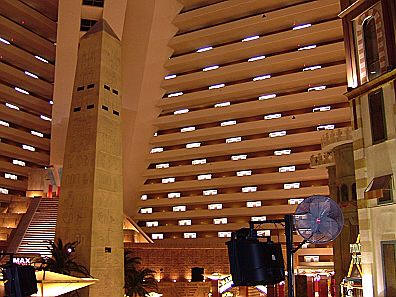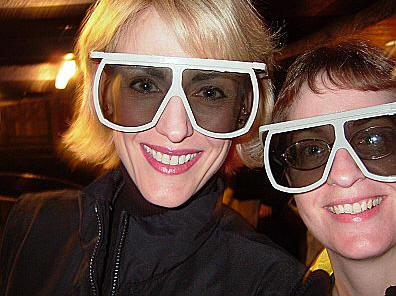 We saw
The
Haunted Castle. I wish we could have seen the 3D Shark movie that was showing
at a different time. I thought that the Haunted Castle's story was crap, but the
effects seemed pretty good. I had never seen a 3D IMAX movie, before.
I thought the movie was going to be halfway good at first. The opening scenes
were pretty great as far as computer generated images go. But then they had to
have a stupid animated character follow the hero around. I liked the band that
played in the movie. I'd never heard of Arid before.
We didn't want to try to balance food, drinks and
talking to vendors once we hit the
ShowStoppers event at the
MGM, so we decided
to eat at the Luxor's Buffet again. Once again, we were pleasantly surprised by
how good it was.
Once we got to the event, I was surprised by how
nice the food looked – but I am still glad we didn't eat there. ;0)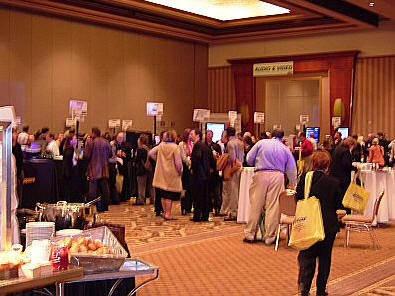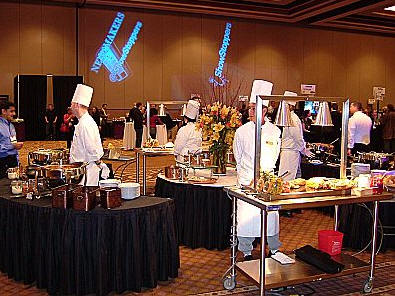 The
Pogo booth featured
their new multimedia device that is made to directly work with
Tivo.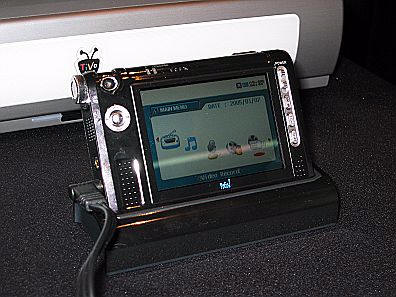 The mediaNOW device also has a built in camera, voice recorder, FM radio and
a 20gb hard drive.
Finally we got to the booth I was really looking
forward to seeing, the OQO. I am
really glad that I got to see this little guy in person. While I love the
small size and the idea of XP in my purse, the screen did not seem as bright as
I would have liked (neither on battery power nor when plugged in), the battery
life is (of course) too low and the lack of any upgradeability makes me think I
should wait for the next build before making the purchase.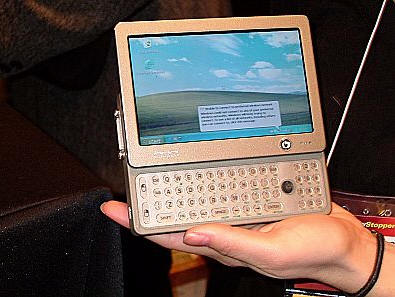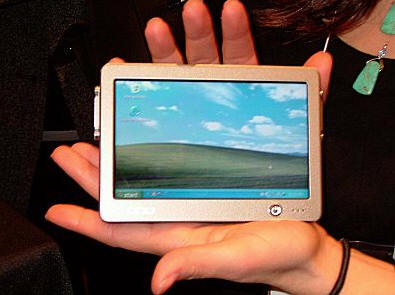 I agree that the OQO is impressive for packing all that computer goodness in
such a small footprint. But like you, I don't find the screen to be bright
enough for my liking.
The next booth was showing off another pocket sized wireless surf/email
device. This one employed Bluetooth to connect to your mobile phone and ISP.
Unfortunately, we can't remember the name of the company or the product…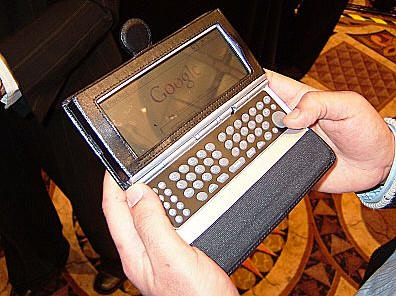 This desktop PC looks like a great product for
college students. The keyboard has storage slots built in for syncing and
charging the user's cellular phone and MP3 player. If you like the idea of
having all of your gear compatible, then this would be the way to go. Yah, and
guess what – we can't remember the name of this product either! :0P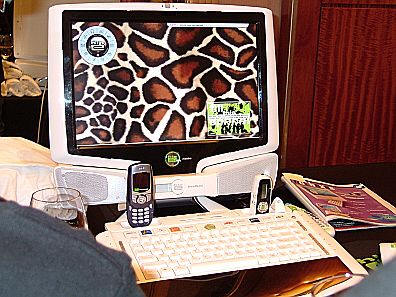 The
AutoXRay is an OBD and OBDII scanner that though aimed at women, would be
good for anyone that wants to know what is wrong with their car before taking it
in for service.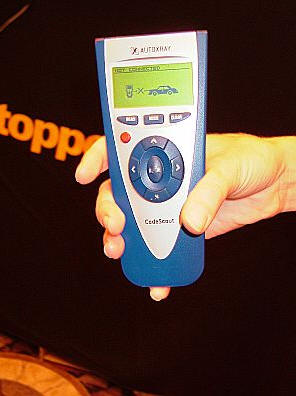 Judie and I were a little peeved that the booth person automatically assumed
that we didn't know anything about cars and would need this device. I'm not
saying I DO not anything about cars, but you know what they say about
assuming things…I actually went to mechanic's
school in 1993, so I probably do know a little bit more about cars than
most men!
Once we were ready to leave, we found that the cab
queue was totally out of hand and it was too cold to stand inactive in the same
spot for long. I asked Julie if she was game for just walking back to the Luxor,
as I figured we would get there in the same amount of time or less! I am glad we
took the hike, as it was the only real Las Vegas Strip walking we would do…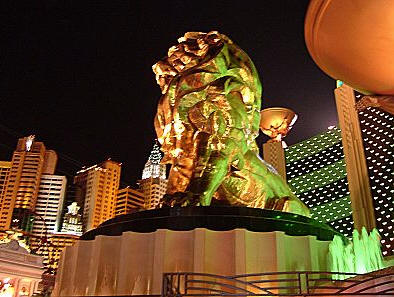 I didn't mind the walk at all. It could have been a bit warmer out, but it
wasn't bad. It was pretty cool seeing all the lights from the casinos.
We walked across two raised pedestrian bridges, and
took night shots from the bridge between the MGM and New York, New York.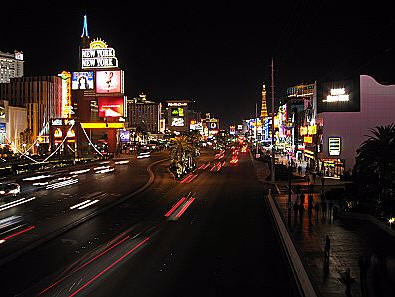 Once back to the Luxor, I discovered that I was
hungry again! I tell you, I can be a bottomless pit sometimes. :0P So Julie sat
with me in the Luxor's cafe as I enjoyed a most excellent Philly cheese steak.
Just to give you an example of how beat I was: when the waitress brought
my Diet Pepsi with the lime in it, I added a couple of packets of Sweet'nLow to
the mixture! I was so tired that I had forgotten I ordered DP, and I
thought I had ordered an iced tea! It wasn't until the volcanic reaction began
that I realized what I had done. At least Julie and I got a good laugh out of
it, and the very nice waitress didn't mind swapping my drink out for a fresh
one.
I tried to talk her into doing it again, but unfortunately, her drink didn't
have enough fizz for the chemical reaction. After we finished playing Ms.
Wizards, we headed back to the room to rest our feet, go through our
Showstoppers loot and get some sleep. We had one day left before returning home.
Part 3 here.