We use affiliate links. If you buy something through the links on this page, we may earn a commission at no cost to you. Learn more.
Product Requirements:

Sony Walkman NW HD-1
I think that one of this year's most eagerly anticipated cases for a non-iPod
digital music player would have to be the one I will be reviewing today. Ever since the
Sony
Walkman NW-HD1 came out and wowed users with its tiny size, excellent
battery life and great sound, the question has been "when will a Vaja
case come out for this thing?"
For those few people that still haven't been initiated to the wonders of
Vaja's perfectly fitted cases made of  their sumptuous Argentinean leather,
let me just say that you are in for a treat. Julie and I have been reviewing
these cases since early 2000. Over the last five years we have watched as Vaja
has become one of the premier luxury leather case makers for PDAs, mobile phones
and digital music players. Their name is now synonymous with smart styling,
impeccable craftsmanship and leather that smells good enough to eat.
The new Vaja

Custom Flip Top Case for the NW-HD1 is their latest offering. Will it live
up to the Vaja legacy? Let's take a look…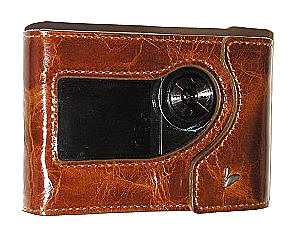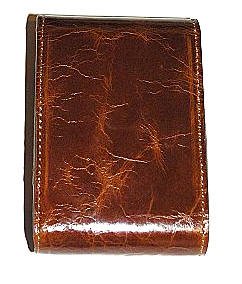 I was offered my choice of this new custom design, so the first thing I had
to do was choose between "Embossing
#1" and "Embossing
#2." To the best of my knowledge, the only difference between the two is
that Embossing #1 contains glossy colors, while Embossing #2 has those which are matte, or dull.
I chose not to add a belt clip, not to add personalization, to use a soft
leather lining instead of a matching leather lining, and said "no" to a matching
pouch. Of course, another user might want or need different options, and that is
what makes ordering a custom case all the more satisfying.
I chose the glossy

Vitelino Pistil, which is a slightly padded, shiny brown leather that has a
slightly cracked appearance. Perfectly spaced light brown stitching compliments
the color of my case. The newer, smaller Vaja logo graces the bottom right
corner of the case.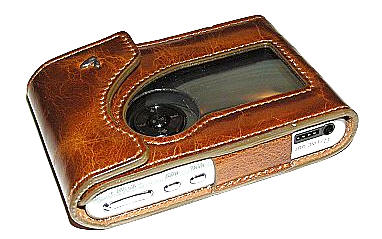 A clear rigid plastic insert covers the screen of my HD1, protecting it from
fingerprints and scratches. A cutout allows the joy-pad to be easily
accessed.The case opens from the right side, allowing the HD1 to slide in or be
removed. Two non-magnetic snaps keep the case closed, securing the digital music
player.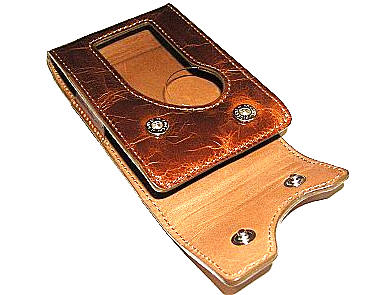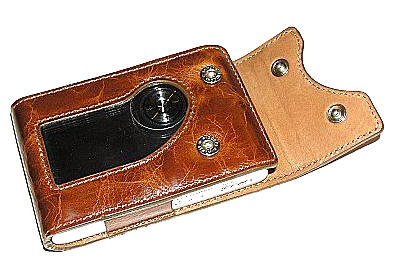 The design of the case allows all of the slots, buttons and toggle switches
along the top of the player to be left open…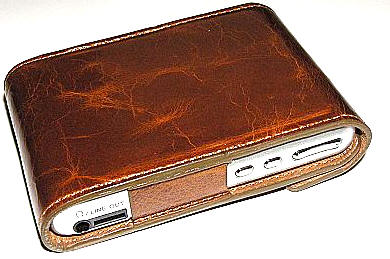 …as well as the Battery and Hold sliders on the bottom.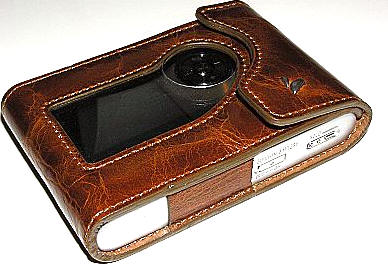 The player must be removed from the case in order to sync or charge. This may
be a major con to some, but I do not find it to be troublesome.
The Vaja case does not add a substantial amount of bulk to the HD1. Measuring
the player alone shows that it is 3.5" wide x 2.4" tall x 0.5" thick, and it
weighs 3.9 ounces. When in the case, the total package measures  3.7" wide
x 2.6" tall x 0.75" thick, and it weighs 4.9 ounces.
I really like the protection that the Vaja gives my HD1. The plastic cover
keeps the shiny front of my player clean and protected, while the case offers
much more protection and usability than the stock velvet slipcover every did.
If you have owned a Vaja case before, then you will know the level of quality
that you can expect and the craftsmanship that has been utilized to produce this
gorgeous case. If you have never yet owned a Vaja, then this is a great way to
introduce yourself to the brand. My HD1 won't leave home without it.
As one of our bulletin board members (Somnambulant) said in a recent post, "You're in it for
$350 you may as well encase it in fine Argentinean leather…"
Price: $54.90 and up, $60.90 as tested
Pros:
Beautifully made
Offers protection from fingerprints and scratches
Easy access to headphone jack, buttons, and toggle switches
Cons:
Must remove player from the case for syncing and charging
Product Information
Price:
54.9
Manufacturer:
Vaja
Pros:

Beautifully made
Offers protection from fingerprints and scratches
Easy access to headphone jack, buttons, and toggle switches

Cons:

Must remove player from the case for syncing and charging