We use affiliate links. If you buy something through the links on this page, we may earn a commission at no cost to you. Learn more.
Product Requirements:
Device:
Bluetooth enabled Pocket PCs and Smart phones
Most modern day PDAs have been designed to be entirely stylus driven. But
sometimes you really just need a good old fashioned keyboard to get your job
done. Enter the Stowaway Universal Bluetooth Keyboard from our friends at
ThinkOutside. While this product is
far from old fashioned, it is a keyboard and it will get your job done.
Package Contents
Universal Keyboard
2 AAA Batteries
Zippered vinyl carrying case
CD with drivers
Quick Start Guide
Hardware Specifications
18mm key spacing (horizontally and vertically)
3mm key travel – same as the best notebook computers
English QWERTY layout (4 rows of keys)
Powered by 2 AAA batteries
Closed 5.5"H x 3.9"W x .5"D (139mm x 99mm x 13mm)
Open: 9.9" x 5.8" x .5" (251mm x 148mm x 13mm)
Weight: 5.6 oz. (160 grams)
 
I've reviewed ThinkOutside's famous folding keyboards all the way back to
their very first
model and have always carried one in my gear bag. Their products continue to
be innovative and made of the utmost quality, with the new Universal Keyboard
upholding that tradition.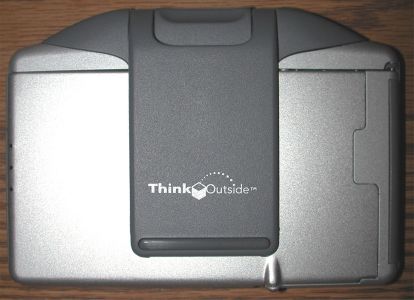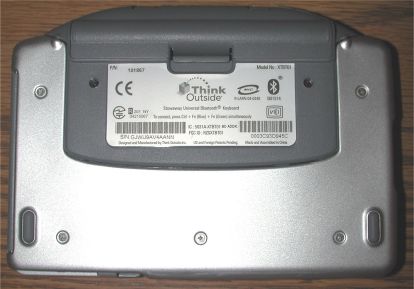 This model is similar in size to their
XT Ultra-Thin
and Infrared versions and is a true
full-sized keyboard. It is constructed of a sturdy polycarbonate material.
Two included AAA alkaline batteries power the device by way of an easy to
access battery cover which is located on the back of the keyboard. The keyboard
does not include a power switch. It will automatically power off when not in
use. One set of batteries should last as long as 3 months with typical use.
The keyboard unfolds to reveal 51 keys and a popup PDA / Phone stand. The
keyboard opens left to right as if opening a book's back cover. As you lift the
top section, the bottom section slides to the left. As you pivot the top section
180 degrees, it snaps flat in place. When the keyboard is fully opened, it can
be used on almost any surface including your lap. It feels quite rigid and
secure. A small button with near the letter P
is the release button when you want to close the keyboard.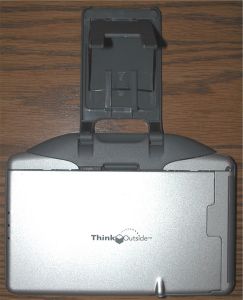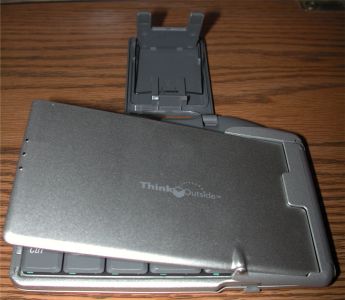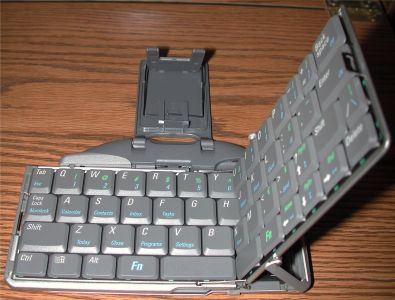 To connect the PDA or phone, you just rest it in the desired
orientation on the stand which pops up ready for use when you open the keyboard.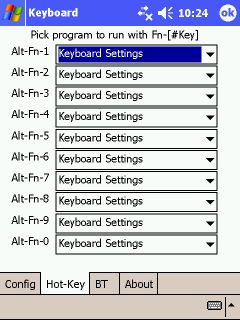 The driver included with the
Bluetooth Travel Mouse
for the Pocket PC also includes the driver for the Universal Keyboard, so I
didn't really have to do anything special in order to start using this accessory with
my PDA. It was just a matter of launching the Stowaway Keyboard preferences
application and pairing my HP iPAQ HX4700 with the keyboard. The key combination
to make the keyboard discoverable is CTRL, Left Function key, Right Function
key. A small green LED flashes above the letter
T when it is in this mode.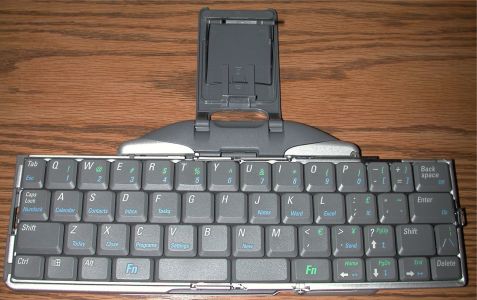 Bluetooth enabled Palm OS device owners will be disappointed to learn that this
keyboard is currently not compatible with your devices. Hopefully that situation
will be remedied soon.
In use, this keyboard is comfortable for a touch typist like myself. The keys
are large and have enough travel to feel like a standard keyboard. The only
problem is that there is not a separate row of number and punctuation keys.
Instead, the top row of keys have 3 to 4 characters each. The default characters
are the letters Q W E R T Y U I O P along
with Tab, -, + and Back Space. The additional characters are numbers 0 through 9
and the various punctuation symbols such as [email protected]#$% and so on. Each set of
characters is enabled by pressing one of the function keys along with the
desired symbol or number. The characters are color coded to match the green and
blue function buttons on either side of the space bar.
Having to access punctuation symbols and numbers this way does slow you down
if you are a fast typist as you have to consciously seek out the function key
and associated button. Luckily, the most popular punctuation characters still
have their own keys… such as the . , / – ?
keys. International characters are supported using a combination of CTRL, ALT
key presses. Good luck memorizing the combinations if you need to use these type
of characters often.
Besides the top row of combo keys, the other keys have some dual functions as
well. Functions that launch the main Windows Mobile apps such as Pocket Word,
Excel, etc.
I spent a couple days typing to get a feel of just how easy it is to go from
a regular PC desktop style keyboard to the Universal. Like the original
Stowaway, this one is comfortable and easy to touch type with. The Enter key,
Backspace, Spacebar, and Shift keys are all located exactly where my fingers
thought they should be located. So, there wasn't a learning curve. About the
only keys that I did have problems with were the
! and
@ keys as they required function key combo presses. Another key that
I had problems with was the / key
is located on the right side of the shift key, which I had problems remembering.
I'm used to having this symbol shared by the ?
key on standard keyboards.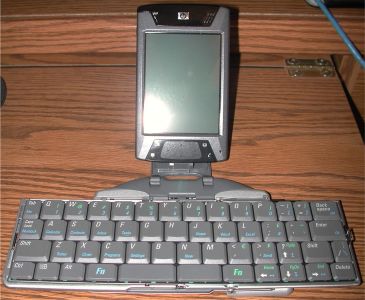 Using this keyboard with my HX4700 and ThinkOutside's Bluetooth Travel Mouse,
really makes the whole combo feel like a mini laptop. Yes, you can use both the
keyboard and the mouse at the same time. AND, you can even use WiFi
simultaneously as well. It's really very cool!
One kind of fun feature is the clickity clackity old school typewriter sound
that you hear as you are typing. If it annoys you, you can turn it off.
For HX4700 and other VGA PPC owners, flipping the display orientation has no
effect on the performance of the keyboard or mouse.
Other than the few symbols that I have problems accessing, I really love this
product. Now if only my HX4700 had a 60 gigabyte hard drive… then it would
truly be a laptop replacement!
Price: $149.99
Pros:
Wireless
Small, compact size
Comfortable full-sized keys
Can use on almost any surface
Cons:
Number and punctuation keys require function key combo press to activate
Not compatible with Palm OS devices
Expensive
Product Information
Price:
149.99
Manufacturer:
Think Outside
Pros:

Wireless
Small, compact size
Comfortable full-sized keys
Can use on almost any surface

Cons:

Number and punctuation keys require function key combo press to activate
Not compatible with Palm OS devices
Expensive