We use affiliate links. If you buy something through the links on this page, we may earn a commission at no cost to you. Learn more.
Product Requirements:
Device:
Apple iPod 4th generation 40gb
When I upgraded from my 3rd generation iPod to a 4th generation model, I was very surprised that Apple didn't include a slip case with it. Not that I was going to actually use one, but still! When you have a nice shiny new iPod, every fiber of your being tells you to protect it. I wasn't about to just chuck it willy nilly into my gear bag! No sir, I was going to put it in a Vaja iVod case! Unfortunately, I had to wait awhile before said case arrived, but when it did… happiness ensued.
I love Vaja cases. Yeah, I know they are crazy expensive, but they aren't your typical iPod case… Vaja cases have a style all their own and the new iVod Remixed case does not disappoint. Available in an insane number of colors, these cases are custom made when ordered. That means you have to wait at least 20 days before they will ship to you after you place an  order.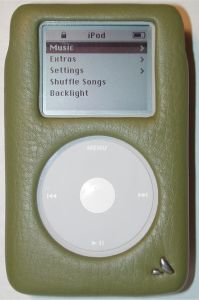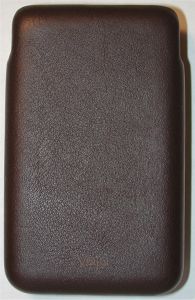 For my review case, I picked Caterina Cedar Green for the top and Caterina Moro for the bottom. I didn't request a belt clip as I wouldn't be caught dead with one hanging from my jeans. I don't wanna be Batgirl ;o) But for an extra $4, you can add an Ultra clip.
Last year I reviewed the iVod case for the 3rd gen iPod. I loved that case because it was play through and different than all the other iPod cases on the market. The only problem with the older version of the iVod was that the clear plastic front shield cracked between the buttons. There's no worries that this will happen with the iVod Remixed, as there are no longer any individual buttons on the front of the iPod.

The case is constructed of a front and a back which can be either the same color or different, for a two-toned effect. Where the two sides meet, there is a seam, but no visible stitching. While the back of the case is hard and flat, the front is slightly poofy as it has just a bit of padding.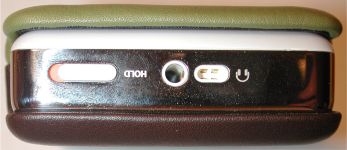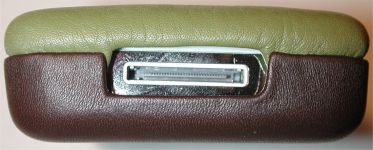 The iPod slides in through a top opening and is held securely in the case. So securely, that it is pretty hard to remove it the first time. After use, it does become easier to insert and remove the iPod, but not enough to ever cause the iPod to fall out accidentally.
When fully inserted, all the features of the iPod are accessible. The top of the player is open so that accessories that use the earphone and remote jacks (iTalk) can still be used.
The front has two main openings. A circular one for the touch wheel, and a square one for the display. Both cutouts are perfectly aligned. The touch wheel cutout is open of course, while the display cutout has a clear plastic protector over it.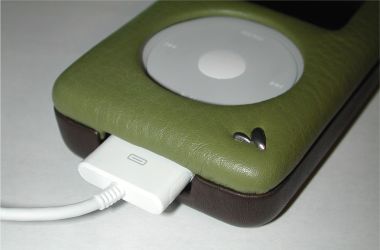 The bottom of the case has a rectangular cutout for the docking cable. That's right, your iPod while in this case, will not fit in the docking cradle. No real harm though as the cable easily clicks into place when you need to charge or transfer new tunes.
Workmanship on the iVod Remixed is perfect. Seriously, I can't find a single flaw to complain about. Now I have no qualms at all when I chuck my iPod willy nilly into my gear bag. The iVod protects it from all my everyday abuse. Short from dropping the iPod on its 'head' into gravel, this case should have no problem keeping your favorite audio player in excellent condition for days, months and years to come.
Product Information
Price:
$70.00 - $104.00
Manufacturer:
Vaja
Pros:
Cons:

Expensive
Not syncable in docking station