The Gadgeteer is supported by readers like you! If you buy something through links on our site, we may earn an affiliate commission at no cost to you. Thank you! Learn more.
Product Requirements:
Device:
Any audio device with a 3.5mm headphone jack, various Bluetooth mobile phones
It's hard to review a product that is a first in its class because there's nothing to compare it with, no standard of excellence that it needs to live up to. Such is the case with the Bluetake's new i-PHONO BT420EX stereo headphones, which are the first Bluetooth headphones on the market.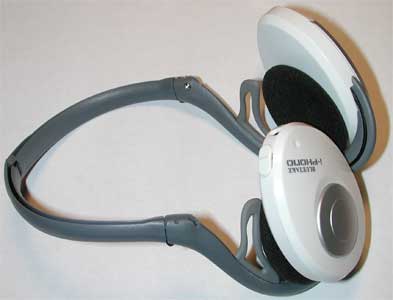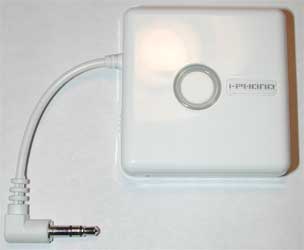 For those of you that may be thinking that this product is meaningless to you because you don't have any Bluetooth devices, you're wrong. Besides being able to work with a variety of Bluetooth enabled mobile phones, this product can also work with any audio device that has a standard sized 3.5mm headphone jack. That's because the headphones ship with a small transmitter dongle called the BT430.
Wired headphones can be cumbersome. I listen to my iPod daily, and there have been many instances where I've either gotten up out of my chair and not remembered that I had the headphones on, or I've managed to snag the wires on the arm of my chair. Usually when this happens, the headphones are pulled off my head, and I'm startled. Argh! Needless to say, I wasn't going to turn down an opportunity to review a set of wireless headphones when Bluetake contacted me about them.
Hardware Specs
Bluetooth Class 2 (5~10 meters (in open space)
Carrier Frequency: 2.402~2.480GHZ
Data Rate: 1 Mbps
Spread Spectrum:
FHSS (Frequency Hopping Spread Spectrum)
Modulation Method:
GFSK (Gaussian Frequency Shift Keying)
Bluetooth Profile Supported:

BT420:
Advanced Audio Distribution Profile (A2DP),
Headset Profile (HSP),
Hands-Free Profile (HFP),
Serial Port Profile (SPP)
BT430:
Advanced Audio Distribution Profile (A2DP)
Audio Format:
SBC
Antenna:
Ceramic antenna
Sensitivity:< 0.1% BER at -80 dBm
RF Output Power:
-6dBm to 4dBm

Power Consumption:
Tx Typical: 64mA,
Rx Typical: 45mA

Input Power:
5V 500mA, AC adapter
Battery:
3.7V / 600mA / Li-Polymer / Embedded and Rechargeable
The BT420's are a behind-the-head style of headphones. I have always liked this design and have a pair of Sony MDR-G52s that I've had for several years. They feel more comfortable that they type that rests on the top of your head. They also don't mess up your hair which is very important if you happen to be female :o) That said, my friends at work made fun of me while I was testing these headphones. I believe the name Princess Leah came up at one point.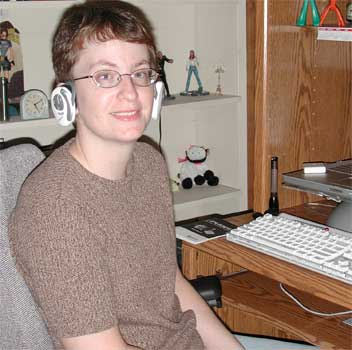 I did find the headphones to be comfortable for hours at a time. Even with my glasses on.
These headphones are also the folding variety which allows you to make them more compact and transportable. I've never had a set of folding headphones, and while I can see the advantages, I really don't care for the feature. Just the idea that I'm folding and unfolding the wires inside the plastic band makes me worry that they might develop shorts in them. That and the fact that I think it makes the set feel a bit floppy / cheap.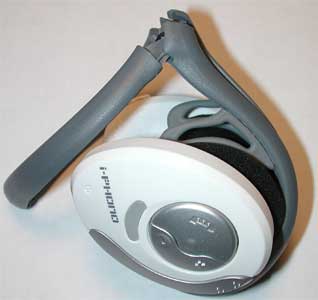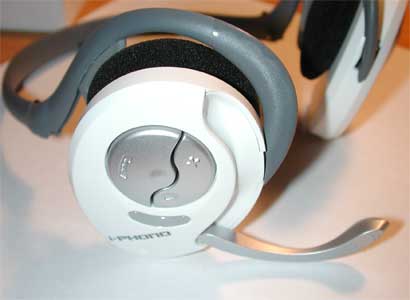 The left side of the headphone has the On/Off switch, AC adapter port and a battery status LED. The right side has the Bluetooth pairing button, up / down volume switch, Bluetooth connection status LED and fold out microphone boom. The buttons all have excellent tactile feedback, so there won't be any question as to whether or not you have pressed them. They also have braille-like extrusions which allow your finger to find the right area to press while you're wearing the phones.
For those of you that like to coordinate the color of your headphones with your outfit, you'll have happy to know that the BT420's come with 4 different sets of color plates. The plates snap on/off easily, so customize to your heart's content.

Before you can start to use this product, you'll want to charge the lithium ion batteries in both the headphones and the dongle. An AC adapter is included along with a Y adapter that allows you to charge both components at once. Nice! There's even a USB cable that you can use to charge. Status LEDs on both the headphones and dongle give you a visual indication when charging is complete.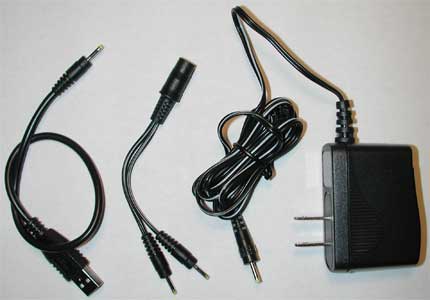 After charging, it's time to listen to some tunes! Plug the dongle into your favorite audio device. For me it's the iPod (of course). Slide the power switch to On. Turn on the headphones and hold down the pairing button on the right side of the headphones or on the dongle. The LED the will start alternately blinking red and blue. Wait for a few seconds and it will then just blink blue. This means that the pairing was successful. Turn on the audio device and start enjoying your music wirelessly!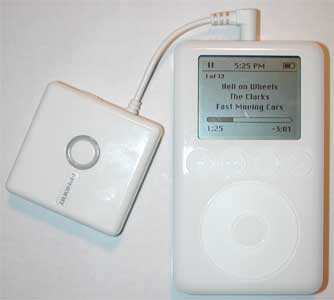 If you're so inclined, you can attach the dongle to your audio device with the included strips of Velcro.
The audio quality is very good. Better than what I expected it to be actually. Compared to all my other headphones (even my favorite B&O's), the BT420's stood up extremely well.
The cool thing about these headphones is the fact that they are… wireless! Duh… So of course the first test was to see what type of range I could achieve. So, I left my iPod playing music on the desk in the basement and started walking around. Walking around would sometimes cause the audio to cut out for a sec. Almost giving it a stuttering sound. Once I would stop walking, the audio would go back to being crystal clear. Next I walked up the stairs and sat down on the couch in the room directly above the computer room where the iPod was playing downstairs. Depending where I walked in the house, they would cut out and quit playing music until I walked to a different area.
The next test was to go outside with the iPod in an open space and see how far I could walk away from the iPod before the music cut out totally. I was able to get a maximum of 15 feet away. Not too bad really. I mean this is Bluetooth after all, not WiFi.
Of course, the fact that these headphones are Bluetooth should allow you use them with other Bluetooth enabled devices. Unfortunately, I don't own many such devices. I do have 2 though: my PowerBook, and my HP2215 Pocket PC. I was unable to pair the headphones with the PowerBook at all. I contacted the folks at Bluetake and they are hopeful that the next version of the i-PHONO will work with the PowerBook.
I was able to pair up with the Pocket PC, but this pairing didn't allow me to use the headphones to listen to audio. The problem is that there needs to A2DP profile on the PPC that allows you to route the audio through Bluetooth instead of the built-in speaker. Such a profile does not exist.
The BT420's are compatible with various mobile phones. A compatibility list is available on Bluetake's web site. If you have a phone that is compatible, you'll be able to also talk to people using the microphone. A bonus feature with these headphones is their auto switching ability. If you're listening to music and a phone call comes in on your mobile phone, you will hear the ring on both the phone and through the headphones. You can press the pairing button on the headphones and switch over to talking on the phone. Pretty cool! I wish I would have been able to test this.
As far as battery life goes, the batteries are rated to last approximately 6hrs per charge. I'd like to see that rate go up to 9-10hrs just for those hardcore music listeners that listen to music all day. That said, the fact that the batteries are Rechargeable, is a huge plus.
The i-PHONO's are a break out product that work great with the dongle. I love listening to music wirelessly and not having to wrap and unwrap the cable on my headphones when I want to enjoy some tunes As far as their ability to work with other Bluetooth devices, the jury is still out (for me) on that topic. I'm confident that they will work with the phones on the compatibility list, but as for anything else, I wouldn't be surprised if they didn't. I guess the big issue with this product is with its price. $250 is NOT pocket change. But as with anything new, the consumer will pay the price to be on the bleeding edge of technology. As Gadgeteers, I think we all know what that's like.
Price: $249.99
Pros:
Works with any audio device that has a 3.5mm headphone jack  
Great sound quality


Rechargeable batteries
Can charge both the dongle and headphones at the same time using the same adapter
Customizable
Cons:
Expensive
Can't use with every Bluetooth device out there (i.e. PowerBooks)  
Product Information
Price:
249.99
Manufacturer:
Bluetake
Pros:

Works with any audio device that has a 3.5mm headphone jack
Great sound quality
Rechargeable batteries
Can charge both the dongle and headphones at the same time using the same adapter
Customizable

Cons:

Expensive
Can't use with every Bluetooth device out there (i.e. PowerBooks)